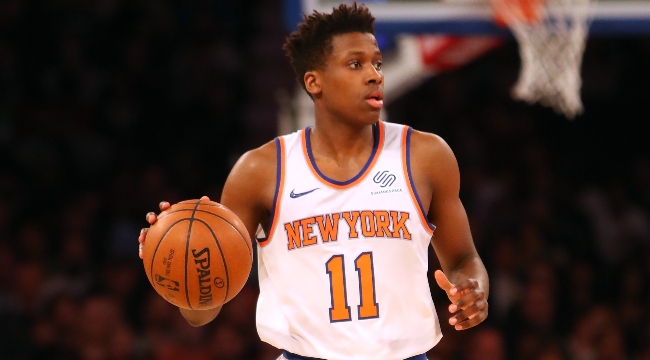 Stop me if you've heard this one before: The Orlando Magic have a roster full of talented players that seem to be missing the key parts necessary to put them over the top. To say Orlando hasn't had talent the last few seasons wouldn't be true — they've always had legitimate NBA talent on the roster it's just never been enough or fit together well enough to go anywhere. Even with Nikola Vucevic putting up All-Star caliber numbers, Orlando has still lost four of its last five and will typically lose to the NBA's best teams. They're stuck right in the average to below average point.
The Magic are probably going to do some type of roster overhaul over the next few seasons and give it a go once more with a new crop of young players. Jeff Weltman and John Hammond have yet to get a chance to put their identity on the team, but one is beginning to form. The Magic are long, athletic, and trying to implement a defensive identity. They hired a disciplined defensive coach in Steve Clifford to instill this identity in them, but they're still missing pieces.
Orlando is in desperate need of a point guard. D.J. Augustin is doing a suitable job this season, but if the Magic want to take a step forward now, or in the future, then they need to invest in one. They could choose to wait it out for the upcoming NBA Draft, but at 10-12 and within shouting distance of the playoffs, it wouldn't be crazy for Orlando to see what it has going and try to make a run at a playoff spot. Then the Magic can use the summer to try and build a roster through free agency on the momentum of being a playoff team.
There is also the option of taking a flyer on a young guard through a trade. Hitting the trade market, especially if it means buying low on a young player, is a smart strategy, and the Magic have a roster that could appeal to some of these teams if any of the following players are on the trading block.

Frank Ntilikina
According to The Athletic, the Magic have shown some interest in 20-year-old Frank Ntilikina and it appears the Knicks may already be moving on from him. He's only in the second year of his career, but his minutes have drastically reduced since the start of the season. Some new scenery could be exactly what he needs.
New York has been trying to stack up on cap space for the summer of 2019, so they'll want a player back that will come off the books quickly. Someone like Terrence Ross and a second round pick might be all New York needs to send this deal through. In return, the Knicks can send back Ntilikina and maybe a Lance Thomas-like contract to make the money work. The goal here for both teams is obvious: The Knicks clear money and get an expiring contract, and the Magic get a young point guard they can develop on their own.
Ntilikina is also the exact type of guard someone like this Magic front office would go after. Look at their draft picks in the short time they've been in charge: Jonathan Isaac, Wesley Iwundu, and Mohamed Bamba are all very long and lengthy players with a defensive slant. The Magic like length, and and that's what they would find in Ntilikina.
Markelle Fultz
Fultz's shoulder injuries and ostensibly weird relationship with the front office/coaching staff have led to a point where the former No. 1 overall pick doesn't seem to be in Philly's long-term plans. This could be the perfect chance for the Magic to swoop in and buy low on a player that was once considered the far and away best option in his draft class. However, he of course comes with the baggage of the mysterious shoulder injury.
Teams are still unsure if Fultz is actually just hurt or if he somehow forgot how to shoot. It's the greatest mystery there is in the league right now, and that mystery is impacting Fultz's trade value. A former No. 1 overall pick should easily be worth at least a protected first, but if the Magic are uncomfortable with everything surrounding Fultz, the circumstances would change.
The Sixers would probably want the shooting of Evan Fournier, but getting him to Philadelphia is tricky without moving more pieces than are necessary. To do that, a third team might have to get involved, and that's just a lot of work for a player teams aren't even sure if they want. Now if you instead go the Jonathon Simmons route, that works a lot better. He and Fultz work straight up, and you can even do a D.J. Augustin for T.J. McConnell swap if the two teams want to add insurance to their point guard situations, but that isn't necessary to make the theoretical trade work.

George Hill
The Cavaliers are in a full on fire sale of their veterans. By the trade deadline, it wouldn't be a surprise if most of their older players are put on the market. A report came out from ESPN that Cleveland is willing to take on long-term salary if it means assets will come back in return, and the Magic currently have a giant Timofey Mozgov contract in need of moving.
In conversations the Cavs have had around the league, they've begun to express that they'll be willing to take on long-term salary as the trade deadline approaches, league sources said. The Cavs have a couple of veterans they are going to be willing to trade.
A Hill-for-Mozgov deal works, but like Fultz, this will again come down to Hill's value in the trade market. The Magic aren't going to give up too much for Hill's remaining deal (with a partially non-guarantee next year), but they would be more than willing to take a flier on the veteran if it means moving Mozgov's contract while throwing in a couple second rounders.
Swapping Hill for Mozgov is the exact type of trade that happens in the waning moments of the NBA trade deadline. If nobody has bitten on Hill at that point, and the Magic come in with this offer then, the Cavs might take it just to make sure they get something in return for Hill before he's off their books for nothing.
D'Angelo Russell
The Nets and D'Angelo Russell could be heading towards a breakup in the future. Russell will be a restricted free agent at the end of this season and that free agency is going to be fascinating to watch. In one sense, he's an offensive-minded former No. 2 overall pick with improving numbers. On the other, Spencer Dinwiddie has a very strong chance of eventually overtaking his starting spot in Brooklyn. Russell could be someone that gets a big deal due to his potential. That doesn't seem like something the Nets are ready to do yet.
If Brooklyn is unsure on Russell then it could always take that potential and convert it into an asset. Brooklyn isn't going to force a trade. The Nets will happily let Russell hit restricted free agency and risk losing him for nothing instead of risking the possibility of getting swindled in a trade. So if the Magic are going to make a deal for Russell, then they might have to risk giving up something of real value — think something along the lines of Terrence Ross and a protected first.
All the leverage in this kind of deal lies on the Nets side. They can afford to be patient while the Magic are looking to upgrade at the point guard position. The Nets can afford to set a high bar, because the Magic can't say they're being ridiculous. But if the Orlando front office sees something in Russell, then it might as well roll the dice with the hopes of convincing him to stick around in the summer.
John Wall
Our own Robby Kalland has already covered this trade idea extensively, but let's just recap the scenario. The Magic are better than expected and have a chance at making the playoffs. It's the day of the trade deadline and the Wizards are doing anything they can to move John Wall's albatross of a contract. Orlando isn't exactly an organization known for grabbing superstar free agents, so this might be the Magic's best chance at getting a player of Wall's caliber.
What Wall brings to the Magic is someone that can dice his way inside and get the ball to the likes of Jonathan Isaac, Aaron Gordon, and Mohamed Bamba. These are players that need a great point guard to get them the ball. Wall might be getting criticized these days, but he can still dish the ball with the best of them. A new location might also be what he needs to re-invigorate himself. Get away from the Wizards and send him someplace new.
Of course, the danger in this deal for the Magic is that Wall is 28 and they're locking themselves into the most expensive part of his contract for four years. That's the risk you take when going after a player who may not age gracefully, but is still considered a superstar talent.