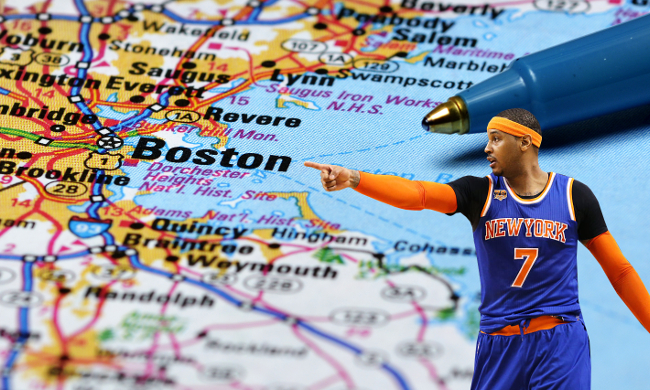 With February here, the NBA's trade deadline is sneaking up on us like a baby's fart in a minivan. Experts, analysts, and sources galore have predicted that this year's trade deadline would be action-packed, and we hope that's the case because so far all we've had was Kyle Korver making the Cavs unguardable, and then the Cavs falling apart. But if even one thing happens before Feb. 23, we have to assume that it will involve the team within closest striking distance of LeBron James: the Boston Celtics.
After all, Danny Ainge and co. are still sitting on the league's most valuable trade asset, the Brooklyn Nets' 2017 draft pick, which is looking like it's a lock to have the best odds for the No. 1 pick, or what I'm calling the Lonzo Ball (or Markelle Fultz, if he's your dude) Jackpot. So, it shouldn't surprise anyone that the Celtics, as they have been for most of the season, are the team involved in the biggest rumors at this point, including the one superstar who has gone from "staying put" to "checking Realtor.com."
Would the Celtics be willing to add Carmelo Anthony?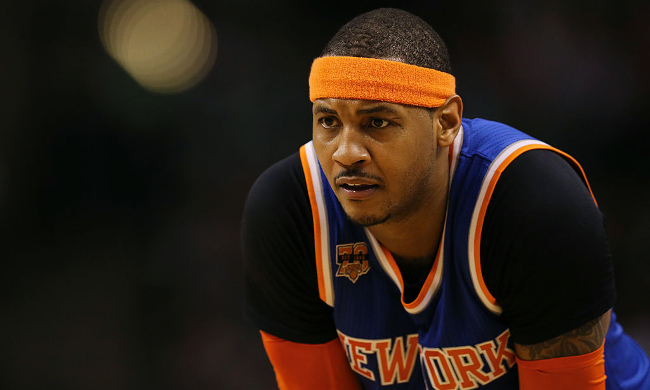 The original question was: Would Carmelo Anthony waive his no-trade clause and accept a deal to Boston? It now looks like we know the answer to that, so we're moving on to whether or not Boston would be willing to take on the 32-year-old. According to the Boston Globe, Anthony is down to join the second-best team in the East, but Ainge isn't ready to call him the solution to the team's supposed superstar problem.
While Celtics management told the Knicks they aren't interested in the nine-time All-Star, the Knicks are pushing to move Anthony, according to an NBA source, and they're intrigued by some of the Celtics' players.

A source indicated that Knicks president Phil Jackson has instructed management to move Anthony, who has a no-trade clause but included the Celtics as one of the teams for whom he'd waive the clause. Boston could become part of a potential three-team deal that would send Anthony to another club, perhaps the Clippers. (Via the Boston Globe)
Don't forget that some people aren't letting the Melo-to-Cleveland rumors die either.
But I don't understand why Boston would even get involved in that whole lopsided Knicks-Clippers affair, considering the Celtics hold valuable pieces that could and will be used to acquire a proven talent. If it's the best the Celtics can do, then it would make sense for them to chase Brandon Jennings or J.J. Redick for a cheap price (like their own first round pick), but it seems that Ainge is still looking to turn the Cavs' sweat into tears.

The Magic have begun their fire sale!
Before the season, Magic GM Rob Hennigan predicted that Orlando would finally make it back to the playoffs, five seasons after that hilariously messy break-up with Dwight Howard (although it feels like 10 seasons to fans). That prediction didn't seem so bold, because it's the Eastern Conference and the Magic added Serge Ibaka and Bismack Biyombo, along with coach Frank Vogel, to ensure this team would be a defensive monster.
About that … the Magic suck. Monday's loss to the Timberwolves dropped Orlando into 14th place in the East, five games out of the No. 8 spot in the playoffs, and with the way some teams are playing (even the Heat have won eight straight) there's no way the Magic make a push. So, the news of a fire sale in Orlando shatters no monocles:
According to CSNNE, the Celtics have already asked the Magic about Vucevic, and it's a certainty that he's going to draw suitors from around the league. He's 26 and signed to a sweetheart of a deal (two years remaining beyond '16-17 for a combined $25 million is *Italian chef kisses fingers*), and while his 14 ppg average is down from the last two seasons, everyone knows what he's capable of. Again, there's that whole VALUE thing.
But if Vooch isn't your bag, let's meet the new Rudy Gay, or the guy that is about to be linked to every contender in the NBA.
The Serge Ibaka era in Orlando is over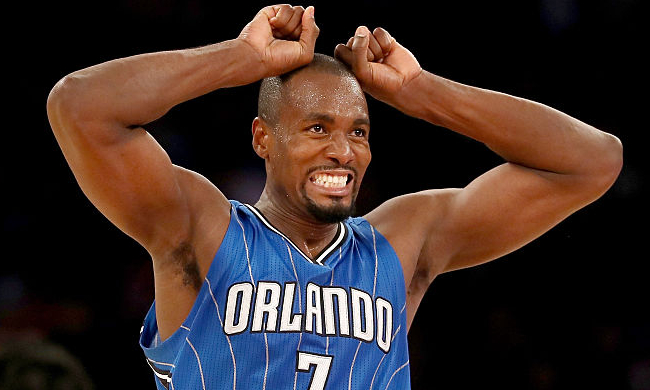 The comedy of the Magic trying to trade Ibaka is that they think they can recoup what they lost for him when they sent fan favorite Victor Oladipo and a lottery pick to Oklahoma City. Maybe they can. As a homer, I hope they can. But contenders smell blood in the water, and the Magic have no leverage. Ibaka will walk when the season ends, so the Magic must take what they can get.
That's why they already have plenty of suitors.
The Magic have attractive pieces, and Evan Fournier should also have phones ringing (especially from the 216 area code). Hennigan should even try to trade himself, because he'll likely be the next scapegoat while Alex Martins continues to collect paychecks like the world isn't burning around him while he holds the lighter. But at least Orlando has strong goals!

Is Dwyane Wade the most expendable man in Chicago?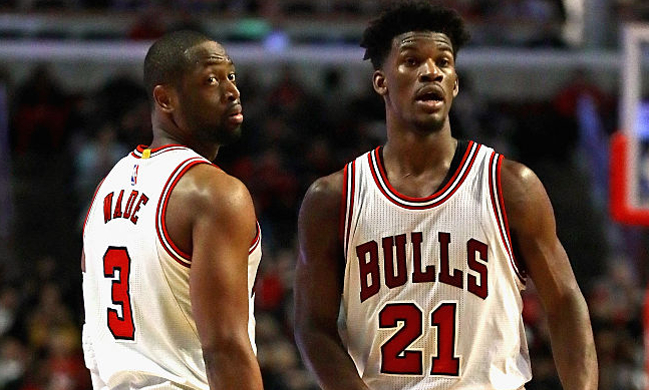 The Bulls are a mess right now. A talented team, sure, but I agree with Charles Barkley's assessment from Monday night's Inside the NBA that there's no way the Bulls make the playoffs at this point. Dwyane Wade and Jimmy Butler are tired of their teammates letting them down, and Rajon Rondo is forever a man with a blowtorch standing on a bridge. Still, when it comes to satisfying disgruntled stars, it's clear that the Bulls are focused on Butler.
That might mean that Wade could be practicing less elsewhere soon, according to Dan Le Batard.
Is it a known thing that Wade is on the block? Wade is on the block. They are willing to trade Dwyane Wade. The Chicago Bulls are shopping Dwyane Wade. Is that a known thing?
…
Chicago is willing to do it…Chicago is making everyone on their roster available except Jimmy Butler. I guess maybe that's not surprising…If Cleveland wants him (Wade) they can have him. (Via Fox Sports)
It's not surprising at all. I'd imagine the Bulls would give Rondo away for free at this point, if a team would even take that deal. The problem with Wade comes down to money. On top of the $23 million he's making this season, he has a $23 million player option for '17-18. That's a lot of coin for a contender to acquire, so at the very least we shouldn't anticipate a reunion with LeBron.
The Cavs are almost too desperate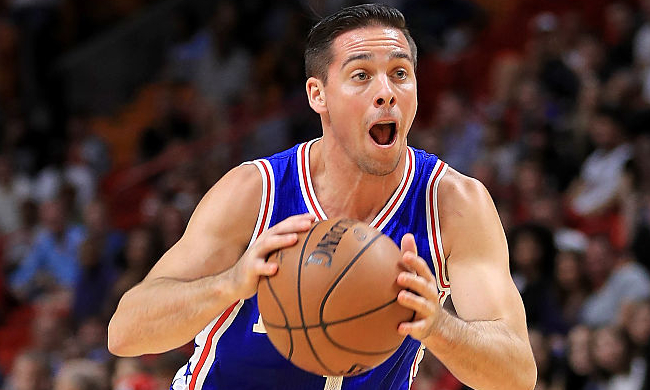 According to a report from Philly.com, the Cavs have become that guy in your fantasy league who picks random guys off waivers and then offers them in trades for your better players, even though you already dropped one of the guys he's trying to trade. Cleveland reportedly made an offer for Philly's T.J. McConnell, and the Sixers presumably laughed. Hard.
The Cavs wanted to put together a deal that would have brought Jordan McRae back to Philly. The Sixers acquired McRae in the second round of the 2014 draft. The Sixers sent him to Australia to play for Melbourne United during the 2014-15 season. McRae was waived by the Sixers on Oct. 26, 2015. (Via Philly.com)
"But he's totally better now than he was then, you guys!" Cavs GM David Griffin should just keep calling Hennigan over and over until he tricks him into a deal for Fournier. Bombard him with scrub offers until he's confused enough to accept one. And then, you know, at least offer the guy a job.
The Nets are also having a fire sale, but… meh
The second tweet is the interesting part to me, because the Nets should at least be playing for front office pride. They should at least try to half-ass the rest of the season (they haven't even been quarter-assing it to this point) and reduce the value of their pick and not actively help Boston get better because of their ineptitude.
They're probably not going to get a lottery pick in return for anyone on the current roster, but that doesn't mean they should just say, "F*ck it" and let a great team become super.