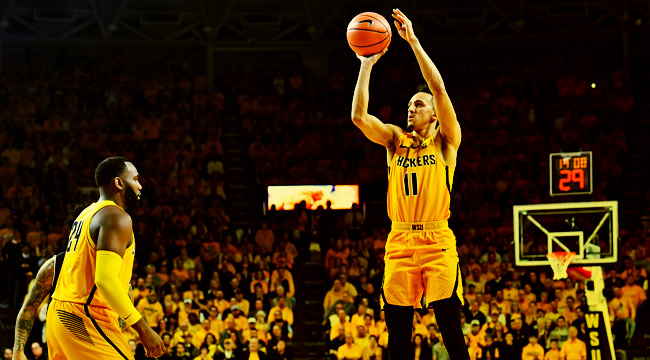 So the first day of the NCAA Tournament was pretty awesome, no? We had some absolutely insane games, like Loyola-Chicago knocking down what was basically a buzzer-beater to defeat Miami, Rhode Island and Oklahoma playing a barnburner that the Rams won in overtime, and Rob Gray was out of his mind in Houston's win over San Diego State. Oh, and Arizona got knocked out after Buffalo decided to shoot (and make) a million threes en route to a 21-point win.
Day Two of the 2018 Tournament doesn't seem to be as prone to games going completely insane, but save for the 1-16 matchups that are usually blowouts, it's a really strong day top to bottom. What should you watch? Well, that's where we come in.
Let's all enjoy some hoops, and you can follow along with games via our watch guide for the day. All times listed are EST.

Game of the Day: No. 7 Arkansas vs. No. 10 Butler (3:10 p.m., truTV)
Sometimes, the most important thing in a college basketball game is making your opponent play the way you want to play. Some teams want to push the ball. Others want to be more meticulous and work for the best possible shot. When a team that does the former meets the team that does the latter, the winner is usually the team that can figure out a way to dictate the way a game is played and make their opponent uncomfortable.
An example of this will come on Friday when Arkansas and Butler face off. The 23-win Razorbacks like to get up-and-down, coming in 30th nationally in average offensive possession length and 92nd adjusted tempo, per KenPom. The 20-win Bulldogs, meanwhile, are far more balanced, coming in 159th in average offensive possession length and 191st in adjusted tempo.
LaVall Jordan try to have his team settle things down while Mike Anderson inspires his team to take off will be fascinating. As for what will make the difference, well, an Arkansas fan might point to their marksmen from downtown (40.1 percent from three, 12th nationally), their veteran backcourt duo of Jaylen Barford and Daryl Macon, or freakishly talented center Daniel Gafford. A Butler fan will point to their two-headed monster Kelan Martin and Kamar Baldwin, along with the fact that they're a top-30 team in KenPom despite their double-digit seed.
On a day where there are no games that look truly outstanding, this one should be the best of a very good slate of matchups.

Watch these games, too
No. 7 Texas A&M vs. No. 10 Providence (12:15 p.m., CBS): When the Aggies are healthy and locked in, they're a team that can make a run. When they're not, well, a team like Providence can beat them. The Friars are tough as nails, led by the frontcourt pairing of Rodney Bullock and Alpha Diallo with a slippery point guard in Kyron Cartwright. If any of the Aggies' potential NBA players — Tyler Davis, D.J. Hogg, and Robert Williams — get hot, though, look out.
No. 5 Wichita State vs. No. 12 Marshall (1:30 p.m., TNT): Any time Wichita State guard Landry Shamet and big man Shaq Morris play, you should watch, because they have the potential to do some really fun stuff. Oh, and Marshall is coached by Mike D'Antoni's brother, Dan. The Thundering Herd are the sixth-fastest team in America with the third-shortest offensive possessions in the country and shoot a ton of threes. Sound familiar?
No. 7 Nevada vs. No. 10 Texas (4:30 p.m., TBS): Eric Musselman has the Wolfpack playing some great basketball, as the team is efficient on offense, doesn't turn the ball over, and can pick you apart from three. Their biggest achilles heel is that their opponents shoot about 51 percent from two, and when you're going against Mo Bamba and the Longhorns, that's a cause for concern. If Nevada can limit Bamba's effectiveness, especially on the defensive end of the floor, this could be an easy win. If not? This will be hot fire.
No. 8 Creighton vs. No. 9 Kansas State (6:50 p.m., TNT): Another example of a game between one team that wants to turn things into a track meet (Creighton) and one that wants to turn things into a slog (Kansas State). The Wildcats might not have junior big man Dean Wade, which would be a tremendous loss. Regardless, watch for the matchup between the fantastic 1-2 punch of Marcus Foster and Khyri Thomas for the Blue Jays against junior Kansas State guard Barry Brown.
No. 8 Missouri vs. No. 9 Florida State (9:50 p.m., TBS): Michael Porter Jr. is healthy. How healthy? Who knows! But if he was able to shake off the rust from his nearly season-long absence in the SEC Tournament, the Tigers are going to win, even though Jordan Barnett is suspended due to a DUI. If not, things become way more interesting — the team doesn't have much beyond Kassius Robinson and Jontay Porter, plus Florida State is a tough, tall, and talented squad. Watch for how the Tigers deal with the tremendous balance the Seminoles possess among their top-three scorers: Terance Mann (13.2 points per game), Phil Cofer (13.1), and Braian Angola (12.9).
Upset alert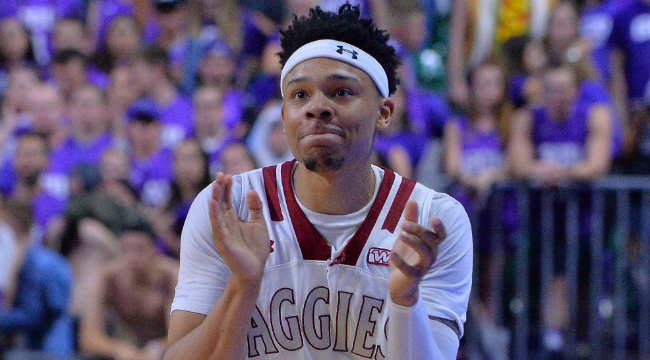 No. 5 Clemson vs. No. 12 New Mexico State (9:57 p.m., truTV): If you like watching teams throw haymakers on defense at one another for 40 minutes, watch every second of this game. Neither the Tigers nor the Aggies will give an inch on that end of the floor, as Clemson is eighth in adjusted defensive efficiency, while New Mexico State is 16th. Should the Aggies win, it'll be because senior guard Zach Lofton (19.8 points per game) gets buckets, while senior forward Jemerrio Jones (13.2 rebounds per game) cleans up on the glass.

Could get interesting
No. 2 North Carolina vs. No. 15 Lipscomb (2:45 p.m., CBS): To be 100 percent clear, I would be absolutely gobsmacked if Lipscomb beat North Carolina. However, you should watch this because this has the potential to turn into a track meet — the Bisons are fifth nationally in adjusted tempo, while the Tar Heels are 50th. If you like up-and-down games, this one is for you. And if Lipscomb's Garrison Matthews gets scorching hot, as he's capable of doing? Well, this one might get really fun.
No. 5 West Virginia vs. No. 12 Murray State (4:00 p.m., TNT): The vaunted West Virginia press against a really good mid-major (59th in KenPom) with some ultra-talented guards? Count me in.
No. 3 Michigan State vs. No. 14 Bucknell (7:10 p.m., CBS): The Bison will not be intimated by the Spartans, as they've gone up against Arkansas, Maryland, and North Carolina this season. Seniors Zach Thomas, Nana Foulland, and Stephen Brown will fight and could keep things close, but Miles Bridges, Jaren Jackson, and the rest of the Spartans should be too talented in the end.
Meh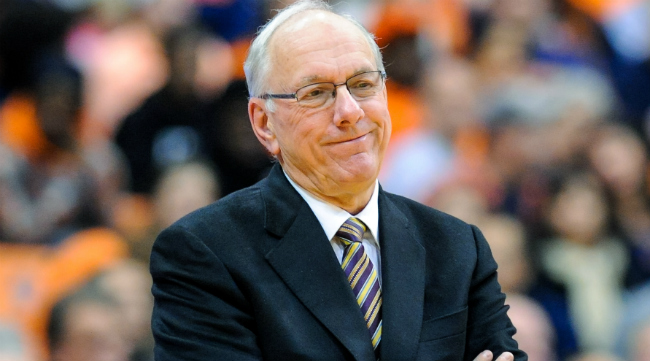 No. 2 Cincinnati vs. No. 15 Georgia State (2:00 p.m., TBS): Georgia State have been giant killers before — shoutout to R.J. Hunter — but taking down a Bearcats squad that is fourth in KenPom and is known for playing suffocating defense is a tall task.
No. 5 Auburn vs. No. 12 College of Charleston (7:27, truTV): It's an interesting matchup stylistically — the Tigers want to get out and run, while the Cougars prefer to grind out wins. Auburn's Mustapha Heron and Bryce Brown will probably be worth checking out.
No. 6 TCU vs. No. 11 Syracuse (9:40 p.m., CBS): The Orange are really good at slowing things down and making games ugly. The Horned Frogs should be able to hit threes against the vaunted Syracuse zone, but if this game is going to stay close, it's because it's an absolute slog.
Other games are on, you know
No. 2 Purdue vs. No. 15 Cal State Fullerton (12:40 p.m., truTV): You won't find many teams more well-rounded than the Boilermakers. This is good news for their title hopes and bad news for the Titans on Friday.
No. 1 Xavier vs. No. 16 Texas Southern (7:20 p.m., TBS): The Tigers are the worst team to make the Tournament, per KenPom. But please, look at their non-conference schedule from this year, where they went winless. We'll give them this: They won't be scared of playing a one-seed.
No. 1 Virginia vs. No. 16 UMBC (9:20 p.m., TNT): Virginia might be the best team in America. The Cavaliers also play the slowest pace in the country and are famous for absolutely suffocating opponents. UMBC might not break 50.