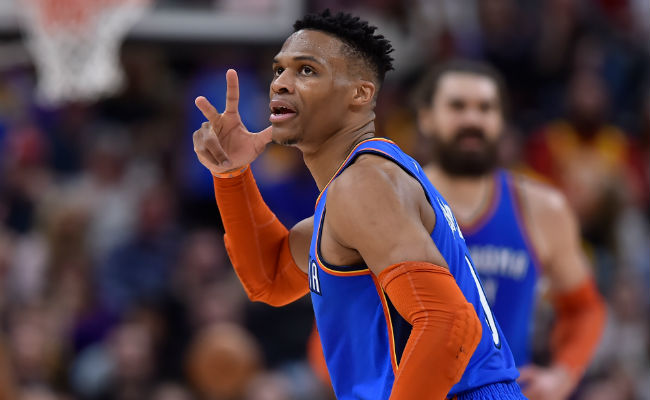 The Utah Jazz's investigation into the fan who heckled Russell Westbrook on Monday night has come to a conclusion. In a statement released on the team's Twitter account, the Jazz announced that their investigation into the incident — which led to Westbrook saying telling the fan "I'll f*ck you up" — revealed that the fan engaged in "excessive and derogatory verbal abuse" which "violated the NBA Code of Conduct."
As a result, the team has made the decision to hand the fan a permanent ban, one which prevent him from attending all events at Vivint Smart Home Arena.
Utah announced the investigation after video of the incident hit social media. Westbrook and several of his teammates claimed that the fan told him to "get down on your knees like you're used to," which led to Westbrook chirping with him. The following day, Jazz forward Thabo Sefolosha offered his full support to Westbrook, Donovan Mitchell expressed that he was hurt by the incident and wanted to work to make sure this sort of thing never happened again, and NBPA president Michele Roberts called for a zero tolerance policy for these sorts of instances.
Westbrook told the media after the game that he felt the comments were "racial," and if it were to happen again, he would react the same way. Hopefully this sort of thing never happens again, because this has no place anywhere in society, but at least we know this fan will never be in a position to say this sort of thing to Westbrook or any other player who visits Vivint Smart Home Arena ever again.