Welcome to Comedy Now, a weekly column cataloging what comedy fans should know about what's available in the streaming world. Whether it's a brand new special, an old classic, or the oddball show that defies categorization, we'll list as many as we can for your enjoyment right here. Who knows? We may even throw in a few non-streamable bits on occasion, like tour announcements from our favorite comics. You can check out the previous column here.
What's Now
Netfix offers another serving of Jerry Seinfeld's Comedians in Cars Getting Coffee
In mid June, Netflix released the first trailer for the new season of Jerry Seinfeld's Comedians in Cars Getting Coffee web series, which was part of the massive deal the comedian signed with the streamer. They also announced the season's impressive guest list, which includes Dave Chappelle, Kate McKinnon, Ellen DeGeneres, Hasan Minhaj, Dana Carvey, Neil Brennan, Tracy Morgan, Brian Regan, Alec Baldwin, Zach Galifinakis, John Mulaney, and the late Jerry Lewis. All 12 episodes of Comedians in Cars' latest batch dropped earlier today, so subscribers can binge them during the holiday weekend.

The Comedy Lineup enters the stand-up boom in a small (yet big) way
Back in January, news broke that Netflix was working on a second stand-up comedy series, this time comprising of multiple comics performing 15-minute sets. The names of the 16 comedians who were participating were also revealed, and eight of them — Michelle Buteau, Phil Wang, Taylor Tomlinson, Ian Karmel, Jak Knight, Sam Jay, Sabrina Jalees, and Tim Dillon — have already debuted their sets with The Comedy Lineup's first part. A short teaser released ahead of Tuesday's premiere offers a decent preview, but it pales in comparisons to the highly bingeable bout of stand-up.
Bill Maher literally goes into Real Time with his live HBO special
This Saturday, Real Time host Bill Maher's 11th comedy special with HBO, Bill Maher: Live from Oklahoma will air at 10 p.m. ET. And per the title's suggestion, Maher will actually be in Oklahoma for the taping, and the taping itself will be live. (At least for those who tune in from the Eastern and Central time zones. The Mountain and Pacific time zones will be tape-delayed.) Even with Real Time's current hiatus until Friday, August 3rd, however, viewers shouldn't expect Maher to avoid the typically volatile political topics his talk show enjoys delving into.
What's News(s)
Hannah Gadsby's Nanette is the talk of practically everywhere
Though Australian comedian Hannah Gadsby's Nanette debuted in mid-June, American Netflix subscribers began responding to the stellar hour in the weeks that followed. To be fair, Gadsby's comedy was better known in her native Australia and the United Kingdom prior to her Netflix premiere, and those lucky enough to check out the live show were only able due to their proximity to New York City and Los Angeles. But not that Nanette is out there, people can't stop talking about it. Comedians, critics, general audiences — people can't seem to get enough of the hilarious and moving special.

A comedian apparently tricked President Donald Trump into appearing on his podcast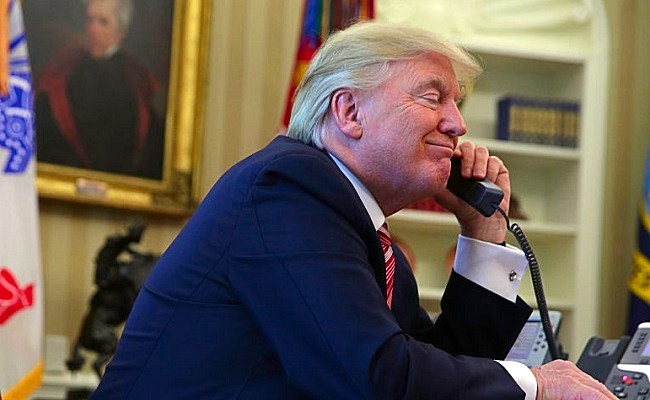 Last week, former The Howard Stern Show regular and Stuttering John podcast host John Melendez claimed he had prank called President Donald Trump aboard Air Force One. News of the alleged prank call, which Melendez released in his latest podcast episode (along with a full transcript), went viral — especially after the host began tweeting about U.S. Secret Service agents trying to contact him at his home following the act. Since then, the comedian has spoken with several outlets about the experience, saying his prank reveals "how bad their screening is."
What's Later
Jim Jefferies returns to Netflix with This Is Me Now
Comedian and Comedy Central show host Jim Jefferies third Netflix special, This Is Me Now, will debut next Friday, July 13th on the platform. "My new stand-up special is coming to Netflix," he said in a tweeted video. "It's called This Is Me Now and it's out Friday, July 13th. It's for people who enjoy comedy, and other people that they associate with." Most famous for his gun control screed in 2014's Bare, Jefferies continued harping on America's Second Amendment debate in 2016's Freedumb. Seeing as how the comic has tried to "pass on his gun control mantle," there's no telling if This Is Me Now will address the subject.