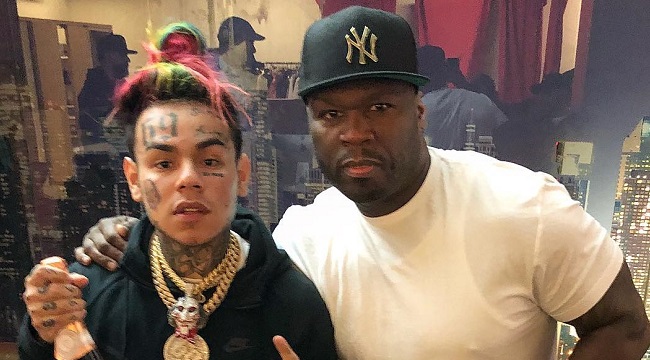 Tekashi has been fanning flames coast to coast with his antics. His "test my gangsta" routine has him at odds with Game, YG, and plenty of other people vying to do just that – or get some buzz for new music off of a hot, temperamental target. He claims he has no plans to put the breaks on the way he's been moving, which at this point has to remind people of another unabashed controversy stirrer: 50 Cent. It's ironic now that 50 is Tekashi's latest co-sign. Tekashi was up in the ThisIs50 offices for an interview when 50 jumped in and told Tekashi's hoard of newfound enemies to simply, "leave him alone."
He laughed off Tekashi's claims that he "runs NY," which is surprising given that years ago he'd probably be firmly in the G-Unit general's crosshairs for such a claim. But 50 looks at Tekashi as a "little homie" and egged him on to "let his nuts hang" and tell the world he runs New York – which he did. His decision to stand beside Tekashi could also have something to do with 50's longstanding static with Game.
Tekashi also had some words for XXL yesterday, surmising that if he isn't picked to be one of the 10 freshman, the magazine's process is "rigged." He flexed, "I got THE BIGGEST numbers on any platform then any other artist with 5 BACK TO BACK billboard hits. No one is doing that," he posted to his Instagram. He's got a point. Obviously, if this was just about music he's the most accomplished young artist. But it's the other things he's done, or alleged to have done, that have music outlets weary of co-signing him — as evidenced by XXL apparently taking his pitch video down for 12 hours yesterday (according to him). It speaks to his demand, however, that it's still the most viewed clip — and they put it back up.