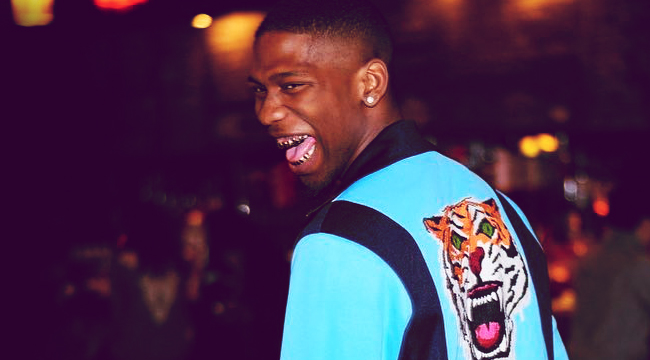 Teachers used to tell BlocBoy JB that he'd grow up to be a failure. Between being kicked out of school in 10th grade, and the birth of his now two-year-old son, BlocBoy says that he had no choice but to focus his efforts elsewhere. "F*ck school, I'ma get rich off rapping," he thought, as he dropped six mixtapes over the past two years.
Last fall, the independent Memphis rapper had big plans: He was to perform at several high school pep rallies around town. "A lot of just turning kids up for school, motivating them," he said. But local news caught wind of a video where BlocBoy and some friends shoot dice inside one school's locker room, without any teachers or administration noticing. One report showed a BlocBoy music video where he helps rob a home. Those reports put paid to his hopes of becoming a role model, but BlocBoy's reputation is changing at this very moment.
https://www.instagram.com/p/BfGjRaNl5aO/?hl=en&taken-by=blocboy_jb
Earlier this month he and Drake released the Project Pat-interpolating "Look Alive" remix, to 13 million Youtube views. Throughout his career Drake has staged chart takeovers via high-profile cosigns, where he hops on songs by promising new talent, from The Weeknd to A$AP Rocky, Future, and Migos. His co-sign has long been considered an indicator of a huge explosion of viral attention — "Look Alive" debuted at No. 2 on the Apple Music charts. But consider "Look Alive" a warning shot from BlocBoy JB, too. "I'm a get the money, Drizzy get the loot," he raps, speaking their dual success into existence.
BlocBoy often raps as an unflinching stickup kid affiliated with Grape Street Crips, a California gang with a branch in Memphis; a Blac Youngsta remix, "Crip Hopper," makes for some of his catchiest proof. The violence in his music can be unrelenting, but it isn't at all surprising; last year Memphis' murder rate reached the highest levels it has seen since the '90s. As trap-rap superproducer Metro Boomin once said two years ago, "21 Savage is important because he is one of the last street n—-s left making music." The same could be said of BlocBoy.
The two biggest figures in Memphis rap right now, Yo Gotti and Young Dolph, have also been at war with each other, for reasons no one quite understands, to TMZ headlines and hospital stays. Lately, Gotti and CMG signee Blac Youngsta, who have both taken to BlocBoy, have been thriving off strip club anthems "Rake It Up" and "Booty," respectively. But rap always seems to be recruiting new street soldiers, because voyeurism sells.
Fortunately, BlocBoy seems to have more to offer than so-called grittiness. His best moments are freewheeling like the left field turns he and producer Tay Keith make in "No Chorus Pt. 9." Earlier this week, Metro and 21 hit the studio with BlocBoy, as Post Malone's "Rockstar" loses momentum on the Billboard Hot 100.
Another of BlocBoy's biggest hits, the stupidly catchy "Shoot," didn't need a viral dance challenge to set it off, though BlocBoy came up with one anyway. The steps are lively, but simple: He hops on one foot, kicks with the other and leans back all at the same time. Like so many students before him, Drake couldn't resist trying out the dance himself. He does it in the "Look Alive" video, re-assuming his position as rap's cheesy-trying-to-be-cool dad, as BlocBoy revels in this moment of pure joy.
https://www.instagram.com/p/BfLsiMQlV82/?hl=en&taken-by=blocboy_jb
A Drake cosign doesn't always guarantee long-term success. But at least BlocBoy gets to experience that feeling where a world of possibilities lies ahead. He is in talks with labels and last week he hopped on Moneybagg Yo's new project 2 Heartless, which also features Quavo and Lil Baby.
Look closely at the "Look Alive" video, and you'll see that in some of the video's best scenes, he and Drake dance off inside a gymnasium. Despite what anyone else might have said before, BlocBoy found himself back in school, and the success his teachers once claimed was out of his reach is right there for the taking.