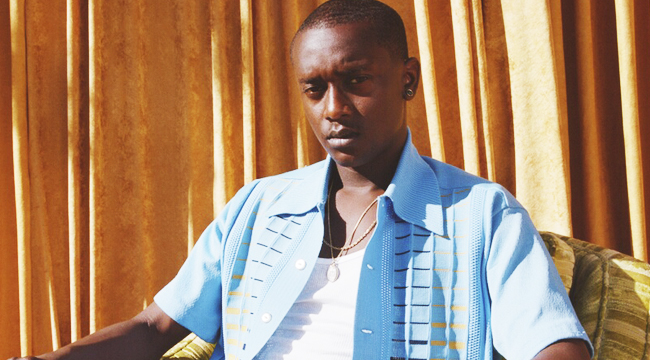 There's a pharmacy on the corner of Alondra Boulevard and Harlan Avenue in Compton, a little, nondescript building attached to a small medical clinic, the sort of neighborhood mom-and-pop operation you drive by without noticing, even if you happen to live up the road. There are dozens of small businesses dotting the nearby landscape, which is primarily dominated by one, often unexpected feature: The Compton/Woodley Airport.
It's the sort of thing locals are proud of, that outsiders have never heard of, that should define the city, but doesn't, because news "don't know, don't show, or don't care about what's going on in the hood," to quote one notable resident of the somehow notorious, ten square mile hub located about fifteen miles south of downtown Los Angeles. But Compton-bred rapper Buddy wants to change the perception of the neighborhood, bringing attention to its little community stores and its best-kept-secret airport and all it has to offer with his debut album named after the intersection where he grew up, Harlan & Alondra.
Buddy, born Simmie Sims, maintains a close relationship to his city of origin. The video for Harlan & Alondra's third single, "Hey Up There," takes place on the asphalt runways of the Compton/Woodley Airport and other songs on the album reference nearby Central Ave. and the rich history that surrounds the city, even as Buddy takes on introspective new dimension on reflective songs like album closer "Shine."
Harlan & Alondra bounces easily and confidently from traditional G-funk like the Snoop Dogg-featuring "Blue" and militant pride on the staccato trunk rattler "Black." After releasing a pair of mixtapes named for other locations he's lived in Los Angeles — the Kaytranada-produced Ocean & Montana and Magnolia with Mike & Keys — he's come full circle on his studio release, showcasing his full range of skills from spitting THC-laced party rhymes to church choir-influenced melodizing, all in the name of the place he left to find himself and returned to once he had.
My phone interview with Buddy started out discussing the makings of the album and the inner workings of his creative process, but it wasn't long before our shared city of origin became the focus, as we shared stories of "trouble on Central" and civic pride and ruminated on its shifting perception in the mainstream eye. If home is where the heart is, Buddy's heart forever resides down the block from that pharmacy, even as it soars in the skies above those asphalt runways across the street from where he grew up.
I've heard the album and it's very, very good. I really like "Trouble On Central" and "Young." What's a song on that album that has a lot of importance to you?
"Find Me 2" is the sequel to another introspective song, and I just feel like it's really one of those records where it hits home for a lot of people, myself included. It's just a constant search for yourself because everything changes all the time, just really trying to just figure out who you are in the middle of everybody.
It's a bunch of different vibes, bunch of different conversations, bunch of different ways to go about making music that is constantly get introduced to you that just blows my mind every time. I'm out trying to do something different, something I'll feel vibes to, and just still make it my own. Give it that same feeling that I always do.
A lot of people may not be aware that your first single was "Awesome Awesome," way back and you had Pharrell producing for you and you had Miley Cyrus on that album. So, that's a big departure from that to this more hip-hop-oriented direction. What do you think made you change and how you feel like you've changed over the last few years since you came in the game?
Well, just being in the industry so long, and being so young and having the opportunity to just be in all these rooms and gain all this information, see how things go down. Just in the process all in the middle of maturing as a human being on earth, and just really figuring out what I wanted to do for me, I went through a bunch of managers and finally found the right one for me.
Then I had to figure out my living situation. I moved out of Compton, moved over there to the ocean and was living at the beach for a while. It was just different vibes for me in my real life, outside of music. Really trying to center myself in the real world so I can comfortably do my thing musically, finally and everything. Then I finally got to a comfortable spot, and made an album, it was tight.
You actually sort of incorporated those vibes back into the music, taking different sounds that really feel like those locations in Los Angeles. How do you interpret those different vibes through your music and through your lyrics?
Trying to just keep it real, try to say what's going on with my life, and really just talking to the people that's in the room with me while I'm working. It's just like making a list.. there's so many ways to go about it. It's always just in the moment type of vibes, keeping it super real and honest and super nice and groovy.
What were some of the vibes that went into making this album?
I bought a bunch of toys at Toys 'R' Us, I spent like $300 on Rubik's Cubes, yo-yo's, Legos, basketball hoops, and then we started making music.
Why did you want to have a lot of toys before you started making music? Was that stimulating for your mind?
I wasn't trying to be bored while the producers was making the beats.
I can relate to that. You shot your "Hey Up There" video that just came out at the Compton/Woodley Airport, and a lot of people don't know that the city has an airport. What was it about Compton/Woodley that attracted you to making that particular video for that song?
Well, I grew up down the street. Harlan and Alondra is right down the street from the airport. The title of my album is the cross streets of where I grew up, I was just really trying to bring more eyes to the city itself. I used to go there as a child, I would walk to Woodley and take the pilot classes and they taught us how to fly helicopters and planes, and I just wanted to show that side. I feel like Compton's always being depicted as gang banging, drug dealing, deadbeat dads, half a family, and I'm just trying to show the more positive: Flying, pilots, children, learning. Inspiring.
So, was "Trouble on Central" based on a real day that actually happened?
Yeah, it's multiple days on Central where I got in trouble, and it went down for sure. It was inspired, because it was right around the corner from my house that had a bunch of bullsh*t ass vehicles that broke down there, a cop that pulled me over because I was smoking or didn't have tags, because I used to ride dirty, anything… The whole idea of Central and just constant energy. It's really easy to get in trouble over there.
Why do you think that is?
I mean, that's the world. It's really easy to get in trouble everywhere, it's not just Compton, but there too. That's the way of the world, it's America, Donald Trump is president, it's a f*cking joke.
It feels like Compton has a different kind of energy and movement right now. Obviously, Kendrick is someone that we can all look to and say, "Okay, Compton is on," but after Kendrick, you still have Boogie, AD, Problem, and you all kind of coming up together. How do you feel about where Compton is right now as a city?
I think it's tight, the best part about it is even amongst the most popping people in Compton who are getting a lot of attention, it's still that friendly competition between us in the city as well, that really motivates us to just go harder. Because Kendrick never left us, Boogie's going hard, and I be damned. So, I'm going hard too.
Why do you think is behind that competitive drive?
Just a go-getter attitude, that everybody feels like they could do anything, nobody cares about the rules. Everybody's already free in their brain over there, they could care less about all these barriers that people put up for them, and they just still find a way to do exactly what they want. I feel like that's the best part.
I just don't think it's depicted or shown, that's why they don't understand. They only see what they're shown, and I don't feel like they take the time to go deeper themselves so they're just oblivious. They only see what they're shown, and they only show the bad side.
How do we try to show them the other parts?
I feel like I'm doing good, I got into Compton Airport, it's just one step at a time. We just got to show them the good stuff, we literally got to videotape it, put it on Youtube and Instagram and show them. That's it.
Harlan &Alondra is out tomororw, July 20 via Cool Lil Company and RCA. Get it here.