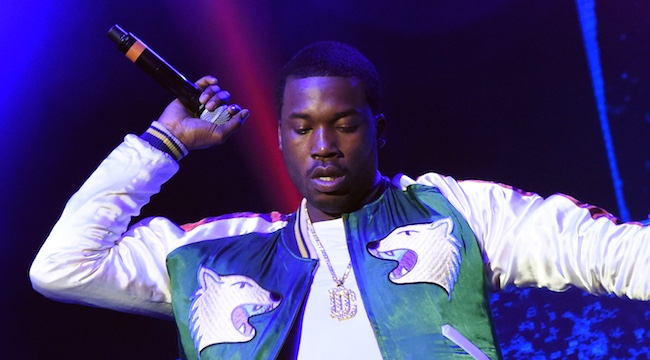 Meek Mill has been quietly working on his comeback album ever since being released from prison, making strategic moves such as squashing his beef with Drake, releasing his sultry single "Dangerous" with Jeremih and PNB Rock, and co-signing up-and-coming Compton rapper Roddy Ricch as a part of his Dreamchasers crew. Then, he surreptitiously dropped the release date in a recent interview with Vogue. Now, we finally know the title of the album we should be looking out for: Championships.
It seems Meek learned a thing or two from his bout with Drake; in the announcement tweet he shared, he made sure to attach a trophy emoji, which in 2018, is just good promotion. It's also the tactic Drake used during their battle after his diss track "Charged Up" followed Meek's ghostwriting accusations. Hundreds of Drake fans flooded Meek's social media for days with full battery emojis, demonstrating the utility of having a quick way to reference and project or song online.
In the meantime, Meek has also been just as hard at work on campaigning for prison reform. He has started his own organization dedicated to freeing 1 million prisoners, either through outright appeal or prevention, directly addressing the problems he and Jay-Z have previously called out, including predatory probation practices and the standard of cash bail, which was the key factor in keeping reform martyr Kalief Browder locked up on Riker's without charges for over a year.
Championships is out November 30.
Meek Mill is a Warner Music artist. Uproxx is an independent subsidiary of Warner Music Group.