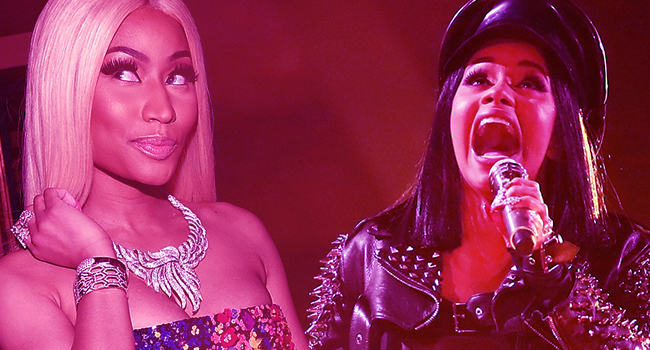 It's okay to like Nicki Minaj and Cardi B at the same damn time. It's absolutely possible to enjoy both The Pinkprint and Invasion Of Privacy. Seriously, you don't have to choose. In fact, don't. It's time to step outside of The Matrix.
As both a woman and an avid listener of hip-hop, it's always satisfying to hear music that I connect with when it comes from another woman. This isn't about the integrity of "real hip-hop" over ancient boom-bap beats from 1993, it's about women having a choice in the music they enjoy for themselves without being told why they should or shouldn't listen to a particular female artist. Like most humans, we women love finding something we can easily relate to art. Some women have been strippers before, some women have been stuck in toxic relationships that were hard to escape from before, and some women like to have something to dance to at any given moment. These are all tenets that both Cardi B and Nicki Minaj address in some fashion in their work, and it's certainly part of why their songs connect with millions and do so well on the Billboard charts. In our heads, these women are our best friends.
But let's face it, the music landscape for female rappers nowadays is looking pretty sad. And given how hard it is to make it as a female rapper at all, it's not fair that the music industry, media and social memes recklessly continue to push the tired narrative that two of hip-hop's biggest stars — who just so happen to be women — shouldn't like each other, and should therefore be exchanging intense barbs about who is better at this rap thing.
Cardi B and Nicki have more in common music-wise than some may realize, and it's a wonder they don't already share fanbases. Cardi B just broke Taylor Swift's Apple Music streaming record and although Nicki Minaj hasn't released a major project since 2014, you can still catch her at the top of the Billboard Hot 100 chart. She's still being talked about and she's still relevant, so there's no need to get for Nicki fans to get mad at Cardi B for doing exactly what anyone in her position who ever dreamed of becoming a rap star would do. They're both beautiful women, they both rap, sing and break records.
And still, there are people who love Cardi B just because they hate Nicki Minaj and there are people who love Nicki Minaj only because they hate Cardi B. That's no way to live life, and such poor utilization of energy that could be investing in reciting all the lyrics to "Bodak Yellow" in the car, along with your girls (or guys) instead of being a Bitter Betty about Nicki's unshifted position in the music game. Then, of course, there's that persisting toxic mythology that there can only be one Black female artist at the top. Some people really subscribe to this mindset and accept it, which has resulted in a generation of young girls who think it's normal. Minaj has largely gone unchallenged for the longest time, so for some of these girls, Nicki is all they know. But that doesn't mean there isn't room for Cardi at the top, too.
There was a time in hip-hop where women singers and rappers got along quite nicely (publicly at least). There were so many female recording artists to pick and choose from — and it was more than okay to like all of them. Watching the music video for Lil Kim's "Not Tonight (Ladies Night)" as a little kid in elementary school was such a pivotal moment for me as a young Black girl with limited representation on the television screen. Lil Kim, Left Eye, Da Brat, and Angie Martinez all on the same cut, plus guest appearances in the video from Mary J. Blige, Chilli and T-Boz of TLC, Queen Latifah, the girls from SWV, Xscape, Blaque, and Total. What a time to be alive! The depiction of women empowerment was just a fact of life and it shouldn't be this hard to get back to that.
"Motorsport" should have been a moment all on its own sans Migos. That line Cardi asked to have removed should have been talked about between the two women themselves. Rather than pushing a divisive agenda, the camps around each artist could have worked to defuse any bubbling friction being egged on by social media and confrontation-thirsty interviewers. The conversations between Nicki and Cardi concerning Nicki's "quarterback" line — a line that wasn't necessarily a diss — should have taken place in private to figure out how it was ultimately accepted by Cardi as a diss, and refute that.
Acting A&Rs and management teams could have de-escalated the pressing issue of Nicki's lyrics if they really wanted to. But pitting two women in rap against each other must be way more lucrative in their eyes. Even drama surrounding the filming of the "Motorsport" video felt like a concerted effort to help push this divisive narrative. As Chad "Pimp C" Butler so eloquently recited on "Knockin' Doors Down," there's simply too much money to be made when there's division: "Ya'll need to get up out the dumb shit / I got a bread truck, get up out that crumb shit."
Being a fan of both Cardi B and Nicki Minaj shouldn't be this exhausting. Women already have to constantly deal with being pitted against each other in the workplace and everywhere else in life where other women exist. The hostility sometimes comes as a form of self-defense, a wall that goes up just in case that other girl is, in fact, a hater plotting your downfall. Instead of stoking that paranoia, we could all just admit that "Chun-Li" is just as much of a fun bop as "Drip." I fully expect to hear plenty of both at summer functions and be able to enjoy one just as much as the other, doing my dance, Coke and Hennessy in hand.