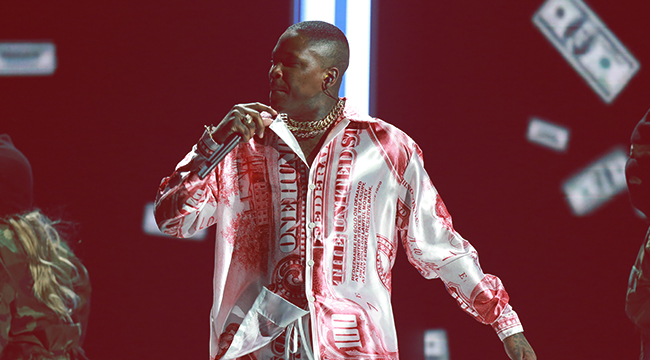 Compton rapper YG is, among other things, a master of branding. Coming from the Treetop Piru Blood gang of his hometown, he took what could be perceived as the biggest strike against him and turned it into his greatest asset. Tales of his life as a gang member, Piru battle cries, and Blood iconography saturate his work, from his inescapable tunes to his colorfully unique sartorial choices. His uncompromising, borderline punishing emphasis on representing his affiliation has been so reliable, it's run the risk at times of leaning too far, into the realm of self-parody. Yet, despite his image's endless meme-ability and the insistence of suburban white kids who love his music of replacing "c's" with "b's," YG's authenticity has always shone through in the chillingly autobiographical raps of albums like My Krazy Life and Still Brazy.
Stay Dangerous is the 28-year-old rapper's third studio album under Def Jam, and it sticks largely to the formula of what's come before, yet finds tricky and unexpected ways to polish YG's straightforward approach like the formal shoes he's taken to wearing with his street-ready uniform of white t-shirts and rolled up slacks. Think of it like throwing a fresh coat of glossy, cherry-red paint on a classic Chevrolet; it's the same car under the glitter, but gussied up and turning more heads than ever. The underlying mechanics of YG's shtick — his slick way around a sparse DJ Mustard production, his clear-eyed depictions of gang life, its consequences, and occasionally its spoils, and his unflinching commitment to his viewpoint and his LA lingo, outsiders' opinions be damned still work just fine. And if it ain't broke, why fix it?
https://www.instagram.com/p/Bl_NVRYlAHx/?taken-by=yg
Which is how YG wound up with a fifteen track manifesto of a third album in Stay Dangerous, which finds the Compton rapper and his longtime producer getting back to basics, sticking to his gang signs and unfiltered philosophy of only ever speaking his mind. As he puts it on album opener "10 Times": "Pops told me to change up / But if I change up, they'll say that I changed up." Where My Krazy Life seemed mostly preoccupied with explaining the conditions and formative experiences that formed YG's mentality, he refuses to give justifications or explanations here. He is what he is, you will deal or you won't, but YG's going to do him, regardless. Look no further for proof than album closer "Bomptown's Finest," where YG compares his refusal to "get the hood up out me" to the success of Master P and Jay-Z, whose hometown's form the foundation of their musical narratives as much as his has.
While Still Brazy ended up being notable for including YG's first forays into political content with songs like "Police Get Away With Murder," "Blacks And Browns," and anti-Trump unifying anthem, "FDT," there are no equivalent reaches across any aisles — political or otherwise. YG only extends his hands here to throw up his set on booming, club-ready mission statements like "Suu Whoop," "Too Brazy," and "Deeper Than Rap." DJ Mustard continues to test the limits of the principle that states that no matter how skeletal his beats, they will never get old — the theory holds. Blatting synth basses, atomic bomb-landing 808s, and snickering hi-hats and handclaps continue to form the firmament on which YG executes his Blood walk, and his sparkling dress shoes never miss a beat.
Despite the consistency of YG's subject matter — gang, money, sex, more or less in that order — it's stunning how far he's come as a rapper since mixtapes like 4Hunnid Degreez and Just Re'd Up 2, where it felt like the beat was sort of incidental to what YG wanted to say. Now, his flow is poised, under his complete command. Now he ramps up and slows down as he sees fit; the difference is subtle but noticeable. "Slay" featuring Quavo finds him lounging a pocket with a laconic delivery, suddenly switching to a double-time staccato, then easing right back into his easygoing slouch as Mustard brings the classic 1990s R&B keys and a ghostly sample that will certainly make "Slay" a favorite at pool parties and barbecues in the hood.
Stay Dangerous isn't YG's most insightful or introspective work so far, but it might be his most honest and his most confident. He spent two albums planting his flag and defending it, now he's reaching out to expand his empire by exporting his raw sincerity through his unique brand of Bay-influenced LA bounce. He may be too brash for some, too upfront, too uncompromising, but that's the charm that's made him an indispensable cornerstone of California's recent rap resurgence.
Stay Dangerous is out now via Def Jam Recordings. Get it here.