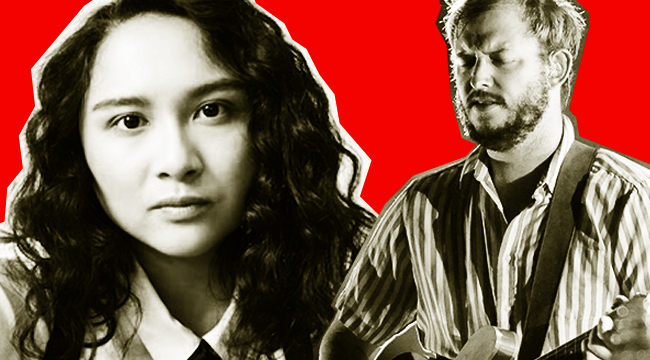 Indie music has grown to include so much. It's not just music that is released on independent labels, but speaks to an aesthetic that deviates from the norm and follows its own weirdo heart. It can come in the form of rock music, pop, or folk. In a sense, it says as much about the people that are drawn to it as it does about the people that make it.
Every week, Uproxx is rounding up the very best of the indie releases from the past seven days. This week we got a surprise from Bon Iver, mysterious new tracks from Big Thief, and another great taste of the new Jay Som record.
While we're at it, if you want more music recommendations curated by Steven Hyden delivered directly to your inbox every week, sign up for the Indie Mixtape newsletter.
Bon Iver — i,i

We didn't expect a new Bon Iver album until the end of the month, but Justin Vernon and co. went ahead and surprised us with a digital release of i,i three weeks early. Hey, I'm not complaining. Clocking in at just under 40 minutes (a perfect run time if there was one), i,i encompasses all of the things that made Bon Iver great, while pushing forward down the path of glitchy, experimental rock music that was likely created specifically for Bon Iver's upcoming arena tour — their largest headlining shows to date.
By the end of the record, there comes an understanding that "the world might be a scary place, but there are still sounds and feelings that can put us all in the same headspace, if only for the duration of a rock show," writes Steven Hyden for Uproxx. "Justin Vernon wants i,i to put you in that frame of mind. He decided to come to us this time."
Why? — AOKOHIO

What started as the solo project of Yoni Wolf, Why? has evolved into something of an enigma in the indie scene, combining elements of underground hip-hop, avant garde pop, and garage rock. In the nearly two decades since his first release, the Cincinnati artist has released a steady flow of music under the name Why? that is equal parts enticing and intriguing. With nineteen tracks to its name, AOKOHIO is presented as six "movements," with some entries that last no longer than a few seconds. It's really fun and feels different from most anything that is being released these days.
Infinity Crush — Virtual Heaven

Throughout Virtual Heaven, Caroline White's sophomore effort under the name Infinity Crush, she blurs the lines between fantasy and reality, while confronting instances of moral conflict that seem to arise on a near-constant basis in today's world. Don't worry, the music is actually more pleasant than its concept. "White's vocals are divine and devastating, floating about a bed of instrumentation that somehow uses sound to build worlds," I wrote in Infinity Crush's Indie Mixtape 20 Q&A. All told, Virtual Heaven is a beautiful gift.
Marika Hackman — Any Human Friend
Marika Hackman's third album has to be the horniest album of the year — and yes, I am aware that Cupcakke has a new song out. Hackman has no interest in being anything but the direct, and it is clear throughout Any Human Friend that she is grappling with the complexities of her desires, trying to navigate toward maximum productivity. But that doesn't mean that the music feels confused; quite the opposite, actually. The production and arrangements on these tracks serve as proof that liminality creates great art, and Marika Hackman is able to channel her insecurities into something beautiful.
The Regrettes – How Do You Love

At long last, and after a long string of singles released over the last year or so, The Regrettes have unleashed the follow-up to 2017's Feel Your Feelings Fool!. The fifteen track effort is really fun, and even if you didn't know the band was from LA, you might be able to guess it from the sound. Leader Lydia Night might still be in her teens, but she is already showing signs of a star power that makes The Regrettes a band to watch as How Do You Love begins to find its place in the pop-rock canon.
Big Thief — "Demo 1"
Last week, people that purchased Big Thief's excellent new U.F.O.F. from the band's label 4AD received a mysterious, unmarked 7-inch in the mail with two new songs from the band. While nothing has been officially announced, Reddit users are theorizing that the tracks are cryptic hints of a new album called Two Hands, which is set for release later this year. One fan even pointed out that the 7-inch had the words"OCT1119" etched into the vinyl, so perhaps the new music will be released on October 11. Check out the second song, referred to by Shazam as "Demo 2," here.
Bat For Lashes — "The Hunger"
With a new concept album on the way called Lost Girls, Bat For Lashes has unveiled the latest piece of the album's narrative. We already know from previous single "Kids In The Dark" how the album's protagonist Nikki Pink met up with and gets involved with a gang called the Lost Girls, and "The Hunger" expands on that storyline, finding Pink getting together in the desert with some of her new friends. Having a through-line narrative at all in and of itself is extremely impressive, but it makes the whole thing more special that Bat For Lashes mastermind "Natasha Khan directed the video for the epic song herself," according to Derrick Rossignol for Uproxx.
Jay Som — "Nighttime Drive"
Every taste of Jay Som's new album Anak Ko has us more excited for the full album, which is out a little later this month. "Nighttime Drive" is no different, a deeply pleasing breezy and chilled-out number with Melina Duterte's reverb-soaked vocals dancing above acoustic guitars and muted drums. "Unsurprisingly, the video features Duterte and her band on a nighttime drive, but things get strange when they come across some extraterrestrial activity," writes Derrick Rossignol for Uproxx.
Hovvdy — "Cathedral"
The music that Hovvdy — which is pronounced "howdy,' by the way — is comforting in a way that's sort of uncanny. Every song feels familiar, but still with a unique tinge that makes it enticing. "Cathedral" is no different, setting the stage for Heavy Lifter, the band's third LP in the five years since the uploaded their debut album on Bandcamp. The outro chorus is especially beautiful on "Cathedral," with reverb-soaked vocals contemplating what would happen if you never came back to the place you've found yourself. Count me among the excited for Heavy Lifting, which is due October 18 on Double Double Whammy.
Some artists covered here are Warner Music artists. Uproxx is an independent subsidiary of Warner Music Group.