Summer has unofficially arrived. That means travel's high season is here. Prices are going to start to spike as weary travelers make last-minute plans to go on globetrotting adventures or hit their favorite beaches for a little downtime.
This is the time of year when you really need to shop the deals for the summer, fall, and winter. Those deals are out there and we're here to help you sort through the weeds.
We've compiled some of the best deals right now below. These are the cheapest flights, sweetest hotel rates, and steepest travel package discounts online this week.
TOP THREE DEALS OF THE WEEK:
BOOK ONE-WAY FLIGHTS TO LONDON FOR LESS THAN $100 WITH NORWEGIAN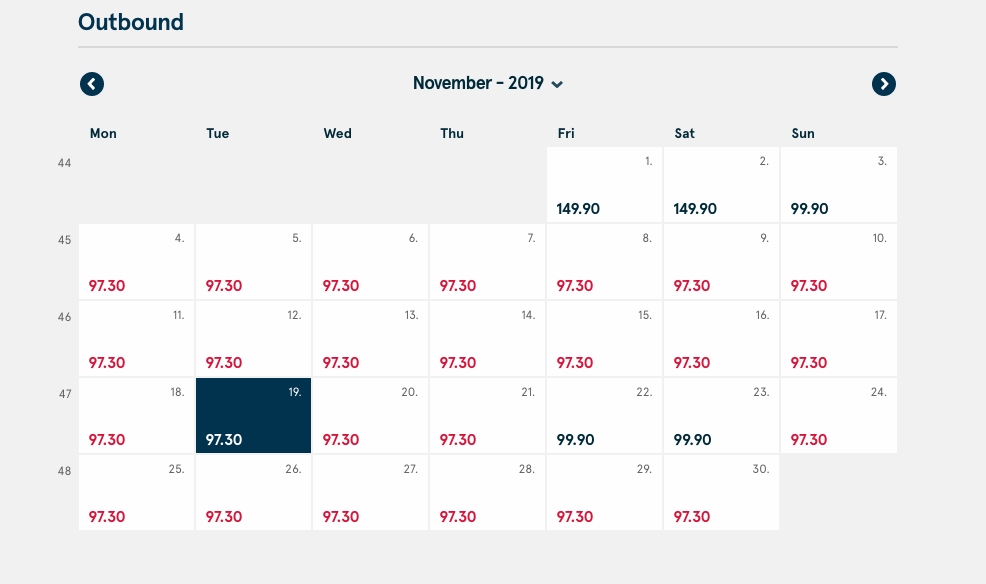 A one-way flight from the East Coast to London for less than a hundred bucks is unbeatable. Norwegian has the advantage of letting you carry on a bag and personal item as well, so you can actually travel for $100.
Now, if you need to check a bag or eat Norwegian's in-flight food, expect to pay around $100 more per leg of your trip. Our advice, carry on a bag with a quick meal inside and hop aboard.
SPEND TWO NIGHTS EXPLORING VERMONT'S BEER SCENE THIS SUMMER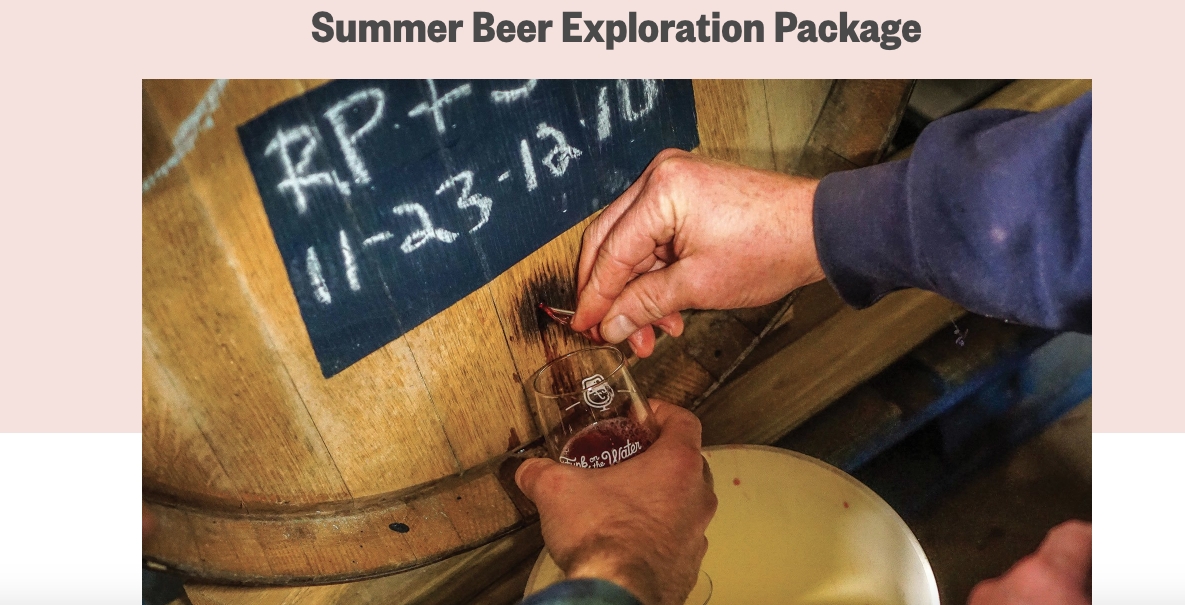 Hotel Vermont in Burlington is offering a rad beer-centric package this summer. The deal includes two-nights accommodation in one of Hotel Vermont's plush rooms, welcome dinner and beer tasting, a whole day of beer-related tours and meals, and plenty of beer to drink back in your room.
You'll need to travel during select weekends between June and October. Packages start at $1,130 per person — which is a steal.
SAVE 40% ON SUNDAY NIGHTS AT SEATTLE'S HOTEL MAX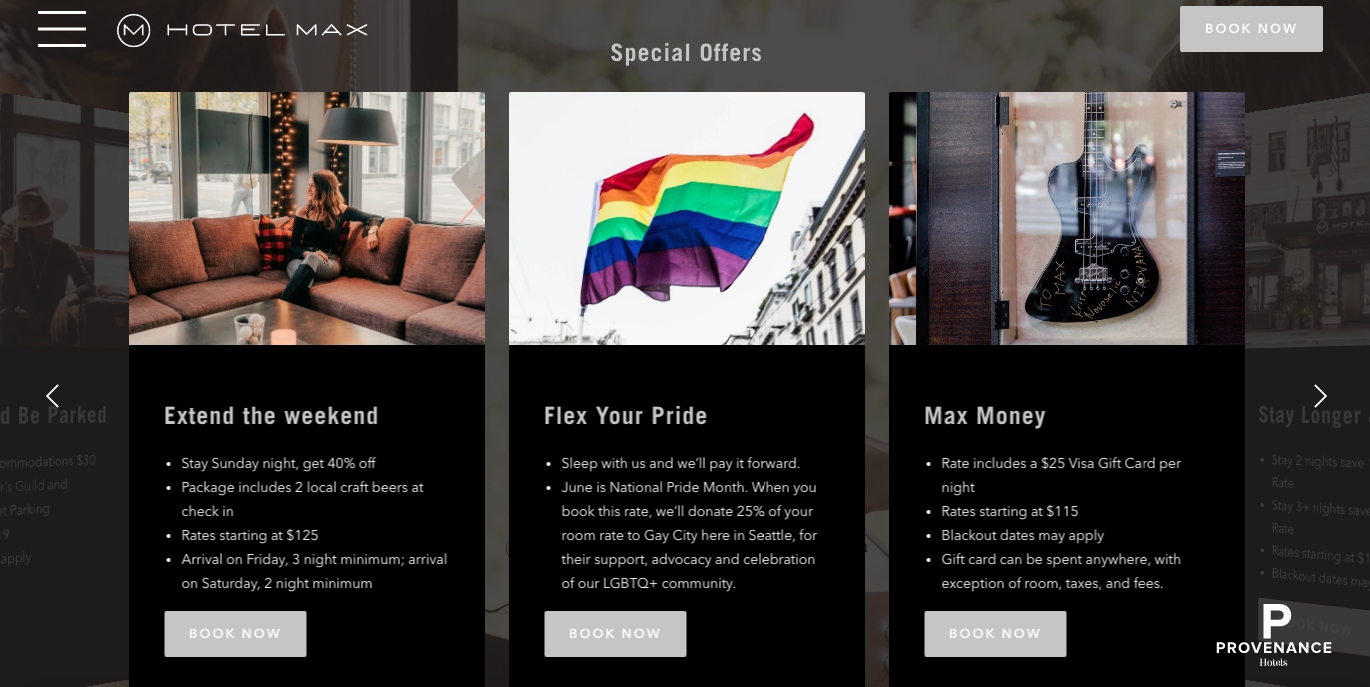 Hotel Max is Seattle's premier music-themed hotel. One of Nirvana bassist Krist Novoselic's bass guitars is mounted in the lobby, and they have an entire floor devoted to local shingle Sub Pop Records. Hotel Max also offers a free craft beer tasting happy hour every night in the lobby. That's a lot of wins.
Over the summer, they're offering 40 percent off Sunday night stays. You'll need to book at least two nights and the package includes more free craft beer delivered to your room.
BEST FLIGHTS OF THE WEEK:
BOOK FLIGHTS AND HOTELS TO LONDON WITH BRITISH AIRWAYS
Okay, this isn't $95 each-way cheap but it's still a hell of a deal. British Airways is offering summer deals for flights and hotels that start at $930 per person for five nights. That price includes economy airfare from the U.S. (roundtrip) and five nights in a luxe London hotel, The Rembrandt.
If you book that exact hotel on your own this summer, you'll be paying $190 per night. That's $950 for five nights alone. So, look at it this way, you're getting a plush hotel at price and a free flight on a non-budget airline to London. That's a monster deal.
BOOK ROUNDTRIPS FROM NEW YORK TO NEW ORLEANS FOR $110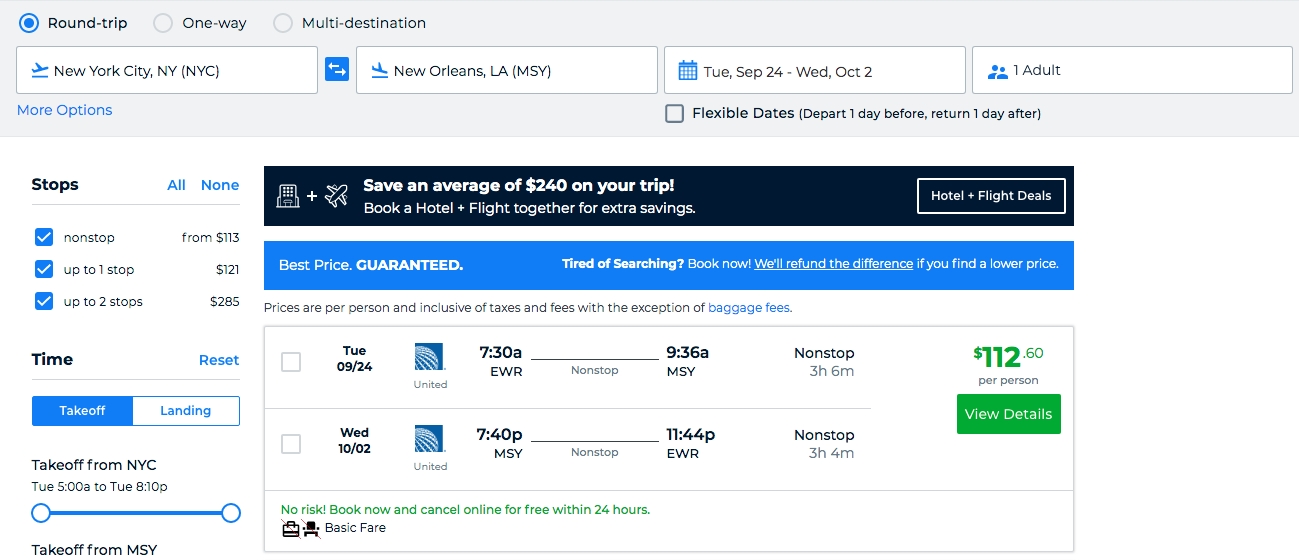 Domestic roundtrip flights for $100 are always a steal. Right now, flights from the Big Apple to the Big Easy are running around $110. That's 55 bucks each way on a United nonstop flight. You'll need to pay extra for a checked bag, or you can just carry on.
BOOK A ROUNDTRIP FROM PHILLY TO SPAIN FOR $300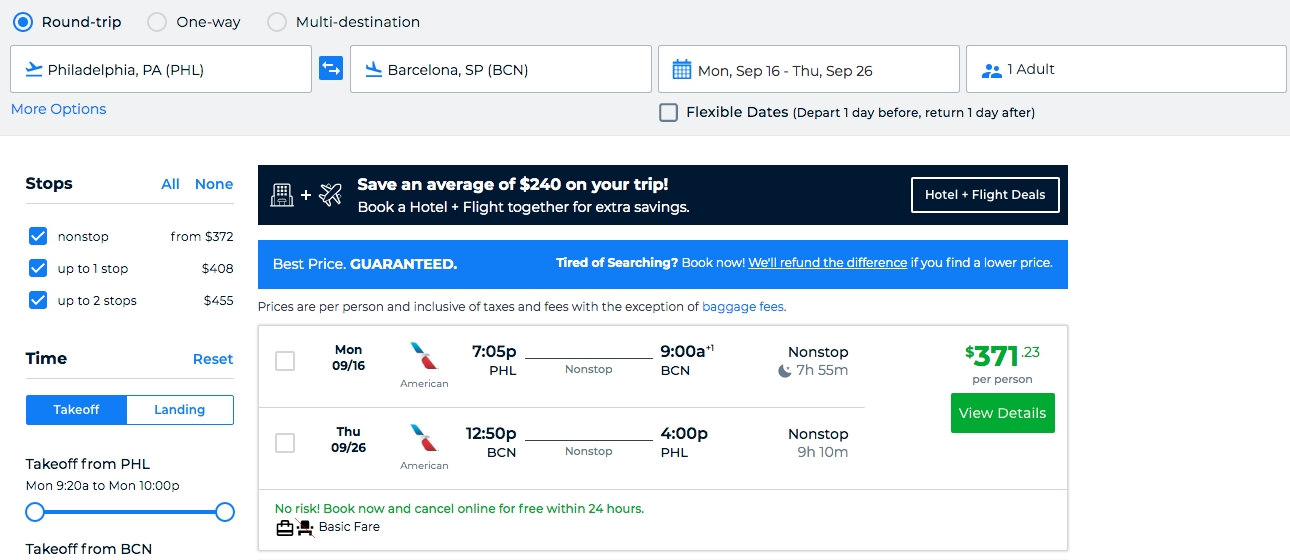 Spending the end of summer in Barcelona is never a bad plan. You can currently score roundtrip flights from the East Coast to the Spanish party town for around $300 with American.
BOOK A ROUNDTRIP FROM CHICAGO TO ECUADOR FOR $340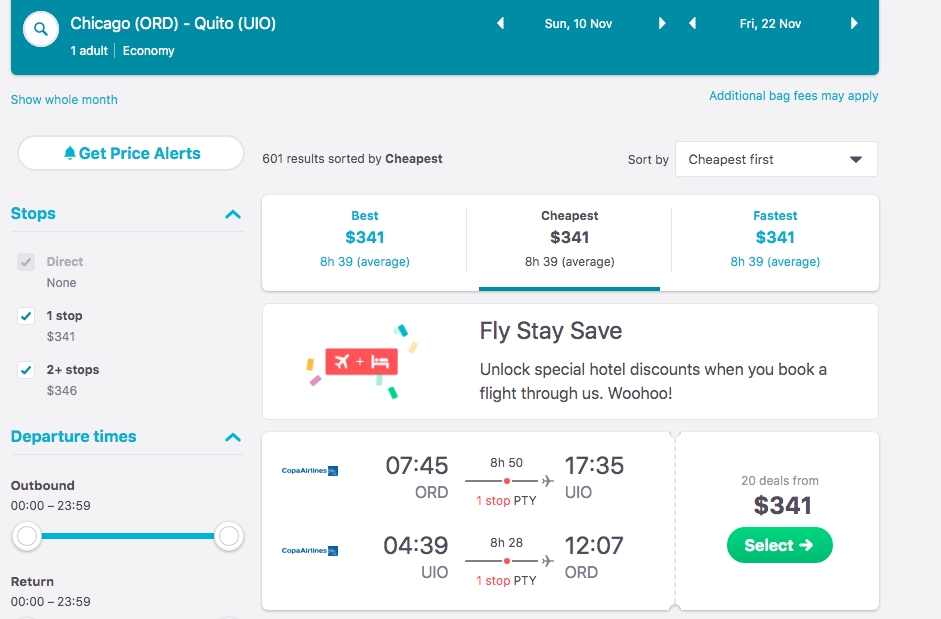 Escaping to South America in the middle of winter is a solid play. It's also very affordable. Flights from Chicago to Quito, Ecuador are only $340 roundtrip if you can buy now for November/December travel.
BEST TRAVEL PACKAGES OF THE WEEK:
DIY TRAVEL EAST COAST AND WEST COAST WINE COUNTRIES BY TRAIN FOR UNDER $300
Okay, this is a less of a deal and more of a tip. The good folks over at Wanderu worked out just how much it'd cost to see both the West Coast and East Coast wine regions by train this summer. Amazingly, both trips (through multiple states) cost less than $300 each.
Granted that's just transport via Amtrak. So, you'll need to account for accommodation and all the wine you're going to be housing on a trip like that. Still, less than $300 to visit some of the best wine regions America has to offer is summer travel at its best.
SAVE $500 ON U RIVER CRUISES THIS SUMMER
U River Cruises are the hip millennial travel cruise through Europe that keeps things small, intimate, and fun AF. The riverboats cruise through some of Europe's prime partying and vacation destinations and offer the perfect way to see a big slice of Europe this summer. They're offering $500 off fares on trips through the summer, fall, and into the winter right now.
SAVE 25% ON BAHAMA SAILING TRIPS WITH INTREPID TRAVEL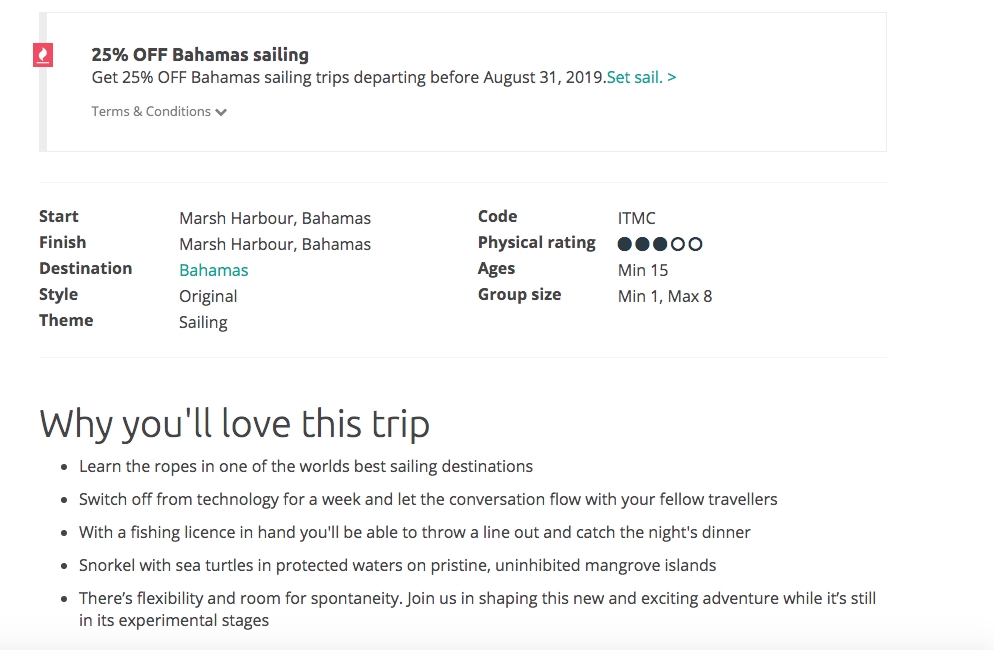 Intrepid Travel offers small group adventure tourism that'll let you see corners of the world in very personal ways. They're offering a great 25 percent discount off their small vessel Bahama Sailing Trips right now. These are small boats, under sail with less than eight people on board. This is a unique way to travel that'll be as challenging as it's rewarding.
BEST HOTEL DEALS OF THE WEEK:
SAVE UP TO 30% ON OVER 500 PREFERRED HOTELS FOR PINEAPPLE WEEK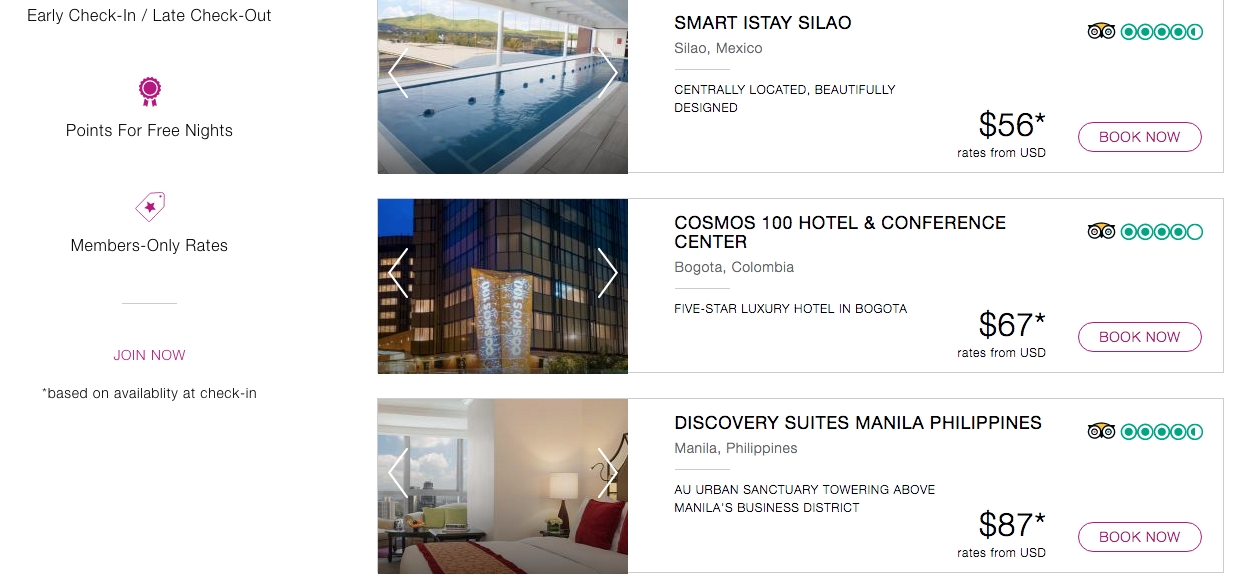 With international pineapple day coming up, Preferred Hotels (which uses the pineapple as their logo) is offering big discounts on their boutique properties all over the world. You can score up to 30 percent off hotels and resorts amongst the independent hotel group's wide range of beds. Prices start at $56 per night at top-out at $344 per night. Find a place in your budget and book a deal!
SAVE 25% AT JW MARRIOTT MIAMI TURNBERRY RESORT & SPA THIS SUMMER
Miami's JW Marriott Turnberry is luxe living where every whim is cater-able. The resort is offering a summer deal wherein you'll be able to save 30 percent off your final room rate if you book three nights or more. You'll also get free access to Tidal Waves Waterpark and free golf experiences. Plus, you'll be in Miami where the party never stops.
SAVE 20-25% ON LONDON HOTELS WITH BRITISH AIRWAYS THIS SUMMER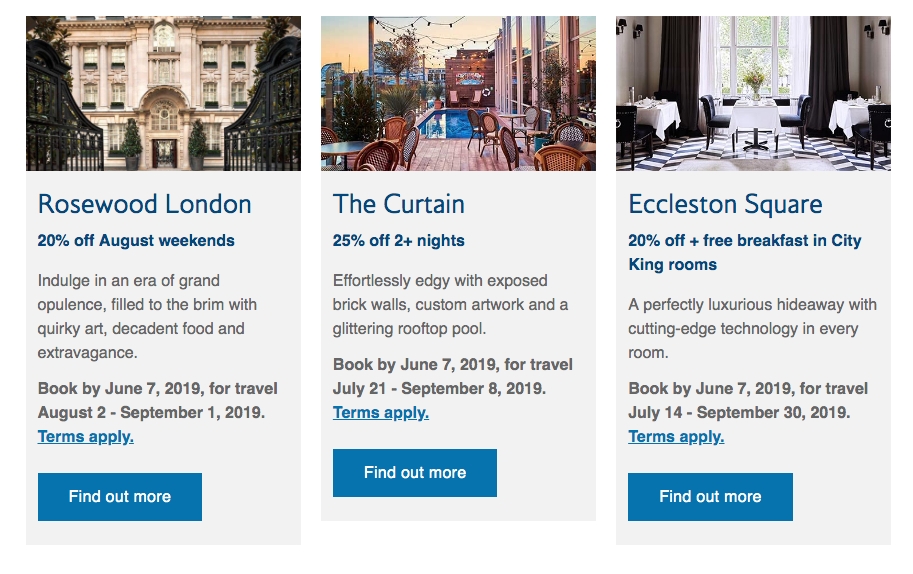 British Airways is also offering summer discounts on hotels all over London. You can score discounts of 20 to 25 percent off room rates. Some of the deals are for August weekends. Others are for longer stays. You'll have to shop this on a little but the deals are there and steep enough to spend a little time looking through.
BEST WILD SPLURGE OF THE WEEK:
SEE ETHIOPIA BY AIR WITH ABERCROMBIE & KENT
How wild of a splurge is this one? WILD.
Abercrombie & Kent is offering a ten-day luxury excursion that hits the most breathtaking and unique corners of Ethiopia. Over the ten days, you'll be traveling with Abercrombie & Kent founder Geoffrey Kent in private helicopters between each location. This mode of transport will give you the best views of Ethiopia's marvelous scenery and also allow you access to near-impossible to reach corners of the backcountry. The food and accommodations are the best of the best and even include a trip photographer and physician.
The cost? $185,000 for ten days. If you book this, 1) congrats on being rich AF, and 2) please bring us.