Over the past two decades, theories about the person behind the street artist known as Banksy have grown as controversial as his work. One even claims that he's a member of the trip-hop group Massive Attack. But a rare sighting — the first in 20 years — seems to confirm the most widespread theory of the artist's identity.
According to The Independent, on January 25th in the town of Hull, East Yorkshire, Richard Tilson, a local business owner, spotted two men parked in a Mercedes Sprinter van. Thinking they were robbers, Tilson grabbed his phone and took video of the men — one of which was clad in a ballcap and sunglasses. It was right around this time that one of Banksy's newest works appeared on a building nearby, which the artist confirmed on his Instagram the following day.
Two more Banksy originals were also spotted in the area shortly afterward, though they've not yet made it to his Instagram as of this writing. The man in question does bears striking resemblance to Bristol-born artist Robin Gunningham, who's been suspected of being the man-behind-the-moniker for 10 years now. This suspicion intensified when geographic profiling narrowed down the possibilities back in March of 2016. Now, for the first time since 2003, there's actual photographic evidence that further supports the theory that Banksy and Gunningham are one-in-the-same.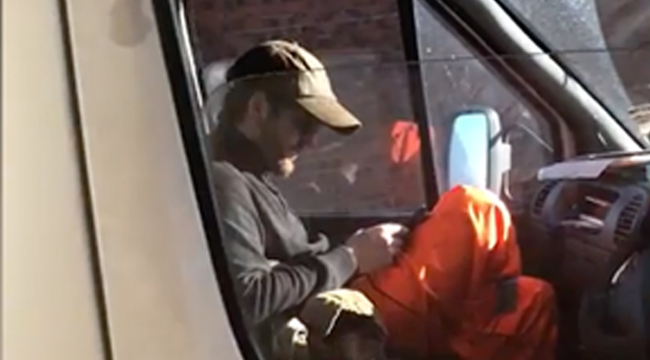 Tilson himself told The Independent that he's "about 95 percent certain" that the man he caught on video was Banksy, a name used by the artist since the mid-1990s. While it's all still conjecture at this point, one of the internet's favorite mysteries seems just about solved.
(Via: The Independent)