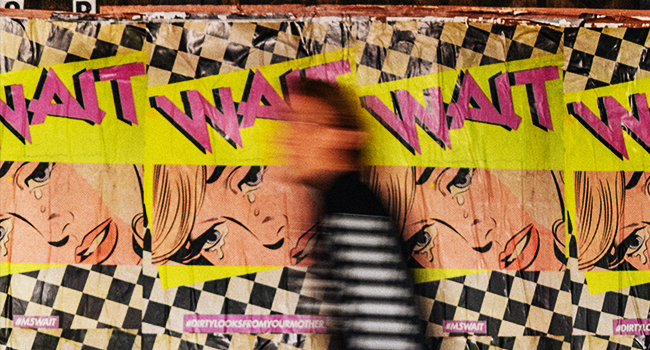 Updated: November 7th
The best art podcast is tough to define. In fact, art is tough to define. It can be a painting that tantalizes us, a propaganda poster that gets us to enlist in the military, a song that gets us through our run, the design on a metro station that gets us home, or even a word placed perfectly in a sentence that hits us just so. Art is a big word that means a lot of different things to just about everyone. So, picking the best art podcasts is a broad task.
Below are podcasts that look at art from every vantage point imaginable. There's plenty of art history, storytelling, examination, and even actual art being made in these 26 awesome pods. Scroll through, find one that speaks to you, and give it a listen.
Related: The Best True Crime Podcasts You Should Be Listening To Right Now
The Modern Art Notes Podcast
The Modern Art Notes Podcast is the perfect place to start your art podcast journey. Host Tyler Green welcomes guests from all over the art world to chat for about an hour about the week's chosen pieces. Green's deep and loving dives into the world of art are the highwater mark for cultural podcasts.
There have been over 350 episodes so far with about 50 available for free on iTunes. We recommend jumping in anywhere as each episode tells a full story of a piece of art. It might be best to hop in at the most recent episode to get a taste for the show and go from there.

Art Detective
Dr. Janina Ramirez hosts the Art Detective podcast over on the History Hit network. Each episode is an on-location examination of a different facet of the world of art from sculpture to how authors populate their worlds to ancient carvings that expose realities about our shared history.
A great place to start is a recent episode with guest Neil Gaiman. Dr. Ramirez catches up with the scribe on set of a new fantasy film and the two have a long and fascinating conversation about gothic inspirations, the supernatural in art, and the mythical work of Richard Dadd.
After that, it's easy to jump around and listen to episodes in any order.
99% Invisible
99% Invisible is about everything we take for granted. It's a podcast that examines the converging of design, architecture, technology, history, news, art, music, and so much more. Host Roman Mars welcomes guests — always experts in their fields — to talk about how planned and designed the world around us really is. It's always an engaging listen.
Start with the episode about Oprah's hair. We know it may sound a bit weird but it's an excellent examination of how stylized and thought out every single aspect of a massive celebrity's life really is. It's also a great place to start to get the feel for the show. After that, hop around at will.
A Small Voice: Conversations With Photographers
A Small Voice takes you straight into the world of the best photographers on the planet. Host and seasoned photographer Ben Smith talks with photographers from every genre of the medium about what it takes to find that perfect shot, how to start a career in photography, and what it means to be a photographer today.
There are over 80 free episodes from the last three years to choose from. Our recommendation is to start with the most recent episode to get a feel for the program and decide if it's your vibe.
A Piece Of Work
Broad City's Abbi Jacobson hosts the fun, informative, and eclectic A Piece of Work for WNYC. The show was a ten-part series where Jacobson visited different art installations with hilarious and insightful friends and guests. Each episode is an education through the eyes of someone as interested and, at times, as confused about art as the rest of us.
There are only ten 20-minute episodes so far. So our recommendation is to start with episode one and listen through in order. You can binge the whole show in around three hours. And, trust us, it'll leave you wanting a season two.

The Jealous Curator: Art for Your Ears
The Jealous Curator is an interesting take on the art podcast format. Host Danielle Krysa takes a step back from the art and looks at the lives of the artists. It's a look behind the curtain of what it's like living as an artist today and all the absurdity, hilarity, failures, and triumphs therein. It's fun, informative, and an easy listen.
With over 100 free episodes available, it's pretty easy to jump in anywhere. Each week Krysa welcomes a new artist on to chat, so it's best to find a fav and kick your journey off there.
ArtCurious
ArtCurious takes a long look at art and history and makes it one of the most engaging podcast subjects out there. Host Jennifer Dasal tackles subjects that cross the spectrum of art from propaganda to war to psychology to pop culture. Think of this podcast like a great history and storytelling podcast that happens to focus on the iconic art of any given era.
Season two of ArtCurious is a great place to start. The eleven episodes focus on art in World War II. It's a fascinating examination of pop culture propaganda, Holocaust remembrance, and even Hitler's prospects as an artist.
Raw Material
Raw Material is the official podcast of the San Francisco Museum of Modern Art. Each season takes on a subject matter with deep dives into varying subjects with guest artists dropping in to give expert context, funny anecdotes, and help make the more esoteric relatable.
This season finds hosts Jessica Placzek and Madeline Gobbo exploring California's immersive art projects, land-based art, and the history of Disneyland. Look for the "Landfall" episodes. It's a great place to start.
Fresh Air
Fresh Air, from NPR, is part art podcast, part news hour, part op-ed, part zeitgeist examiner. Terry Gross looks into all facets of the modern world from poets to politics to pop stars to figure out what it means to be creators, influencers, and a person living today. The show is the gold standard of cultural shows and obviously worth a listen.
A recent episode with Michelle Wolf addressing her Correspondent's Dinner set is a great place to start. After that, it's really up to you to find a subject or guest that piques your interest amongst the 50 free episodes currently available.

The Urbanist
The Urbanist, from the high-end magazine the Monocle, is a look at the confluence of design, architecture, and art in the world we live in. Each episode takes a look at a section of urban life from subway design to why certain trees are planted in certain parks. The podcast is a great way to not take the world around us for granted and appreciate the thought, design, and artistry that goes into making a city.
With over 100 episodes to choose from, it's really up to you where you jump in. Though the episode titled, "Tall Stories 76: Lisbon's Street Lamps" is a great place to get a taste for the show. It'll transport you to the streets of Lisbon and give you a feel for a part of the city you'd otherwise probably miss.
The Organist
The Organist is a lot of things wrapped up into one very entertaining package. It's part art show, part art history class, part performance art, part pop culture entertainment. What we're saying is that there's something for everybody in this podcast.
There are over 100 great episodes for free on iTunes. Each episode is self-contained and runs around an hour long, so it's easy to jump in anywhere. Although we can't recommend "A 700-Foot Mountain of Whipped Cream" enough. The ep takes a look at the convergence of hippy rock and radio advertising in the 60s and 70s when acts like Frank Zappa and Randy Newman were writing and performing radio jingles. It's mind-bending dive into art through the lens of commercialism.
Imaginary Worlds
Eric Molinsky's Imaginary Worlds is a fascinating and fun podcast that looks into the world building behind our favorite fantasies. Molinsky takes a story-telling approach to how fantasy worlds are built and how and why we're able to (or not able to) suspend our disbelief. It's enlightening, engaging, and always fun.
A great place to start is with the episode about Disneyland's The Haunted Mansion. The ep takes a long look at how the iconic ride we know today came into existence and doesn't skip the decade-long debate amongst the Imagineers on whether the ride should be scary or funny. After that, jump around to whichever of the 90+ episodes sound cool.
Vantage Point Radio
Vantage Point takes art to the streets. Hosts James 'JB' Bullough and Tom Auto64 invite the hippest street artists, urban artists, and graffiti artists onto their show to discuss the medium. It's a refreshingly easy listen that focuses on the many layers of street art that's coming to define our world.
Each episode is about an hour long and there are 100 free episodes available right now. We recommend listening to the most recent episode to get a taste and then picking episodes from the back catalog.

The Lonely Palette
Tamar Avishai's The Lonely Palette takes a single work of art and asks the people what they think about it before diving into the history, context, and execution of the piece. Each episode talks to people in museums while they're in front of the art, giving the subject an extra layer of visceral reality that's often missing from art. It's a great way to approach the art world without feeling overwhelmed by the experts while still being able to learn a little something about the piece.
There are currently over 30 episodes of the show. While it's not serialized in any way, we do recommend starting with episode one and working your way through the series. It's a fun, educational, and very real look at some of the most iconic pieces of art around.
Suggested Donation
Painters Tony Curanaj and Edward Minoff host the delightfully titled Suggested Donation. The hosts invite fellow artists from all mediums, curators, restorers, gallery owners, and art lovers on the show to connect all the forms of artistic expression into one artful whole. It's a raw listen about what it's like trying to prosper in the world of art in the 21st century.
The show has been running for over 40 episodes at this point. And, while there's no order that's best to listen to, this one is worth starting at episode one and working your way to the most recent episode. It'll give you a great look into the modern art world and a nice sense of what the show is all about.
Art Talk
Art critics Edward Goldman and Hunter Drohojowska-Philp host the endlessly entertaining Art Talk. This podcast stands out for being about three to four minutes per episode. Goldman and Drohojowska-Philip offer hot and fast takes on a subject that takes you into a realm of galleries, pop art, propaganda, and design then pops you back out into the world a little wiser. It's one of the easiest listens in the art world and will get you addicted to all things art.
With 25 very short episodes available for free on iTunes right now, it's easy to get into this podcast at any point in its run. We recommend starting with "At The Brewery: Brewing Art, Not Beer" which looks at the art often displayed at new beer breweries. It's light, easy, and a fast listen that'll tell you exactly what to expect from the rest of the show. The rest is easily bingeable from there.
Bad at Sports
Bad at Sports is one of the oldest shows on the list. There have been well over 600 episodes over the last 13 years. Translation, this podcast can serve as a masters education in all things contemporary art. Multiple hosts bring on guests from every facet of the art world to discuss the ins-and-outs of creating, curating, and living with art.
There are 300 episodes available for free on iTunes right now. That's a lot. We recommend listening to the most recent episode to get a taste for the show and then tackling the archives according to subjects and guests who pique your interest.

Art History Babes Podcast
The Art History Babes Podcast is a light-hearted podcast that looks at the varying worlds of art with a little red wine on the side. The series focuses on the history of art with plenty of time devoted to pop culture and modern movements. Each episode is around 15 minutes long, making this one easily digestible.
With nearly 100 episodes available for free, it's easy to jump around with this one. Pick a topic you like — maybe it's time you finally understand Impressionism or why there's such a fuss about Basquiat? — and continue on from there.
The Light Grey Art Lab Podcast
The Light Grey Art Lab Podcast celebrates the artists living and working in Minneapolis right now. Each show welcomes a local artist to discuss creativity, exhibitions, and the various art scenes around them. It's a local show that's an easy listen and a front row view into the Minneapolis art scene.
There are 100 one-hour episodes currently available for free. Obviously, starting with the episode titled "Vin Diesel, Actually" is a must.
The Renaissance: A History of Renaissance Art
Denis Byrd hosts the wildly informative The Renaissance: A History of Renaissance Art. The show tackles the history of the renaissance one artists and piece of art at a time. Byrd offers contextual history and educational takes on how the art was created in the era and why it still resonates now.
While it's not absolutely necessary, we'd say start with episode one, "The Rise of the Medici – The Renaissance: A History of Renaissance Art." The podcast is building upon itself as a sort of master class of Renaissance art history and so sequence has some value.
By The Way: A Contemporary Art News Podcast
Hosts Eric Wall and Ando sit down behind the mic every two weeks to discuss everything new in the world art on By The Way. The two seasoned artists offer their unique take on what's happening in the art world and what it means to artists.
The show is fairly new, making this one easy to catch up with. There are 16 episodes, each approximately 20-minutes so far. The episode "All About My Selfie" is a fun entry point.

The Sculptor's Funeral
The Sculptor's Funeral goes micro where a lot of art podcasts go macro. This is a very intimate dive into the life, struggles, and history of sculptors. Host Jason Arkles is a sculptor working in Florence, Italy, where the masters once walked the streets. Each episode is a bit of a love letter to the medium while offering insight into that distinct world's past and present.
This is another podcast where starting with episode one and listening to the 80-odd episodes is 100-percent worth it. Likewise, you can start with the most recent episode to get a taste of Arkles' style and then jump around to the big names he covers in various episodes over the years. Third option: Start with an examination of Donatello — who is mostly thought of these days as a Ninja Turtle.
Artist Decoded by Yoshino
Artist Decoded is about connectivity in the art world. The show offers a forum for artists to gather and talk about the world they strive, thrive, and fail in. It's about breaking down barriers to entry, welcoming ideas, and creation. This is one of the more fascinating listens out there when it comes to the art world — both enlightening and engaging at every turn.
With nearly 100 episodes to choose from, it's hard to say where to start. Each episode welcomes a different artist. We recommend hand-picking interesting episodes from the archives to fill your queue.
Dr. Great Art! Short, Fun Art History Artecdotes!
Art historian Dr. Mark Staff Brandl, or Dr. Great Art if you will, takes you into the world of an art subject for a ten-minute snippet of entertaining and educational dives into an art subject. This is easy listening that's informative and will whet your appetite to learn more about any given arty subject being covered.
The show has been around for about 40 episodes so far and, really, you can jump in anywhere. We advise diving in with the exploration of "genius in art."
TateShots
The Tate in London is one of the most iconic art museums in the world. So it should come as no surprise that their podcast is a must listen. Each episode tackles an iconic work of art or artist with expert hosts leading you on a 20-minute exploration. It's insightful and fascinating.
With 240 episodes currently available for free on iTunes, we'd recommend simply starting with episode one and working your way through. It's an educational listen every time.

Art Attack
Art historian Lizy Dastin and artist Justin BUA host Art Attack, a show where the world of art is examined from an objective POV, warts and all. Episodes about "selling out," "art cheaters," and the role ego plays in the artist's life offer a raw portrayal of the modern state of art and artists.
With only 25 episodes so far, it's easy to start at the beginning and listen through to the most recent episode. We love the episode on Obama's presidential portrait and also the examination of the differences between street art and graffitti.