You know how to EAT THIS CITY. But where do you wash all those spectacular meals down? Do you know how to find the best brewpub? Uncover who makes the meanest bloody marys and the most sparkling mimosas?

You're about to find out. Welcome to DRINK THIS CITY!
This week we're taking Drink This City to New Orleans, Louisiana. One of the best bar-crawl cities on the planet. A city that loves drinking so much they have a whole street named after a type of whiskey. Our drinking guide on this odyssey is Cheryl Charming, the current Bar Manager at the Bourbon O Bar in New Orleans and two-time winner of New Orleans magazine's Mixologist of the Year.
The Bourbon O Bar is the first fresh cocktail bar on all of Bourbon Street — meaning all of their syrups, bitters, and fruit juices are of the season and house-made. Cheryl herself is no stranger to a properly mixed drink, with over 39 years of bartending experience under her belt. She was also responsible for the rebirth of the 100-year-old Ramos Gin Fizz mixing technique, which requires the drink to be shaken for a full six-minutes.
Six-minutes of shaking a cocktail? That kind of dedication to craft is what makes Cheryl Charming the person to talk when you're talking about drinking in New Orleans. Let's Drink This City.
Cheryl's Bar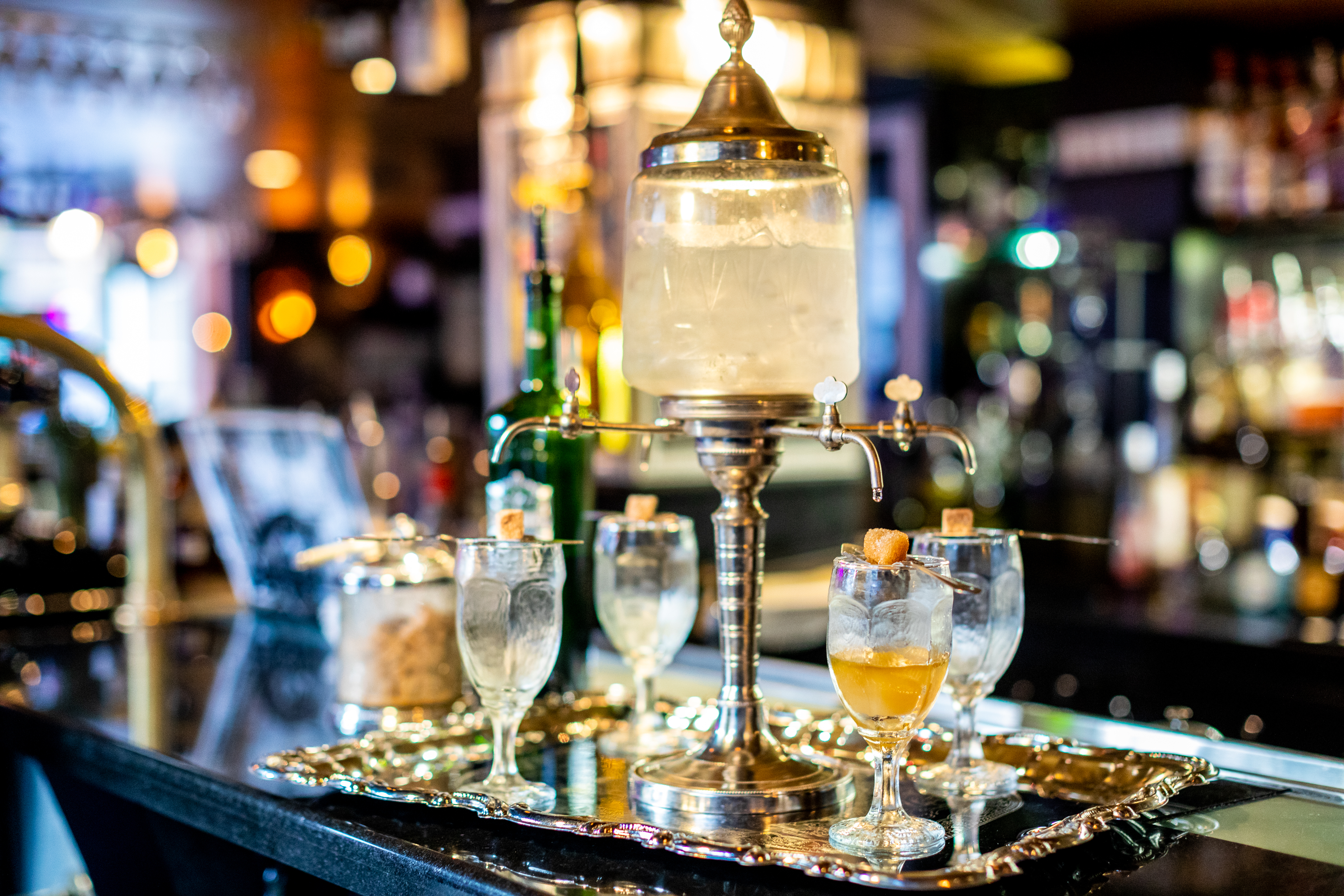 This is the only "fresh" bar on Bourbon Street since 2013 (meaning that we are using fresh-squeezed juices, making our own syrups, Bloody Mary Mix, Ginger Beer, etc.)

Favorite New Bar
The average person would not know that the first Jewel of the South in New Orleans was a well-known and respected establishment from 1843 to 1874 by bar owner and restauranteur Joseph Santini. Santini invented the first known cocktail made with lemon juice called the Brandy Crusta, and the cocktail even made it into the first known American cocktail book How to Mix Drinks by cocktail godfather Jerry Thomas in 1862.
I am the first person to find the first known photo of Joseph Santini from his great-great-great-granddaughter. In 2019, well known and respected New Orleans bartenders, Chris Hannah and Nick Detrich opened a new Jewel of the South in the French Quarter in honor of the Joseph Santini 19th century bar. Hannah is the current New Orleans Magazine Mixologist of the Year. The cocktail to order here, of course, is a Brandy Crusta. If you're looking for a small bite at the bar, I recommend the black-eyed pea hummus.
The bar hours are 4 pm-midnight seven days a week.
Favorite Fresh Brasserie
This is the third New Orleans restaurant and bar by the husband and wife team Justin and Mia Devillier and it's a charmer! Justin Devillier is the 2016 James Beard Award winner for Best Chef: South and bartender Kimberly Patton-Bragg is New Orleans Magazine's 2018 Mixologist of the Year. This whimsical establishment understands the art of ambiance; a DJ plays cool upbeat happy music with speakers in the restrooms as well, the lighting is not too bright or too dark, burlesque dancers roam the four large rooms, art deco Parisian décor, and the friendly staff is comfortably dressed in blue jeans from the waist down and hospitality professional from the waist up.
Talk with the GM, Meghan and she'll tell you that the whole idea came from wanting to offer the best French onion soup in the world and the statue at the bar is named Justine. If the award-winning bartender is not available then look for bartender Jennifer. Her Silent Fizz is delicious and her hospitality gracious. Also, server Beth B. is amazing and engaging. For comfort food, I suggest the $18 melt in your mouth burger that is served with Emmental dipping cheese. They are open until 11 pm Sundays to Thursdays and until 1 am on Friday and Saturdays. Most "nice" places in the French Quarter close between 10 – 11 pm, so it's refreshing to have another choice besides dive bars this late on Friday and Saturdays.
Favorite Hotel Bar
This French Quarter prohibition styled bar in the Mazarin Hotel is very cozy. The building used to be part of the famous 19th century La Louisiane Restaurant & Hotel and word has it that when the owner was gutting the space to build the bar he found Prohibition-era items hidden in the walls.
This bar makes high-end crafted cocktails to sip as you listen to jazz acts day and night. Look for bartenders Jason and Sarah to make you a Tom's Berries or their most popular cocktail, a Frenchy. There isn't any food, but you are literally 20 steps from Acme Oyster House, Felix's (locals hang), Bourbon House, and Hard Rock Cafe. 21stAmendment is open Sundays to Wednesdays 2 pm – 11 pm and from Thursdays to Saturdays from 2 pm – 1 am.
Favorite Wine Bar
This bar is New Orleans celebrity Patrick van Hoorebeek's award-winning wine bar. If you happen to visit when Patrick is hosting then most definitely say hello because — he is a lovely animated character dressed to the nines from head to toe who can charm the socks off you. Patrick is also the King of the yearly Mardi Gras parade Krewe of Cork. If you desire a wine-based cocktail, then ask bartender Megan for a French 75 made with Cognac, Champagne, fresh lemon juice and simple syrup. Depending on the weather, you have several places to enjoy your wine; the small entry courtyard, the covered courtyard, or inside at the bar in overstuffed leather chairs.
Before you leave, make sure to ask about the 17th century PP Boy mascot. Patrick's Bar Vin is open seven days a week from noon until midnight.
Favorite Dive Bar
The Voodoo Lounge has everything you would expect from a good French Quarter dive bar; tattooed bartenders, open 24/7, cheap prices, two daily happy hours, colorful patrons (all are welcome), outdated website, themed parties, and a revolving whisk(e)y selection. Look for bartenders Houla (pronounced Hula) and Danny because they are a wealth of Nola information.
Houla is also a pop-up chef on his days off from the bar, so ask him about it. The best thing to order is a bartenders' choice whiskey and a beer, but they're also able to come up with a fancy cocktail if you desire. The Voodoo Lounge also has its award-winning ghost, vampire, and cemetery tours, which makes for a better meeting place than all the others who want you to meet up on the street somewhere.
Favorite Place For A Party
This cozy bakery has a liquor license! Everyone is welcome, but only ages 21 or over may sit at the bar. They are located right off the between industrial buildings close to Mardi Gras World, so a quick in and out Uber adventure ride with celebrating friends makes this the perfect spot for an impromptu cake and cocktail celebration. Bartenders Joe and Faith love creating new cocktails for the menu and contribute to the ever-changing "latest and greatest" section of the cocktail menu that keep locals coming back regularly. They even have a selection of board games if you are so inclined to play a round.
The Bakery Bar specializes in NOLA doberge cakes (they even make boozy cakes!), but also offer other delightful desserts, a brunch menu and playful food menu. They are closed on Mondays and open all other days from 11 am to midnight. Happy Hour is from 5 – 7 pm.
Favorite Bartender-Driven Concept
https://www.instagram.com/p/Blar1WgnhFZ/
Chris Mcmillian is the most famous bartender in New Orleans. After years of making a name for himself in the Big Easy, he and his wife, Laura opened up Revel. Mcmillian is most known for being the top Nola cocktail historian and is also a former New Orleans Magazine Mixologist of the Year. I highly recommend ordering his famous Mint Julep so you can watch the ice being crushed with his famous jumbo-sized wooden mallet. For a small bite, I recommend the Louisiana crawfish grilled cheese or the white bean hummus.
Cocktail Nerd Alert: Mcmillian has the only Tobin Ellis Perlick Cocktail Station in New Orleans, so I recommend sitting at the end of the bar closest to the entrance to catch a peek of this award-winning bar station design. Revel Café & Bar is closed on Sundays and Mondays, open 4 – 11 pm Tuesdays – Thursdays and 11 am – 11 pm on Friday and Saturdays.
Favorite Speakeasy
The Vampire Bar (that's what the locals call it) is on the second floor of Fritzel's European Jazz Bar. To get in, say "the vampire sent me" to the person at the door as you hand them a $10 bill. The door person will lead you through the jazz bar to a locked staircase. Service and cocktails can be hit or miss here unless you get bartenders Jake or Tori, but you can never go wrong in any bar by ordering wine or beer.
The absolute best thing about this secret bar is the rare private gallery (large balcony) overlooking Bourbon Street. The price of admission is worth this alone. They open at 8 pm and generally stay open to 1 am, but on Friday and Saturdays they stay open until 4 am.
Favorite Neighborhood Dive
The building of this old neighborhood bar was a bar from the 1840s to the early 1900s, a general store until the 1970s, then turned back into a bar called Johnny's Old Point Bar. Today, the very nice owner Walter Munster calls it Old Point Bar. He told me that it's the most filmed bar in Louisiana. Some films include The Green Lantern, Ray, and The Expendables. The walls are filled with celebrity photos, signs, flags, and license plates from around the world (bring something if you want it added). The best thing to order is bottled PBR or Miller High Life (local favs) or a local draft beer while sitting in one of their jumbo-sized handmade barstools. The bartenders stay busy serving loyal regulars with tabs, so don't expect too much chit chat as a tourist. The bar has nightly live music, a pool table, outdoor seating, and sports on the TVs.
The very best way to get to this spot is the Canal/Algiers ferry, which leaves every 30 minutes. It costs $2 per person each way, but offers a stunning view of the skyline of New Orleans. Once you step off the ferry, take the left road about three blocks to find the bar. The bar is open seven days a week from 11am to 4am. However, if taking the ferry, make sure to check those times.
Secret tip: Terminator star, Linda Hamilton lives a couple of blocks away, so if you're lucky you may get to meet her. She's cool and friendly.
Favorite Tiki Concept
This French Quarter tiki bar is owned by the top tiki author in the world, Jeff "Beachbum" Berry. This bar should not be missed and if you are lucky you will get to meet Beachbum! I highly recommend that your first cocktail be a Zombie because the Beachbum spent twelve years hunting down the real Zombie recipe locating bartenders from the 1930s and 1940s. As luck would have it, a granddaughter held a box of personal items of her grandfather's belongings that finally gave the bum all the answers he needed.
If available, get manager/bartender Brad Smith to make your cocktail because he's the best. Small bites I recommend are the sweet & savory pork ribs and the taro chips. Happy Hour is 3 – 6 pm every day. Sundays to Thursdays they are open 3 – 11pm and Friday & Saturdays they are open from 1 pm – midnight!