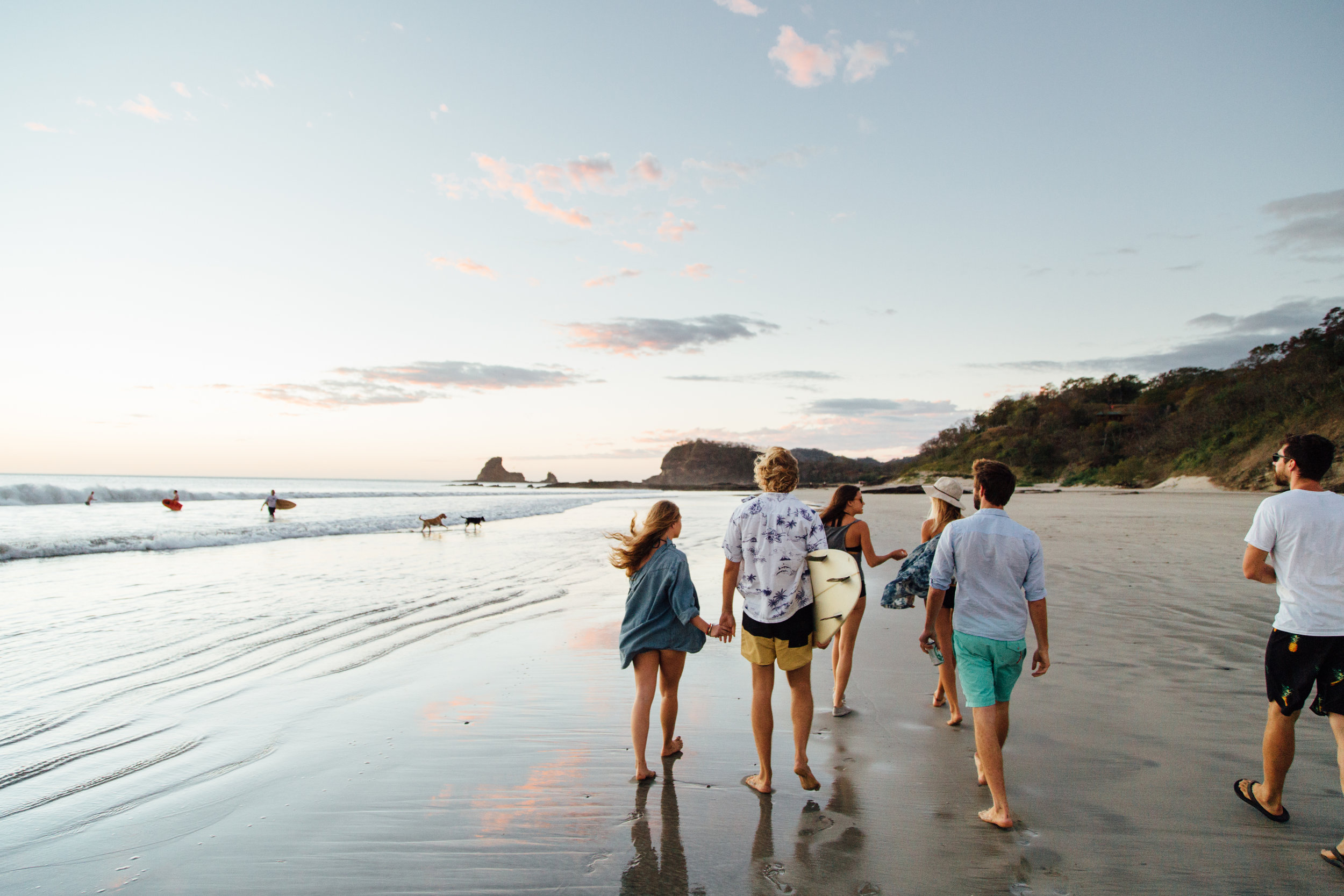 I remember the moment I walked up the steep gravel hill toward Maderas Village — a boutique hotel at Playa Maderas, Nicaragua. A smiling woman was sitting on a balcony, swinging her legs like a kid hanging off the side of a tree fort. Beside her, two men, both chiseled out of wood with beards out of Kinfolk, sipped cocktails. I sensed instantly that these were the "beautiful people" Tom Wolfe wrote about in The Electric Kool-Aid Acid Test. Sexy, happy, tanned, flecked with salt crystals from hours spent in and out of the ocean.
"Get a drink, have a good time now, welcome to paradise," the woman cooed from above.
Fellow electronic music lovers might recognize that line from "Since I Left You," by the Avalanches, though the phrase itself is cribbed from a 1987 Linda Hamilton vehicle called Club Med. The point of the movie line, the song sample, and the iteration called down to me from a balcony all had the same effect: They were invitations to beachfront hedonism.
Later that night, I sat down at a communal meal and looked around the table. It was a startling array of glowing faces and perfect smiles.
"If that dude isn't a model there's no justice in the world," I whispered to my cousin, referring to a Paul Newman lookalike sitting kittycorner from me.
He was. And he wasn't the only one. For days we stayed there, steps from the sand. Surfing in the mornings, playing croquet after lunch, and watching the sun dip beneath the horizon from the shore. There were early yoga classes and late parties and even later afterparties and… this is what a good beach hotel does. It engulfs you in its distinctly beachy culture. It drowns you in its vibes.
***
Sadly, Maderas Village is currently closed due to political instability in Nicaragua. But these hotels are open and waiting for you. Calling to you with their patented siren song — the lapping of waves on shore. Since "beach hotels" is impossibly broad, we limited this roundup to hotels that are on the mainland. Or an island big enough to feel mainland-y. It's not an exact science. Enjoy!
— Steve Bramucci, Travel Editor
Tower 23: San Diego, California
If those "location location location" gurus were offering a travel seminar, they'd highlight Tower 23, in San Diego's famed Pacific Beach. Steps from the sand. Directly in front of a gentle surf break. And right in the thick of one of the best beach city bar scenes on the planet. This spot couldn't be better situated.
Plenty of hotels have the great real estate but don't do enough with it. Tower 23 does the opposite — throwing a whole welath of ideas at their guests. They have insane sugary-cereal-laden cinnamon rolls, a spa overlooking the ocean, and surf camps with pros.
If you're looking to surf by day, party by night, and ignore your parked car for the duration of a long weekend, this is your jam.
Rooms start at $250.
-Steve Bramucci
Gran Meliá Nacional Rio de Janeiro: Rio de Janeiro, Brazil
The most opulent digs in the city, The Nacional is getting a second chance at life thanks to a huge remodel that honored the 1972 cylindrical tower that houses the rooms. But this is no kitschy nod to the 70s. Think more zeerust than Brady Bunch. Built by Latin America's most celebrated modernist architect Oscar Niemeyer, the hotel was begging to go a little Jetsons when it was revived. For instance, the restaurant bar has been compared to a Kubrick set, if that helps you to picture it. We dig on the original panel in the lobby that artist Carybé made from 300 pieces of concrete.
If you're interested in having the best views of the city, then you have to stay here. You'll have the chance to take in the mountains, the oceans, and the Christ all from the comfort of your bed. But you have to ask for a room on the northern side and above the 25th floor for the full view. All 413 rooms are gorgeous but the higher ones offer more striking views for sure. Be sure to check out the three hotel bars. Bardot specializes in the most heavenly tapas.
Rooms start at $410.
Kalaloch Lodge: Olympic National Park, WA
We're big fans of the Olympic Peninsula. The mountainous terrain is home to completely unique environments from temperate rainforests to coastal beaches to alpine highs. On the Pacific Coast, you'll find a great lodge that exudes Pacific Northwest vibes.
Kalaloch Lodge is in the national park's coastal region. The old timbered lodge sits a short walk away from the rock towers that dot the Pacific beaches of Washington State. The rooms are well-appointed and straightforward. There's a nice restaurant with plenty of local and fresh seafood at the ready. You can grab a piping hot bowl of clam chowder, sit out on the lounge chairs, and watch the sea crash into the beach all day if that's your jam. Just make sure to pack a rain jacket.
Rooms start at $129.
Shutters on the Beach: Santa Monica, California
Located in the perpetually stylish city of Santa Monica, this resort hotel is smack dab on the beach with breathtaking views of the Pacific. And with a mere 15-mile drive to downtown LA, Shutters is also positioned perfectly for exploring things other than the ocean (if that's your thing). Celebs often hole up here for a spell, meaning you have a pretty good chance of bumping into one among the locals and tourists who also seek out the hotel. To increase your odds, chill on one of the comfy sofas in the lobby for a few hours and check out the David Hockney, the Roy Lichtenstein, or the latest tweets on your phone.
There are 198 rooms, including 12 suites, with hardwood floors, whirlpool bathtubs, balconies, and handcrafted four-poster beds. You'll feel like you're in your own little beach cottage. Plus, even the extras like the louvered white shutters through which the ocean breezes flow and the luxury bath products add to the overall vibe. And 24-hour concierge service guarantees you won't want for anything longer than a few minutes. We recommend throwing down a little extra and getting in on private surfing lessons if you need them. What better way is there to celebrate staying next to the ocean?
Rooms start at $598.
Grand Hotel: Sopot, Poland
The Baltic Coast has some of Europe's longest sandy beaches. Small beachside towns popped up about 100 years ago to accommodate tourists seeking a little sun, fish, and party-time. Today, the Baltic Coast is a bit of a hidden gem since the tourist scene is almost exclusively local. And that's exactly why we love it.
The Grand Hotel in Sopot is pure old-school. The rooms are mid-range and comfortable but you're not there for the rooms. You're there for the beach. The Polish seaside is set up for you to have a great time. A row of huts lines the back end of the beach where you can order some fresh fish and chips or snag a big polish sausage. In between the fish huts, there are mini-clubs and bars. You can easily spend all day and night right out front and not want for anything.
Rooms start at $115.
https://www.instagram.com/p/BlpFO70Dfzw/
Marari Beach Resort: Kerala, India
It's completely natural when the idea of beachfront hotels is raised to think first of the Caribbean. We get it. They have that shit on lock. But it's worth also giving some thought to India, which has tons of coastline and plenty of properties to accommodate travelers. Marari Beach Resort is a great example. This luxury hotel is inspired by the fisher people of Mararikulam, and this connection is evident in everything from the thatched cottages to the attention to ecology. The hotel aims to be a village by the sea. You end up with dozens of experiences you wouldn't find outside of India. There's the evening chai cart, for example, and the butterfly garden.
We don't know about you, but staying in a freestanding villa rather than one of a dozen rooms in a corridor makes us a little giddy. Add in the air-conditioning, giant bed, and wicker seating area and you couldn't have a more chill place to hang for a few days. Plus at night, you hear all kinds of animals in the lush growth that surrounds the property. It's a total paradise.
Rooms start at $173.
The L Resort: Krabi, Thailand
https://www.instagram.com/p/BVMpBAZDFQI/
There are a lot of great options in Ao Nang to lay your head for the night. The whole area lives and breathes tourism and is just stunningly beautiful. This is the sort of place where you could very easily live the beach bum life in a nice little hut on the sand. Or you can go all out and stay at a nice hotel with a dope pool and a bar. It's up to you.
The L Resort Krabi has one of the coolest pools we've seen. The two-tiered pool is set against a huge, natural rock wall. It's awesome. The rooms are spacious and bright. And, of course, the food is spot on. Our recommendation, live that beach bum life all day then come back to The L for a little pampering.
Rooms start at $97.
Labadi Beach Hotel: Accra, Ghana
Even though Accra is entirely underrated as a tourist destination, like any capital it can still get a bit hectic. Thankfully, there's a beach to escape nearby. Labadi Beach Hotel is a short cab ride from the airport and, more importantly, the Alliance Francais d'Accra where they ironically have an Italian restaurant that serves an astonishingly authentic pizza as good as any I've had. Plus the food at Labadi is top notch and they have French press coffee, which is not easy to come by in Ghana.
The pool area is nicely separated from the beach by a line or two of palms, keeping the oceanfront feeling secluded. Cocktails, massages and beach 'street' food are all easily accessible from there. The lobby has absolutely legendary décor, so hole up at the bar if you're looking to pass the day people-watching before getting out on the town at night.
Rooms start at $235.
Hotel Ravesis: Sydney, Australia
The main strip of Bondi Beach (Campbell Parade) plays host to this small 12 room hotel, which is as close to the sand as it's possible to get. In fact, Hotel Ravesis' location is something of a prize, as guests find themselves a very short walk from the best shopping and dining in the area. The hotel feels like it belongs in Miami with its hot pink window frames and terrace and the many, many potted plants in every area. The Art Deco vibe is fully celebrated in the design. Artwork by local artist Daimon Downey is a perfect accent. But, of course, the real draw is the ocean views. You have a panoramic view of Bondi, which is the best of all Sydney beaches.
The rooms are each unique but all include Danish-inspired furnishings that serve to offset the more neutral décor palette by bringing in bright moments of color. Guests will enjoy little touches like the vintage-inspired Marshall radios on the nightstands and the bold botanical fabric on the headboards. The staff is on good terms with the local community and they can direct you to some awesome places to shop and party. But, given the high quality of food at the hotel, you should eat in at least once.
Rooms start at $232.
The Beach Tulum Hotel: Tulum, Mexico
Tulum is the perfect mix of beach life, jungle, and Mayan vibes. The whole area is worth exploring from the ancient pyramids down to the lazy days spent on the beach. Tulum is one of those places that feels too good to be true. Yes, the food is that good. Yes, the beaches are that beautiful. Yes, you will have an amazing time.
To assure that you do have that amazing time, hit up The Beach Tulum Hotel. This is a luxury spot that'll set you back a few bucks but is totally worth every penny. The hotel is plush with all the amenities you'll need from a great staff. This is the sort of place that's easy to get stuck in. The food, the chill beach vibes, the bar, and the cozy rooms all add up to the perfect Mexican escape.
Rooms start at $574.
Banyan Tree Tamouda Bay: Fnideq, Morocco
I stumbled on Banyon Tree Tamouda Bay during the drive from Chefchaouen to Tangier while on a cross Morocco road trip. To this day I consider it one of the most luxurious beach hotels I've come across in my travels. Banyon Tree's resorts are dependable for their tasteful opulence and Tamouda Bay doesn't disappoint. Their oceanside restaurant makes quick, simple and delicious work of the local seafood and the infinity pool is straight up mesmerizing. Plus you can get a day pass for around $75.
When visiting Morocco, it's often easy to pass over the east coast — favoring cities such as Marrakech, Fez, and Casablanca. However, having witnessed nightfall on all seven continents, I can firmly declare that the Moroccan Mediterranean sunset from M'Diq to Cueta is nearly impossible to beat.
Rooms start at $407.
Hotel Santa Caterina: Amalfi Coast, Italy
Hotel Santa Caterina opened in 1940 and has remained in the same family ever since. The owners are now the fourth generation to operate as the hotel. Just outside Amalfi, the property is able to combine the charm of a family run property with a bit of the luxury one wants when vacationing in Italy. So you can expect family antiques, as well as touches like bright, Mediterranean colors on tiles and textiles. The gorgeous dining room has a blue Brazilian-marble floor that delights the eye. We're big fans of the glass elevator that takes guests down to the heated pool filled with sea water, the restaurant, and the killer bar.
The main house has over 50 rooms that are breathtaking. If you can, try to snag one of the suites. The Follia Amalfitana suite, for example, has a sunken jacuzzi tub overlooking the sea and a shell-shaped king-sized bed. If you can't swing a suite, be sure to specify that you want a sea view. It would be a crime to be so close to the water without being able to spy it from your room.
Rooms start at $363.
Le Petit Nice – Passedat: Côte d'Azur, France
In 2017, Le Petit Nice celebrated its 100th anniversary. It has remained in the Passedat family for three generations, but that doesn't mean it's a quaint B and B. Nope. This is a five-star luxury property with a restaurant that boasts three Michelin stars. It's the perfect place to pamper yourself while overlooking the Mediterranean. The property is made up of two villas, one with a modern aesthetic and one that leans more Provençal in nature. Regardless of which you stay in, chances are you will find yourself on the large outdoor terrace sipping drinks and letting the hours slide by as you fall into a state of absolute relaxation. Be sure to check out the pool and the solarium. You can even make your way down the rocks to brave a sea dip, but be careful.
The rooms are pretty interesting because they are all unique. Named for either local calanques or characters from the arts sphere, they each have a different configuration, size, and décor approach. Generally, they are all bright, modern spaces with ocean views and marine-themed L'Occitane toiletries, so you really can't lose when picking one. One touch that we thought was awesome was the gramophone player with an eclectic variety of vinyl in the room. But, you will probably be too busy chilling seaside or having the best fish of your life in the restaurant to listen to much on it.
Rooms start at $239.
Jumeirah Al Naseem: Dubai, United Arab Emirates
Mere steps from the city's best beaches, this modern hotel is known for its awesome gardens designed by well-known architect Bill Bensley. Looking for a way to glow up the 'Gram? These gardens are the perfect backdrop for your best vacay pics ever. Plus, the three large pools (including an adults only one) really give you a chance to pose as a bathing beauty. Or, grab a large hanging chair and take in the many, many palms. For us, the real charm comes from the seawater lagoon that houses rescued sea turtles while they recuperate before heading back into the wild. You won't get much in the way of Arabic motifs at Jumeirah Al Naseem, so be prepared for a palette of beachy blues and sandy browns coupled with natural materials. If this contemporary approach isn't for you, look elsewhere.
All the rooms and suites come with sea or garden views, both of which are stunning, from an extended terrace or balcony. Inside the rooms, there are often sliding plantation screens, framed photos of local wonders, and black and white murals. It's all very calming. We couldn't get enough of the hammam-inspired wet room with a tub. It takes bathing to a new level.
Rooms start at $653.