For most of us, pulling a bottle of "bourbon barbecue sauce" off the grocery store shelf is the easy play come 4th of July. Who cares that the first ingredient is high fructose corn syrup? It's simple. Simple is good these days. Whereas gathering a basket full of ingredients and slowly simmering them down into a bespoke BBQ sauce is time and energy-consuming. "You're telling me I'm going to spend a few hours cooking the sauce that I'm going to spend another few hours cooking my ribs in?"
But as the summer wears on and new lockdowns are issued, time is on our side. And god knows we've all had enough sourdough. That's why we're breaking down how to make your own bourbon barbecue sauce for the holiday weekend.
A few caveats before we get rolling. This is a nearly "from scratch" recipe. The only real corner cut here was not blanching, peeling, and dicing my own tomatoes. I used these canned beauties specifically. They're only tomatoes and a pinch of salt that have been pasteurized. That's it. Also, I'm using Four Roses Bourbon in this recipe because I have it on hand. You do not need to break the bank on the bourbon for this recipe. (Though I wouldn't exactly recommend you using paint thinner, either.)
If you don't have an abundance of time, you can speed this recipe up considerably by using standard tomato puree and then substituting the fresh onion, garlic, and dried chilis with onion and garlic powders and paprika. Also, this is basically a double recipe. I plan on using this BBQ sauce all summer — I'm putting its shelf life as four to six weeks when kept in the fridge.
Okay, let's dive in and make some bourbon BBQ sauce.
Part I: Ingredients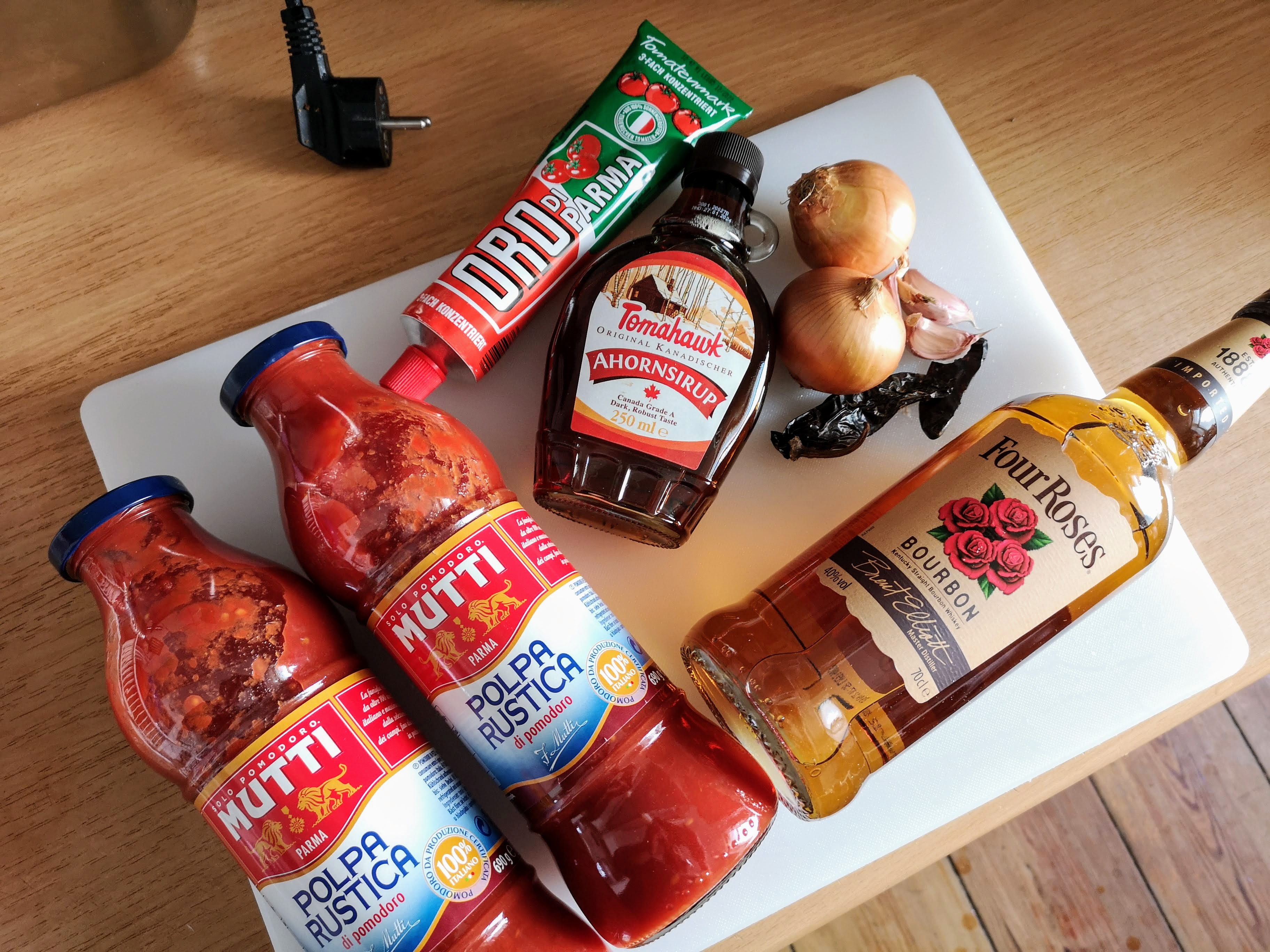 Two 24-oz. bottles of Peeled and Chopped Tomatoes
Two small Yellow Onions
Four Garlic Cloves
Two Dried Morita Chilis
4-oz. Tomato Paste
One cup Bourbon
One cup Maple Syrup
1/2 cup Molasses
1/2 cup Apple Cider Vinegar
One tbsp. Ground Allspice
One tbsp. Dried Mustard
One tsp. White Pepper
Sea Salt
Olive Oil
Part II: Cook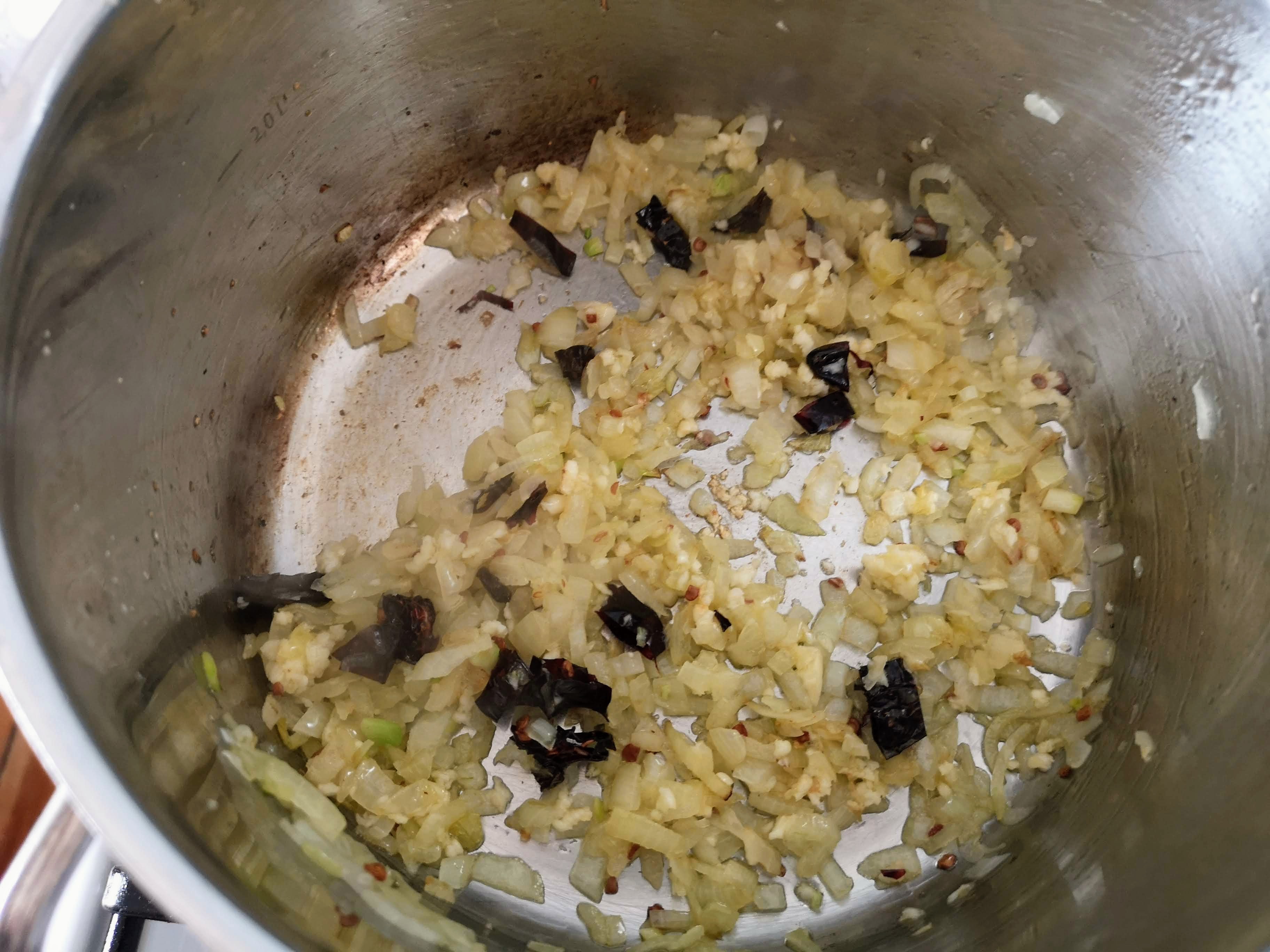 First things first, peel the onion and garlic. I do a fairly fine dice on the onion and leave the garlic whole to be crushed later. I also do a rough chop on the two moritas (dried and smoked jalapenos).
I get a medium pot on the stove on medium-high heat with a good glug of olive oil (just enough to make an even layer across the bottom of the pot). Once hot, I add in the onion with a good pinch of salt.
Once the onions have been properly sweated and are translucent. I crush in the garlic cloves and add the chilis. I stir while those become fragrant.
Next, I add in the tomato paste and stir until it's incorporated with the base.
Lastly, I add in the chopped tomatoes and a large pinch of salt.
I let that come up to a simmer and top with the lid slightly ajar. I let that simmer for about 20 to 30 minutes or until it smells very fragrant.
Once, everything has sort of melded in the base tomato sauce, I use an emersion blender to create a puree. If you don't own an immersion blender you can pour it into your blender. If you do, remember that you either have to have a Vitamix or a Ninja, where the lid can't blow off, or you need to hold the lid on, as the hot air creates immense pressure. You do not want your cabinets sprayed with BBQ sauce.
Once I have a smooth puree, I start adding the ingredients that are going to make this a BBQ sauce vs a modified marinara.
Quick interlude: As of now, you have a great sauce for the base of an Arrabiata or sugo salsiccia. So, if you wanted to, you could halve the sauce and reserve one-half for pasta making later. In that case, naturally, halve the rest of the ingredients for the BBQ sauce.
Back to the bourbon BBQ sauce — add in the bourbon, vinegar, maple syrup, molasses, and spices. Mix well and bring back to a bare simmer.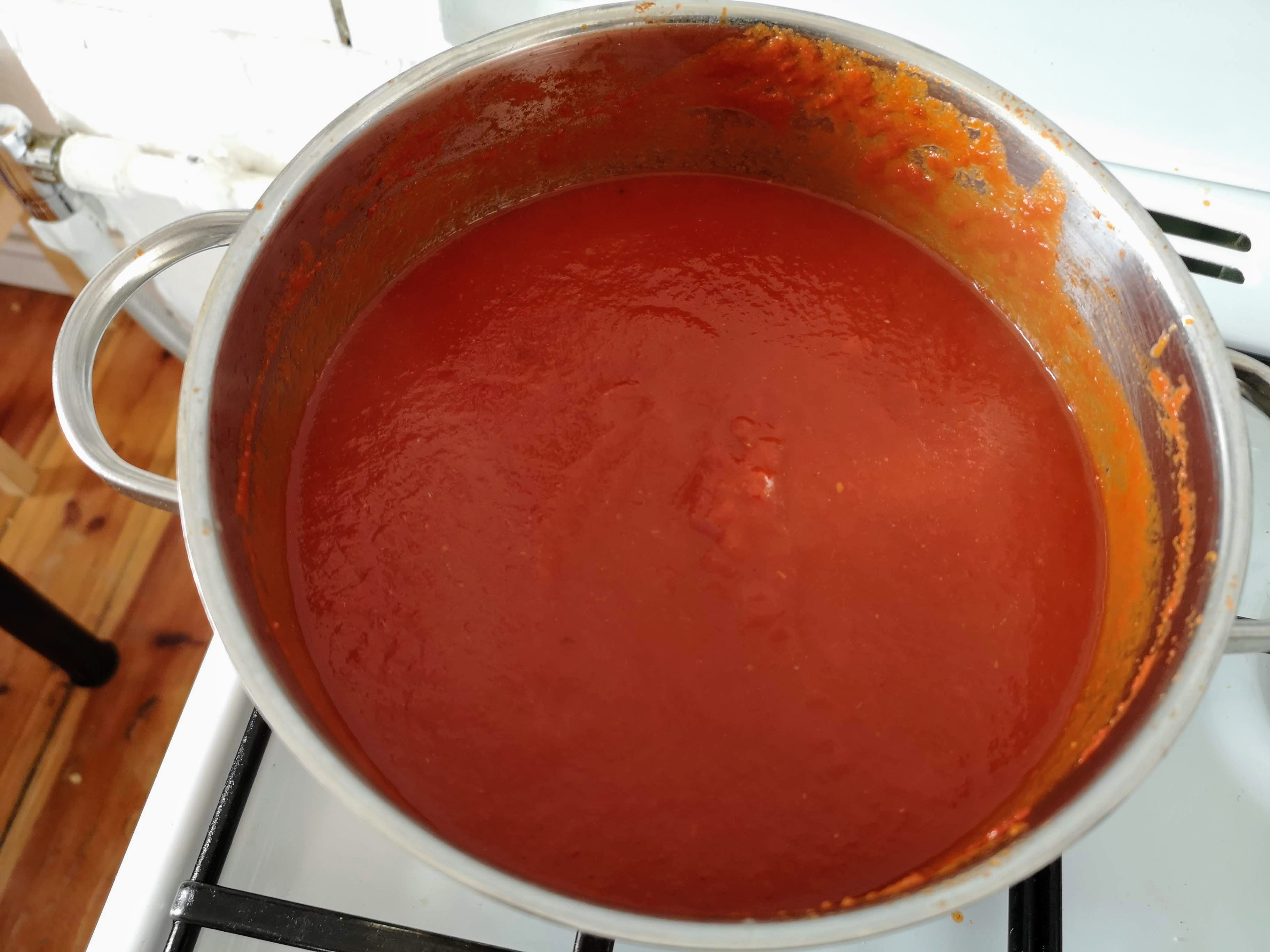 Replace the lid, making sure it's ajar, and let simmer on low for a couple of hours or until it's reduced by half. You'll need to keep an eye on it and give the sauce a stir every 15 to 20 minutes to stop it burning on the bottom.
Also, taste-test the sauce after an hour or so. Does it need more salt? More sweetness? More Vinegar? Maple syrup is very light and will not have the same sugary bang as brown sugar. On this batch, I end up adding in a little more vinegar, molasses, and salt to accommodate my palate. Adjust your sauce according to yours.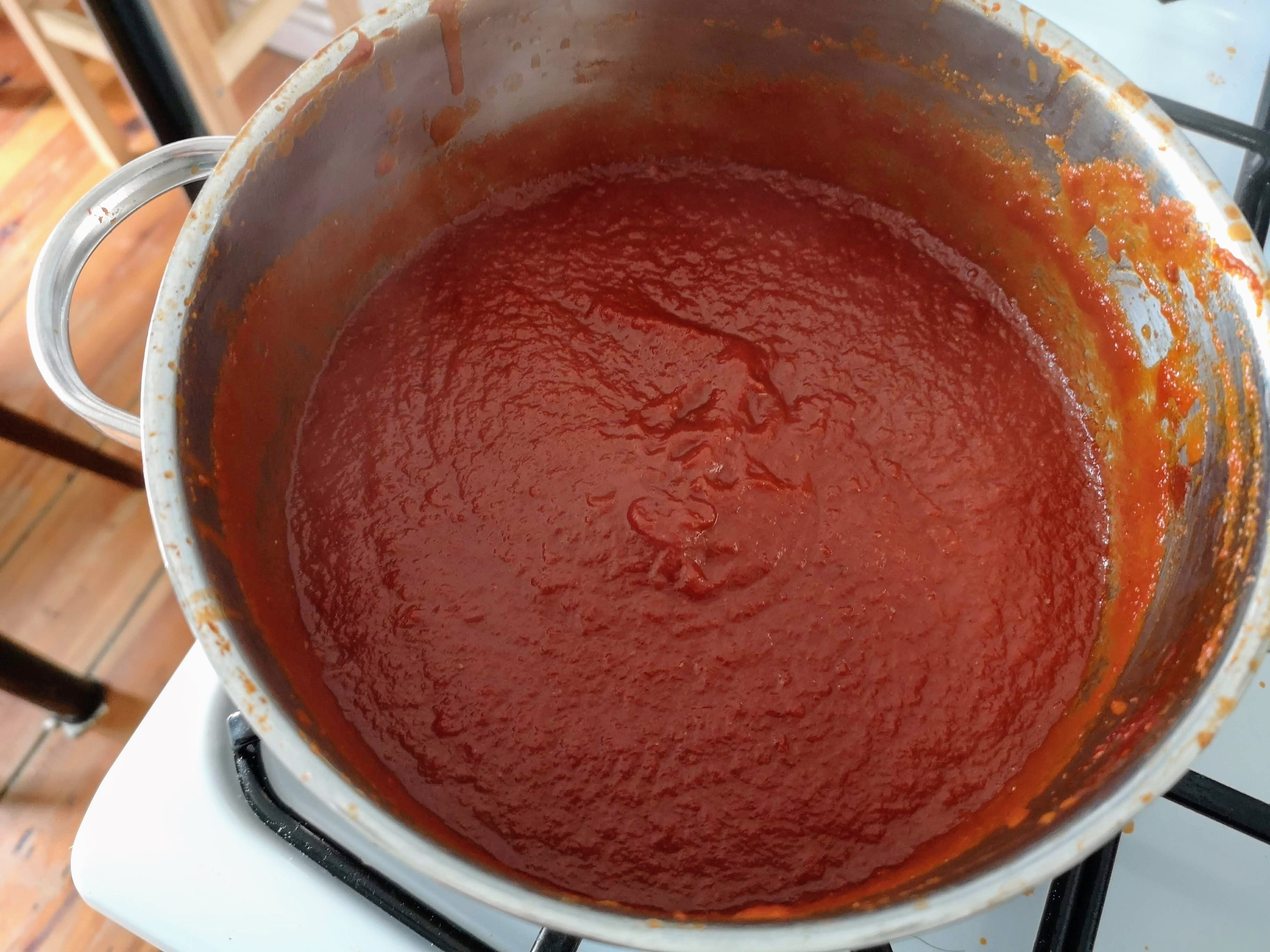 The last, and sort of crucial step here, is to let the sauce cool and then run it through a sieve to get that smooth texture you want in a bbq sauce. Don't do this while the sauce is hot, you'll burn your skin.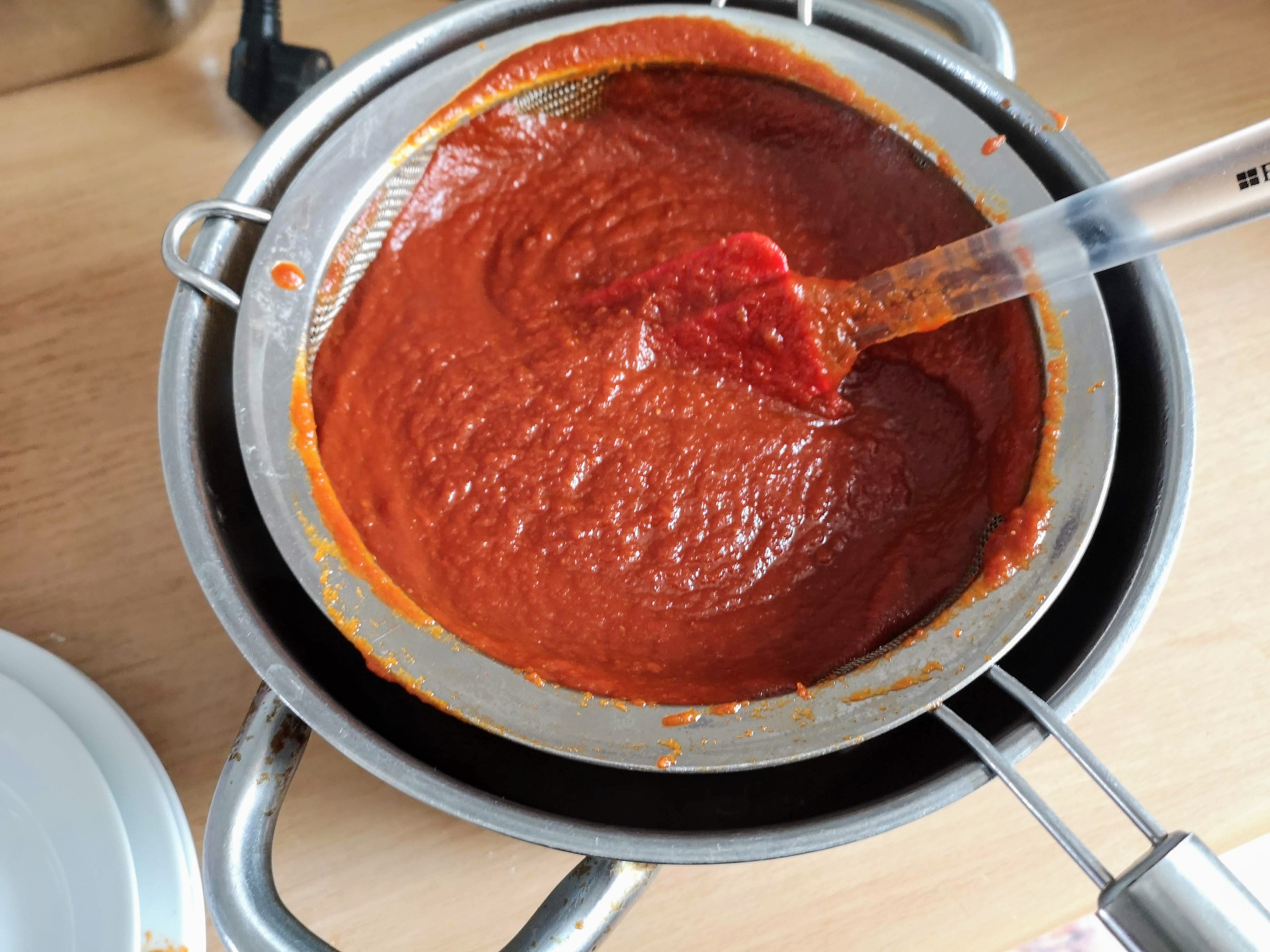 You'll need to slowly work the sauce through the sieve into another pot. Sort of just slowly press the sauce through as you stir it until you're left with a spoonful of a thick paste, which you can throw away.
Part III: Storage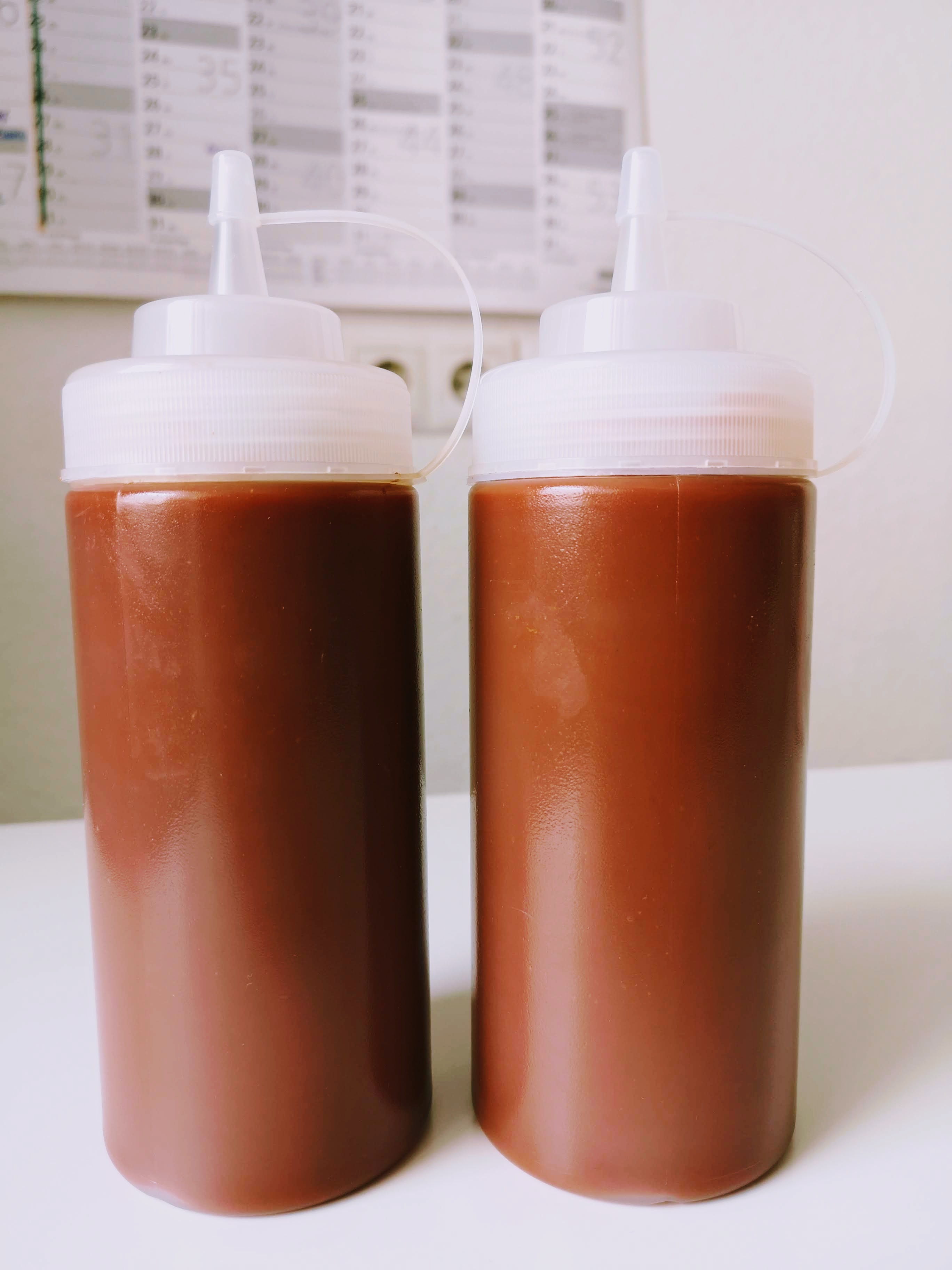 The last step is to get the sauce into some bottles. I'm using two 18-ounce plastic sauce bottles. I fill up both with a small bowlful left over.
The sauce is deep and unctuous. There's a mild spice at the base with a hint of smoke (double the chilis if you want it hotter or smokier). There's a clear tanginess that's slightly sweet with a hint of bourbon shining through. The umami from the stewed tomato is the real star of the show with the spice, tang, sweet, and bourbon as supporting players.
I'm going to try it in a pulled pork sandwich later. I'll let you know how it goes over on Instagram.