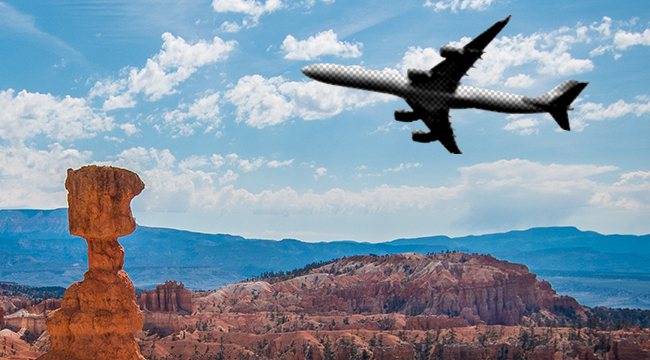 The dog days of summer are here. Oppressive heat and long days are leaving us all longing to hit the road. It's time to check out some cheap flights and travel deals and #optoutdoors for a little rest and relaxation. Go recharge those batteries for a few days — maybe even a week or two — and come back ready to rock the rest of summer.
Below are some of the best deals on cheap flights and travel packages right now. These are the sites and Twitter feeds that you should be following and setting up alerts for. Prices will vary. Sales will pass quickly. You've gotta shop hard and act fast. Good luck out there and happy travels!
30% OFF NATIONAL PARKS ADVENTURES AND OTHER GREAT DEALS FROM XANTERRA
Xanterra just launched their Christmas in July sale. They're offering steep discounts on an array of vacation options. Most prominently, you can score up to 30 percent off stays at national park lodges across the country. The deal also includes discounts on the Grand Canyon Train, various hotels, Windstar Cruises, and more.
You'll have to book between July 25th and 27th to receive the awesome discounts. So don't sleep on this one. Act!
$20 DEALS AROUND AMERICA ON FRONTIER
Here's an idea. Grab one of these $20 flights on Frontier to a national park (well, an airport near one) so that you can take advantage of the above discount. It'll be an outdoor wonderland with a lifetime of memories just waiting to be made and it supports America's small town economies. What are you waiting for?
BEST FARE FINDER WITH JETBLUE
JetBlue's Fare Finder always has hidden gems. Simply input your home airport and a dream destination and scroll through the months to find the best deal. Right now, for instance, there's a flight from Seattle or Long Beach for only $76 in late August. That's nearly $100 cheaper than the average price. Translation: It's a great deal.
$99 FLIGHTS TO ICELAND WITH WOWAIR
Maybe one of the best and cheapest escapes this summer is Wowair's $99 flights to Reykjavik from all over the U.S. If Iceland isn't that high on your bucket list (it should be btw), Wowair's got you covered there too. Flights from the U.S. to destinations all over Europe start at $159 each way. It's true — it's never been cheaper to get across the pond.

CHEAP SUMMER FLIGHTS TO EUROPE ON NORWEGIAN
Norwegian also has amazingly cheap tickets to Europe right now. You can score one-way flights from all over the U.S. to, well, all over Europe starting at $95. That's less than a hundred bucks to get to Norway from America. From there, budget airlines make it super inexpensive to fly all over the continent. It's a winning travel situation in every way.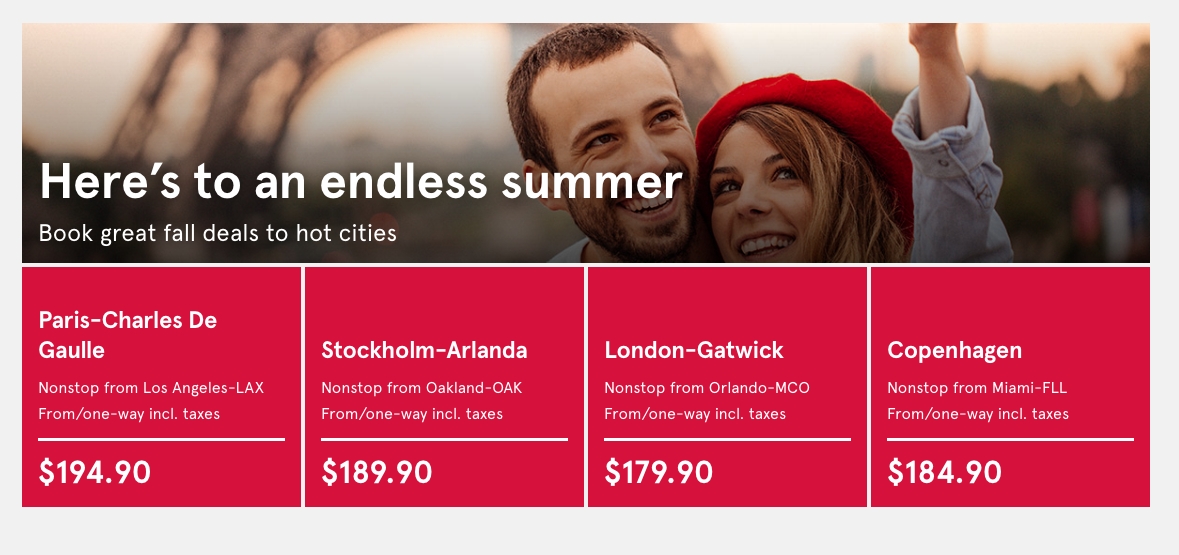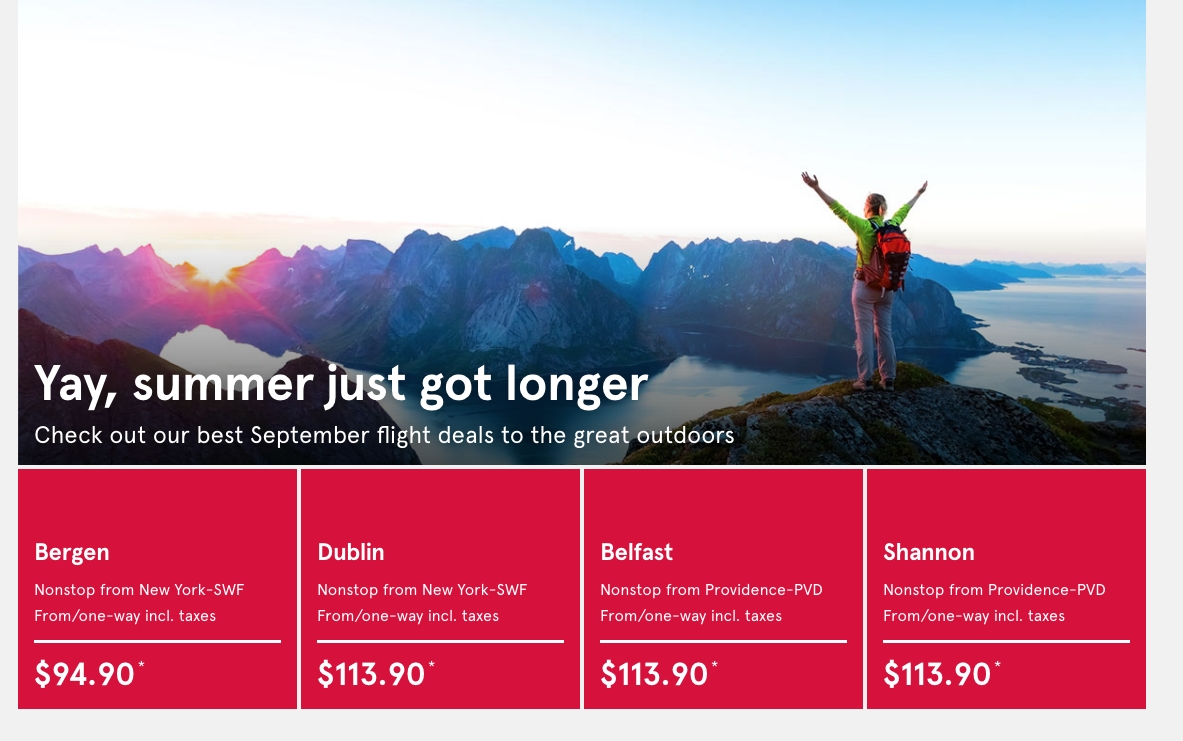 CHEAP SUMMER FLIGHTS ON RYANAIR
Speaking of cheap flights around Europe, Ryanair is always your best bet. Right now, you can use their Fare Finder to source the cheapest flights from wherever you find yourself on the continent. If you're in Berlin at the moment, you can score one-way flights for as little as €7 ($8). It's hard to imagine a cheaper way to travel.
SECRET FLYING DEALS
Looking to go a little further afield this summer and next fall? Set those Secret Flying alerts today!
Right now, you can score a roundtrip flight to Havana from Orlando for only $182. That's a great deal that'll allow you to finally check out Cuba. There's also a great deal on flights from Baltimore all the way to Beijing for only $494 roundtrip. It's an unbeatable price for a flight to the other side of the planet.
Lastly, if you're planning a trip to Australia, you can score flights around Australia for as little as $39 one way. With internal flights that inexpensive, the whole continent opens up.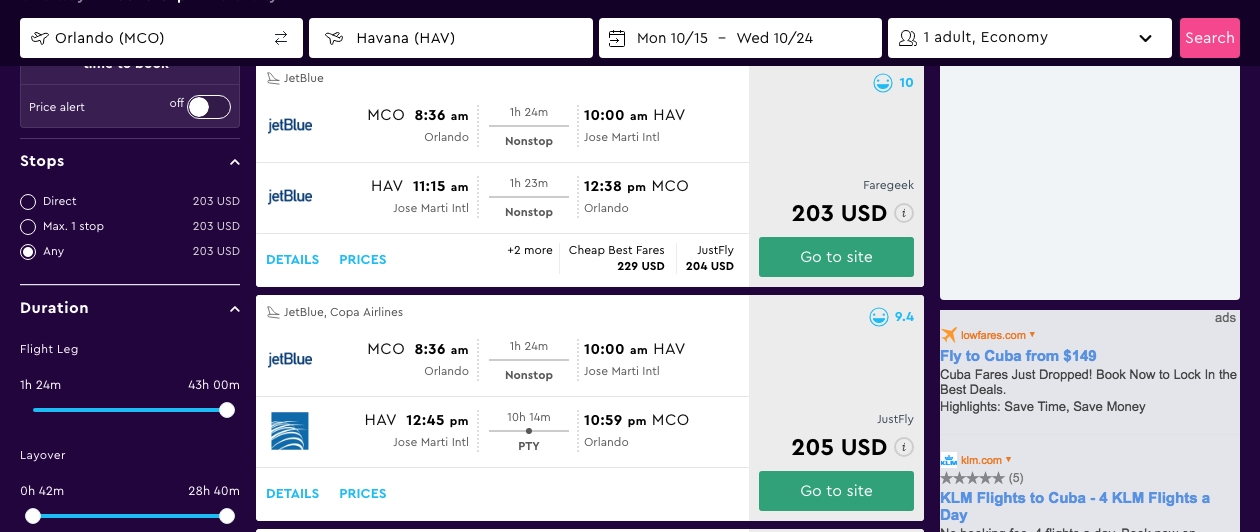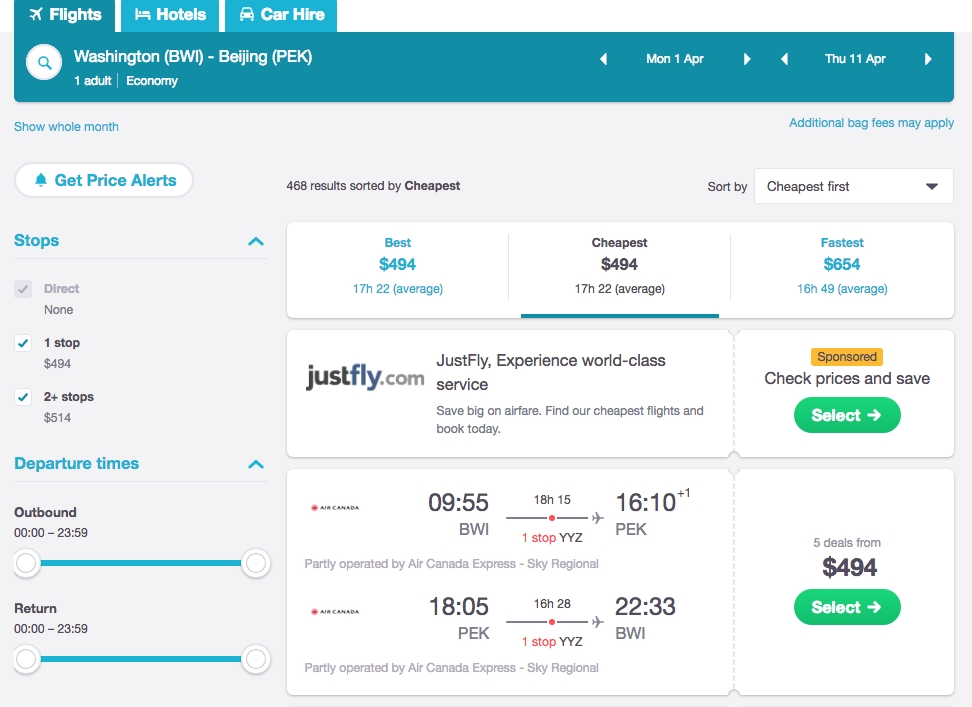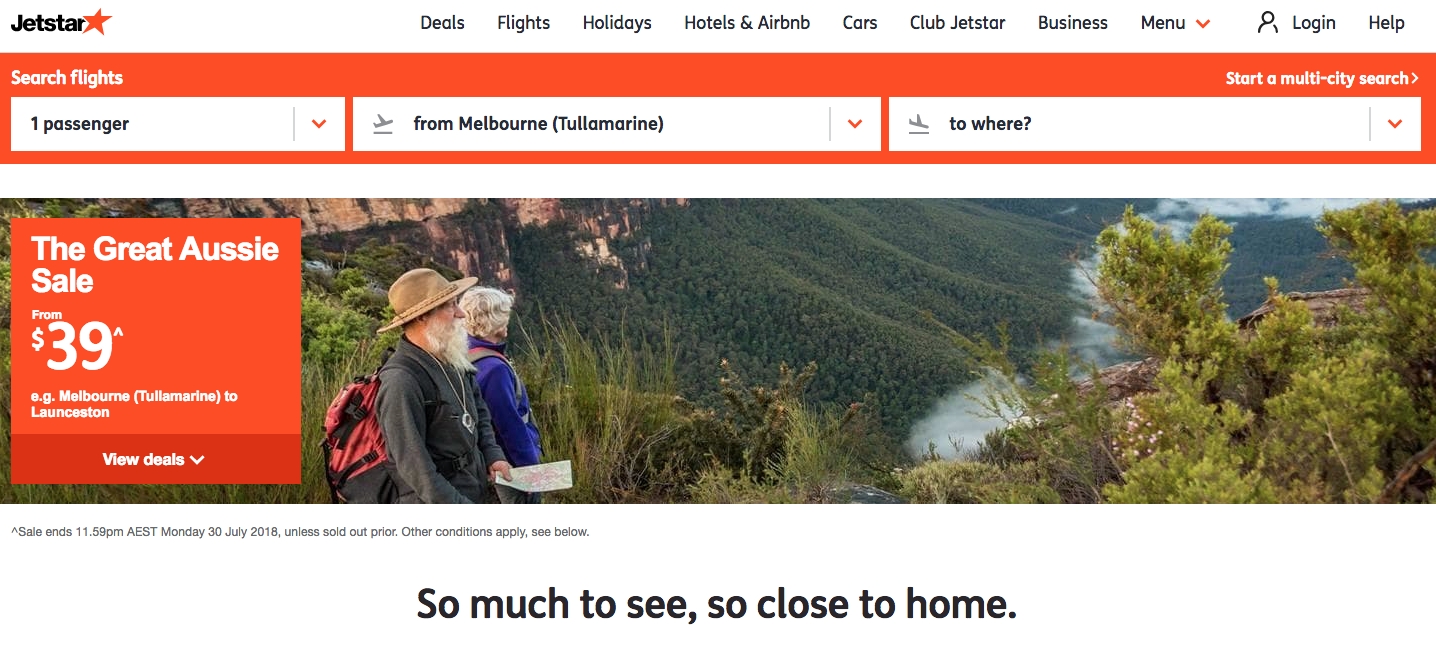 45% OFF SONESTA OCEAN POINT'S POST-HURRICANE IRMA RE-OPENING
A lot of the Caribbean is still recovering from last year's vicious hurricane season. Sonesta's Ocean Point Resort in St. Marteen is about to reopen and is offering a 45 percent discount on your first stay at the all-inclusive.
Sonesta is a plush property that has a keen sense of style alongside one of the best food programs of any all-inclusive. Also, by taking a trip like this, you'll be putting money into the hands of locals directly affected by the storms.
SUMMER DEALS WITH TOPDECK TRAVEL
Topdeck tailors its tours for the 18 to 30-year-old crowd with great trips around the world which focus on the local and immersive. Right now, you can score killer discounts on trips pretty much everywhere. Check out their Deals page and find the perfect trip for you.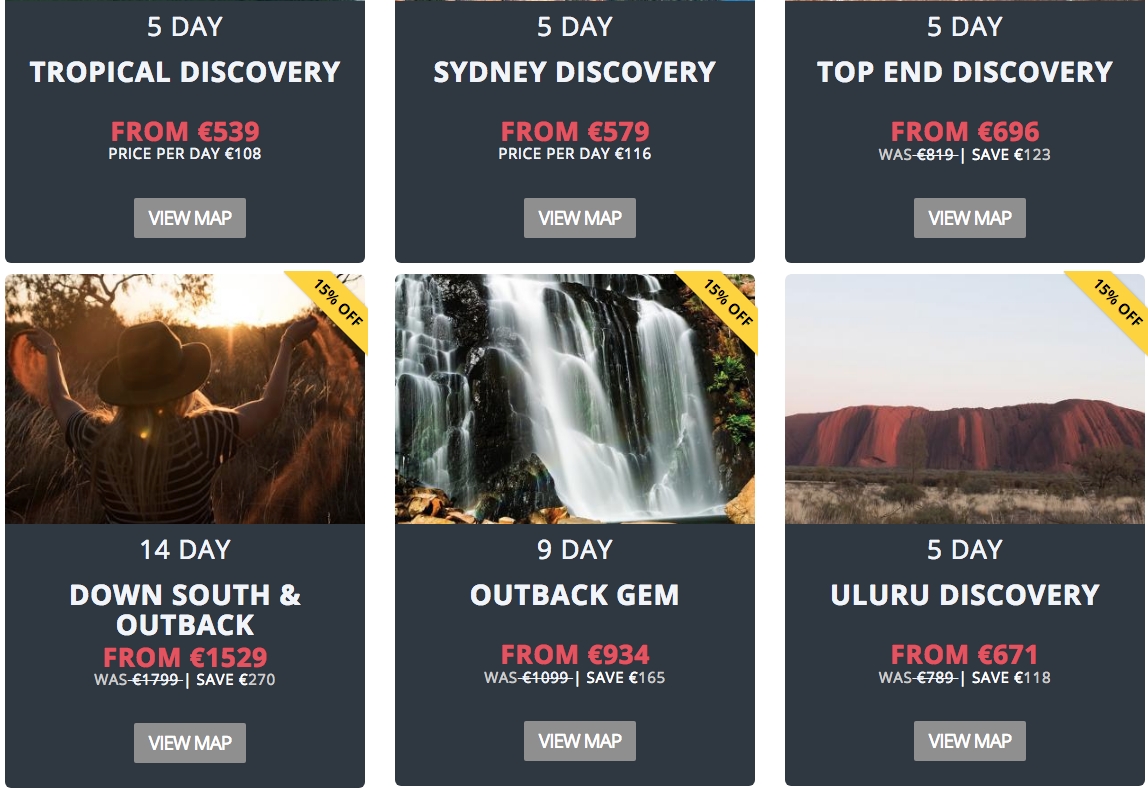 10% OFF INTREPID TRAVEL ADVENTURES
Intrepid is the adventure traveler's travel company. They offer true expeditions to some of the most remote and challenging corners of the globe with an experience you won't soon forget. Between today and July 30th, you'll be able to score a ten percent discount on any trip between September 1st of this year and the end of next February. A discount that steep could practically cover your airfare.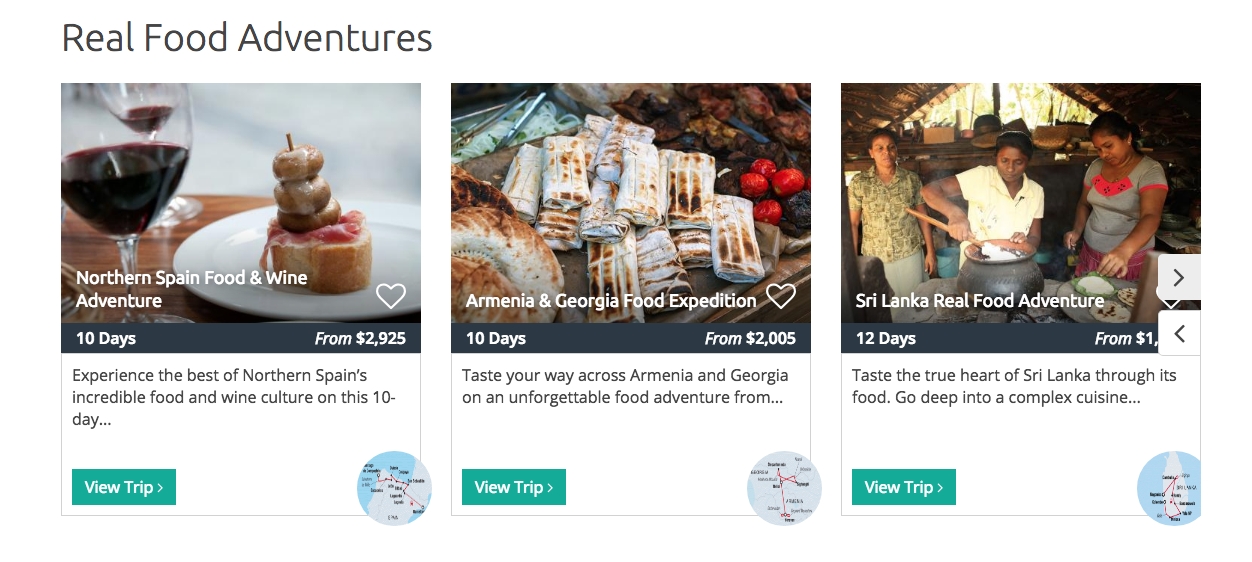 20% OFF LAST MINUTE DEALS WITH CONTIKI
Want to get away next week? Check out Contiki's Last Minute deals for up to 20 percent off on a long weekend, one-week, or two-week escape to somewhere you've been dying to check off your bucket list. The trips — which focus on the 18 to 40 crowd — really are some of the best deals out there for a no-worry vacation to somewhere rad. The hotels, guides, and experience are always on point and you'll come home with a head full of new memories.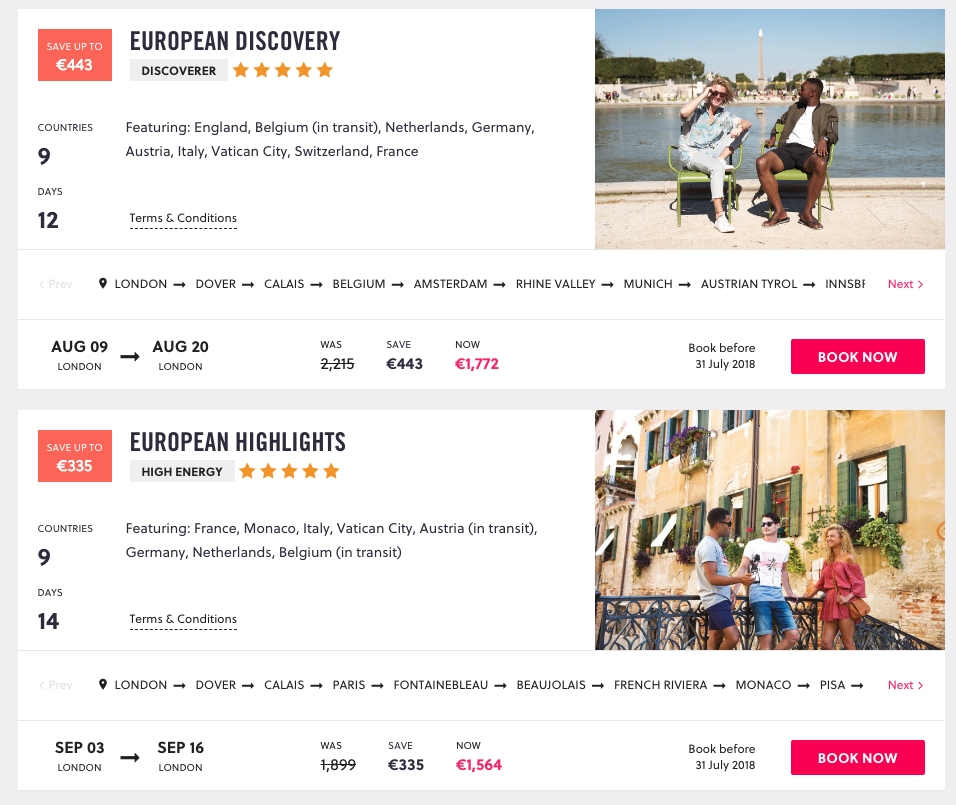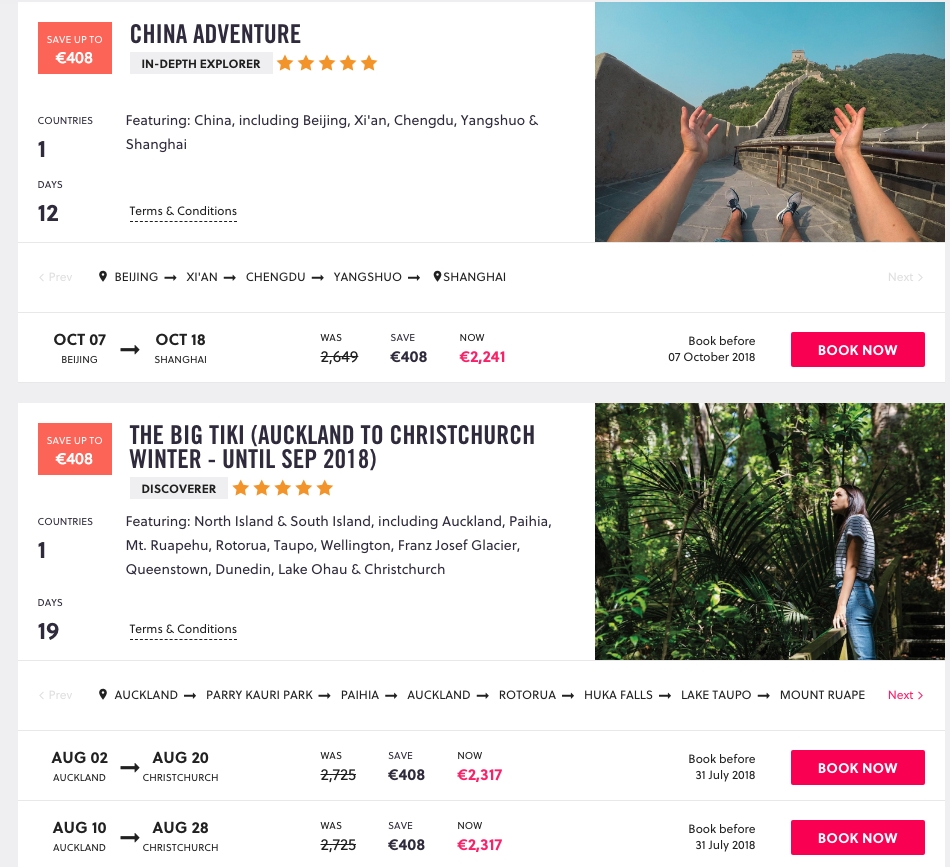 HOTEL OF THE WEEK: LE PAVILLON, NEW ORLEANS
New Orleans is one of the best vacation cities in America. The food is unique and leans heavily towards comfort. The bar scene is second to none. The history is alive and deeply interesting. Then there's the whole 'gator-filled Bayou to explore via airboat, just a hop-skip-and-jump from the French Quarter.
New Orleans also has some amazing hotels to choose from. This week, Le Pavillon is offering a great discount for those looking to explore the Big Easy for a spell. You can snag 15 percent off two-night stays, 20 percent off three nights, and 25 percent off stays up to seven nights. That's a great saving — which means you'll have all that extra cash to spend on platters of oysters, 'gator tours, and all the hurricanes you can drink.
Use the special rate code STAY when booking through their site.