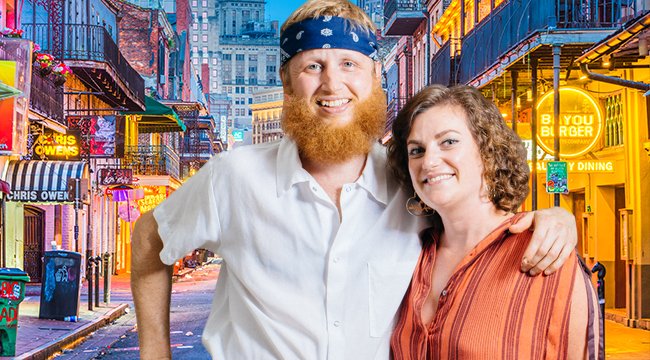 Welcome to EAT THIS CITY, your tour of the best restaurants in one of our favorite cities, as chosen by a world-class chef, celebrity, or local hero.
Friends, it's time we revisit The Big Easy — that city renowned for its signature music stylings, a propensity of parades, and some killer restaurants. New Orleans' famed French Quarter is a vacation destination year-round, and one of the big draws is its food scene, which covers the spectrum from traditional Creole street fare to molecular gastronomy.
This week, Chefs Marcus Jacobs and Caitlin Carney of Marjie's Grill offered to highlight the best that the city has to offer. Both Jacobs and Carney worked under famed New Orleans chefs Ryan Prewitt and Donald Link, before traveling extensively through Laos, Vietnam, and Thailand. During this time, they gathered the insight, experience, and inspiration needed to successfully launch their own concept in January of 2017. The restaurant marries Southeast Asian cooking techniques and ingredients with those locally sourced, seasonally-driven elements of the Gulf coast, and New Orleans specifically.
Since opening, Marjie's Grill has been a roaring triumph, both within the local community and beyond. In fact, Bon Appetit named it one of their 50 Best New Restaurants 2017. Thanks to a deep commitment to seasonality (the menu changes daily), the quality of the offerings are never in doubt. Some of the duo's recent dishes include fried wild des allemandes catfish dusted with spiced heirloom cornmeal, topped with fresh herbs & crispy pork, served with buttermilk dipping sauce; slow-grilled beef tri-tip cooked over hardwood coals and served with fresh herbs and a spicy chili paste; and crispy pig knuckles coated with black pepper, herbs, chilis & lime. Check out their take on crawfish below, and try to say you aren't interested:
Now that everyone is salivating, let's give Chefs Marcus Jacobs and Caitlin Carney the chance to dish about the city they love best.
PIZZA
Pizza Delicious, Mid City Pizza, and Ancora
Our favorite New York style pizza is from either Pizza Delicious or Mid City Pizza. Mid City Pizza is actually down the street from Marjie's, so we order it every Saturday for our staff meal. The Drizzle is one of their signature pizzas and our personal favorite.
For Neapolitan-style wood-fired pizza, we love Ancora. We're kind of purists when it comes to pizza there and really enjoy the Margherita.
TACOS
Bourbon Street Cruise
Chef Marcus: I eat at a small taco truck called Bourbon Street Cruise by a Home Depot in town at least four times a week. I usually stop there for tacos in the morning and love the chorizo tacos and baleada. If you haven't had a baleada, it's a Honduran dish made with a hand-stretched flour tortilla filled with beans, cheese and your choice of meat. It's a ton of food, the tortillas are hand-stretched to order, and it only costs $3.50.