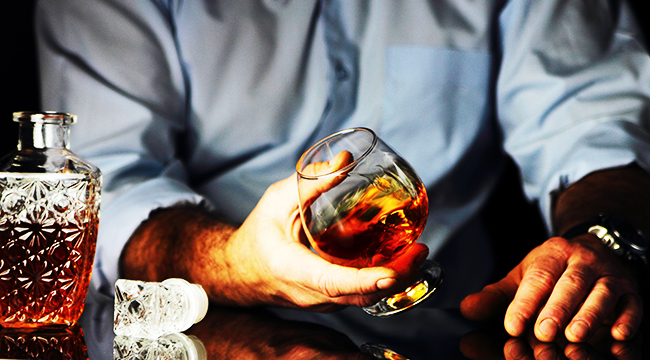 Sometimes in the fall shuffle of aged spirits, cognac gets lost. We tend to open bottles of bourbon, Scotch, and rye before turning our attention to this French elixir. There are a few reasons for this. For one, the baseline understanding of French brandy by the average drinker isn't particularly high. Second, this spirit is sometimes forgotten because people assume it's too expensive. Or worry they won't like it and that it's way too expensive not to actually enjoy.
Made in and around the area of Cognac, France (and nowhere else legally), cognac isn't actually all that expensive, as we've illustrated before. There are many reasonably priced, high-quality cognacs on the market. Also, you won't know if you like it until you try it. If you spent your life not eating and drinking things just because you assume you won't like them you'd be eating nothing but chicken fingers and drinking nothing but orange soda. Obviously that sounds pretty okay, so maybe it was a bad example, but still!
To help you figure out which cognac to try this fall, we asked some of our favorite bartenders to tell us their picks for fall imbibing. You can check out all of their answers below. If you don't see your favorite cognac on this list, let us know in the comments.
Gautier VS
Will Benedetto, cocktail curator at In Good Company in New York City
"I really like Gautier. That cognac really sings and has a price tag that won't have you digging in your couch for change."

Hine VSOP
Nahm Kim, mixologist at Sunda in Nashville
"Hine VSOP is superb for the price point. Burnt caramel, vanilla, toffee, pure deliciousness."
Remy Martin 1738
Josh Cameron, head bartender at Boulton & Watt in New York City
"I still like singing Fetty Wap's '1738' every time the Remy comes off the shelf. Let's turn up for Halloween. Top 40 aside, Remy Martin 1738 is smooth, balanced, and takes you to Europe in the Fall."
Pierre Ferrand Ambre
Sam Cable, head bartender at P.S. Speakeasy in Kansas City, Missouri
"I've been using the Pierre Ferrand Ambre quite a bit lately. It sits a little above the price range of something I'd typically reach for as far as cocktails go, but the Ambre does a fantastic job of elevating whatever you're mixing. I highly recommend the old classic Japanese Cocktail or just let it shine on its own."
Martell Blue Swift
Anastasia Sasewich, Head Bartender at Bar Moxy in Chicago
"I'm currently enjoying a bottle of Martell Blue Swift, which is (disclaimer) not technically a cognac because it is finished in Kentucky bourbon casks but combines the plummy, candied fruit notes of the cognac VSOP with the subtle vanilla and caramel you'll typically get from a bourbon. I like to recommend it to people who aren't already cognac drinkers to help open up their ideas about the spirit."

Maison Rouge VSOP
Todd Thrasher, Potomac Distilling Company and Tiki TNT in Washington, DC
"My favorite cognac for the fall is most definitely Maison Rouge VSOP. I'm currently using it as the rail cognac at Brothers and Sisters, where it shows up in a handful of cocktails this season. Its smooth and delicious, and really pairs well with fall flavors."
Pierre Ferrand 1840
Logan Demmy, bar manager at The Citizens Trust in Columbus, Ohio
"My favorite cognac to drink right now is Pierre Ferrand 1840, which we incorporate into our Champs Elysees cocktail at The Citizens Trust. Made with Pierre Ferrand 1840 cognac, lemon juice, green chartreuse, and Angostura bitters, it's the perfect complement to fall desserts like homemade apple pie."
Frapin VSOP
David Mor, beverage manager at Cindy's in Chicago
"Frapin VSOP is delicious—I use it for cocktails or as a nightcap on its own. 'Yak is back!'"
Courvoisier VSOP
Lisa Selman, director of beverage at Hilton Chicago
"Pass the Courvoisier, preferably the VSOP! If you love whiskey, cognac is a fun category to explore. It has lovely floral notes, honey, and is made in one of the most beautiful parts for the world I've ever been to. If you are looking for something a little less known, Jean Filloux would be my splurge cognac."

Hardy Noce D'Or
William Perbellini, property mixologist at the Waldorf Astoria in Las Vegas
"Hardy Noce D'Or Grande Champagne Cognac. Minimum 50 years aged fine cognac. Amazing."
Comandon XO
Danwel Olivo, lead mixologist at Conrad Fort Lauderdale Beach
"Aged between 20 to 30 years, Comandon XO is a high-end blend that offers a variety of flavors depending on the batch – from fruity to spicy. I would also recommend Remy Martin XO for a masterful blend with a rich structure of vanilla and flavors of orange and mature fruit, as well as dark brioche for a touch of fall flavor."
Meukow Vanilla
Valerie Boothby, bartender at Grain & Cane in Berkeley Heights, New Jersey
"Meukow Vanilla neat, warmed. Vanilla's flavor and scent is well known for its soothing effects. When the snifter is warmed over steam/warm water, the flavors of the cognac become more pronounced, resulting in a smooth Vanilla cognac to sip on while you watch the Fall leaves change color."
Hardy XO
Jon Griffiths, beverage director at Datz in Tampa, Florida
"I absolutely love Hardy X.O, aside from being one of the most affordable XO cognacs, it is rich, elegant and extremely smooth, perfect for sipping outside."

Hennessy VS
https://www.instagram.com/p/Bo5Ry0bH1Yv/?tagged=hennessyvs
Ben Rouse, bar lead at Henley in Nashville
"Cognac is a nostalgic drink for me as it's one of the first distilled spirits I ever tasted. I instinctively reach for Hennessey V.S. when Cognac is the call. It's the perfect match to a spicy Maduro cigar and mixes deliciously with apple juice! It may sound a bit absurd to some but try it, trust me."
D'Usse VSOP
Sean Stangle, bartender at Estiatorio Milos in Las Vegas
"Autumn season always does its best to suggest sweeter, higher alcohol-content spirits. There aren't many people these days sitting by a roaring fire in a giant armchair and swirling brandy in a snifter, however, that doesn't mean you can't find some great alternative options to enjoy today's cognac. D'Usse Cognac VSOP is a relatively new brand, yet hails from one of the oldest Cognac houses in France. This nicely balanced blend drinks beautifully on its own, but really shines in a classically made Side Car. Ask your favorite bartender and enjoy."