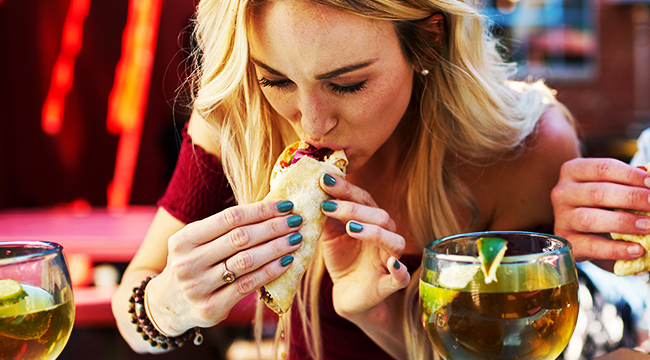 Traveling and food just go together. The lure of a new cuisine, the chance to expand your palate through unique experiences, and the opportunity to meet chefs with fresh ideas are all a big draw. The very promise of a food adventure gets scores of people on the road every single day.
There's an authenticity to eating "with the locals" that you just can't get traveling your palate at home (even in NYC). Different terroir, climates, and, thereby, certain ingredients can't be replicated everywhere. For some dishes, you need the smell of the streets where the dish was invented or the energy of the people on those streets or recipes handed down by grandmothers and grandfathers and revitalized by a new generation.
All that in mind, we thought we'd take a moment to lay down ten amazing food experiences around the world. These are not only some of the best moments you can have with food on earth, but they highlight foods that are essential to building a palate and understanding world cuisine. These are the food experiences that'll change the way you think about a certain food for the rest of your life — the wonders of the culinary world, if you will.
OPEN A WHEEL OR PARMIGIANO-REGGIANO IN EMILIA-ROMAGNA
The play here is to get on a flight to Bologna and go either to a Parmigiano-Reggiano factory in Parma or hit up FICO Eataly World outside of Bologna. Take a tour of the cheese factory and watch in awe as they pound open a whole wheel for you to taste.
When they open up that wheel, the cheese is still alive, comfortingly warm, and full of some of the boldest umami flavors on the planet. It's also got a "milkier" taste that you're sure to expect if you've only bought your parm in the states. Dip it in a little sweet and thick balsamic and you're done. You'll never go back to the pre-grated stuff.

FIND THE BEST PEKING DUCK IN BEIJING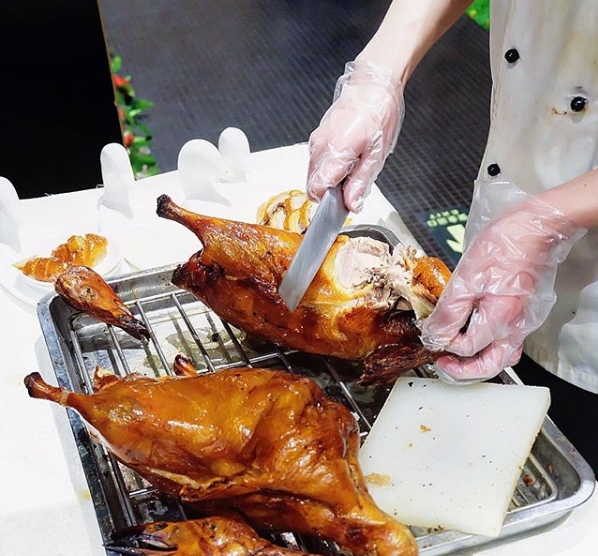 Okay, full disclosure, you probably don't have to go all the way to China to try good Peking Duck. But where's the fun in that? Yes, there are great Chinatowns all over America, with restaurants that make amazing duck on the daily, but the journey is half of the adventure.
Bianyifang in Beijing is the perfect spot to post up and dive into all things ducks and pancakes (flour tortillas). It's one of the oldest duck houses in the city and the family style tableside service adds to the greatness of this meal.
FIND THE BEST PAV BHAJI IN MUMBAI
Mumbai's street food is some of the best in the world. The intensity of the megapolis is matched by the intensity of the food on those streets. Big flavors, lots of fat, and deep colors make this scene pop. One of the best dishes you can find is the famed and much adored Pav Bhaji.
The vegetable (and sometimes chickpea) curry is served with sliced shallot and butter grilled sweet bread rolls. Mix the shallot into the curry and sop it all up with the fatty bread. It's the best dollar you'll ever spend on a meal.
GET INTO FUFU IN GHANA
Fufu is a delightfully unique staple. The half-porridge/half-dumpling is made by pounding out casava with water (and sometimes plantain) until a smooth and hefty paste is formed. Then it's served with peanut soup, goat stew, or fish pot.
Head over to Ghana or Nigeria to try the real deal. Hit up local food markets and look for stalls with hug stew pots bubbling away. You'll be set.

FALL IN LOVE WITH TIGER PIES IN SYDNEY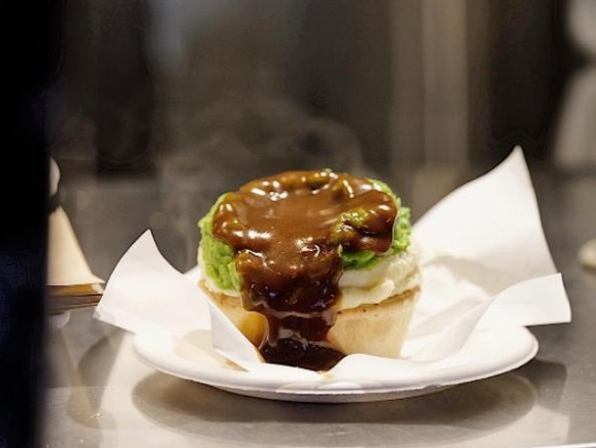 A good meat pie hits a very sweet spot of comforting and delicious. A Tiger Pie in Sydney amps that experience up to eleven.
The addition of almost effervescent mashed potato, mushy peas, and velvety brown gravy make this a damn near perfect street food dish. When you land in Sydney, head to Harry's Cafe de Wheels for the real deal.
LEARN THE NUANCES OF FEIJOADA IN BRAZIL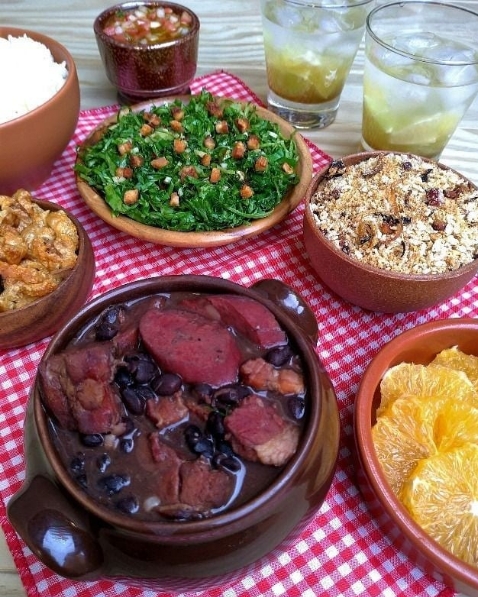 Brazil is a huge place. The beaches, the Amazon, and the frontier all bring different climates and cultures which makes the country amazingly varied. Yet one dish has become synonymous with the South American country — Feijoada.
The black bean, pork, and sausage stew is a cornerstone of post-Columbian Brazilian cuisine and every household seemingly has their own take. Grab yourself a homestay and learn the ways of your host's feijoada and then make it your own when you get back home.
EAT TACOS THROUGH MEXICO CITY
It's damn near impossible to find a bad taco in Mexico City. The street food staple is everywhere from late night markets to bustling street corners in business areas to push carts roaming through neighborhoods.
Finding the "best" taco is probably impossible. Spend a week wandering and you won't regret making the effort, though. Become an expert of Al Pastor — a dish that was remixed from the shwarma of Arab traders — or learn the nuances of barbacoa, cooked in giant clay pots.
EAT OYSTERS FROM THE SOURCE IN THE PACIFIC NORTHWEST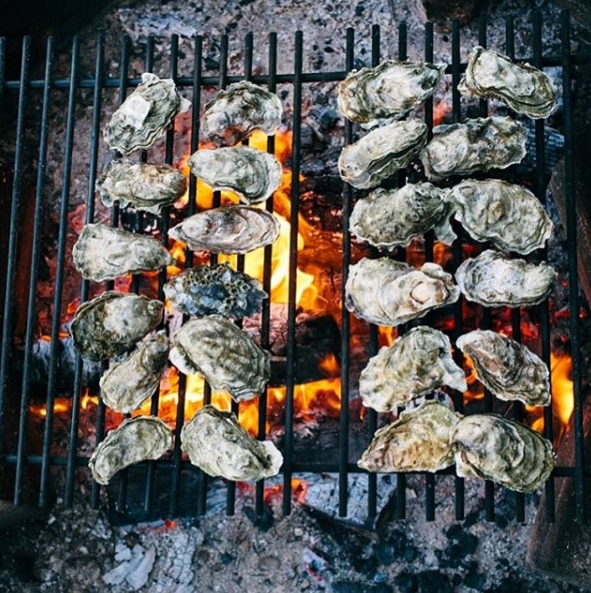 Coldwater oysters are great for cleaning our waterways. They're amazingly cheap to farm. And, the kicker, they taste amazing. That last bit might be a little hard to swallow. Oysters are an acquired taste. But you know what? Everything is an acquired taste. So acquire it.
Our advice is to hit up an oyster farm like Hama Hama Oysters in the Pacific Northwest. Chat with the owners and shuckers and then try oysters a few different ways and wash it down with Washington wine or local craft beer. You might just fall in love with the most sustainable seafood in the United States.

HIT UP A MICHELIN-STARRED RESTAURANT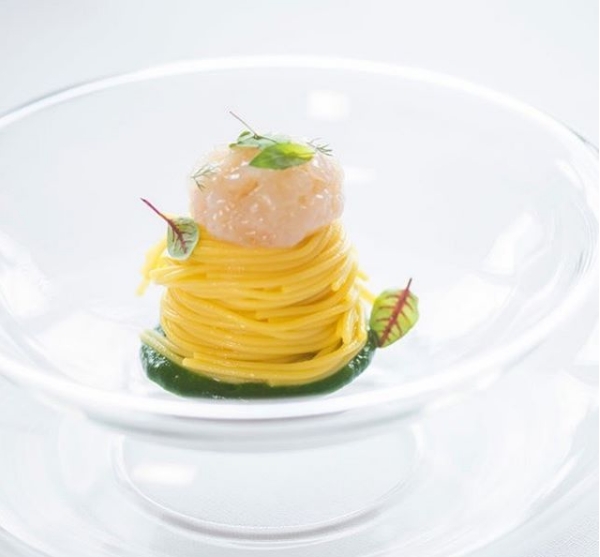 Michelin-starred restaurants aren't for the everyday. This is an experience you spend time on. You have to book ahead, sometimes as much as a year. Then you have to save some coin. A few modern exceptions aside, a meal for two at a multi-starred restaurant is going to set you back a few large bills. So let's bring it all home.
Let's say you're already in Emilia-Romagna to sample a real wheel of Parmigiano-Reggiano. Go to Modena and eat the world's best restaurant, Osteria Francescana. Check that experience off your bucket list and go home with a new sense of what Italian food can be as made by one the greatest living masters of the medium.
Mind you, these aren't commonplace experiences, but they're definitely worth having at least once (or even once a year).

EDITOR'S PICK: TRY AN OMAKASE MENU IN JAPAN
Sometimes food isn't about you. Sometimes you're just the conduit for an artist to express themselves. Forget the "your way, right away" mottos of the industrialized American food culture, this is the opposite: "chef's way; when the chef wants."
Omakase is a fully chef-designed sushi tasting. There's no ordering, no requests, no "hold the rice" or "go light on the sauce." Instead, by attending a true Japanese omakase you are agreeing to enter the world of an expert and let them guide you. This is a meal that is going to cost. Pay what you're asked and pay it gladly, for a number of reasons: 1) fish is a wild animal dredged from the sea, it ought not be terribly cheap, 2) chefs train their whole lives to create a perfect omakase, it's the reflection of a larger body of work, 3) art should be respected and this is art.
If you can get in, try Sukiyabashi Jiro Honten — that's Jiro from the famed Bourdain doc Jiro Dreams of Sushi, excerpted above. Or try any number of Michelin-starred spots in Tokyo and across Japan.
– Steve Bramucci, Food Editor