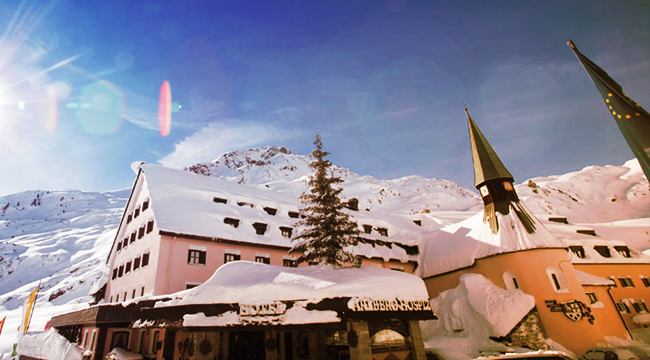 A few years ago, I spent the lead up to Christmas in Austrian Tyrol. It was the most Christmasy-holiday season I'd ever known. There were literal sleighs with literal bells that you could literally hear ringing. Open fires roared in every lodge. Real winter wonderland type sh*t.
That experience hooked me. It felt special and different from the holidays I'd known before — rewatching Christmas Vacation and eating way too many cookies (which also has a certain allure). Even the act of staying in a hotel during the winter season felt new. The inherent sensuality was still there, but with a new slant. The sexiness of a swimming pool had been replaced by spas. Breezy cocktails were swapped out for the sorts of hot ciders and mulled wines that left your face flush.
With holiday hype ramping up by the second, we're running down the best Christmas hotels on earth. Check them out and book your tickets with a quickness. Don't worry, Santa will find you. — Steve Bramucci, Travel Editor.
The Arlberg1800 Resort: St. Christoph, Austria
The Arlberg1800 feels like it would be the setting for a Quentin Tarantino winter robbery movie. The upper floors and rooms are all rustic Austrian charm, the basement holds a few million dollars in rare wines, and the village itself is most easily accessed via a ski slope. The fact that the place hasn't made our annual heist list yet is a shocker.
Movie pitches/ potential heists aside, this property is truly stunning. A giant Christmas tree towers over the dining room. The food is both decadent and refined. Every piece of furniture — from the tables to the beds — feels like it was constructed 300 years ago. And then those wines… there are just so many of them. They are just so old. Taken all together, it feels like a Christmas miracle.
The resort itself actually hosts a full-on Christmas on site. Guests from the main property plus a few Alberg-owned villas around town circle around the tree and find private spaces for their families in the restaurant, then everyone celebrates in a community. The restaurant creates decadent meals and luscious desserts and people dine family style. In fact, when I was there I became so entranced by it all that I reserved two rooms at the property for my family for Christmas 2020. (It's yet to be seen whether I'll be able to afford it.)
Rooms start at $700.
Boca Raton Resort & Club: Boca Raton, Florida
Often referred to as the Pink Palace, this resort is Florida gold. Though the temperature won't ever reach the snowy lows of New England, the state can be proud of the holiday showing the Boca Raton Resort & Club makes. The 356-acre resort features a huge Christmas tree, menorah lighting celebrations, a holiday boat parade, a massive Christmas buffet, a beach bonfire, and more.
If Christmas for you is less about donning your gay apparel and frolicking among evergreen garlands and more about lounging in the lap of luxury, be assured this Waldorf Astoria resort will not disappoint. There is an opulent spa, five swimming pools, and a stellar health club. There's also a surf simulator and surf lessons for people who like waves year-round. When it's time to wind down, take a bath among the luxe marble tile in the bathroom. And be sure to hit the Palm Court, a social venue and rad bar, or Mizner's Monkey Bar, a speakeasy-style, old-world home of libations.
Rooms start at $335.
Conrad New York
The Conrad New York is a destination. The hotel is all about taking plush luxury to the next level with a chic Manhattan vibe. The property is in the middle of everything when it comes to Christmas in New York. You can float from ice skating to shopping to delis to Central Park with ease.
It also offers special deals for the holiday season. There are special menus designed for the holidays, shopping tours around the city, and plenty of Christmas and holiday-themed activities curated by the hotel. It might feel a bit pricey, but, hell, it's the holidays. It's the best time of year to splurge … at least a little.
Rooms start at $325.
The Plaza: New York City, New York
Christmas in New York is the stuff of legend for a reason. No one does the holiday quite like the Big Apple. If you're looking for a hotel with Fifth Avenue shopping and Central Park just outside the door, plus a little Christmas-history (the property was the setting for Home Alone 2), The Plaza is the way to go. In fact, they even offer a Home Alone 2 package, for people who need to order a giant sundae like Kevin. It seems fun, but we're vibing more with the premium champagne and divine caviar pairings created by The Plaza's Executive Chef, Sani Hebaj. There is no way not to feel like you are living your best life when you are buzzed on bubbly and taking in all the Beaux-Arts architecture.
A stay at this hotel feels a lot like a resort. There is a massive food hall in the lower level, a restaurant, two bars, a Guerlain Spa, Warren Tricomi Salon, and a cutting-edge fitness center. However, given that the hotel has 282 rooms and large swaths of people coming and going at all times, it isn't the sort of place where you will be fawned over by staff. You likely won't want to leave your room, though, so it won't matter. The spa-like baths alone — with their 24-carat-gold-plated fixtures — are the stuff of dreams, not to mention the iPads that control things like temperature and lighting.
It's truly the best way to celebrate the winter holidays.
Rooms start at $795.
Ventana Hotel: Prague, Czech Republic
https://www.instagram.com/p/Bco69nIHaSr/
The Ventana Hotel is smack-dab in the center of Prague. The old-school luxe hotel has great rooms overlooking Old Town Square. That means you can literally walk out the front door and into Prague's famed Christmas markets. The giant hams roasting on spits over fires, the mulled wine, the wooden trinkets are all right there.
The best part, you're also in Prague. The city is always ready to party. With Ventana Hotel as your home base, you can wander the markets and get a nice mulled wine drunk going. Then you can party your ass off at one of about a million bars within a mile or two. Finally, when the time's just right, you can stumble home through the snow.
Rooms start at $145.
Hotel Del Coronado: Coronado, California
With a history dating back 130 years, Hotel Del Coronado is a quintessential California seaside resort. And if you fear that the heat of Southern California renders a true Christmas null and void, know that this was the site of the world's first electrically illuminated outdoor Christmas tree in 1904. They have serious décor cred. Guests will be pleased to find this Victorian hotel trimmed and lit from top to bottom. And don't overlook the holiday feel of hitting the palm-lined beachfront ice-skating rink overlooking the Pacific Ocean. There's also a Santa's village for people who can't really feel "in the spirit" without sitting on the lap of a strange man in a costume.
This was once the world's largest resort and you may recognize it from Some Like It Hot. It's also beautiful — with its Queen Anne details like polygonal towers and overhanging eaves. Check out the Oregon sugar pine paneling in the Crown Room and the 1960s chandelier in the lobby. There are 757 rooms in the main part of the hotel and the really good ones have these great balconies that face the ocean, letting in glorious breezes and soothing sounds. Rooms are plenty spacious and comfortable, but you may end up spending most of your time wandering around checking out beachfront shops and restaurants.
Rooms start at $268.
BEYOND by Geisel: Munich, Germany
BEYOND by Geisel is next-level luxury. The hotel is modernist chic right in the center of Munich. Like, Prague above, the iconic Christmas markets are right outside the hotel's door. Then, of course, all the beer halls you'll ever want are only a stone's throw away.
All of that being said, this is the sort of hotel where you can easily get stuck. The rooms are plush and will easily draw you in for a long stay. You can watch all the hustle and bustle of the Christmas markets from your room's picture windows while you sip on some champers. Plus, the food program at BEYOND is stellar, adding to the list of reasons not to venture out into the cold.
Rooms start at $562.
Hotel Sacher Wien: Wien, Austria
For people seeking a classic Christmas, it's hard to beat Austria with its Christmas markets, flurries of snow, and classical concerts. It's like mainlining pure winter wonderland. And Hotel Sacher Wien is the perfect place to make holiday memories. They host incredible multi-course meals on both Christmas Eve and Christmas Day, so you can celebrate the holiday with one of the best meals of your entire life. Between exploring the city and the luxury of your room, you might start Googling immigration laws in Austria as a plan a move forms in your head.
The hotel is more old-world luxury than it is a sleek, modern art hotel. If you like your holidays to be elegant and glorious, this is the place for you. It's also close to the tube and all major tram lines, so you can explore the city really easily on foot — which will allow you to really get in the holiday spirit.
The 150 room property includes rooms on upper floors with fab terraces that are worth getting if you go. Regardless of which room you choose, expect marble bathrooms with exquisite toiletries and mirror TVs. It makes for a fun pampering. Plus, with all the walking you will do in the cold, warming up afterward will feel heavenly.
Rooms start at $540.
Claridge's: London, UK
Claridge's is a little bit first-class service, a little bit luxe digs, and a little bit of pure London magic. The hotel is the London of your Paddington-induced dreams. There's a sense of service and class here that's unparalleled. The bars, restaurants, and rooms are all the best of the best.
At Christmas, a stay at Claridge's is like living in a (well-shot) movie about Christmas in London. There's a real sense of wonder to this hotel from the softness of the sheets to the care put into every martini stirred up at the bar. This is the sort of hotel that's hard to leave. The decorations, the staff, the atmosphere all shine this time of year and you'll spend the next eleven months dreaming of returning.
Rooms start at $669.
Swissôtel Chicago: Chicago, Illinois
Each year, the 41st-floor penthouse of the Swissôtel Chicago turns into the Santa Suite. The five-room presidential suite is awash in whimsey with fifteen Christmas trees, a table set for Santa himself, and a series of snacks and giveaways. There is also a letter writing station, face painting, and, of course, visits from Mr. Claus. Plus, there's a hot chocolate bar, candy, holiday cookies, and cotton candy.
You'll have to get a ticket, but if you're super down for Christmas, this is the kind of over-the-top display that you need in your life. It's incredible.
For people who are less enthused about hanging with people dressed as elves than they are about holing up in their rooms with some good whiskey and a partner, no worries. Depending on your room, you can enjoy views of the sun rising over Lake Michigan or the amazing Windy City skyline. The décor is modern and spare, meaning you have a ton of space to sprawl without being impeded by clutter. We say go wild and get a suite. When you return to the hotel after taking in the festivities in the city, it will feel like coming home.
Rooms start at $139.
Outrigger Waikiki Beach Hotel: Honolulu, Hawaii
Hawaii's embrace of tacky Christmas kitsch is among our nation's cultural treasures and perhaps the finest expression of the holiday in the land. Whether driving around Oahu neighborhoods — rubbernecking at 12-ft blown up Santas adorned in Leis and hibiscus laded shirts — or strolling through the Honolulu City Lights, Christmas in Hawaii is a warm alternative to freezing your buns off in some snowed-in winter lodge.
Most of the downtown hotels have expansive Christmas displays, but the Outrigger Waikiki has a calendar of holiday events like Christmas card making and ukulele lessons for carols. Perhaps that's why Santa arrives on the beach outside the hotel by outrigger canoe every December.
Rooms Start at $154.
Annupuri Lodge: Hokkaido, Japan
The northern island of Hokkaido, where Annupuri Lodge is located, is 500 miles from Tokyo, and it's also the closest premiere ski spot to Australia. If you asked Santa for a sexy Aussie for Christmas, this is where to receive your gift because so many of them flock here for the winter. Hokkaido is the perfect place to enjoy snow that blows in hard from Siberia, especially during night ski sessions — which the Japanese have perfected. Nearby Niseko Mountain receives more snowfall than Aspen, so things are light and dry and perfect for shredding as part of a winter holiday.
The nine barebones Japanese rooms decorated in black and natural wood tones are not going to make your stay feel as luxurious as many of the other spots on this list. But, the hotel bar (called Lucky Fingers) is a solid good time, as is the hot spring bathhouse. Honestly, if you are looking to hook up, the open-air volcanic pools set among the snow banks are a great place to drink beer and connect with other people. That's the holiday spirit in action.
Rooms start at $122.
Roosevelt New Orleans: New Orleans, Louisiana
New Orleans locals tend to refrain from the tourist activities of the tourist masses. It's why we quarantine so many folks on Bourbon Street (so they don't mess up the rest so the city). However, like beignets and Frenchman street, some draws are too just good to pass up. The lobby at the Roosevelt Hotel is one such attraction that is simply too remarkable to miss. Even for those of us that live two minutes away.
Every holiday season the Waldorf Astoria property puts up lights in their Art Deco lobby that are simultaneously breathtaking in reality and Instagram-profile defining digitally. That the block-stretching foyer leads directly to the Sazarac bar – famous for inventing the cocktail – is an absolute bonus. Plus, you're right in the heart of downtown and the value for what you get in luxury is hard to beat.
Rooms start at $186.
Riffelalp Resort 2222m: Zermatt, Switzerland
Built in 1884, Riffelalp is the perfect isolated spot to get in touch with your inner European royalty. You can only get to Zermatt via rail or helicopter and then you have to take the train 20 minutes to the lodge. This is the kind of region where people literally get around in sleighs, and that's your Christmas right there.
The 72 rooms and suites have balconies with stellar views, sumptuous bedding, leather headboards, fresh flowers, and lots of glossy wood details. We were most surprised by the on-site bowling alley. But the slopes are obviously a lot of fun, too. You can spend the day schussing across the Italian border or stick to the lodge and enjoy a steam bath. We like the outdoor pool, which is kept at 95 degrees Fahrenheit all year. There are jets in it, and you can see the Matterhorn. It's luxe for sure.
Rooms start at $445.
Timberline Lodge, Mt. Hood, Oregon
While Timberline Lodge served as the exterior model for Stanley Kubrick's The Shining, the only thing terrifying about this place is how very much you won't want to leave. Set on top of Mount Hood, you can ski, snowboard, snowshoe, hell, you can make snow angels if your heart desires—all steps away from your room.
With several bars and restaurants on-site, this is a property where you can live your full White Christmas fantasy—Pendleton blankets included—without leaving the grounds.
Rooms start at $350.
Adara Hotel: Whistler, Canada
Adara Hotel is perfect for the traveler who wants to make the most of Whistler. It is right in the middle of the pedestrian center of Whistler Village — only a five-minute walk from lift access to the continent's largest all-season playground, unparalleled shopping, and amazing food and nightlife. Plus, Whistler is called Swillster by the locals for a reason. If your holiday plans include après 24/7 instead of simply after a long day on the slopes, you are in luck. It would be a super fun place to hit with a partner, but in Whistler, you can roll solo in the morning and end the day in a duo. Bring your new friend back to Adara and keep things going all night long.
The rooms are really cool with their funky furnishings and fireplaces built into cabinets. And don't expect this to be a place filled with antlers and taxidermy. This is definitely more stylish lodging than classic ski chalet. We like the boutique hotel's rainfall showers, outdoor hot tub with stunning mountain views, and PS3 entertainment systems. Plus, there is an outdoor, year-round pool, and nothing feels more amazing than floating lazily around a pool as steam rises up against a mountain view.
Rooms start at $87.
Posthotel: Leavenworth, Washington
Nobody does Christmas quite like Germany, except maybe Leavenworth. This mountain town in the middle of Washington is like a little slice of Bavaria dropped into the middle of the Cascade Mountains. Twinkling lights, snowfall, a river running through the cute little town—experience it all from the warmth and comfort of Posthotel's dreamy rooms, complete with balconies, french doors, fireplaces, and enormous bathtubs — all perfect for post-winter hike soaks.
Insider tip: Treat yourself to a spa session or two. Nothing says Christmas like loose muscles.
Rooms start at $355.
Correntoso Lake & River Hotel: Neuquén, Argentina
Christmas doesn't always mean Santa. Some people are just looking to curl up in a fabulous winter retreat with someone they love and enjoy a wintery vacay with a present or two. For people who are outdoorsy and wanna do some trout fishing in a pristine blue lake before heading to a gourmet meal washed down with some lovely Argentinian reds, Correntoso is the place to go. The lodge is located on the mouth of the Correntoso River where it meets the Nahuel Huapi Lake — meaning there are a lot of possible water activities, and the views rock. In addition to the river and lake, you can see Los Andes Mountain Range and the National Park Nahuel Huapi. Plus, in December, it's spring in Argentina so you escape the cold.
You can't miss the lodge's hammam and spa (heated by burning wood gathered locally). They even use mountain herbs in the full body wrap. Those little touches are what make this spot a present in and of itself. Be sure to take time after your treatments to bliss out on a wooden chaise by the indoor/outdoor infinity pool. The spacious, uncluttered rooms can help you keep your spa or fishing high with their wood flooring and giant windows that let in a ton of light. It's hard not to feel recharged when you escape the dark skies of winter and spend a holiday here.
Rooms start at $291.