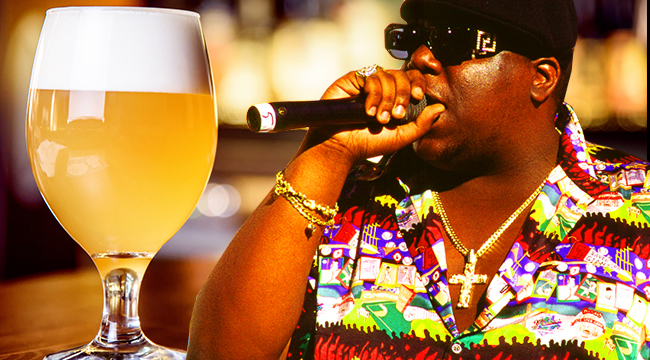 "It was all a dream // I used to read 'Word Up' magazine."
Juice-forward beers make perfect summer refreshers. They're also divisive AF — partly due to a simple confusion of terms. When most people in the U.S. talk about "juicy" beers, they're generally speaking about hazy double IPAs or New England IPAs. To be fair, those beers can be hard to get into because of the massive hop bitterness (IBUs) delivered along with all that Hawaiian Punch juiciness. But just because some beer drinkers call one type of beer juicy it doesn't mean that those are the only juicy beers on the market. A juicy taste is just one aspect of a beer's overall flavor profile.
Fruit-infused lambics, gueuze, Berliner Weisse, American sours, and wild beers all have the potential to lean towards big fruity notes that can taste "juicier" than any NEIPA. Hell, even a hefeweizen can be full of citrus fruits and banana. Better instead to keep the definition of "juicy" beers broad. As with all things in the brewing world, there are exceptions to every rule. Even a Berliner Weisse steeped with pounds of fresh summer berries per gallon is going to be juicier than anything you find at your local neighborhood lemonade stand.
The ten beers below are perfect summer sippers if you're looking for a beer that brings fresh fruit flavors and a nostalgia-inducing juice sensation to the mix. Some of the beers are classic DIPAs that coax their big fruit notes from the hops. Others are sour beers where funky yeasts and bacteria work with real, fresh fruits to create the ultimate juicy flavors. Overall, these are beers that'll quench that summer thirst and make you feel like you're sipping fruit juice straight from the fridge… except this stuff will get you buzzed.
CANTILLON FOU' FOUNE
Belgium's Cantillon makes some of the best beer in the world. Beer lovers save for years to make the pilgrimage to their hallowed beer cellars in Brussels. Cantillon Fou' Foune is a great, breezy summer sip. 18 to 20-month-old lambics are blended and steeped with Bergeron apricots from the Belgian countryside.
The beer has a beautiful orange body with clear barnyard sour notes that give way to a lush, ripe apricot sweet edge. Then it turns towards a pickle brine sweet umami fruitiness alongside more fruit like mango and hints of pineapple. Finally, there's a tart dryness on the end leaving a super fresh feeling on your palate.

SIERRA NEVADA HAZY LITTLE THING IPA
California's Sierra Nevada Hazy Little Thing is a great example of the West Coast going all-in on an East Coast style. Hazy Little Thing IPA is an unfiltered haze-bomb beer — combining barley with wheat and oats and then goes big with Citra, Comet, El Dorado, Magnum, Mosaic, and Simcoe hops.
Juicy is an understatement. It's more than that though. There's also a nice floral element up front that takes you to a wildflower field in full bloom. The juicy fruit is more in line with overly juicy oranges and grapefruits by way of a hot day while standing in a pine forest. In the end, it's light, sharp, and full of bright California sunshine.
SAMUEL ADAMS NEW ENGLAND IPA
Back East in New England, Samuel Adams is brewing up one of the most accessible NEIPAs on this list — both in drinkability and availability around the country. New England IPA switches things up from the usual American hop varietals by adding in a big brace of German hops: Hallertau Mandarina Bavaria, Hallertau Blanc, and Huell Melon alongside Mosaic and Citra.
The beer has a big note of peaches and mango with just an echo of warm summer melon. There's a nice bitterness counterpoint that leans towards a dry finish with the overripe and sweet fruit juiciness carrying on throughout.
NEW BELGIUM VOODOO RANGER JUICY HAZE IPA
New Belgium is another wonderfully accessible beer you should be able to find on pretty much any bottle shop shelf around the country. Their Voodoo Ranger Juicy Haze IPA is an unfiltered juice-bomb that'll fight off that blazing summer sun.
The beer carries a strong dose of citrus juices — orange, lemon, lime, and grapefruit — that gives way to a sweeter, tropical juice end with clear guava and pineapple notes. The malts are still lurking in the background with a slight grassy edge that leads to the lightest whisper of caramel.
HILL FARMSTEAD JUICY
Hill Farmstead Juicy is a masterclass in wild beer that leans into the juice. The beer was inspired by the hops found by the brewers on a trip to New Zealand and keeps things minimalist. This is quality malts, wild Hill Farmstead yeast, New Zealand hops, and wine barrel aging done right.
Juicy coxes notes of sour apples fresh from the vine alongside a mild vinous presence that leans dry. A funky sourness comes into play that leads you through a grassy field just after a rainstorm. Finally, the tartness, thanks to the wild microflora, brings about a dry finish that creates a certain cravability.

BREWDOG ELVIS JUICE
Scotland's BrewDog continues to make a big splash in America. Elvis Juice IPA is spiked with fresh grapefruit juice to really amp up the summer sipper vibes.
There's a bit of a West Coast feel along with all that fruit. The grapefruit is front-and-center for sure but anchored by a slight pine resin nature. There's a sense of fresh orange and malty caramel at play as well. This is a complex can of beer that hits refreshing with every sip.
TREE HOUSE VERY HAZY
Tree House Brewing is famous for their big, hazy, and juicy IPAs. Their Very Hazy hits big marks with big ABVS, 8.6 percent to be exact. This is a juicy hop-bomb beer that helps define the modern interpretation of the style from New England.
Very Hazy is all about the grapefruit with a stiff and sweet tropical fruit underbelly. There's a deep bitterness from the hops that are counterpointed by an almost Hawaiian Punch smooth mouthfeel. As we said, this is a big beer with big flavors (and alcohol).
THE ALCHEMIST HEADY TOPPER
The Alchemist Heady Topper is the NEIPA that launched the movement. This juicy hop-bomb is beloved by hop-heads the world over. The tall-boy cans are considered the mountaintop of great IPA and, well, this is a pretty damn tasty beer.
Heady Topper opens with a clear rush of pine when you crack the can. Then peach, grapefruit, sour apple, and even a little sweet pear come into play. Then there's more citrus alongside grassy, dry hops. The lemon feels full of sunshine and the echoes of pine add a nice dimension to the whole experience.
MIKKELLER HALLO ICH BIN BERLINER WEISSE RASPBERRY
The wonderful thing about any well-made Berliner Weisse is the low ABVS, though the creamy lacto sourness is also a big draw. A great Berlin Weisse should clock in at around 3.5 percent ABV, making the style the perfect summer day-drinking beer. Mikkeller's Hallo Ich Bin Berlin Weisse Raspberry registers at 3.7 percent ABV. Perfect.
The raspberry steeped beer has a lush creamy sour base with an almost peppery wheat maltiness. This is a light beer with big flavors of yeast funk, yogurt sour, and bright raspberry sweetness. If raspberry isn't your jam, try Mikkeller's peach, pineapple, cherry, blueberry, and many more Berliner Weisse cans.

3 FONTEINEN OUDE KRIEK
3 Fonteinen is another pilgrimage brewery for beer lovers. The brewery and blender in the Belgian countryside is where magical lambics and gueuze come to life and are bottled for the world. When thinking summer sippers, it's hard not to think of a big bottle of their Oude Kriek. The cherry steeped lambic may well be the best example of the style.
The beer comes in strong with bright sour cherries alongside notes of vine berries. There's a red wine sourness next to raspberry jams and even more cherry. There's a grassy funk that feels more like an orchard than a barnyard. Finally, a tart dryness comes in on the backend with a nice finish that'll send you back to that champagne-sized bottle for another pour.