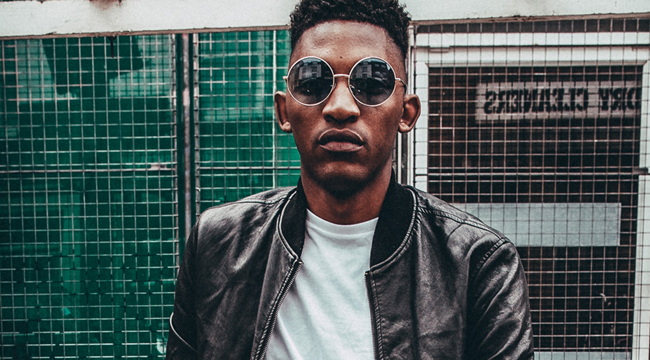 There aren't a lot of podcasts that cater to style-savvy men, which is surprising because though the fashion world largely continues to market to women, there are a lot of streetwear and high fashion brands that excite male consumers. Hello, Supreme! Further, in a post-metrosexual world, there are plenty of dudes who are all about achieving an impressive aesthetic. If this weren't true, beard oil wouldn't be such a thriving business.
We love talking style, and we love podcasts. So, we worked to build a list of the best men's style podcasts, and we chose a pretty varied bunch. It's mostly streetwear discussion because we can't get enough dope kicks and Supreme drops, but there's also some basic style in here and some industry discussions. Scroll down and find your new fave fashion podcast. Pretty sure listening magically leads to a style glow up.
Blamo!
When Blamo! Launched in July 2016, it was one of the first podcasts down to explore men's style. And, since then, it has remained one of the best — continuing to create great content with little competition. With over 70 episodes on iTunes, there's a lot for the new listener to discover. You can jump in at any point, so keep an eye out for names and brands you already have an interest in. Then, follow up with new faces.
The show's tagline is "Exploring Fashion with the People Who Shape It," and that is completely accurate. Each week, menswear blogger Jeremey Kirkland hosts a different guest and asks them about their backstory, personal life, and career. Guests include athletes, actors, designers, editors, journalists, and influencers. Kirkland engages guests in discussions of their inner narrative, which allows listeners to see a different side of the work. If you like learning about the emotional content of design and the impact of that work, this is for you.
The Dropcast
It's pretty common now for websites to have their own podcast, and this is one of the better offerings in that category. The Dropcast comes via the folks at High Snobiety and serves as both a wrap-up of popular headlines as well as an interview platform. One aspect of the show that is particularly fun is the Dropcast Hotline, which allows people to dial in with comments and feedback. That gives it a traditional radio show vibe that a lot of podcasts are missing. And the podcast listings include links to source material, so you can always explore a subject further if it piques your interest.
The hosts are generally some configuration of Noah Thomas, Jeff Carvalho, and Jian DeLeon. These men know their style — from runways to sneaker drops. So the information is there, but it's also the camaraderie that makes listening fun. These people genuinely love the subject matter and dig on joking around with one another. It's like grabbing a beer with some new friends. You just want to be cool enough to warrant their company.
The Sneak Diss Sneaker Podcast
Every Thursday morning, hypebeasts can tune in to a new episode of the Sneak Diss podcast, which focuses primarily on sneakers, but also spends time working through music, sports, fashion, and culture. Running between an hour-and-a-half and two hours, there is a lot of time for hosts George and Greg to work through things with depth. And they do. These are knowledgeable dudes with a lot of well-supported opinions.
Looking to learn more about releases and pickups? You are covered. Want to learn what the hosts think is fire and what they think is trash? Done and done. Legit, there isn't a piece of sneaker news that matters that won't be rehashed, and you don't have to live and breathe kicks to get in on this. George and Greg present info like listeners are fam. Even people with limited sneaker knowledge can hop right into this show without doing any research. Plus, George enjoys Vans, and that is the content we crave.
The Sneaker Podcast
At the top of every episode, a woman's voice announces, "Welcome to The Sneaker Podcast: a show where a bunch of guys sit around a table to talk life, lifestyle, music and all things sneakers. Turn it up and let's go." And that's a pretty apt summary of the content. Canadians Mike D, Christopher Chu, Sean Collard, and Clo start by announcing what they wore on their feet that day, and it's pretty cool. It sets up the other discussions wonderfully because the co-hosts clearly love each other's company.
This is a podcast hosted by people who are totally passionate about the subject, so be prepared for total sneakerhead overload. But, that's not a bad thing if the listener shares that enthusiasm. We do. We appreciate the breadth of their knowledge and are especially keen when they get philosophical as they occasionally do. It's interesting to hear people within the culture talk about the sensation of winning when they score big and how that impacts their impression of life outside this small world.
Masculine Style
Masculine Style host Tanner Guzy knows what's up. He learned early that clothing is a reflection of an individual, and adjusting your style changes the message that you transmit to those around you. On the Masculine Style website he notes, "On the most basic level, all men know that their clothing communicates who they are, what they think of themselves, and the respect they command (or fail to) from the world around them." His goal is to help men dress in a way that properly communicates the correct messages. Episodes often discuss style and how to achieve a certain look, but there are interviews with prominent figures in the fashion world as well.
Episodes of this podcast are relatively short and to the point, so it makes for a great binge. You can get through both seasons quickly and improve your style in a matter of days. We really like the episode about dressing like a villain and the one that breaks down why you need to stop dressing for women. It's interesting to hear Guzy pull apart the differences between male and female style expectations.
American Fashion Podcast
Some of these podcasts are about improving your personal style and others are about keeping abreast of the latest trends. American Fashion Podcast is for people looking to become experts on the fashion industry. Hosted by sartorial professionals like Charles Beckwith, Seth Friedermann, and Lisa-Maria Radano, this podcast applies intellect to the big business of style. Episodes tend to center on interviews with journalists and designers who are down to talk brands and provide rare insights into the fashion world.
Interested in learning how new trade policies are devastating fashion? Want to better understand sustainability and ethical design? Want a behind-the-scenes look at the Los Angeles style scene? This is the podcast for you. There comes a point in every stylish person's life when they are ready to begin exploring the world that crafts the goods that allow them to express themselves, and it's really nice to know that a perfect podcast exists for this deeper examination.
No Chance Radio
https://www.instagram.com/p/BmlxeZOH4Mz/?taken-by=nochancepodcast
No Chance Podcast bills itself as a podcast about "streetwear and anything/everything," which isn't inaccurate but doesn't really give a listener much in the way of specific expectations. We think hosts Ryan and Nate do a fantastic job of breaking down streetwear in a way that larger podcasts associated with websites can't. Even though we love what Hypebeast and High Snobiety bring to the table, this podcast stays focused on streetwear in a way that they don't, and it is this focus that allows them to include much-needed depth to a discussion of streetwear and its associated culture.
Hosts Ryan and Nate not only know streetwear culture inside and out, but they are also a part of it, which gives them an insider perspective that is priceless. They can break down the history in ways we don't see in other podcasts. We particularly enjoyed the episode about the streetwear landscape through the lens of the brand owner. The switch from a market driven by brand agendas to one dictated by trends and influencers is one that we think deserves attention. And boy, are these hosts able to give it the treatment it needs.
Failing Upwards
James and Lawrence, the hosts of Failing Upwards, didn't seem to set out to make a fashion podcast. In the beginning, the show included a lot about fashion shows because they were dudes in a creative industry who attended them and had funny stories to tell. The basic premise was two guys telling stories from their lives. So, even though it's a style podcast of sorts now, it's really the charm of the hosts that keeps you tuning in. This isn't the type of show that will leave you feeling like you can get a degree in streetwear or keep you up-to-date with drops.
Failing Upwards is particularly interesting in that it openly mocks the streetwear scene in ways that other shows seem afraid to do. The irreverent hosts seem to take great pleasure in gleefully (and lovingly) mocking the whole culture. And they are part of it, so they can crack jokes that really hit home. Also, expect a lot of jokes about cumming. We can't really say why that's the case, but it is, and you should be prepared. If you like a good jizz joke and explorations of the millennial male zeitgeist, you may have just found your new fave podcast.
Sup?
Every Monday, NYC Comedians Chris Cheney, Lawrence DeLoach, and Becky Rodriguez drop a new episode of Sup?, a streetwear podcast that relies on the camaraderie of the hosts. This is the kind of podcast you just have to jump into, primarily because episodes don't have descriptions. Hell, in most cases they don't even have titles, so tuning in is very much a blind endeavor. If you decide to listen, you only need about an hour to get through an episode, so just give yourself the time to enjoy the banter. They do great banter.
We really dug the episode on Conspiracy Streetwearies and the way that they cover not only sneakers and gear but the music and culture that impacts trends and design. It was especially cool to hear them chat about wanting a car just to be able to listen to music. You know, they're right; listening to music in cars is really an experience that you miss when you don't have it. And, maybe that's not a streetwear opinion, but it's one we were excited to hear. That's a perfect example of how discussions wander in fun ways with these hosts.