Making a great plate of nachos is a mix of solid ingredients and layering. Don't forget that word, folks, "layering." The best nachos you've had were the "best" because they were layered. You got an even distribution. And, yes, also because the right ingredients were used from the cheese to the protein.
What makes nachos so damn good is that the dish kind of has it all. They're a blissful matrix of crunchy, gooey, crisp, and soft textures with umami, cheesy, tangy, acidic, sweet, and savory flavors. You can also shove them in your mouth quite easily, usually by the handful.
The thing is, with so many factors involved, the opportunity to mess things up is high. Choose the wrong chips and welcome to soggy town. Choose the wrong cheese and you'll be abandoned at the table. Go cheap on the protein and you might as well pack it in. So here are some hard and fast rules for making the perfect plate of Tex-Mex nachos just in time for you to share with your quarantine crew on Cinco.
1. CHOOSE THE RIGHT CHIPS
We're not making Chilaquiles here. And while I love me a good breakfast with a heaping plate of tortilla chips smothered in red sauce, stewed meat, and melty queso, that ain't nachos.
Nachos require a sturdy corn chip. Toasted Corn Doritos work well here. The heavy dose of corn and saltiness is the perfect savory base for nachos. Santitas are another great option. Tostitos tend to be a little thin. You want a chip that has heft and a high "soaking up all that salsa"-point. Corn chips tend to crisp up nicely, due to all the oils in the chip adding a crispy roasted dimension that helps a plate of nachos shine.
Plus, a sturdy corn chip is strong enough to hold up to the weight of the toppings. The last thing you want is a thin tortilla chip that shatters every time you dig into your nachos. That's just the worst.
2. CHOOSE THE RIGHT CHEESE
Good cheese is crucial to any plate of nachos. You'll want to focus on a mild and sharp semi-hard cheese here — avoid funky, soft, and super-hard cheeses.
I like to use a mix of equal parts Monterey Jack and mild yellow cheddar. The Jack cheese has a good melting point and serves as more of a base for the stringy and melty aspects of the nachos. The cheddar is all about taste. It's an umami hit that amps up the middle-of-the-road flavor of the Jack. The mild yellow cheddar also brings a nice balance of orange to the Jack's white, to give your dish that "classic nachos" look.
3. CHOOSE ONE PROTEIN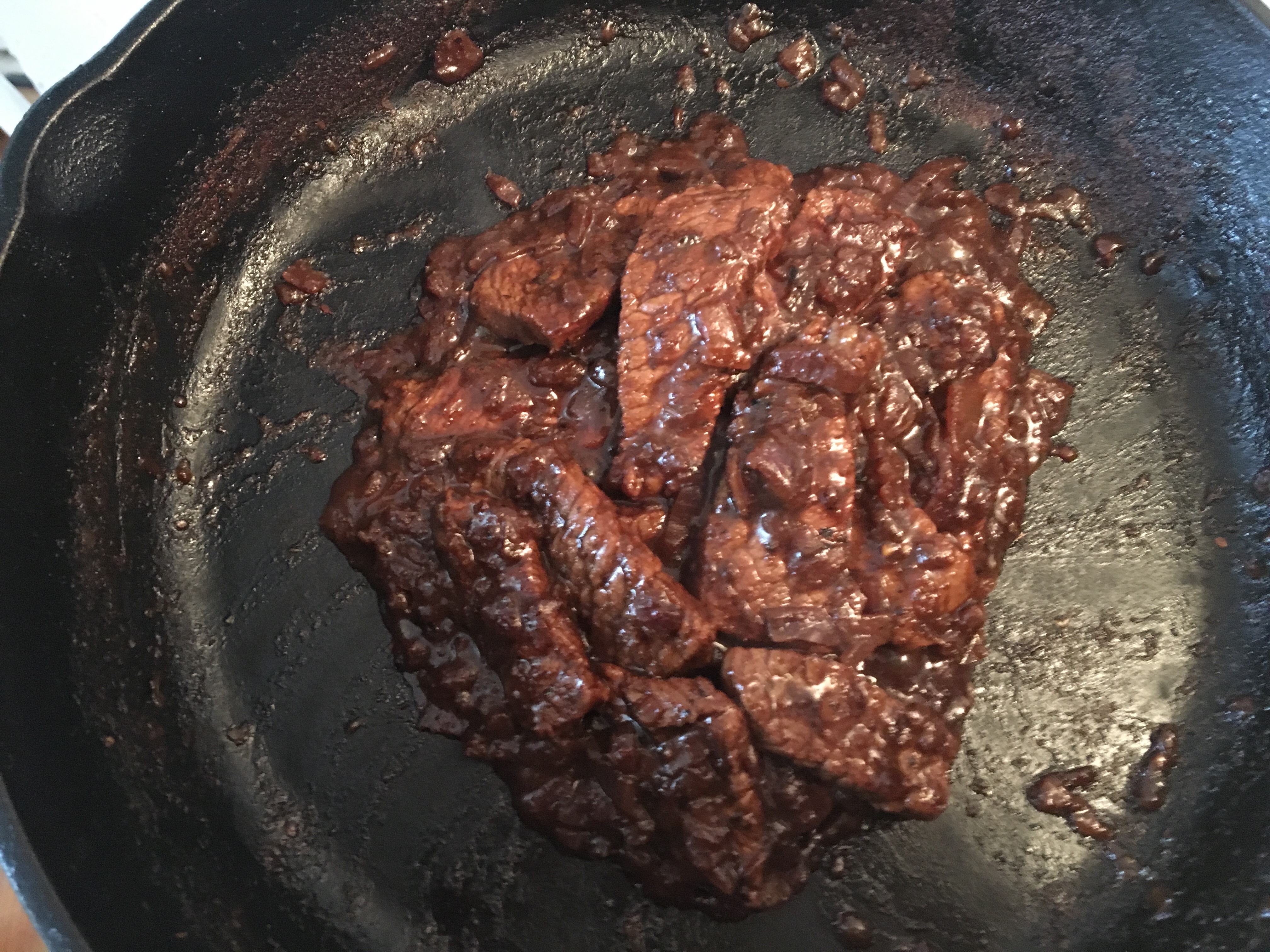 When it comes to toppings, don't overdo it. You don't need carnitas, asada, and black beans all on your nachos. It's too much for the chips to handle. Choose one great flavor and do that one well. You can, of course, kill it with some dope shredded pork, adobe prawns, or even Taco Tuesday ground beef. You do you.
I like to go with either stewed and spicy black beans or braised steak. In this case, the steak was the way to go as no vegetarians were dropping by. I seared the steak with toasted spices (allspice, smokey anchos chili powder, and cumin) and then braised it with a cup of beef stock. Once the stock is braised off, I did a rough chop on the meat and then fried it up in pork lard to add a crispness. It becomes a crisp and tender umami bomb. It's also really hard not to straight-up just eat the steak at this point.
4. ALWAYS LAYER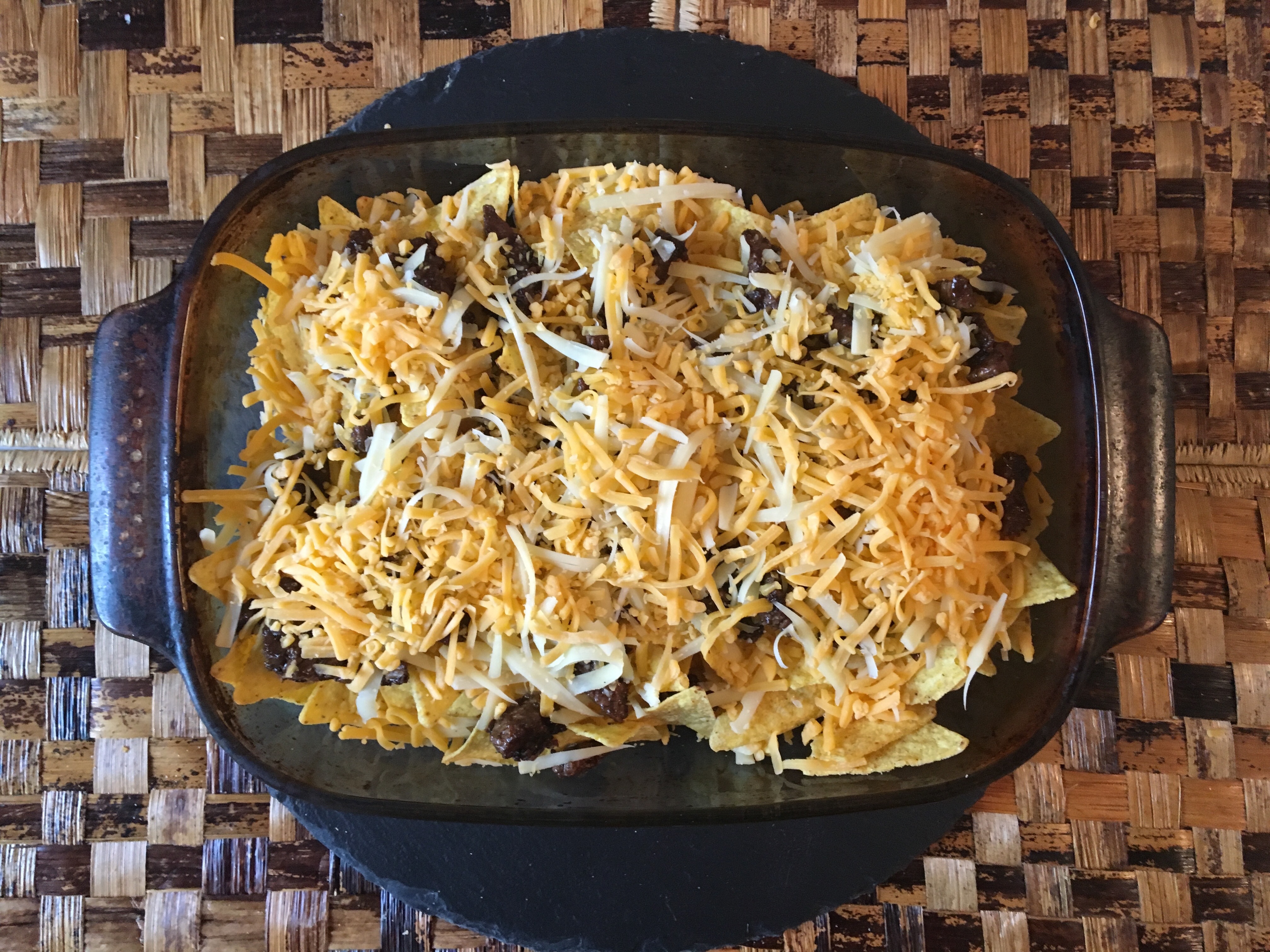 Layering is key. Chips. Cheese. Chips. Steak. Cheese. The bottom layer of chips and cheese add that dimension to a plate of nachos that takes it from good to great. And, honestly, what dish isn't better with an extra layer of melted cheese in the middle? Yeah, none.
Pop that dish in the oven on a lower heat (around 325F) and let slowly bake for a good 15-20 minutes. You want the cheese to melt while the chips have a chance to just start to crisp up a bit.
Once you've reached the look below, you're ready to top.
5. CHOOSE YOUR TOPPINGS WISELY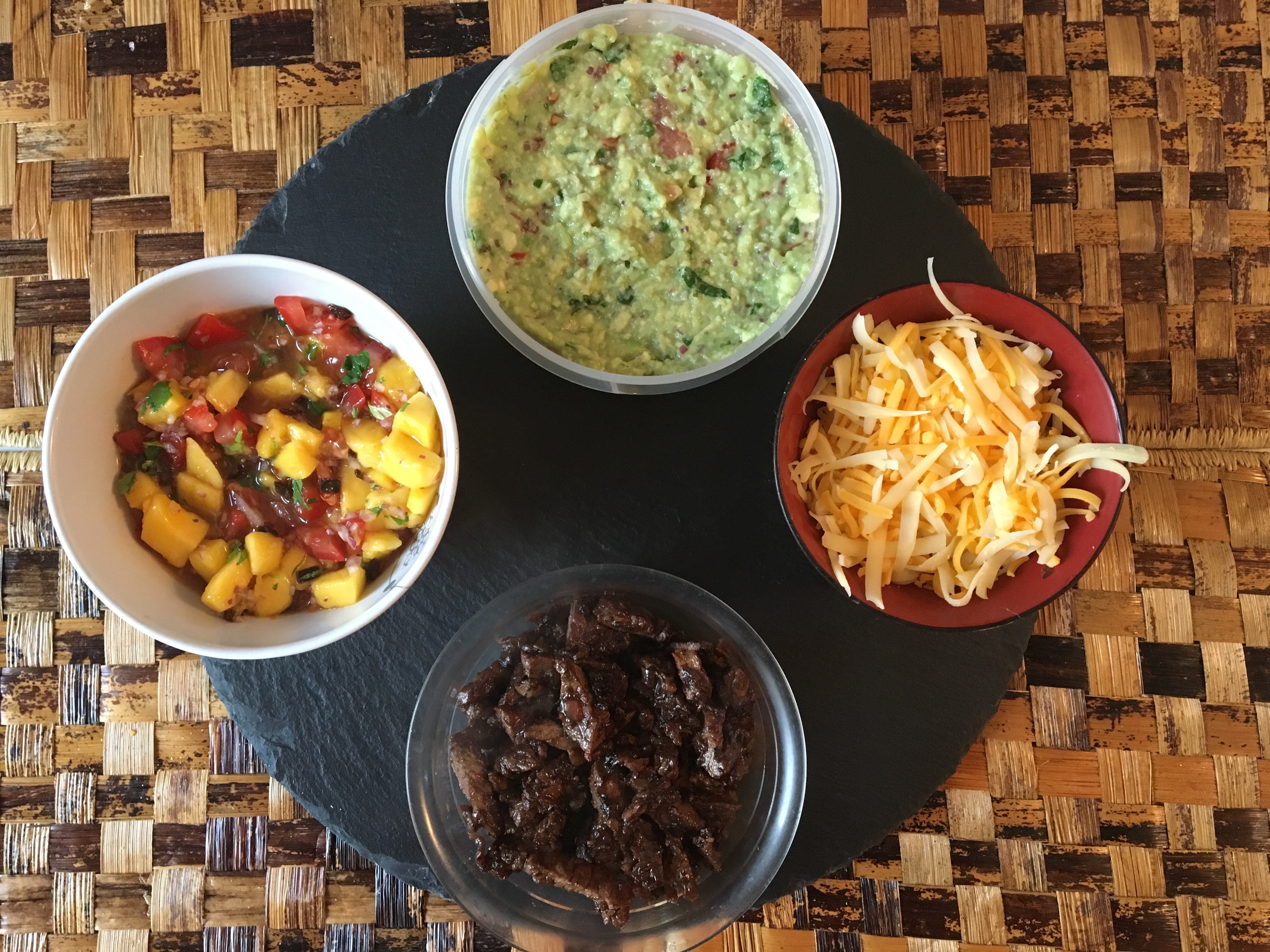 I like to live by the rule of three with a lot of food. For instance, never top a pizza, burger, or nachos with more than three extra toppings after the cheese. It will get too muddled and a lot of the distinct flavors will get lost in the mix.
I go with sour cream for a silky smooth and, well… sour and creamy texture and taste. Then I like to choose a sweet and spicy salsa. I go with classic mango habanero. It's got an interesting texture and sweetness thanks to the mango yet still hits the classic fresh salsa (or even pico de gallo) marks with the red onion, cilantro, chili, tomato, lime, and plenty of good salt. It's refreshing, tart, sweet, very spicy, and acidic.
Lastly, a dollop of guacamole is a must. Don't go overboard here. Make classic guacamole — a couple of Haas avocados, plenty of cilantro, red onion, cumin, lime, tomatoes, and a generous pinch of good salt. The guacamole adds that lush aspect to the whole dish which counterpoints the crunch, cheese, protein, sour, tart, acid, umami, and sweet. It ties the whole plate together like The Dude's rug.
Don't be afraid to dollop these right on top of the nachos with a good sprinkling of fresh cilantro. Get those hands dirty. After all, quarantine won't last much longer — get messy while it's still totally socially appropriate!
This article was previously published in a different form.