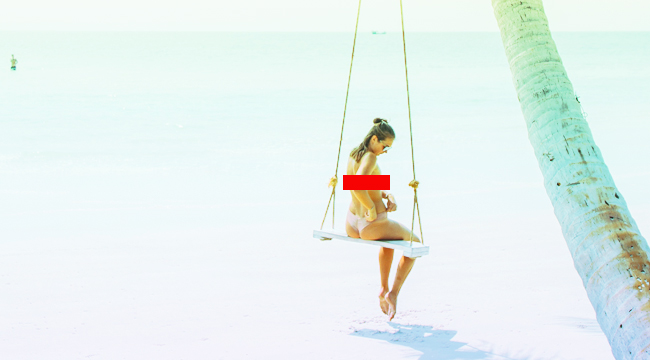 It's late summer. It's hot. The only thing that can soothe you is water (okay, and maybe beer). In addition to chugging the stuff by the gallon, you crave a way to be fully submerged in h2o. Lakes, rivers, swimming holes, rooftop hotel pools, waterparks, and beaches are likely to be packed 'til mid-September, but you've still gotta go.
Why? Because nothing beats the freedom of a swim in summer.
Fine, one thing beats it. A naked swim in summer. Yep, that's some serious hippie sh*t. But it's also a surefire way to feel alive and invigorated. A chance to give society and its rigid rules the finger while making awkward small talk with other naked strangers. Also, no tan lines. Best of all, seeing a lot of natural, naked flesh generally helps you to feel more comfortable with your own body. And, it costs absolutely nothing.
There really isn't a single reason not to bare it all this summer on one of the planet's most beautiful beaches. If you're on board, here are the best places to visit.
Wreck Beach — Vancouver, British Columbia
Good luck finding a list of the best nude beaches that doesn't include Wreck Beach. Firstly, it's the oldest government-sanctioned, clothing-optional beach in Canada, so it has some historical cred. Secondly, it's the largest beach of its kind in North America. And, thirdly, it's an easy beach to access, which many of them for sure can't boast. The three-mile stretch of gorgeous shore is a mere fifteen minutes from downtown Vancouver. Further, though you can only access the space by foot down a trail from the University of British Columbia, it's not some perilous hike through brush or down the face of a cliff like you might find elsewhere.
One of the best features of Wreck Beach is a fun stretch of sand called Vendors Row where you can pick up refreshments, souvenirs, and the precious, precious sunscreen you need to keep burns at bay. Provided you aren't opposed to buying tie-dye shirts and drinks from partially and fully naked individuals, it's a good time.

Paradise Beach — Mykonos, Greece
The Greek island Mykonos (yes, home to centuries of history and Lindsay Lohan's hotel) has multiple beaches where guests are free to drop trou and lay out, but Paradise Beach is the most famous. It's a total party beach with round the clock naked fun on offer. There are two solid oceanfront bars, live music, DJs, and rental sunbeds. The Tropicana Beach Bar even sends staff down to the sand for food and drink orders so you don't have to get up and put on clothes to get a drink. When the sun goes down, Paradise Beach becomes a club with people dancing on the sand until the sun rises.
Everyone is welcome here, but it's worth noting that this spot is super popular with gay travelers. If you happen to be part of the LGBTQIA community or consider yourself an ally, you will find a lot of vacationers to connect with here. This is especially true in the last two weeks of August when 30,000 people show up to attend XlSIOR Mykonos International Summer Gay Festival.
Hippie Hollow — Austin, Texas
Located on the shore of Lake Travis in northwest Austin, Hippie Hollow Park is the only legally recognized clothing-optional park in the entire state. We're considering it a beach here, but if we are totally honest, it's really a park positioned on a steep slope above Lake Travis. Visitors have to take limestone steps to get to the water, but they're pretty hardcore in some places and varying water levels can mean that you have to do a little rock climbing to get wet. That can be less fun when you're naked than you might think.
The park asks that you not bring in glass bottles or create open fires. So instead, people bring in alcohol (which has to remain covered up) and light up barbecues to start parties that go all day and night. If you want to wrangle free drinks, hop on a float and make your way to the row of boats that rim the swimming area. It won't take much socializing to get an invite to climb aboard the boat and raid the cooler.
Praia do Pinho — Balneário Camboriú, Brazil
In the early 1980s, naturists began chilling on Praia do Pinho in the altogether, and locals were not having it. The residents of the area pushed back against nude visitors until an article about naturism on the beach was published in 1984. The magazine containing the article sold out, and readers inspired by the depiction of a naturist paradise on Praia do Pinho came from all over the area to get wet and naked. The battle was won. In 1987, there was no longer any use fighting it, and this stretch of sand became the first sanctioned clothing-optional beach in Brazil.
Though the beach at Praia do Pinho may be called clothing-optional, the nudists who make the rules around these parts like to say "clothing is not an option." You gotta get naked. There's no waiting until you feel it. There's also no making your way to the beach as an unaccompanied man unless you're a member of the International Naturist Federation. Barring that, you need to have a woman with you.
Black's Beach — La Jolla, California
Unlike Wreck Beach, Black's Beach is rather secluded and can be difficult to get to depending on the route that you take, so give that some thought before you drive out. Its location below the Torrey Pines bluffs makes it gorgeous, but it also means a lot of hiking down rocky trails. In the mid -1970s, this beach became the first and only nude beach in the nation. And though there is clearly still a clothing-optional portion operating, Black's Beach has been divided into two parts. The northern part of the beach is owned by the state park and people are free to run about as naked as they please. But the southern part falls under the control of the city of San Diego, which insists people who visit remain covered up.
Students from the University of California, San Diego are big fans of this beach, and they luck out because there is a steep, half-mile-long paved road they can walk to get to the fun. This is the same way that a lot of surfers drawn to the area's powerful breaks get to the shore. You gotta figure anywhere with naturist college kids and surfers is gonna be a good time.

Platja des Cavallet — Ibiza, Spain
Es Cavallet does everything that you want a beach to do. There is a sense of privacy about it because it is backed by large sand dunes, as well as a small strip of shade and hills. When the east wind whips through, it makes giant waves for the kite surfers in the area. And though it is wild and natural in a lot of ways, during the summer months, the additions of club music and adult libations make the broad sandy beach feel like a 24/7 party. As for the nudity, this is an official naturist beach, but the clothing-optional area is in the secluded center section. While the north end is popular with celebs visiting the area (bring your autograph book and keep your pants on), the south end is known for its active gay scene.
Though you are probably expecting to see a lot of pink things on a nude beach that expectation likely doesn't extend to flamingos. It should, because they love chilling in the neighboring salt ponds. It's supremely rude to snap pics of people on the nude beach, but the birds are down for it.
Playa de los Muertos — Almeria, Spain
One of the most beautiful Andalusian beaches in Spain. Playa de los Muertos has a water clarity that means swimmers can easily explore rock formations and marine life under the surface of the sea. Every nude beach is made better with sunscreen, but this one also benefits from a snorkeling kit, so pack up your mask, snorkel, and fins before you make your way there. Unlike more party-oriented beaches, this one is all about what nature has provided. That means you get to enjoy white sand that becomes more powdery as you get closer to the water. It also means there aren't any services or garbage cans, so carry out what you carry in. If you get lucky in the high season, there might be a few carts selling ice cream, drinks, and snacks, but don't count on it.
The walk from the parking area is a little difficult, which means you likely won't want to take a million trips to get your supplies from your vehicle to the shore. Be super thoughtful about what you want to haul, and save yourself repeated long, steep walks in the hot sun. You would rather spend that time floating naked in the water anyway.
Collins Beach — Sauvie Island, Oregon
Sauvie Island is a small piece of land located north of Portland, and locals often make their way there to go through corn mazes, pick berries, and buy fruits and vegetables. It's a little ball of agriculture a short drive from the city. It's also home to a mile-long strip of clothing-optional beach along the Columbia River. Legit, if you want to hang with the Portlandiest Portlanders around, this is where you go. Tattoos are everywhere you look, every third person has a strange hair color, too many white people have dreds, sexual orientation and gender identity are well repped across the spectrum, piercings almost feel mandatory, and you better like dogs because they're everywhere.
People love coming here for arty photo shoots, so keep an eye out for one of those. There's nothing like a bunch of naked folks in full makeup contorting themselves for the camera. Between that and the rest of the vibe at Collins Beach, you can expect the best people-watching ever.
Lady Bay Nude Beach — Sydney, Australia
So far, we've picked a lot of beaches that were the first of their kind in their home nation or continent. There's something appealing about a naturally beautiful area that has been covered with nude bodies for decades. In this instance, it's been legal to go sans swimsuit at Lady Bay since 1976. And it's been particularly popular with gay men, who found it a wonderful gathering place before attitudes about homosexuality relaxed and led to legislative change. That doesn't mean women and straight men are prohibited from stripping down and frolicking on this 328-foot long strip of sand. It's a super welcoming beach where people of all gender and sexual identities gather to enjoy the sun and surf.
Once you take a seat on a towel and stare over the water, you're confronted with one of the most scenic harbors on earth. It's heavenly. Perhaps less entrancing are the boats full of gawkers that float by to catch an eyeful of bathing beauties.

Haulover Nude Beach — Miami, Florida
When South Florida Free Beaches, a naturist group, designated this beach a clothing-optional one in July 1991, the county wasn't thrilled. However, in December 1993, local governments relaxed and allowed permanent signage to be installed, making this the largest public nude beach in the nation. It also has the distinction of being nestled between Miami Beach and Sunny Isles Beach, making it a lot more accessible than the rest of the naturist beaches in the state. It doesn't hurt that there are pristine white-sand shores, open ocean surf from the Atlantic, shaded places to picnic, sand dunes, and concession stands. When the waves are breaking, people surf along this stretch of beach, but it's also perfect for swimming.
The beach is part of the larger Haulover Beach Park, so there are plenty of activities nearby that require you to stay covered by clothing. The park estimates that between 66 and 85-percent of visitors use the nude beach, so that is obviously the big draw, but having other options for activities doesn't hurt.