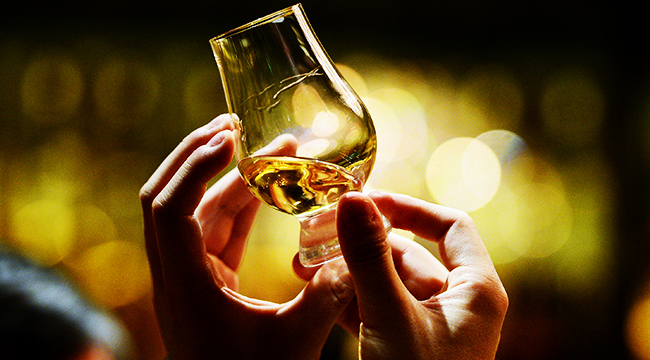 Recently, we wrote about the different scotch regions, the flavors associated with each, and the various whiskies that can be found there. Even with a primer like that, the thought of buying your first bottle of scotch whisky might seem like a daunting task. To be honest, there are just too many brands out there. A majority are great, but you might not have the palate yet to totally appreciate the various nuances in some of the bottles.
That's why, as with any spirit, it's important to start at the beginning. You need an easy entry point in order to not get turned off altogether. To aid this cause, we asked some of our favorite bartenders to share their go-to Scotch whiskies for beginners. From The Macallan, Ardbeg, to Famous Grouse, these whiskies run the Scottish flavor gamut.
Check them out below and find your own gateway whisky. It just might make you a Scotch lover once and for all.
Lagavulin 16
Victoria Levin, director of project management at Blau + Associates in Las Vegas
I say throw them in the deep end and see how they swim – Lagavulin 16. It is certainly not an entry scotch with its intense peaty, smoky goodness and rich, brooding warmth. Perfectly indicative of southern Islay, it was the first single malt I ever tried and it is still my favorite because I knew instantly that I loved scotch.
Lagavulin is a full-bodied experience and it either scares you away or hooks you for life.

The Macallan 12
Daniel Condliffe, bartender at JSix in San Diego
I would avoid going straight into a ton of peat-like bottles — a Laphroaig or Ardbeg — and start off with something soft and lighter like a sherry cask. The Macallan 12 is always approachable. I'm personally not the biggest scotch fan but the Caribbean rum cask from Balvenie has a ton of fruit and is always something I enjoy.
Oban 14
Laura Mitchell, bar lead at BEER PARK in Las Vegas
Oban 14 Year Old Scotch Whiskey. It's a smooth and approachable scotch to start with — an easy transition from bourbon to scotch.
Monkey Shoulder
Ilan Chartor, spiritual advisor at KYU in Miami
Monkey Shoulder. It's a blend of Speyside scotches, really easy to drink neat or on the rocks, and perfect for mixing cocktails as well.
The Famous Grouse
Evan Danielson, beverage director at City Winery in Nashville
Famous Grouse. Another great into the whiskey world, and a nice expression of scotch without overwhelming peat character.

Balvenie 14 Year
Phil Testa, beverage manager at The Rickey in New York City
Balvenie 14 Year. It's great. It's just great. The Caribbean Cask finish of the 14 allows the drinker to finish the scotch on the sweeter, rummier side, thanks to more sugars than a traditional scotch. The peaty aspects are still there but it's not too overpowering and can eventually lead to the training wheels coming off and graduating to a more traditional, old school, scotch. Auchentoshan American Oak is a close runner-up.
Lagavulin 12 Year Old
Eva L. Caló, head bartender at Officine Buona Forchetta in San Diego
Lagavulin 12, because I think that Islay single malt scotch whiskeys are the best and Lagavulin is the best of that kind. If you don't like this then you shouldn't probably drink scotch.
Glenmorangie Lasanta
Darren Fabian, national beverage manager for Moxie's Grill & Bar
Glenmorangie Lasanta. It's well made and has a great balance of peat and smoky characteristics and the Sherry finish makes it easy to drink.
Ardbeg 10
Josh Cameron, head bartender at Boulton & Watt in New York City
This would require a few questions. Do you want history, do you want smoke, do you want a name? I think Dewar's is a great, balanced, affordable entry into the market. But if the drinker wants to have that smoky scotch feeling, and a bottle that may end up sitting on the shelf for a few years because it is very specific, I would recommend Ardbeg 10.

The Glenlivet 12
Sarah LM Mengoni, bartender at Double Take in Los Angeles
The Glenlivet 12 year is a great starting point. Its flavors are light, fruity, honeyed, and woody. It's a lovely single malt that isn't at all overpowering. Its cost is also reasonable for somebody who is just exploring the category and doesn't want to make a big investment.