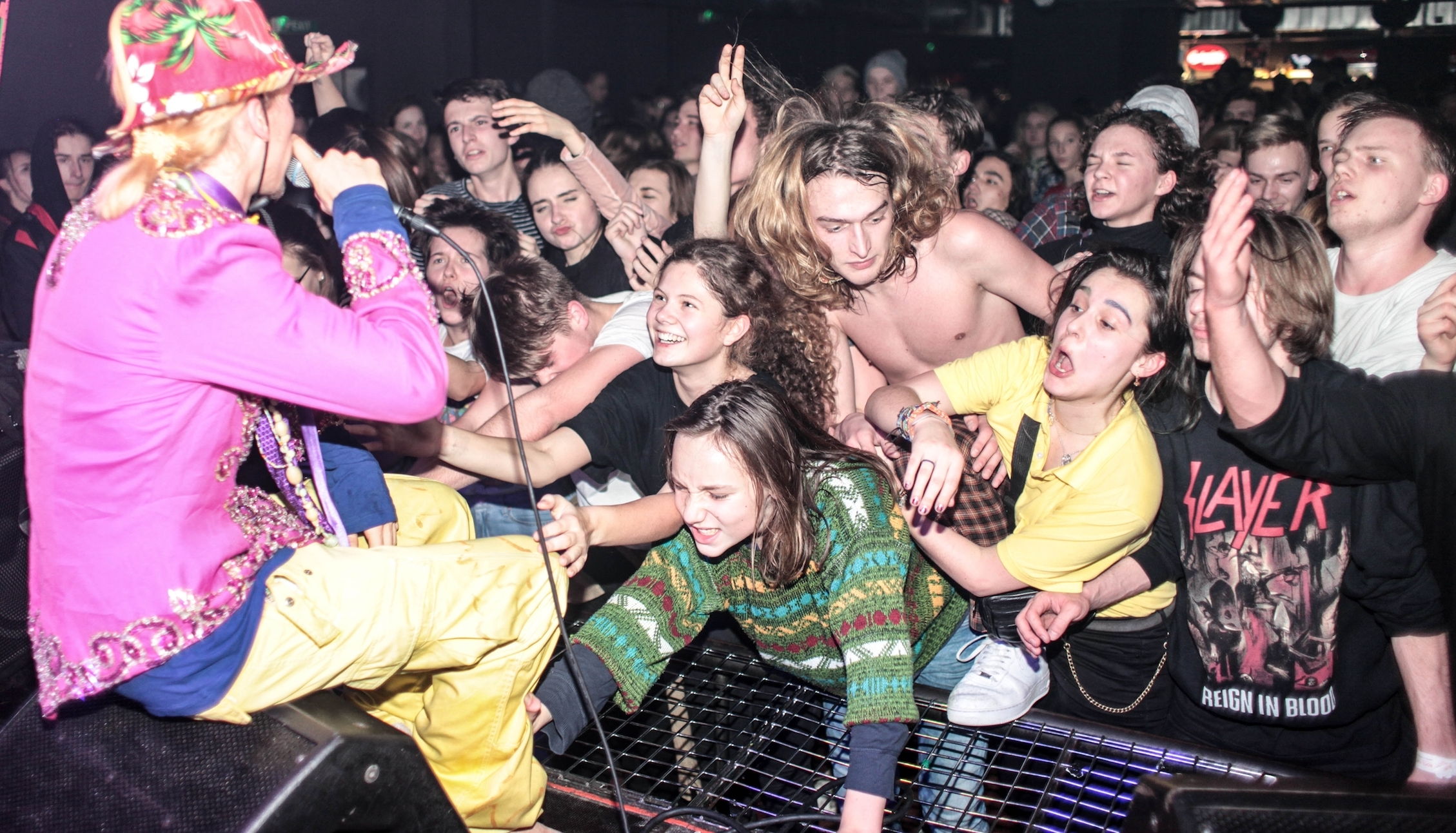 Switching Scenes is brought to you by Boost, a brand that knows the best experiences come when you change things up.
Attending a huge stadium or arena tour can be magical. Elaborate lights and stage design elevate a good show into a theatrical, once-in-a-lifetime event. Something about assembling of 18,000+ fans in one room turns the air electric. The floor thrums with so many feet dancing and the walls shake from the chorus of voices singing along. Music is an expression of emotion that's best experienced live, in the company of others.
But as cool as giant stadium shows are, they can also be a massive headache and even bigger money suck. When a nosebleed seat to Taylor Swift costs $125 and you spend an hour and a half trying to get out of the parking lot after the encore, you might question the time, money, and energy commitment of seeing your favorite artists in concert.
Thankfully, you don't have to go to a stadium or arena to see world-class music. Some of the country's best music venues only have room for a few hundred (or few dozen) attendees. Every artist gets their start somewhere, and most of the folks who play arenas these days got their start playing small gigs at run-down local spots. Check out some of America's coolest underground music venues and discover your next favorite artist in the process.
1. Stubb's Indoor — Austin, Texas
Stubb's Waller Creek Amphitheater is a famed 2000-odd capacity venue in the heart of downtown Austin, with recent visits from The National, Kacey Musgraves, and Lizzo. But I'm also partial to the venue's indoor space, which holds about 150 standing room. The folks who book shows at Stubb's do an incredible job finding artists just on the cusp of breaking big — in the last year alone, I've seen Soccer Mommy, Half Waif, and Charly Bliss play the Stubb's Indoor stage.
Also, Stubb's sells BBQ upstairs until showtime, so get there early and pregame with some brisket and mac and cheese.

2. Bluebird Cafe — Nashville, Tennessee
Nashville's Bluebird Cafe is teeny tiny, but its reputation precedes it. Since it opened in 1982, the Bluebird has featured low-key acoustic sets from some of country and folk's biggest stars, and features performances every day from Nashville's local talent on the rise. Bluebird's open mic nights are a great place for discovery, whether you're a songwriter or industry professional looking for the next big thing or just an enthusiast ready to hear some great country.
Kacey Musgraves first met her husband Ruston Kelly at Bluebird Cafe in 2016, and I can't think of a more magical place for a meet-cute.
3. Berlin — Chicago, Illinois
Berlin isn't a music venue in the same way most of the other spots on this list are. A nightclub on the edge of Boystown, its stage is known for some of the city's best DJ sets and drag performances. But every so often, some thrilling performers visit there. A friend saw Kim Petras and Charli XCX play there, and stood close enough to the stage to see Petras' pores.
Berlin is one of the most famous gay bars in Chicago, a vibrant part of the city's nightlife and open haven for all who frequent it. Go for a drink and dancing, and if Charli XCX shows up, it's just the icing on the cake.
4. The Blind Pig — Ann Arbor, Michigan
I went to school in Ann Arbor, so I'm probably biased here, but The Blind Pig might be my favorite small venue. The place has been open since 1971, and has brought some of rock's most legendary acts to Ann Arbor. Lucky Michigan students in the '90s could catch sets by Soundgarden and Nirvana, and current Tree Town residents can go to performances by icons on the rise like Girlpool and Mitski. The Blind Pig holds 400 standing room, but the homey vibe of the place makes it feel even smaller. You can also catch some great local musicians there. Before they were selling out Red Rocks, I saw hometown heroes Vulfpeck bring the house down at the Blind Pig.
5. Lestat's — San Diego, California
Lestat's is a coffee shop that takes its name from Anne Rice's Interview With The Vampire, but the place is also a legendary hub for San Diego folk music and comedy. Local talent like Jason Mraz, Anya Marina, Greg Laswell, and others got their start performing at open mic nights, and the venue is still full of the thrilling promise that anyone can take its stage, and anyone can make it big.
I'm sure the arenas in SD get some exciting acts too, but I doubt their concession stand makes as good an almond milk latte as Lestat's.

6. The New Parish — Oakland, California
If you're a fan of hip-hop, dancehall, and everything in between, The New Parish is a great place to check out local and touring talent. Although it's only been open since 2010, The New Parish has hosted established acts like Mos Def and Dave Chappelle, and almost every night the venue has a killer comedy or music show booked. You can catch some theatrical punk (Iceage) or teen pop (Olivia O'Brien), or plan to go to one of their bimonthly reggae/dancehall nights.
7. The Echo — Los Angeles, California
The little sister of the Echoplex, the 350-capacity Echo is one of the best spots to check out hip-hop, pop, and pretty much everything in Los Angeles. The Echoplex, at more than twice the Echo's size, gets bigger shows, but the Echo is ideal for seeing an intimate show with local and rising talent.
In Los Angeles, it's hard to even find a place that sells a cocktail for $12, but you can catch some cool indie acts like Sasami and Dilly Dally at The Echo for less than the price of a rice bowl at Sqirl.
8. The Bowery Ballroom — New York, New York
In a city as big as New York, where every subway car seems 500 people over capacity, finding an intimate venue can be difficult. The Bowery Ballroom is small for the Big Apple — 575 capacity, But the venue has hosted some killer acts. Lorde performed Melodrama in full on the day of its release, and I am still so jealous of the friends of mine who were lucky enough to be in that pit. The Bowery has also hosted acts like Car Seat Headrest and Lana Del Rey, and you can go there and try and find the exact corners of the venue that appeared in the 2000 cinematic classic Coyote Ugly.
9. 40 Watt Club — Athens, Georgia
The 40 Watt Club is home base for many of Athens, GA's hometown heroes. R.E.M., Of Montreal, and Neutral Milk Hotel all got their start in Athens. If you're lucky, you can catch one of them playing a low-key set, but 40 Watt also gets plenty of rising local stars and touring talent. The venue has moved and renovated a few times, but since 40 Watt first opened in 1978, it's been an instrumental part of local history. Some of rock's biggest legends got their start playing tiny shows there, and there's sure to be many more who grace its stage.

10. World Cafe Live — Philadelphia, Pennsylvania
World Cafe Live is one of Philadelphia's most unique venues. Housed in a former art deco factory, there are actually two stages. The upstairs room can hold about 220 guests and features floor-to-ceiling windows that overlook the historic city. The downstairs, which can accommodate 650 guests, is a little bigger, but no less beautiful. There's no bad place to stand in this venue, whether you're right at the stage or with a sweeping view from the balcony.
If you're catching a show downstairs, the upstairs is open for dining with a full menu. You can pay $20 for a hot dog and nachos at a stadium, or you can get a salmon dinner at the venue before you catch Kacey Musgraves at World Cafe. With the diverse array of exciting acts in pop, hip-hop, and indie that pass through World Cafe Live (and all of these other venues), consider skipping the arenas and checking out the local talent and culture in your city.