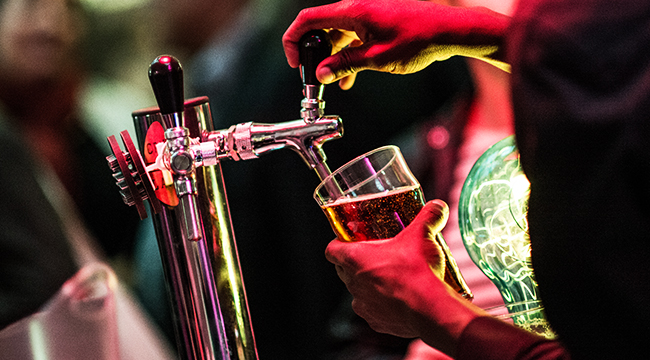 Winter is here. December is a month for big beers that hit a nice balance of high ABVs, bold flavors, and warming depth. This is the season where boozy double bocks and winter warmers hit their peak. Most breweries will put out something cool to "'Tis The Season this shit," so to speak. That means a lot of special winter-only beers are on the shelves right now.
Below, we've compiled a shortlist of some of the best beers being released and hitting markets this December. Some of these are easier to find (with larger distribution); some you'll have to travel for and do a bit of sleuthing to uncover. Either way, a good beer is always worth the trouble! Happy hunting!
SMOKED PORTER — ALASKA BREWING CO.
Alaska Brewing's Smoked Porter is a gentle masterpiece. The brew has a mellowness that draws you in with a mild smokiness.
There's a campfire-like quality to the smoke that pairs amazingly well with smoked salmon, roast meats, and heavy winter spices — that is, perfect for December's many big meals. Also, this beer ages very well. So be on the lookout for some vintage bottles.

WILD CHRISTMAS ALE — UPSLOPE BREWING COMPANY
This year's Wild Christmas Ale from Colorado's Upslope is a sweet and tart surprise with a nice alcohol backbone. The beer is spiked with Balaton cherries and Upslope's very own sour cultures.
The ale is aged in oak to sand down the rougher edges. The end result is a full-bodied brew that hits that perfect balance of sour, sweet, malt, and oaky spice. This one is a Holiday delight.
12 DOGS OF CHRISTMAS ALE — THIRSTY DOG BREWING CO.
Out in Ohio, Thirsty Dog Brewing is doing great work with Christmas ales. Their 12 Dogs of Christmas Ale is the perfect winter beer to sip next to a crackling fire with your trusty dog not too far away.
The beer is tipped with a honey sweetness that's balanced by spicy fresh ginger notes, plenty of cinnamon, and a nice and mellow nutmeg finish. This is the good stuff, yo.
FISTMAS — REVOLUTION BREWING
Chicago's Revolution Brewing always knocks it out of the park with their Holiday red ale. Each can of Fistmas is packed with bursts of orange zest and ginger followed by the essence of freshly baked sweet bread.
There's a caramel edge to the maltiness and a mellow stone fruit whisper here. It's a nice beer that's just the right level of complex and delicious. You'll end up finishing a six-pack before you know it.
BROOKLYN WINTER LAGER — BROOKLYN BREWERY
Brooklyn Brewery's Winter Lager is a very nice change of pace from the big ales, porters, and stouts that dominate this time of year. This Schwarzbier-inspired lager takes on a roasted barley malt note that leans towards dark chocolate.
There's a real sense of a black bread essence underneath it all with the slightest echoes of Germanic hops. The dry finish ties it all together into a perfect sip.

CHRISTMAS BOMB! — PRAIRIE ARTISAN ALES
This is one of the boldest Christmas beers on the market. Be warned, this brew has a 13 percent ABV. That pegs it at the same ABV as a wine. Share bottles is what we're saying, folks.
Christmas Bomb! burst from the glass with espresso notes, freshly podded vanilla beans, dark chocolate, and an array of winter spices. That's all accented by a nice layer of spice from the ancho chiles. This is a big beer with a great winter flavor.
CELEBRATION IPA — SIERRA NEVADA
Now, for something completely different, we present the classic American craft beer, Celebration IPA. Sierra Nevada's winter brew stands out by leaning into the hops here. It's refreshingly simple and delicious.
The old-school West Coast IPA shines through with a nice citrus and pine balance. The malts are still there, forming a mildly sweet backbone. This one will put a smile on your face.

INTERNATIONAL PICK OF THE MONTH: AVENTINUS EISBOCK — SCHNEIDER WEISSE
Aventinus Eisbock is, perhaps, a perfect winter beer. The beer goes through a freezing process that sets it apart. The flavors here are all winter and bold with a capital B.
You're hit with ripe plums that give way to cloves, banana, and marzipan. Each element is wonderfully balanced and adds delicious dimensions to the beer. This is the mountaintop.