It's no secret that we're fans of Jim Beam's lineup around here. But it goes beyond just liking the juice coming out of Clermont, Kentucky. Freddie Noe has been consistently upping the game of Beam's lineup as he slowly takes the reigns from his father, Fred Noe. Part of that progress is the Noes' batch releases of Booker's Bourbon throughout the year, which they both select together.
The premium brand, named after Freddie Noe's grandfather (and bourbon legend), Booker Noe, is a showcase for the beautiful product coming out of Beam's Clermont rickhouses. This is the cream of the crop from Beam. That also means these releases are much sought after.
We were lucky enough to get to taste the latest release of 2021. This is actually the third release for Booker's this year and is nicknamed "Bardstown Batch" after the small town the Noes (and Beams) have called home for generations. Let's get into what's actually in the bottle.
Also Read: The Top 5 UPROXX Bourbon Posts Of 2021
Booker's Bourbon 2021 Batch 3, "Bardstown Batch"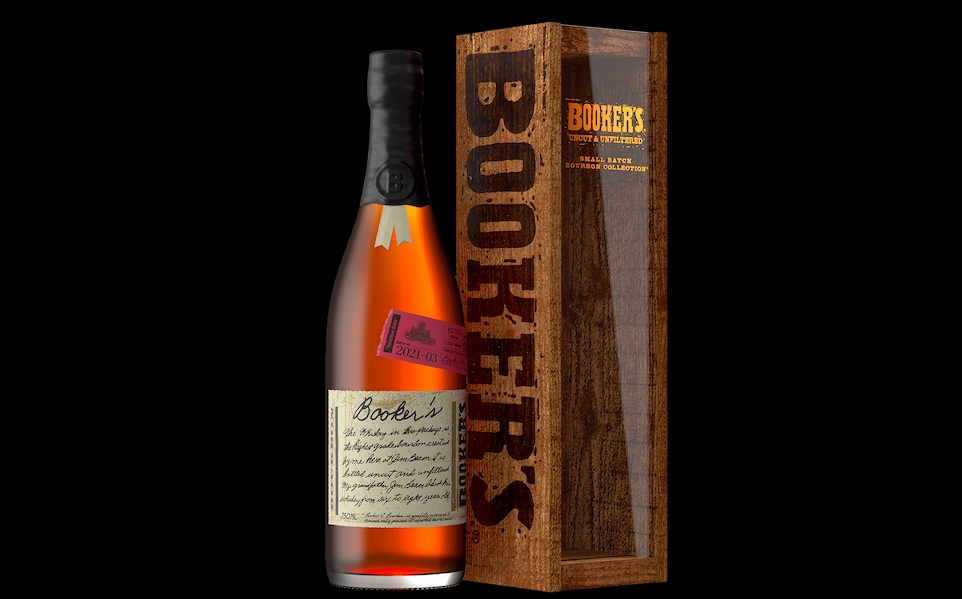 ABV: 62.75%
Average Price: $90
The Whiskey:
The whiskey in the bottle is the classic Jim Beam mash bill of 77 percent corn, 13 percent rye, and ten percent malted barley. The barrels were aged for exactly six years and five months before the juice went into the bottle untouched at cask strength.
Tasting Notes:
"Classic" would be the best descriptor of the nose. It's full of old cherry, dry leather, vanilla-laced tobacco leaves, rich caramel that's almost chewy, and maybe a touch of sassafras that's just leaning into root beer territory. A cherry sasparilla maybe? The taste veers away from that with deeply stewed apples that are almost a warm apple sauce with cinnamon, clove, and allspice kicking up some heat as minor notes of marzipan, cornmeal, and cacao lurk far in the background. The mid-palate explodes with heat that then mellows pretty quickly as the finish leans into creamy vanilla pudding spiked with cloves, leather, and a wet cedar vibe with mild cherry tobacco.
The Bottle:
Booker's bottles are classic cognac bottles with plenty of wax, ribbons, and a wooden box for keeping it safe. While the plexiglass lid might feel a little janky, it makes sense when the box is sitting on the shelf. Overall, this can't help but stand out on any bar car — in the box or out of it.
Bottom Line:
That high ABV doesn't dominate the palate, which is nice. It makes an appearance and then goes away, allowing the flavor profile to shine through to the end. I need to try this with a rock or two. From a Glencairn and neat, it was really lovely and a nice way to round out 2021's Booker's releases.
Ranking:
92/100 — This was classic. It didn't take me anywhere new but it didn't need to. It's an all-around great example of Booker's that I'm going to continue to enjoy as the weather gets colder and the decorations go up.