Travel isn't always expensive. In fact, if you play your cards right, you could end up on a trip of a lifetime for free. We found one of the coolest (and easiest to enter) contests we've seen in a while. The result could be winning an all-expense-paid dream vacay to a mysterious location — and it's probably not a trick where you end up on the island where they hunt the deadliest game….man. We're pretty sure about that.
And beyond free trips, we found other awesome travel deals — like dope all-inclusives for 50 percent off and great cheap flights to spots all over the world.
Below, we've compiled some of the best deals right now. These are the cheapest flights, best hotel rates, and steepest travel package discounts out there today.
TOP THREE DEALS OF THE WEEK:
WIN FREE MYSTERY TRIP SOMEWHERE IN THE WORLD WITH TOPDECK TRAVEL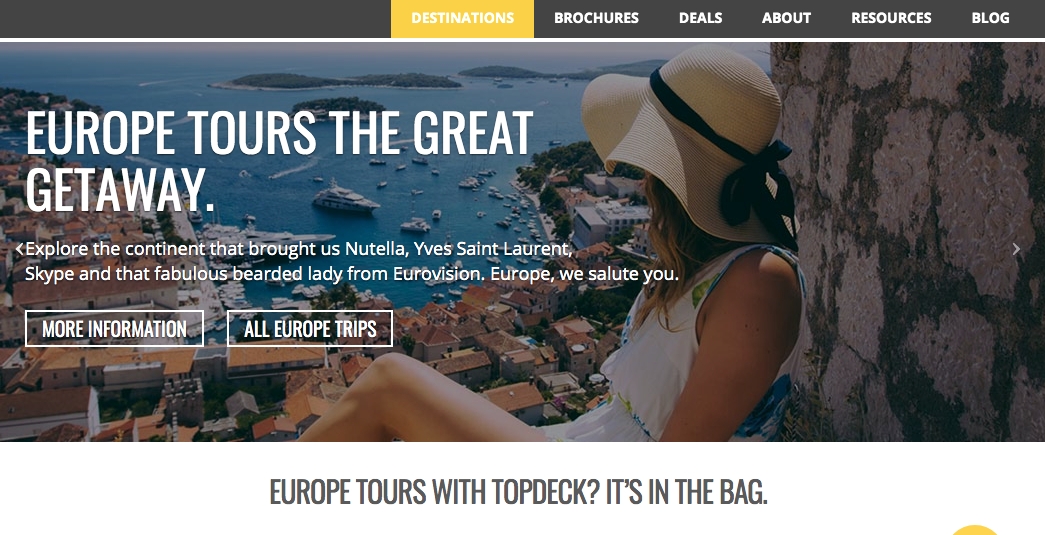 This is the big one. Topdeck is offering a trip-of-a-lifetime to one lucky contest winner. It goes like this: interested travelers will have until May 31st to send Topdeck their most "spontaneous travel story" via Facebook Messenger. Basically, you simply need to messenger the story and you're entered. It's really that easy.
Winners will receive a free trip to a mystery location somewhere Topdeck runs a tour, which is pretty much anywhere in the world (this does not include flights and some meals just FYI). You'll need to travel between June and December this year.
Enter By Using Facebook Messenger
ROUNDTRIP FLIGHTS FROM EUROPE TO SOUTHEAST ASIA AND AUSTRALIA FOR $260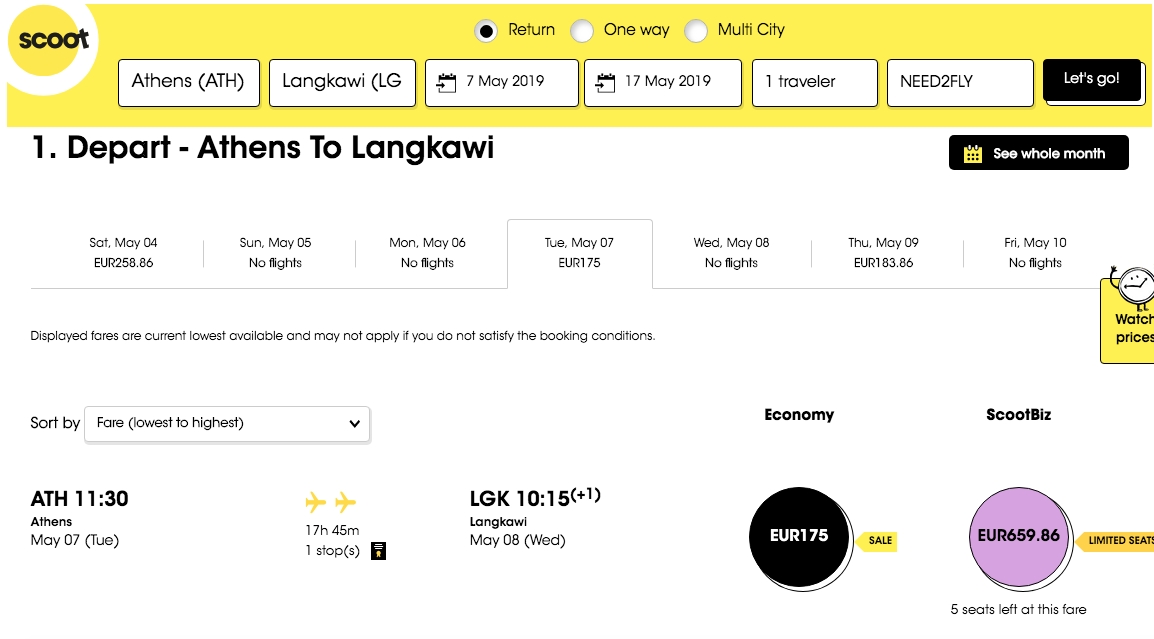 Okay, this is a European-focused deal, but it's just too good to pass up. If you're in Europe already (Athens or Berlin specifically), you can snag a roundtrip flight to cities in Malaysia, Thailand, Singapore, Indonesia, and Australia for anywhere from $260 to $400. Again, that's roundtrip.
Head over to FlyScoot and use the code "NEED2FLY" when you search for flights. The deal is running on flights from May 2019 to February 2020 with blackout dates throughout summer and Christmas/New Years.
SAVE UP TO 50% AT SELECT CLUB MED RESORTS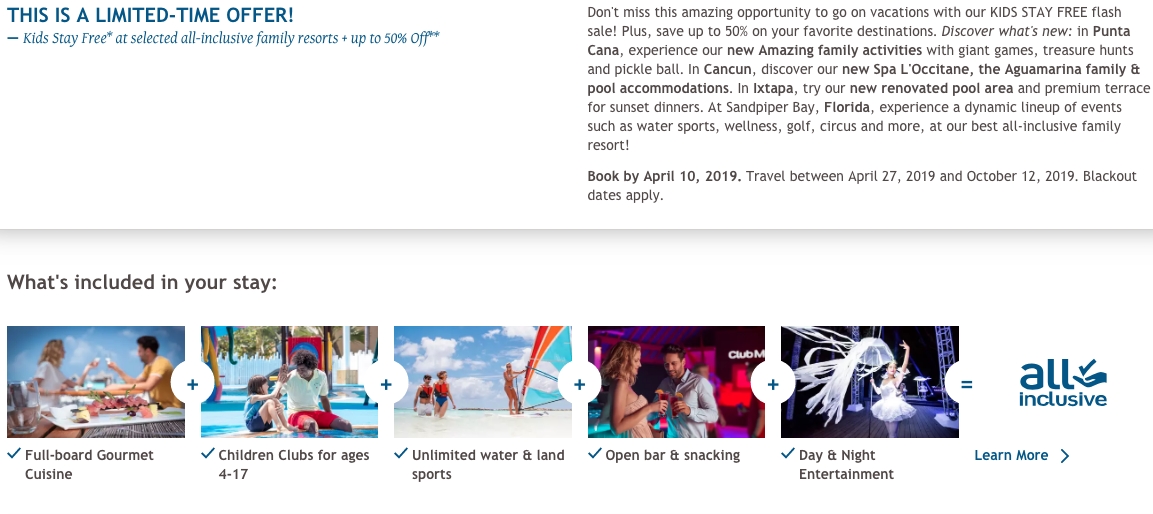 It's easy to say an all-inclusive resort isn't your jam. Our thoughts: Don't diss it until you try it. Spots like Club Med offer a no-nonsense holiday where you don't have to worry about a single thing. That has its advantages.
Right now, Club Med is offering 50 percent discounts on several of their resorts in the Caribbean and Mexico. That price takes the per room per night quote down to close to $100 for plush accommodations, all the food you can imagine, endless drinks, and plenty of fun in between. You'll need to book by April 16th and travel between April 24th and October 12th.
BEST FLIGHTS OF THE WEEK:
$8 LAST MINUTE FLIGHTS AROUND EUROPE WITH RYANAIR
With Easter just around the corner, sales are imminent. Ryanair — the cheapest way to get around Europe these days — is offering a fare sale on flights all over the continent, the Middle East, and Northern Africa. You can score tickets for as little as $8 one-way. That's basically two trips to Starbucks, folks. Book your tickets before April 11th.
$59 ONE-WAY FARES WITH SOUTHWEST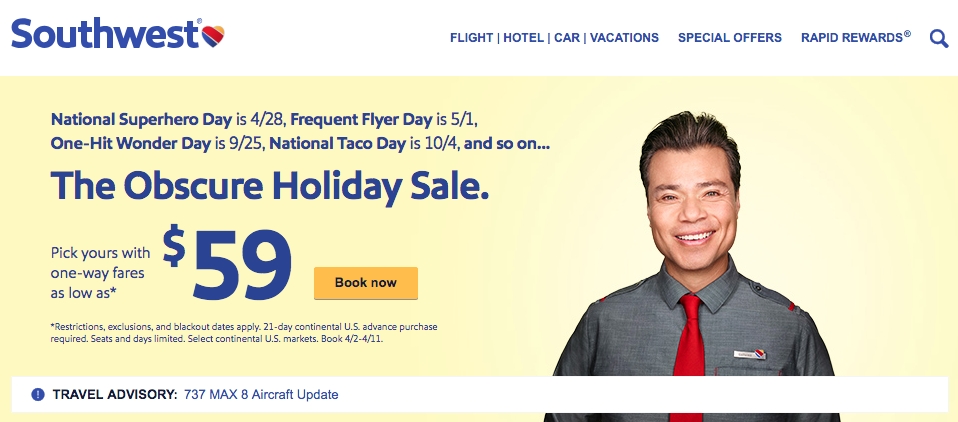 Southwest is offering a great sale on tickets all over the U.S., Canada, Mexico, and the Caribbean. If you shop it, you can score tickets for as little as $59 one-way. Granted, the bulk of the tickets are closer to the $80-$100 range, but if you shop wisely you may end up with a real steal.
$300 ROUNDTRIP FLIGHTS FROM NEW YORK TO ICELAND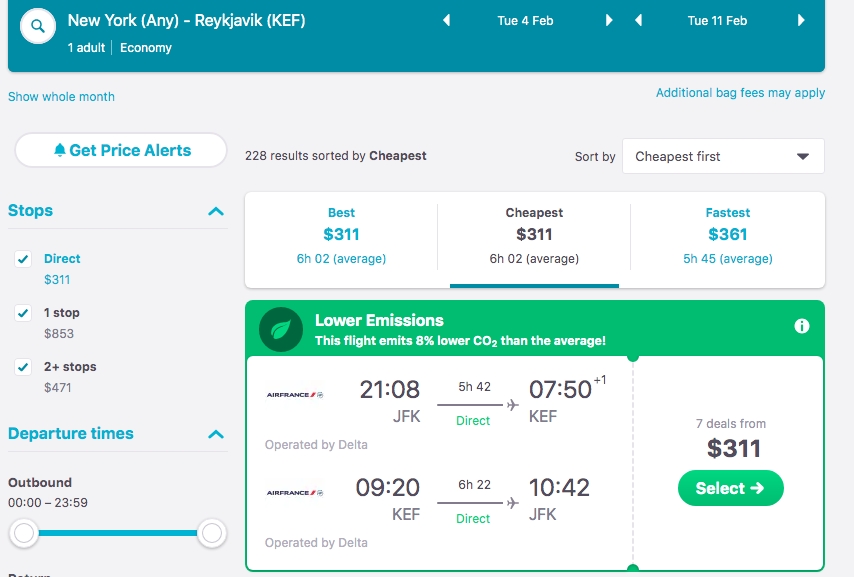 A great way to save big money on flights is to book when flights first become available. Case in point, flights from New York to Reykjavik, Iceland are running $300 roundtrip for next winter (February 2020) if you can book now. That's a great price for a non-budget airline flight where meals, drinks, and bags are included.
$300 ROUNDTRIP FLIGHTS FROM CHICAGO TO BARCELONA
Keeping the 'booking early ethos' in mind, you can also score great prices for the fall right now. There's a very cheap roundtrip from Chicago to Spain for $300 on a major airline where again, food, bags, and seats are all included in that low price.
$590 ROUNDTRIP FLIGHT FROM CHICAGO TO MELBOURNE, AUSTRALIA
Prices to Australia are still super cheap. Roundtrip flights this summer (their winter) are running under $600. That's almost 40 percent off regular roundtrip fares. Now's the time to pull the trigger and hit up Oz.
BEST TOUR AND PACKAGE DEALS OF THE WEEK:
20% OFF ALL ADVENTURE CRUISES WITH INTREPID TRAVEL
Intrepid Travel's Adventure Cruises aren't big cruise ship journeys. These are small ships that sail to places few go and they're 20 percent off right now. If you can book before April 30th and travel before October 31st, you can score a great discount on sails up the Mekong or around the Galapagos or through the Greek Isles for a once-in-a-lifetime experience on the high seas.
SAVE 25% OFF AMTRAK TICKETS DURING THEIR SPRING BREAK SALES
Amtrak is running a Spring Break sale through the end of May. You can snag a ticket on routes all over America with a 25 percent discount off listed prices. This is a great way to see the U.S. without the hassle of airports.
USE A MULTI-CITY EXPLORER PASS TO SAVE ON CITY TOURS AROUND THE WORLD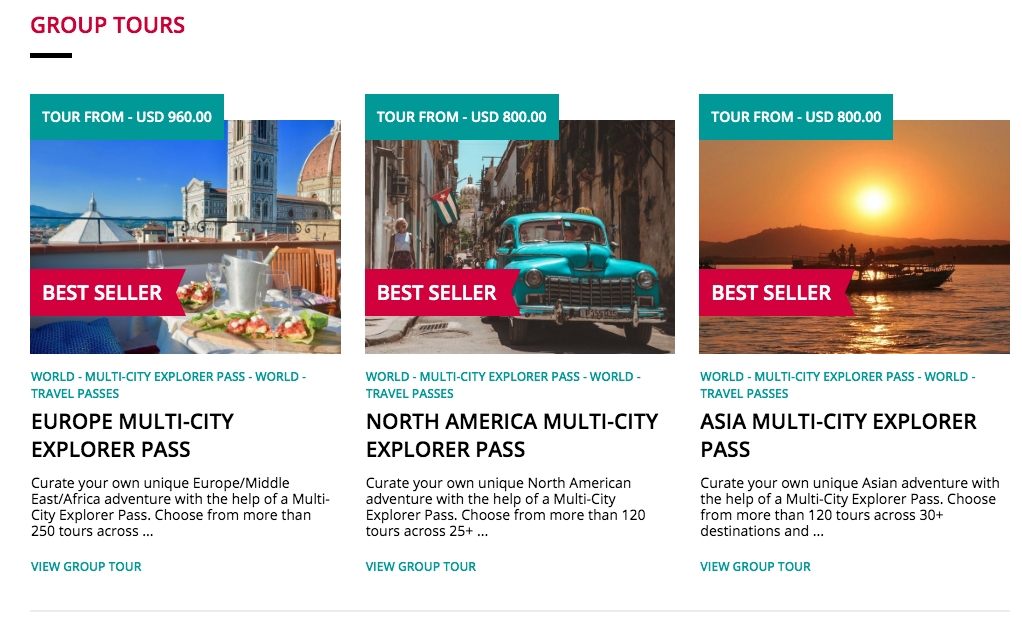 Urban Adventures is offering a great travel hack for people looking to maximize their time on the road. Their Multi-City Explorer Pass allows you to experience many sites, museums, and tours while you're in Asia, Europe, or North America.
The passes grant you access to a very broad amount of experiences from brewery tours to food tours to tours of iconic sites. Each pass runs around $900 (value of access is around $4,000) and is valid for 30 days of travel. This is a great deal if you want to maximize your time in-country.
BEST HOTEL DEALS OF THE WEEK:
ESCAPE TO COSTA RICA AT VISTA CELESTIAL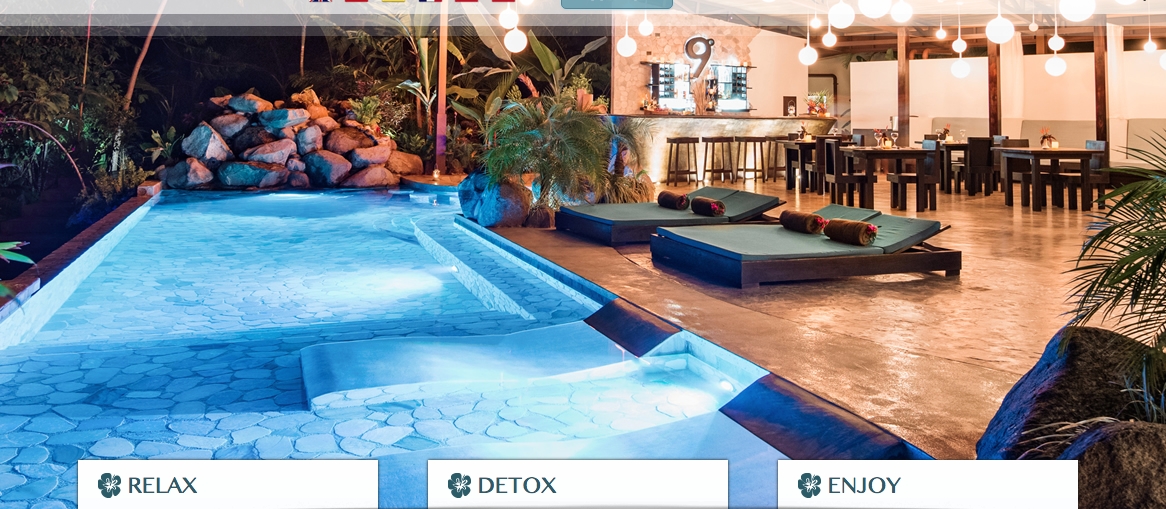 The Vista Celestia in Costa Rica is pure escapism. Generally, a place this luxe would fall into our 'Wild Splurge' category. But currently, they're offering a 40 percent discount on packages that include everything you could want from a detoxifying vacation — think amazing spa treatments, first-class meals, and adventurous excursions.
If you can book before May 1st, you'll score that 40 percent discount on five, seven, or ten-night packages (which clock in at $4,398, $6,155, and $8,295 respectively). Keep in mind, that price is for everything once you arrive in Costa Rica.
BOOK A RED SOX PACKAGE WITH HOTEL COMMONWEALTH BOSTON
With baseball season in full swing, hotels around the country are offering great package deals if you want to add a full game experience onto your stay. Hotel Commonwealth in Boston is offering a killer package that includes champagne, duck boat rides, and exclusive access to games.
GET 25% OFF WITH HILTON'S PRICE MATCH GUARANTEE
Hilton's deep stable of hotels has great deals year round. Basically, they'll match any other hotel's rates (within the hotel's price range) and then take 25 percent off that price. So, that means that you'll need to do a little shopping to compare prices. But when you do find a cheaper price for, say, a Marriott or the like, Hilton will beat that price by 25 percent. And it would be hard for you to beat that.
SAVE 20% AT COSMOPOLITAN LAS VEGAS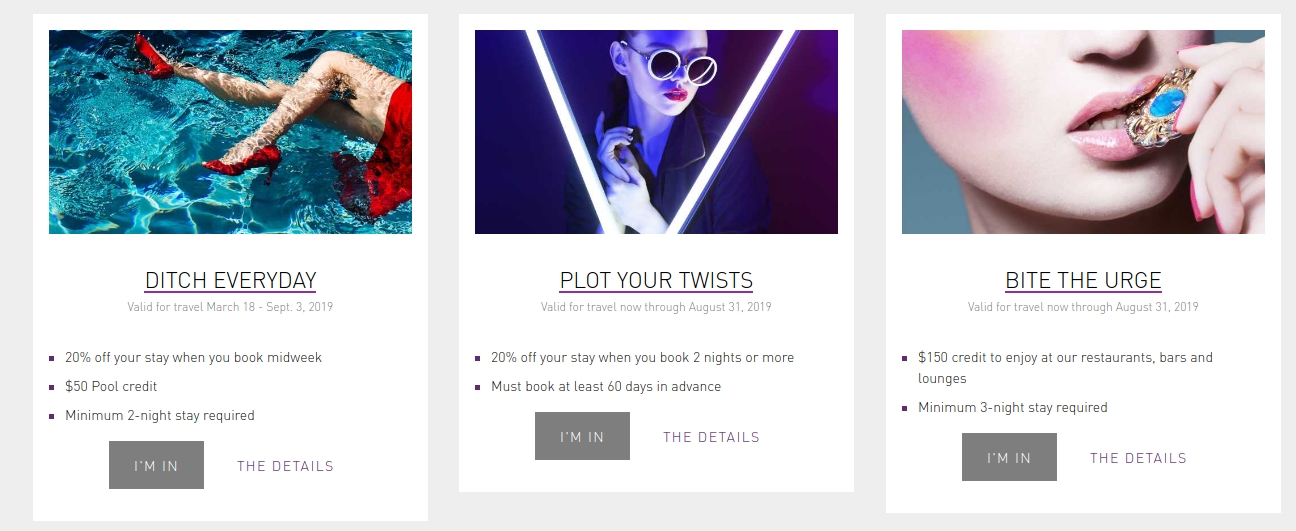 The Cosmopolitan Las Vegas is where the cool kids hang when they're on the Strip. The restaurant selection is a long list of bucket list eats. The rooms are plush. The parties are nonstop.
Right now, you can score 20 percent off your room if you book midweek or more than two nights. That's about $50 off per night, which goes a long way towards checking off some of those bucket list eats.
BEST WILD SPLURGE OF THE WEEK:
GET A FREE FLIGHT TO WHEN YOU BOOK A TRIP TO ANTARCTICA WITH HURTIGRUTEN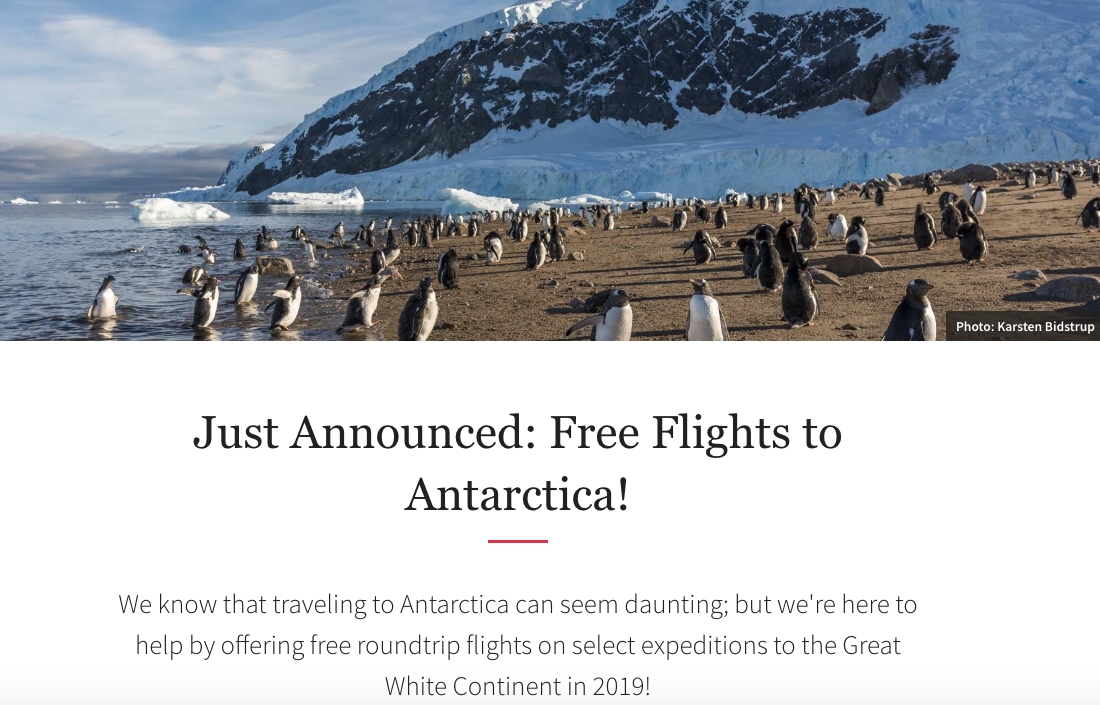 A free flight on a trip to Antarctica is an amazing perk. Hurtigruten is offering exclusive trips around South America, the South Atlantic islands, and Antarctica that last up to four weeks and clock in at around $15,000 per person. This is a pure adventure but it costs. So, getting a free airfare takes away a lot of that price tag sting.