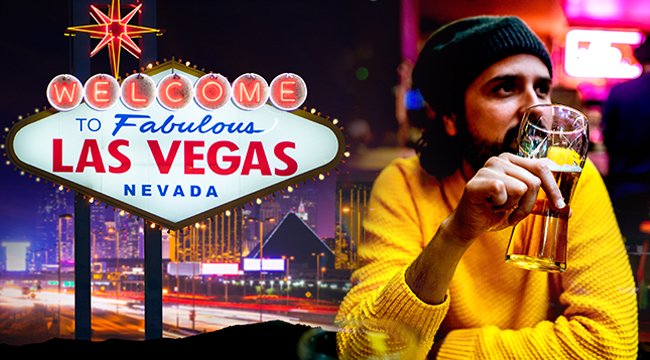 Las Vegas is the biggest party city in the United States. Granted, a lot of that partying happens in a small area around the Strip. However, there's a whole city around the casinos and resorts with a great bar, restaurant, and, yes, beer scene.
What makes Vegas suds stand-out is just how local the scene gets for a city that's relatively touristy. The brewery scene feels very Vegas, while also embracing the national and even international identity of the destination. This combination makes for a unique beer scene that's well worth spending a little time in.
We've compiled ten of the best beer spots to dive into Sin City hops. At first, we vowed to stay away from the huge beer bars in the casinos, but we ended up settling on a few because — "authentic" or not — they're defnitely part of the whole Vegas experience. Check the whole list below.
Atomic Liquors
Atomic Liquors is an icon of the Vegas scene. This is the sort of place that needs to be on everyone's bucket list, especially if you love drinking. The old-school neon, post-industrial vibe, and great outdoor area make for a dope experience overall.
The tap list has 19 great craft beers from the local scene to the best-of-the-best from the West Coast, Midwest, and back East. The 20th tap is Busch — which, respect. We all need a thin Adjunct Lager every now-and-then. There are another seven taps for the "kitchen" menu. They generally include highlights from the likes of pFriem or Prairie Artisan Ales. That's the good stuff, friends. Get after it.

Tenaya Creek Brewery
Tenaya Creek has been brewing up tasting beer for nearly 20 years now. The beer institution on the north side of the city recently tripled its capacity. That's a good sign. The brewery and taproom have a very strip-mall-in-the-Southwest feel to it, and we kind of love that.
The tap room has 18 beers ready to flow, along with a long list of great bottles. The brewery shines in classic styles like pilsners, brown ales, and oatmeal stouts. Each one hit the nail squarely on the head in the most refreshing and delicious way. This is just straight up tasty beer in a fun, beer-loving setting.
Beerhaus
Okay, let's hit the Strip. The Park has an installation of Beerhaus and it's worth your tipple. This is the best possible version of German beer hall kitsch you'll find in Vegas — striking that nice balance between ironic and serious when it comes to beer, beer food, and beer games.
The heaping pulled pork sandwiches and over-topped brats are a definite draw here. Yet it's the beer that truly shines. There's a long list of deep cut beers on offer, sure to put a smile on your face. The selection ranges from local masterpieces to German classics, both alongside greats from the American craft scene. It's the best of all beer worlds.
Banger Brewing
Down on Fremont, you'll find Banger Brewing. This brewery is good enough to pull off a bit of a magic trick when it comes to brewhouses. They draw in tons of tourists and the locals. The tourists we get ,given the location. But if local Las Vegans are braving Fremont as well, that means there's good beer here.
Their taproom has 12 of their masterpiece brews at any given time. There are also five guest taps that highlight other Vegas brews and a few American heavy-hitters. Grab a board game and order their impeccable imperial porter or heavy Scotch ale. Then settle in for a beer-soaked good time.

PKWY Tavern Flamingo
You'll have to head a little out of town for this one but it'll be worth it. There are also two more locations in the city but let's focus in on the Flamingo location here. PKWY Tavern is all about fun, beer, and more fun. There's a big beer garden centered around a giant Jenga game. This is where you go to let loose for little day-drinking or an all-night marathon of suds.
There are over 250 beers available. The tap list is deep with seriously great cuts from the whole world — it's beer curation that borders on completist, with bottles, cans, and kegs coming from Europe and all across the U.S.
Bad Beat Brewing
Bad Beat Brewing is all about making great craft beer for the local scene. Their east Vegas location warehouse is dedicated to brewing, loving, and drinking beer. It's the perfect place to strike up a conversation with a brewmaster or beer-lover about the nuances and hidden gems of the Vegas scene. You'll make new friends while enjoying a tasty pint.
Bad Beat keeps 12 beers on tap from their current brew cycle. You'll find a good selection of German mainstays alongside American dank IPAs and creamy stouts for good measure. The beers really shine and are worth the trek away from the Strip.
Public House
Back on the Strip in the Venetian, you'll find a haven for great beer. Yes, Public House is in a casino. It's also the first beer bar in Nevada to have a dedicated and certified beer Cicerone. The beer here is arguably the best-curated selection in the whole city and maybe even the whole of Nevada. Add in that there's a very relaxed yet convivial atmosphere to the place and you've got a great place to tip back a pint.
There are six pages of beer menu here. The list covers the best local brews, regionals from all over America, and a very well-thought-out selection of European beer. There are 24 drafts on tap, supported by too many bottles and cans to list. In the end, this is one of the best beer experiences you can have in Vegas, baby, Vegas.

Joseph James
Joseph James is one of the more interesting places brewing Vegas craft. Their beer is top-notch with a great sense of place, style, and community. You're going to head east towards Henderson but, trust us, if you love beer the trip will be worth it.
The brewery is a working space, so call ahead for a tour and tasting. The brewery does host events throughout the year but they're rare. They're in the midst of expanding with a full tap room very soon. So keep an eye for this one. Plus, you can get the beer all over town.
Double Down Saloon
https://www.instagram.com/p/Bm7dOqrBjbj/
The Double Down isn't necessarily a beer-centric stop. It's just an iconic dive bar that everyone visiting Vegas needs to spend a night partying in. "Shut up and Drink," is their motto and they make it super easy.
The punk dive is all about getting lit with a great beer selection of national lagers side-by-side with local classics like Joseph James beer. This is the sort of place where beers turn to shots. Then, the next thing you know, you're bursting through the bar door and it's tomorrow already.

Aces & Ales Tenaya
Up Highway 95 in North Vegas, you'll find Aces & Ales. This pub is killing the game (there's another location on the east side). The food is dive bar comfort food with slices of great pizza served next to burgers piled too high with sides of mac 'n cheese. The bar is bare bones, yet very welcoming. Fact: If you rock up to this bar, you'll leave with new friends every time.
The reason we're picking the Tenaya location is pretty simple. They have 50 beers on tap. The beers ranges from locals to some of the best American craft there is. It's a stellar list that'd take you weeks to get through. That's supplemented by a seriously long list of bottled beers from all over the country and world. This is the sort of place that feels like you can have it all.