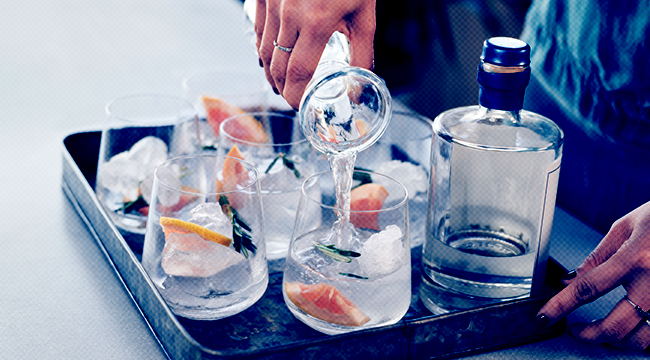 If you love gin, you probably don't think twice about handing over $30, $50, or even $75 dollars for a 750ml bottle of artisanal juniper bliss. You might enjoy Tanqueray No. 10, Sipsmith, Hendrick's, or Brooklyn Gin in your summer G&Ts. You might even do like the Spanish do and add cucumbers, peppers, or perhaps a sprig of thyme to really jazz things up.
Even if you're more than happy forking over your hard-earned money, you might not have to. There are a handful of high-quality, well-made gins that are so inexpensive that you can probably buy five bottles for the price of your go-to, top-shelf brand. Some are big names, others aren't. But they're all cheap and perfectly suited for mixing into your favorite end-of-summer cocktails.
New Amsterdam Gin
Story: Launched in 2007, New Amsterdam makes a handful of reasonably-priced gins and vodkas without any bells and whistles. They have a wide array of flavored vodka (if you're into that sort of thing), but if you're looking for a bargain gin, it's hard to beat New Amsterdam with its $12-15 price tag.
Perfect for mixing into a gin and tonic or martini, try it once and New Amsterdam might be your new go-to mixing gin.
Tasting Notes: It might be cheap, but New Amsterdam has everything gin fans want. It's full of botanicals, crisp citrus, and a nice hint of juniper. If you're a lover of subtle juniper spice and heavy citrus action, this is the right gin for you. If not, spend your money elsewhere.
Buy It For $10.

Seagram's Extra Dry
Story: There's no hiding the fact that Seagram's Extra Dry is inexpensive. But just because it's the price of a Chipotle burrito bowl with steak, queso, and guac, doesn't mean it's bad. There's a reason it's been made continuously since 1939. People buy it and people enjoy it.
Tasting Notes: While the recipe has changed since the 1930s, the gin itself has remained. Modern versions of this iconic gin are full of zesty orange peel, cinnamon, dried fruits, with a pleasing pine-centric juniper finish. The major orange kick works perfectly in gin & tonics.
Buy It For $8.
Beefeater London Dry
Story: In the world of London Dry Gin, Beefeater is a fairly well-known name. That's why it's so surprising that you can find 750ml bottles of this classic gin for under $20. Named for the ceremonial guards at the Tower of London, this brand was first introduced in 1876 and remains as affordable as it is popular.
Tasting Notes: For the price, this gin is surprisingly complex. Like many of your favorite gins, it starts with a sweet citrus presence before working up to herbal botanicals, anise, and a hit of juniper berries. It's well-rounded with the right amount of sweetness for a gin gimlet, but the perfect spicy peppercorn heat to appeal to a martini fan.
Buy It For $15.
Gordon's London Dry
Story: If you spend any time perusing the gin aisle at your local liquor store, you've probably seen Gordon's and wondered about exactly who buys it. Well, maybe you — if you're planning to enjoy gin on the cheap this weekend. Introduced in 1769, you might be surprised to learn that this bargain-basement gin won Double Gold at the 2017 San Francisco World Spirits Competition.
Tasting Notes: Some of the gins on this list have been citrus-forward. That's definitely not the case with this classic London Dry. Instead, the peppery, piney juniper is front and center. On top of the well-known gin berry, drinkers will also be met with dried orange peel, cinnamon, and anise with a subtle, dry finish.
Buy It For $9.

Kirkland London Dry
Story: If you don't already have a membership to Costco, you should get on that. If not for a 20-gallon tub of macaroni and cheese, you should join for the surprisingly cheap spirits. One of the best (and cheapest) is Kirkland London Dry gin. For less than $20, you can snatch up a 1.75ml bottle that will definitely last all weekend even in households with giant gin fans.
Tasting Notes: Kirkland London Dry is not the most complex gin on the market, but it's crazy cheap. Perfect for gin and tonics and negronis, this gin is full of coriander, lemon, grapefruit, and a nice pine-tree juniper backbone.
Buy It At Costco For $17.99 (for 1.75 liters!).