A very game-accurate Lara Croft costume by beebinch.
It's almost Halloween, which means it's time to plan a costume, buy some candy, eat all of the candy, and realize you'll need to buy more candy. Wouldn't it be nice if you had more money to buy candy because you didn't spend a mint on an elaborate costume? Of course it would!
With that in mind, we've collected 25 fun costumes to help give you ideas for outfits you can put together with items you already own or can acquire cheaply. Do you want to do a sexy costume? Well, definitely don't go the Handmaid's Tale route. Instead, perhaps you'd like the simple straightforwardness of this "Sexy Halloween Costume" costume by So I Did This Thing via BoingBoing:
Or you could pair a cheap readymade kid-sized costume with high heels, like this BB-8 (Star Wars: The Force Awakens) costume by busted_mountain:
There are also simple cardboard and fabric-based creations, like these costumes of Jaime Lannister's hand and Lady Olenna Tyrell (Game of Thrones) photographed by abbasaurousrex:
Or perhaps you already bear some resemblance to a famous musician? Lean into it:
Post Malone costume by Jessica.
Prince costume by aignee_love.
Or you could dress up like this guy and tell everyone to LOOK AT THIS PHOTOGRAPH.
Sometimes cardboard and other basic craft materials can make costumes for a whole group:
Cool Runnings costumes photographed by ozcomiccon.
Guess Who cards by brigors18.
Tetris group cosplayed by courtnrush and friends. Photographed by harveycc.
Or you could assemble a costume with vintage clothes you might already have:
Hidden Figures group costumes via zellie.
Lucy and Ethel (I Love Lucy) by meganzietz and jackiegiardina.
A group costume can also be pulled together using recognizable references:
Mario Kart group photographed by shadowmanjack.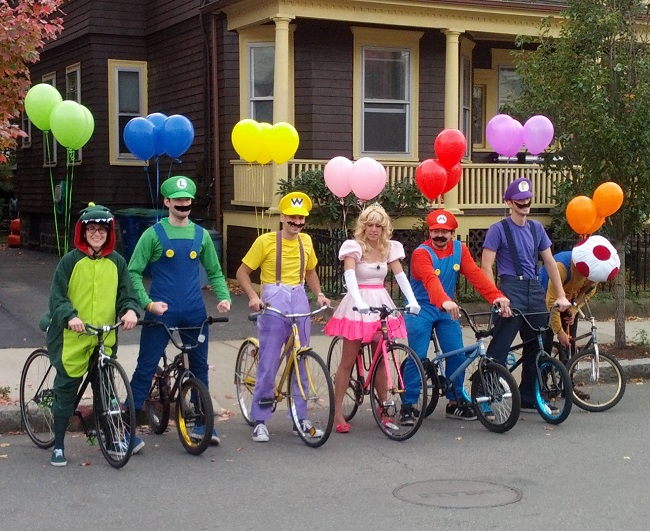 Beastie Boys photographed by IHv2RtrnSumVdeotapes.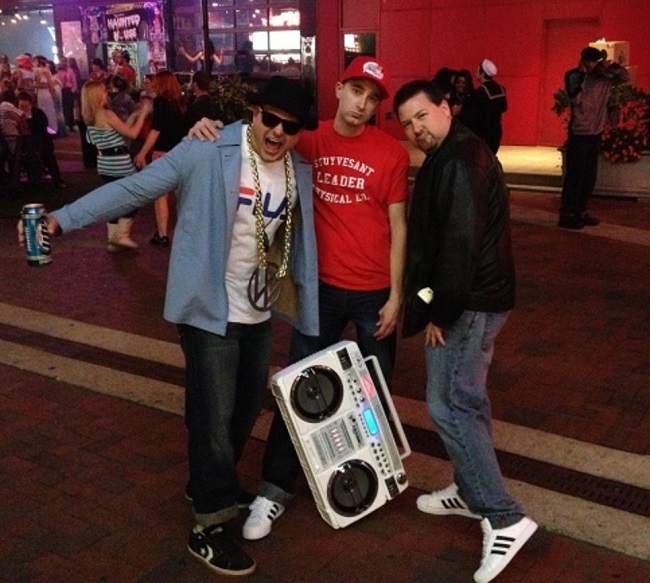 Or you could go with a pun, like this "Wonder Bread Woman" costume by CosplayHeaven:
Speaking of comic book characters, here are two versions of Domino photographed by DTJAAAAM:
Movies and TV characters served as inspiration for others:
Weekend At Bernie's family photographed by Kiersten Essenpreis.
Lola Bunny (Space Jam) costume by Alicia Marie.
Garth and Wayne (Wayne's World) by kelseykropielnicki.
Tina Belcher (Bob's Burgers) costume by beebinch.
https://www.instagram.com/p/Bgjqy9ejd1k/
Susie Carmichael (Rugrats) costume via tkilla.
Romy and Michele's High School Reunion costumes by Kelly Sawyer and Jessica Alba.
Barb (Stranger Things) costume by tragicmountain.
Eleven (Stranger Things) costume photographed by BindersOfWomen.
That guy's Stranger Things costume even inspired an improved poster for last season:
In conclusion, we hope you come up with some great ideas to distract everyone this year…
Distracted boyfriend meme costume via Chase Mitchell.
Here are some of our other Halloween costume ideas: