"In the beginning, Coachella was a world of sliced pizzas and sugary lemonade," says chef Roy Choi. "It was like going to a state fair. And then Kogi came in our first year… I think it was '09… Our truck broke down, we were late, but we brought this energy and bright flavors — garlic, ginger, green onions, chilies, lime juice, sesame oil — and it blew peoples' minds. The same thing that had happened with Kogi Truck on the streets a year and a half earlier happened at the festival. It just instantly connected."
That explanation from Choi — renowned chef, acclaimed TV host, and food world revolutionary — is a pretty tidy summation of how his first appearance at Coachella helped shape modern music festivals. And while talking about your cooking blowing peoples' minds may sound hyperbolic, it's more likely that he's understating his footprint on the scene. Just ask anyone who witnessed the lines at the chef's food truck, Kogi, in the late aughts.
Of course, Choi wasn't the only factor in elevating the food at music festivals. 2008 — the year before Kogi first appeared at Coachella — marked the first time that live performances eclipsed record sales as the primary income stream for musicians in the UK. The US was seeing a similar trend. In a rapidly expanding marketplace, everything was bound to be heightened. Unique food experiences gave festivals a competitive advantage. Meanwhile, the "food IQ" of music festival attendees was rapidly increasing, thanks to the food TV boom, the democratization of "cheffed-up" food via fast-casual restaurants and food trucks like Choi's, the birth of web 2.0 endemic food sites (Foodbeast was launched in '09, Eater went national the same year), and, of course, the advent of Instagram in 2010.
Stack all those factors together and it's no wonder Goldenvoice was eager for Choi to return (he did), while adding other chef-driven vendors into the mix. Meanwhile, a few hundred miles to the north, San Francisco's Outside Lands changed their 2010 tagline to "Music – Food – Wine – Art," while creating a culinary lineup that reflected both the rapidly diversifying food conversation and the eagerness of attendees to try flavors that might not feel familiar to them. It was both an incubator for inventive chefs and an easy opportunity for young music fans to broaden their palates. The rocketship had officially blasted off and the music festival world would never be the same.
"Before it was just music, drugs, and fucking," Choi says with an easy laugh. "It was 'turn off the world, go out there, wear as little as possible, paint a few things on your face, take some shrooms, and throw down a greasy corndog.' But now, fast forward 10 years, and you can't have a music festival without a commitment to good food."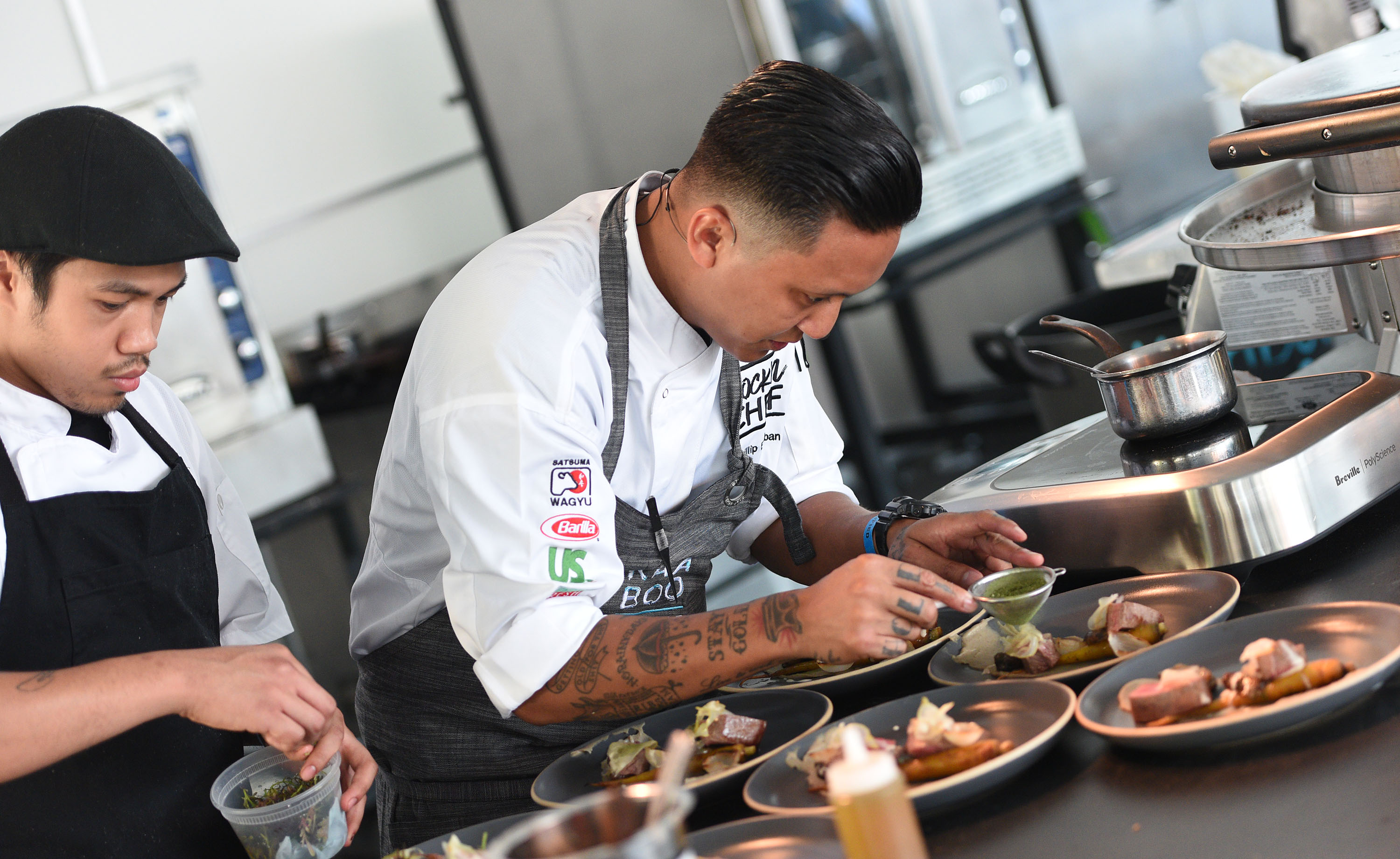 If the beginning of the decade was when music festivals began to recognize the value of chefs, the latter half of the 2010s capitalized on their stardom. In 2019, Coachella continued to expand its "Outstanding in the Field" chef's table event — a collaboration between Golden Voice and Outstanding in the Field, a roaming dinner series created by artist/chef Jim Denevan. They also offered Choi the chance to preside over a career retrospective food installation called KogiTown with his original truck as its centerpiece. Meanwhile, The Governor's Ball launched a restaurant mashup initiative akin to hypebeast-worthy brand collabs and Outside Lands boasted 80 restaurants including Michelin-starred Rich Table, which served donuts dusted in porcini powder.
It's clear, as Uproxx's Editorial Director of Music Philip Cosores notes, that chefs are an essential piece of the overarching experience.
"For the amount of money people pay for a ticket," he says, "including transportation and lodging, there's a demand for every piece of the puzzle to be as memorable and sharable as possible. Food plays a huge role in this. Especially when you can eat something thrilling and immediately tell your friends about on social media."
In an increasingly competitive music world, having a premier food product feels like an essential part of programming. That means continued innovation and boundary-pushing on the part of festivals. It also means the same sort of diversification that has come to embody festival musical lineups.
"Different people 'festival' in different ways," says Nic Adler, Culinary Director of Goldenvoice Food/ Coachella. "So it's not so much that the festival food scene will go in one specific direction as that it'll continue trying to accommodate all types of festivalgoers — whether it's the person who just needs a slice of pizza between shows or the person who wants to enjoy the music from afar, over a two-hour, four-course meal."
With a broad range of opportunities, chefs can pick the right fit for their respective cooking approaches within the festival setting. For Choi, whose ethos has always been about making exciting, creative food highly accessible, that means a people-pleasing installation like KogiTown; for Top Chef winner and Beard Award-finalist Richard Blais that means interactive cooking demos at KAABOO in San Diego; and for Beard Award-winner Michael Cimarusti of the critical darling Providence in Los Angeles, that means creating an exclusive 50 person side stage pop-up with Bob Weir of the Grateful Dead at the Beachlife Festival.
The 2019 season made one thing clear: if they have the chops, chefs will be given room to be inventive. They're not the backing band anymore, they're headliners.
"Chefs are the new rock stars," says Jason Felts, CEO of KAABOO, "thanks to cooking programs gaining in popularity year over year, the general public becoming more educated and focused on what they put into their bodies, and attendees seeking all-encompassing experiences."
Felts and Adler, both responsible for massive culinary programs, recognize that meeting attendees where they're at is the key. It's about finding lanes to be lowbrow, highbrow, gaudy, and refined all at once. But rather than the simple, boring comfort foods of the pre-Kogi Coachella era, there has to be some engaging factor baked into everything — whether it's a tasting menu or Instagram-friendly elote covered in flaming hot Takis.
"Post Fyre-Fest, the 'buy your ticket and hope for the best' festival attendee is gone," says Geoff Kutnick, co-founder of Foodbeast, which has inverted the traditional festival model by executing primarily food-focused events with performers like Snoop Dogg headlining. "Aesthetics and curation become essential because regardless of the clientele they're going to want to share what they ate on social media."
While it's easy to see the whole "cheese pull" and "rainbow bagel" food world as somehow vapid, people having fun at festivals is still the main point. It's the maximalism of the festival experience distilled into its culinary offerings. What's worked for organizers — musically, artistically, and food-wise — is accepting crowds for who they are while still allowing them room to expand their tastes.
So what's coming next? Look for food at music festivals to follow the lead of its ecologically-minded audience. With a recent Livenation/ Ticketmaster survey revealing that festival fans are clamoring for more sustainability, it won't be long until food trucks are posting their conservation practices next to their menus. In fact, that movement, which has percolated for years at smaller fests, is already hitting the mainstream. Bonnaroo has foregone plastic utensils and launched a composting initiative and Coachella's "No Impact" campaign is pushing toward completely compostable service ware.
The two most hyped food products of the year, Impossible Burger and Beyond Meat, are sure to pop big on the 2020 festival circuit. Not just because they taste good (though that helps) but also because young people are beginning to seriously interrogate why they eat meat, how much they eat, and what that means for their bodies and the environment. Canada's Shambala Festival has been meat and fish free since 2016. Within two years, 94% of attendees responding to the festival's exit survey urged them to stick with the initiative.
Meanwhile, Choi hopes to see the chef-as-entertainer mentality trickle down, so that culinary stars and their teams can get paid at the scale music acts and visual artists are.
"KogiTown was our first attempt to make food an art experience," he says, "just like the other artists and entertainers who come to these events. That's only going to evolve in the next two, three, four years so that pretty soon food might be its own installation that can get sponsored by Hewlitt Packard or someone — all so that the chef can be compensated and the crowd can be wowed. And it's all getting there; it's all happening."
It is all happening. The summer of 2019 only underscored that fact. And for the festival attendee and food aficionado — whether your tastes skew quick-yet-Insta-friendly, eco-minded, or more toward multiple course dining — that's pretty fantastic news.