We are huge street food fans, and food trucks, in particular, make us giddy. They're an opportunity to get our hands on high quality eats we may never find in a sit-down establishment. Plus this is some egalatarian sh*t: The barriers to entry are relatively low; the acceptance for new, un-tested flavors is relatively high.
Besides, their menus tend to be very focused on fun. Which is… fun. The chefs running these trucks and carts make bold statements with their cuisine and often incorporate a heavy helping of whimsy.
It's not just the menus tickling diners, either. Branding matters a lot in such a competitive game, so humor is often on full display in the trucks' names and designs. Inspired by these creative culinary types, we gathered the ten funniest American food truck names. We made sure they're all still in business, so you can visit them for sure.
Take a look, get a little hungry, and have a chuckle.
https://www.instagram.com/p/3UVoGgnDZf/?tagged=idreamofweenie
Nestled in East Nashville's 5-points, this food truck is known for it's innovative modified VW bus and delish signature charcoal-grilled dogs. Customers can grab them to go or cop a squat on the lawn and enjoy the weather. Served on artisan buns, the weenies (which come in the customer's choice of premium all-beef, turkey, and tofu) can be ordered off a standard menu that includes rotating daily specials.
On Sundays, there's a Weenie Brunch with items like hash brown casserole weenie, French toast weenie, and eggs benedict weenie.

If you're in South Florida and jonesing for a taco or burrito, this food truck is prepared to take classic flavors and infuse them with global ones. In business for six years, Nacho Bizness has garnered quite a following for a place that doesn't actually sell nachos. Okay, they sell nacho quesadillas, but that's not really the same. Instead, customers enjoy dishes like spicy Korean pork tacos with chilled cucumbers and Jamaican jerk chicken with tropical pineapple slaw.
The same fillings make appearances in burritos and bowls, as well. It's bomb.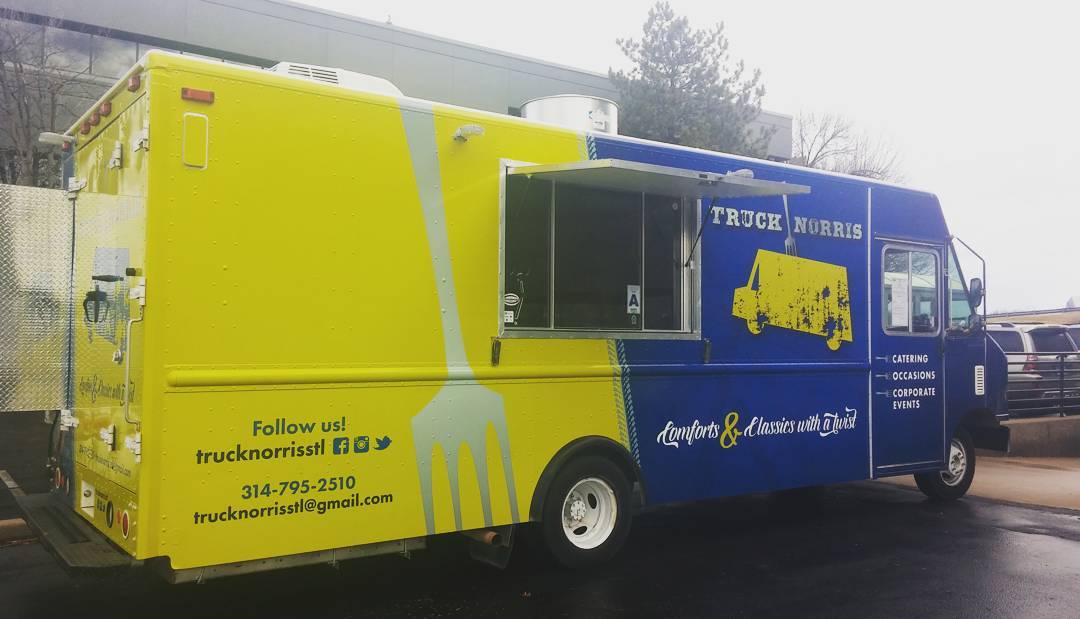 Actor and martial artist Chuck Norris may have won a game of Connect Four in three moves, but Truck Norris is less about kicking ass and more about twisting classic dishes to make them modern and fun. This means customers can expect BLT sushi, deep fried smores, grilled cheese steak burritos with a local twist, and red velvet cake holes. Plus, they make tot-chos. If you haven't had crispy tots smothered in slow smoked pulled pork, Code 3 Spices BBQ sauce, white queso, lettuce, grilled corn, sour cream, and candied jalapenos, you need to get to Missouri.
Side note: this is the name of a few trucks in other cities, too.
We love when someone takes a theme to the max, so imagine our delight that this food truck is not only named Serial Grillers, but the items on the menu are also named for killers. The Leatherface Burger might make you think of really gross things, but it's so thematically consistent that it has to be respected. The truck makes the most of cheeseburgers and cheesesteaks, naming them things like Gormogon, Boston Strangler, Hannibal, Kalifornia, and Pennywise.
They call it "food worth dying for … not that we want you to!" Ingredients are topnotch and the menu items are all super strong.

People in the Asheville area are so lucky to have this truck because it produces some truly stellar Thai-inspired dishes served on traditional steamed buns and bao. The ingredients are locally sourced, the proteins are from family farms, and the sauces are all made from scratch. Plus, a few days a month, a portion of profits is donated to area non-profits.
People flock to this location for the pork salapao, a closed steam bun stuffed with slow braised pork in Thai herbs and spices, kaffir lime, lemongrass, chilies, fish sauce, ginger, mushrooms, and coconut milk. Tell me you don't want that right now.
Be honest, the fact that there is a food cart in Portland with a twist on a Cure song for name feels like exactly what you expect, doesn't it? Owner Jace Krause always wanted to be a business owner and his skills were music, writing, and making a flipping fabulous fried egg sandwich. After a long period of dreaming about food cart ownership, Krause finally moved to Portland and started his dream. Now, customers can enjoy toasted sourdough bread from Portland French Bakery and eggs sourced from local farms and cooked over-medium before being sprinkled with "magic egg dust."
Other toppings include homemade pesto, Tillamook cheddar, and Secret Aardvark aioli.
Launched in April 2015, this truck makes sure Asheville residents have a heaping helping of puns and fresh foods. Their seasonal menu draws from global food culture and focuses heavily on fresh fruits and veggies. So, you can grab falafel tacos with cumin-spiced falafel on soft corn tortillas and topped with lettuce, heirloom tomato sofrito salsa, smoky mole vinaigrette, and pepitas, for example. And their Cabbage Patch Kids? Awesome.
The dish is a crispy fried Brussel sprout and roasted sweet potato bowl with toasted garlic, bacon, Kalbi sauce, and sesame seeds. These may not be the spiritual leaders of the Tibetan people, but we would follow them.
Clearly, Tucson is killing it on the punny food truck name front. They also have some truly killer crepes (who do not appear to be related to a past nuclear holocaust in any way). You can go savory and enjoy something like smoked chicken, green chilis, cheddar, avocado, and salsa. Or, try strawberry, banana, and French custard. Vegan and gluten-free customers have options. And, they even get fancy with crepes that feature smoked duck with field greens and gruyere.
Don't overlook the joy of their crepe cakes, which layer their golden crepes with sweet fruit and cream.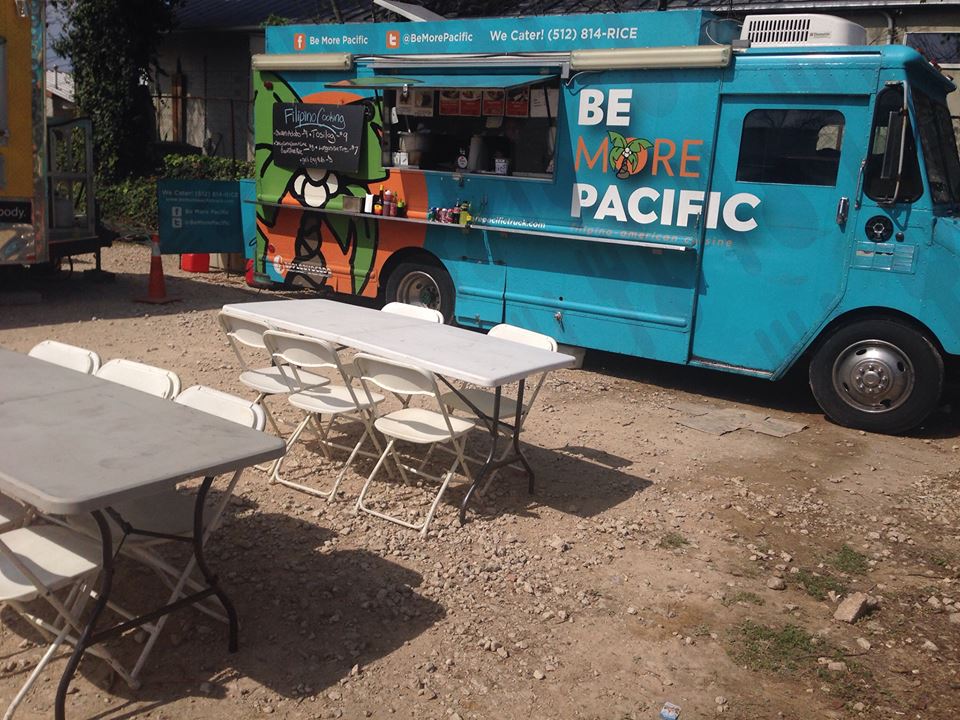 Established in 2011, this food truck specializes in Filipino and American fusion, which results in things like the longanisa tots, featuring scratch made garlicky sweet pork sausage, melted cheese, and spicy plantain sauce. Raised in Sugarland, TX, Mark Pascual is second generation Filipino. He met his partners while attending UT. Together, they used to grub on things like adobo chicken over rice with a side of mac and cheese. Finding no good Filipino in Austin, they decided to bring their comfort food to the people.
You can also get classics like plain adobo chicken and lumpia.
Naan lends itself to quality food truck names. Sadly, both Naan Stop Indian Food and Naan Sequitur have gone out of business. But, we still have Naansense to fill the void. Their menu is seasonal and the ingredients they are able to source locally impact their offerings. Every day, you can count on both vegetarian and on-vegetarian specials, which is rad. The menu is classic Indian, so expect dishes like chana masala, mixed vegetable dal, butter chicken, and curries. The husband and wife team behind the truck have been bringing good eats to the area since August of 2014, and their goal of filling a quality Indian food gap has been achieved.