I've been on a personal quest for nearly a decade to visit all 63 major US National Parks. Currently, I've visited 59 – many multiple times and in various seasons. As you can imagine, I'm most often asked, "Do you have a favorite park?" I didn't want to commit for a while, but I knew nearly a decade ago — the first time I visited Grand Teton National Park outside of Jackson, Wyoming — that I'd found "the one."
There is something so magical about that first time the Teton Range comes into view – it's as close to "overly emotional" as I get. And even with the increased crowds of the last few years, I still find myself returning multiple times yearly.
But, yes, the crowds. Jackson and Grand Teton are undoubtedly "hot spots" to travel. Of course, I understand why (see above), so I'm not going to try to gatekeep anyone with "other similar spots" or "less crowded alternatives" – because there is no alternative, in my opinion. Yes, you must be more organized and plan more in advance to pull off a seamless trip to Grand Teton and Jackson. But that can be part of the fun.
I used to think it was crazy to hear people talk about planning National Park trips up to a year in advance, but now I get it. So, while we are ending one high-traffic season, now is actually the time to start planning for the next (as in, next summer). Here are my recommendations:
WHERE TO EXPLORE:
GRAND TETON NATIONAL PARK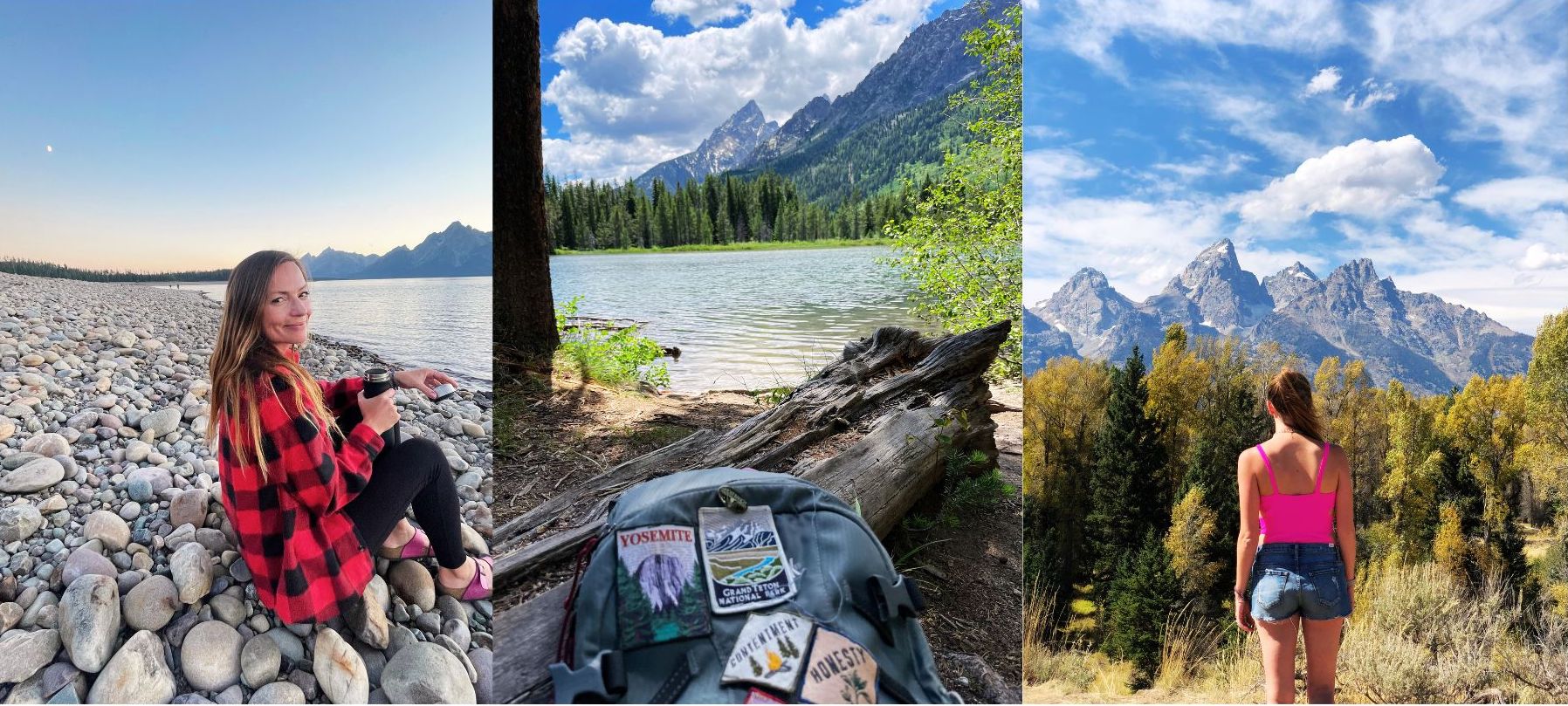 While I imagine there are people here and there who travel to Jackson and don't visit Grand Teton National Park, I would not want to be friends with those people. Grand Teton is a crown jewel of the National Park system (and I would know), with jutting peaks, beautiful blue lakes, incredible wildlife, and opportunities for adventure around every corner. Just hoping on the park road for a drive will undoubtedly be one of the most awe-inspiring views of your life – it's that magnificent. And it's basically in Jackson, with the airport inside park boundaries.
One could spend a lifetime exploring this park and never get sick of it. But I recommend a few things to get you started.
EASY TO MODERATE HIKES:
TAGGART LAKE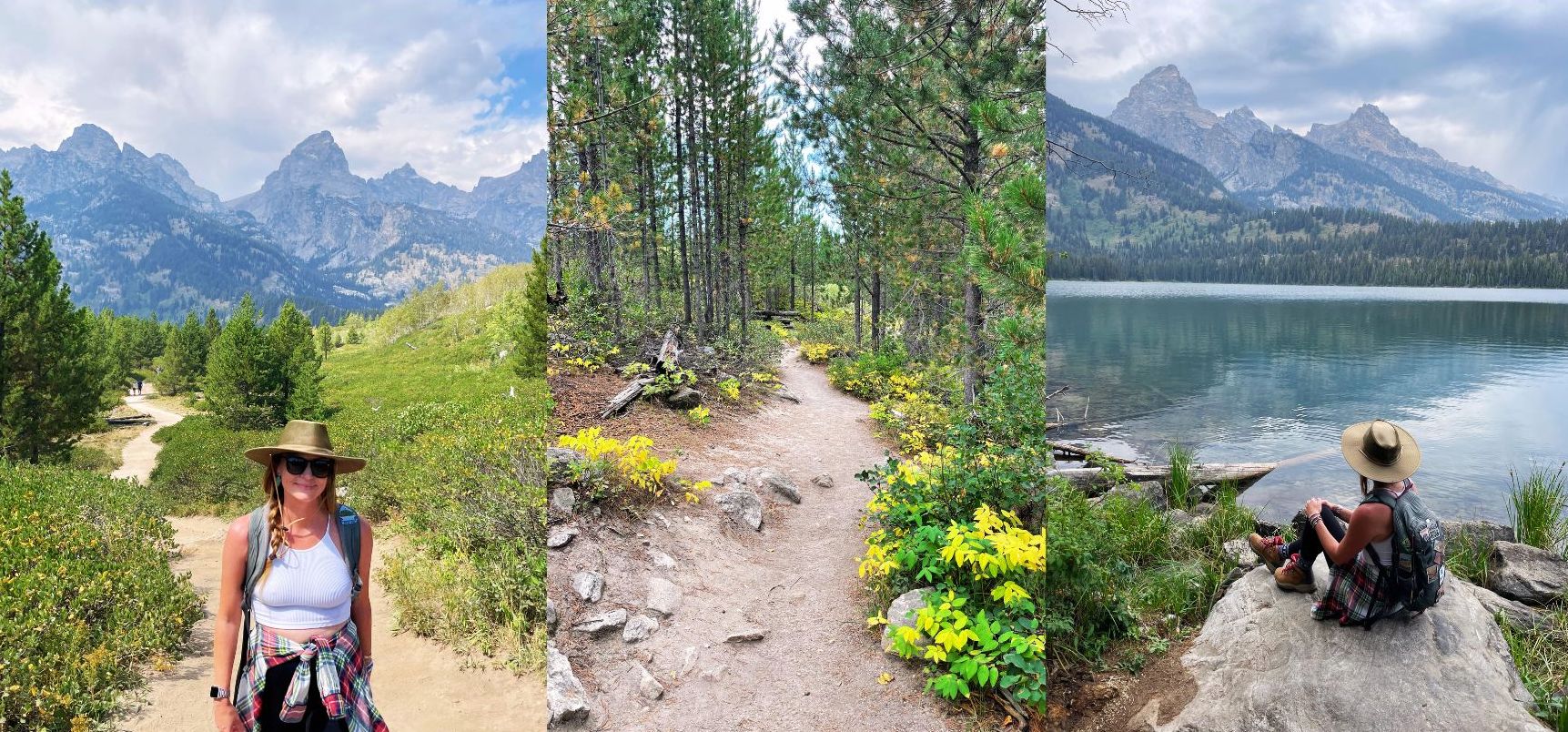 If you're not used to elevation, mountain air, and hiking, I'd stick with easy-to-moderate hikes on your first visit. When a hike in the Teton Range is rated as difficult, it is – trust me. I always recommend the famous Taggart Lake Loop to visitors. At just under 4 miles out and back, it offers some of the best views of the Teton Range, with a slight elevation gain and an incredible lake to take a breather at before returning.
STRING LAKE LOOP
Another fantastic moderate loop hike is String Lake Trail, at just 3.7 miles roundtrip and only 252 feet of elevation gain. It begins at one of my favorite spots in the park – String Lake and continues around with beautiful views of String and Leigh Lakes. You can also continue to Cascade Canyon from this trailhead, which is much more strenuous.
ACTIVITIES:
KAYAK AT JACKSON LAKE
If you visit in the summer, you'll want to get out (or in) Jackson Lake. Rent a kayak or canoe on the water at Colter Bay Marina for an hour or two with incredible unobstructed views of Mount Moran and the Teton Range. Kayaks start at just $35 per hour, and canoes just $30. You can also opt for a motorboat rental.
SWIM AT JACKSON OR STRING LAKE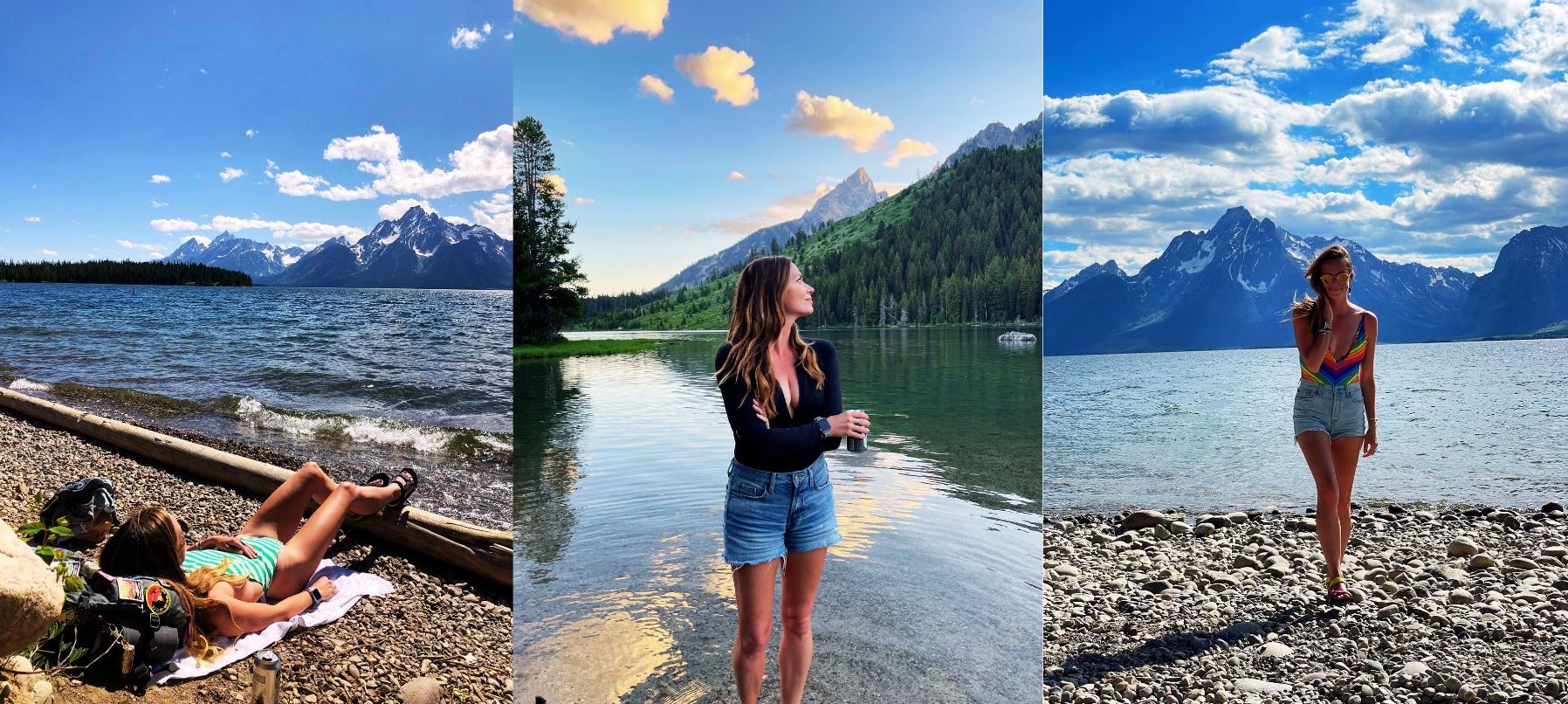 I love to spend time on the Jackson Lake Swim Beach with a snack and maybe a drink, dipping my toes or going entirely in the water, depending on the time of year. You'd be surprised how many people you'll find swimming in this natural cold plunge. String Lake is another perfect swim option, with seemingly warmer water and — in my experience — fewer crowds.
JENNY LAKE BOAT TOUR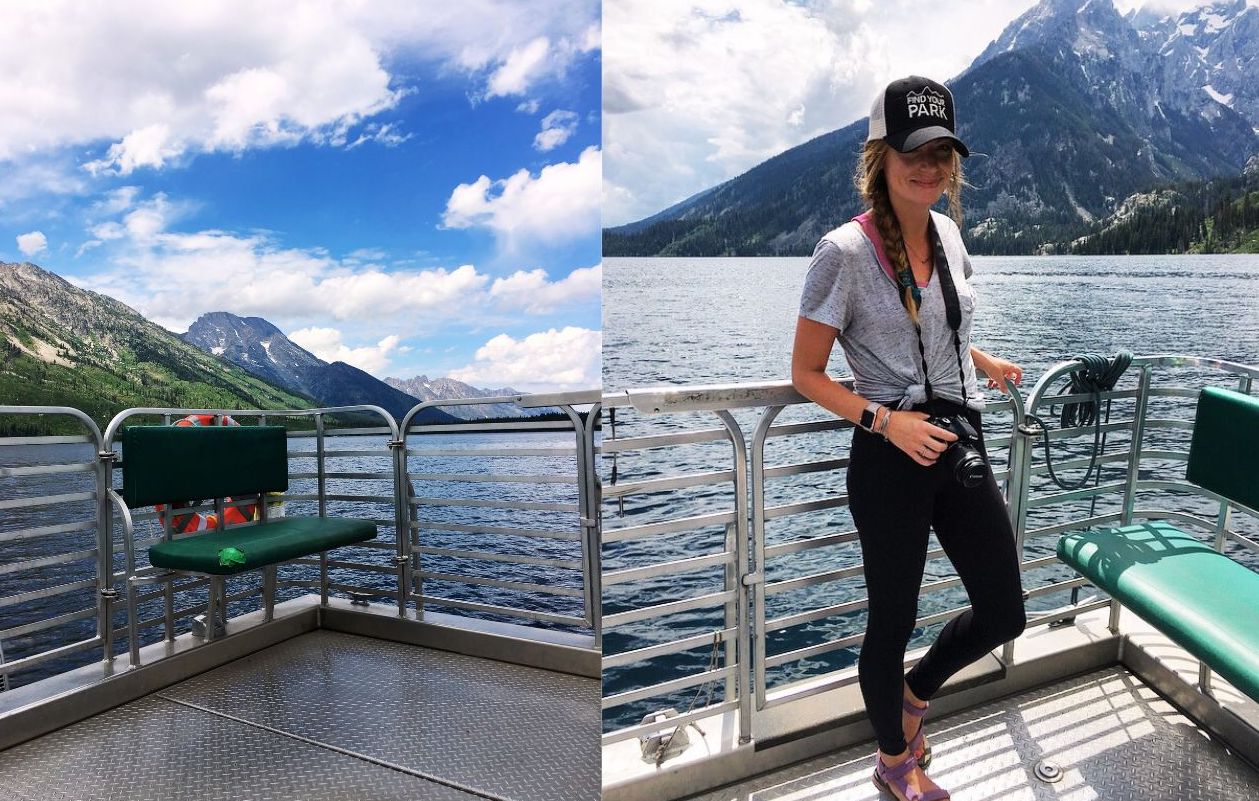 If you visit during the summer and early fall season, be sure to book a trip on a boat tour of Jenny Lake. One of – if not the most popular spot in the park – Jenny Lake is classic Tetons. While you can shuttle across the lake to shave some miles off a hike, I recommend the scenic cruise learning from NAI Certified Interpretive Guides.
FLOAT THE SNAKE RIVER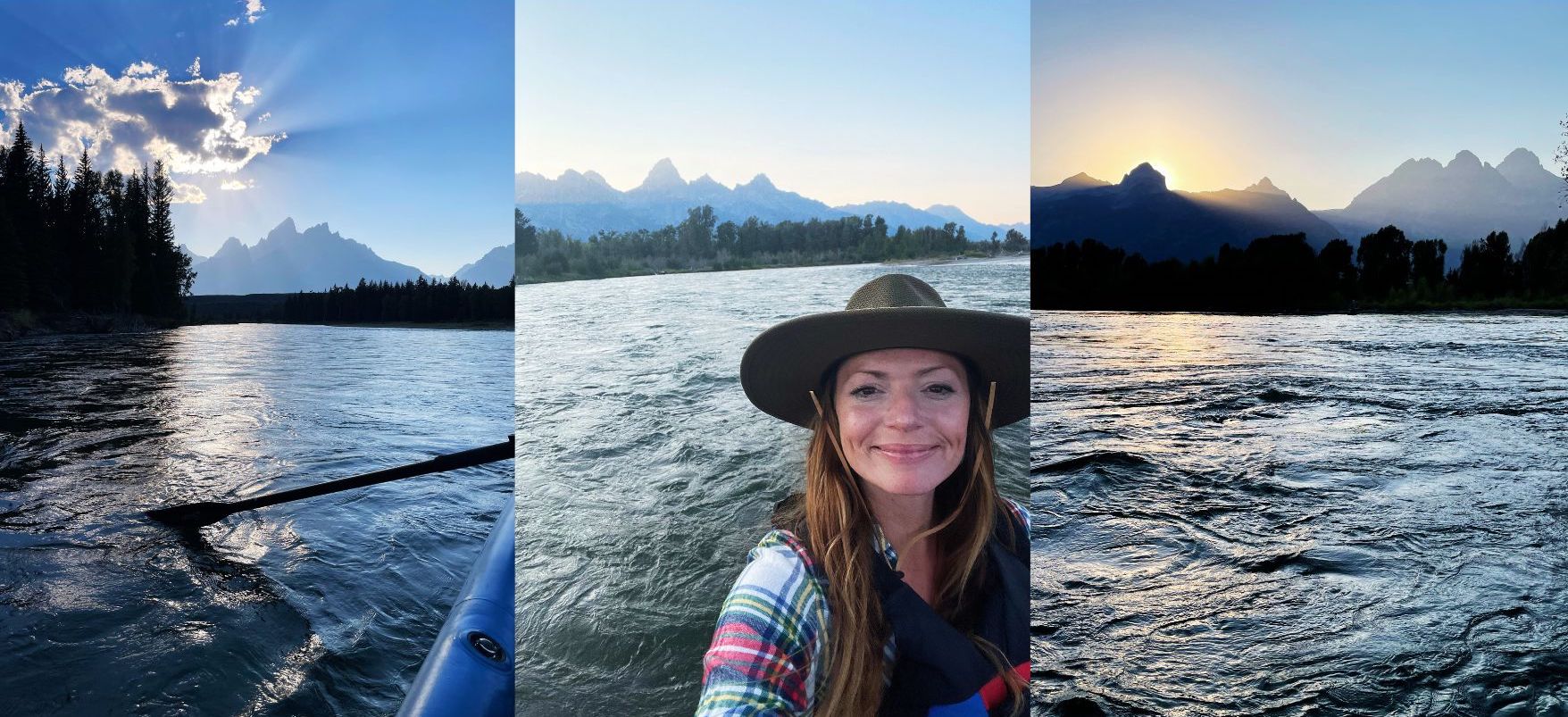 Something I love about the Tetons is the abundance of water. There is always a lake or a river nearby, including the legendary Snake. With headwaters just inside nearby Yellowstone National Park, the Snake is a major tributary of the Columbia River and the largest North American river emptying into the Pacific. The most famous photos of Grand Teton by Ansel Adams feature the Snake prominently, and it's a bucket list experience to get out on. Many guiding companies run rafting trips down the Snake, which is more scenic than whitewater and offers a view you would never otherwise have of these majestic mountains.
WHERE TO STAY:
MOUNTAIN MODERN MOTEL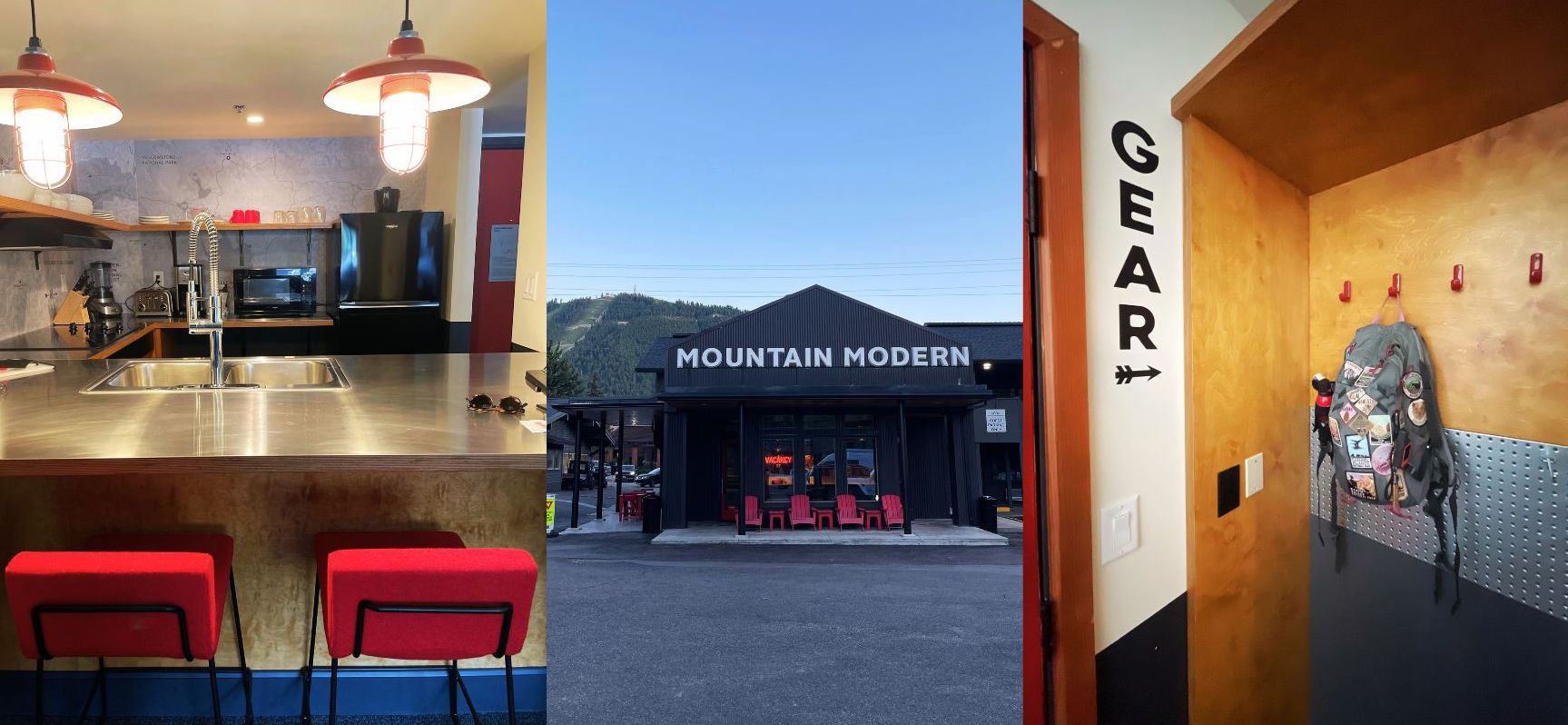 Just two blocks from the iconic Jackson Square lies the revamped and renovated Mountain Modern Motel. Offering many different room types – I loved the one-bedroom suite – this isn't your average motel. With a great sense of style that brings in elements of the surrounding mountains and thoughtful details for the adventurer among us, it perfectly toes the line between an adventure basecamp and a luxurious place to relax after a long day of exploring.
CAMPING AT COLTER BAY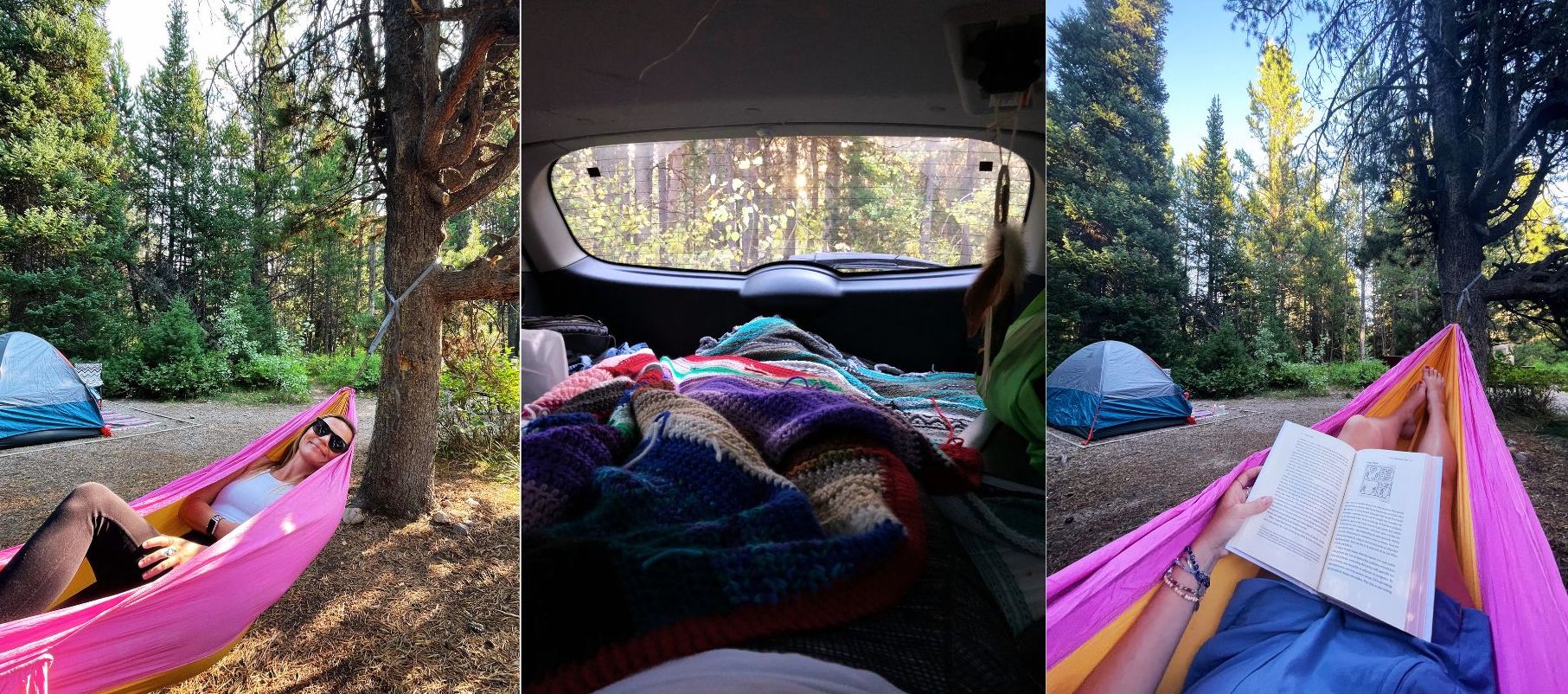 During the warmer summer months, I love to spend a couple of nights in the park camping – and I always choose Colter Bay Campground. It's large, with easy access to the general store, grocery, restaurants, marina, and lake while feeling secluded amongst the trees. You'll have to reserve your site in advance (like all campgrounds in the park) on recreation.gov. Reservations can be made up to 6 months in advance.
WHERE TO DRINK:
MILLION DOLLAR COWBOY BAR
You can't visit Jackson without a stop at the Million Dollar Cowboy Bar. A Wyoming staple, the bar – established in 1937 – has long been the go-to venue for drinks, Western dancing, and music. I always love walking in for a glass of wine and sitting at a table to people-watch.
JACKSON HOLE WINERY
I always aim to find a local winery on my travels, even though many local wineries are… not exceptional, we'll say. But Jackson Hole Winery is one I keep coming back to. The setting outside town is so idyllic you might feel like you've stepped into a movie set, and the wine is just as impressive. There are only tastings available at the Winery location (glasses available at the downtown tasting room), but that is what I recommend anyway.
Make an advanced reservation and come ready to enjoy the libations and the view. The Rendezvous Red is a favorite.
THE ROOFTOP AT THE CLOUDVEIL
For the most stunning view on the square, head up to The Rooftop at The Cloudveil. The newly opened luxury hotel is perfectly appointed with rustic chic furnishings that complement the mountain vibes. I enjoyed a glass of wine (or two) on the rooftop, admiring the view of the mountains and square below before heading downstairs for dinner.
WHERE TO EAT:
THE BISTRO AT THE CLOUDVEIL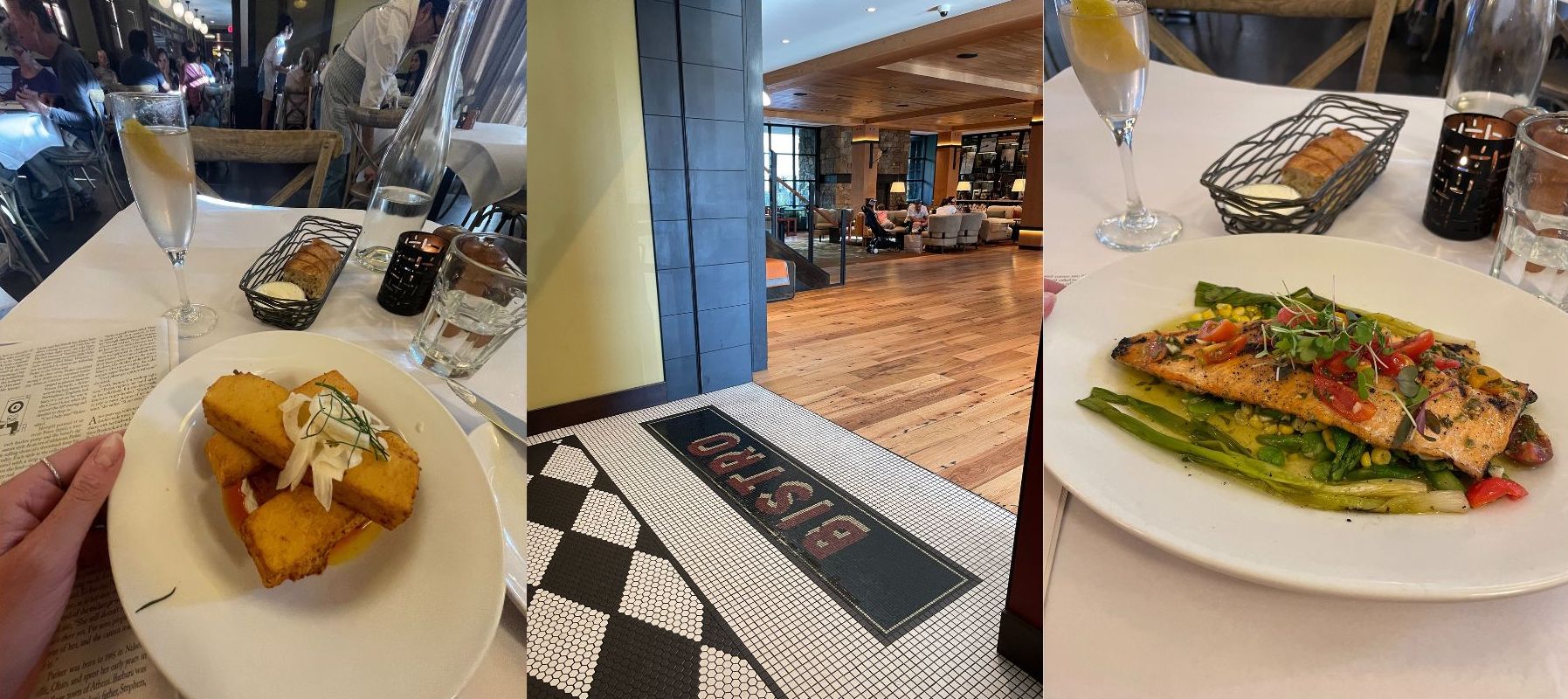 On the main floor of The Cloudveil, you'll find The Bistro, a Parisian brasserie-style restaurant with outdoor café dining, a zinc bar, a fresh oyster bar, inventive cocktails, and seasonally prepared dishes. I started with Panisse Chickpea "Fries" with Greek yogurt that was surprising in all the right ways, and followed it with Grilled Trout accompanied by charred corn, fava beans, asparagus, vierge sauce, and spring onion.
The service was exceptional, and I only regret not returning for more the next night.
DORNANS CHUCKWAGON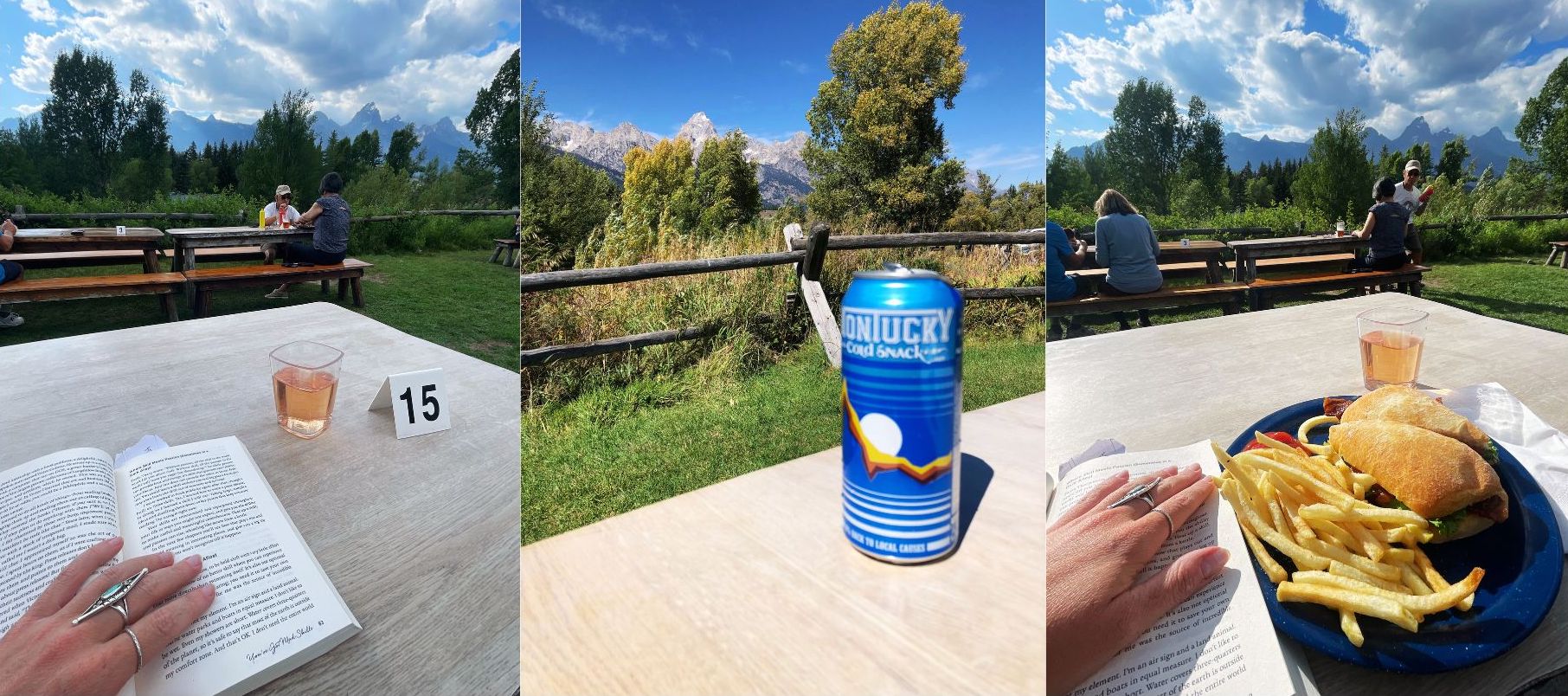 A Grand Teton classic, Dornan's Chuckwagon (open seasonally) has served hefty portions to travelers since 1948. Just outside the park gates, you'll be gobsmacked by the Teton view as you enjoy your meal. I generally opt for a burger (when at a chuckwagon, right?) and a beer or glass of wine. The atmosphere is casual and absolutely stunning.
LEEKS MARINA PIZZERIA
Grand Teton is somewhat unique in National Parks in that there are several dining options within the park itself. One of my favorites after a long hike is always Leeks Pizzeria. Located on the park's North side (a perfect stop between Yellowstone and Grand Teton), Leeks serves up pizzas, calzones, and local brews in a casual atmosphere with incredible views. Like many other offerings in the park, it is open seasonally, but you can never plan too soon – especially when pizza is involved.
JACKSON LAKE LODGE — BLUE HERON LOUNGE
For something slightly more upscale (but National Park upscale is still decidedly casual), check out Blue Heron Lounge within Jackson Lake Lodge. I love to stop in National Park lodges on my travels as they generally have incredible architecture, history, and views – add a cocktail, and I'm in heaven. I recommend sitting outside at Blue Heron and enjoying the panoramic Teton views with a drink and a casual bite.