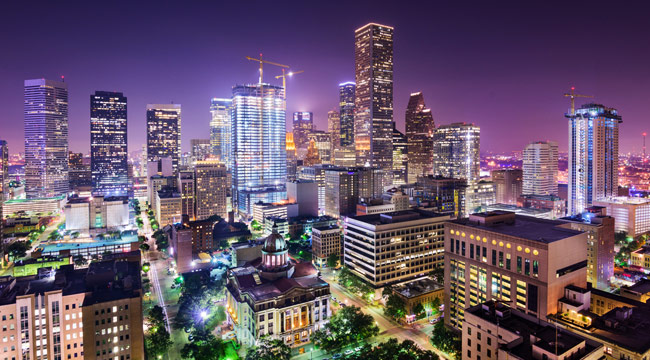 It's expected that over a million people will be descending onto Houston, Texas for Super Bowl LI this year — just under half of the city's 2.29 million residents. The fourth largest city in the U.S., Houston has made a name for itself with world-class museums, fine-dining, and a massive international community that makes up the sprawling metropolis. Should you be one of those million people headed to the Bayou City this weekend, or any weekend, for that matter, you'll quickly find that there are no shortages of things to do that will fit any interest.
From niche oddball attractions to internationally known destinations, here's a small sample of what the city of Houston has to offer.
The Orange Show

For almost a quarter century, Houston postman Jeff McKissack worked in solitude to create an elaborate labyrinth out of nothing but recovered building materials, discarded gear, and whatever else he could scrounge up. What became known as The Orange Show started back in 1956 on an old lot in Houston's East End neighborhood, and continued until McKissack's death in 1980. Not long after, a non-profit was founded specifically to preserve The Orange Show as an essential part of Houston's culture.
Since then, it's hosted everything from exhibitions to performance art to rock concerts. It's only open on weekends from noon – 5 pm (weather permitting, of course), and if you're over 12 there's a $5 admission fee.
Project Row Houses
Located in Houston's Third Ward, Project Row Houses was a project started in 1993 to create a positive, creative outlet for the African-American community. Based on the mutual interaction between art and the people, the artists' creativity is used to cultivate revitalization, preservation, education, and human empowerment in their neighborhood and Houston's cultural landscape.
Project Row Houses are open to the public Wednesday through Sunday from noon to 5 pm, where everyone is encouraged to come down and engage with the artists and learn more about how they're using their work as a force for positive change.
The Rothko Chapel
Originally intended to be part of the University of St. Thomas campus, The Rothko Chapel ended up becoming an institution onto itself. It boasts a main, octagonal room with eight panels that display 14 specially commissioned paintings by abstract expressionist Mark Rothko, which he described as a window into "the timelessness and tragedy of the human condition." Over the years, the Chapel has invited religious groups of all denominations, as well as non-believers, and hosted such esteemed guests including the Dalai Lama, Desmond Tutu, and Nelson Mandela.
It's usually open from 10 am – 6 pm everyday, though it is occasionally closed for private events, so make sure to check out their calendar before heading that way.
Cactus Music

The godfather of the Houston record stores, Cactus Music has been supplying Houstonites with music from all genres for more than 40 years. Originally located on South Shephard Ave, it's allegedly where filmmaker Wes Anderson discovered the British Invasion, years before compiling the soundtrack to Rushmore. The old location was shuttered in 2006, but re-opened on Portsmouth Ave just before the holidays in 2007.
Cactus Music is known for its deep, long-running connections to the heart of Houston's music scene, and its seemingly endless inventory of CDs, vinyl, and cassettes to sort through. Not to mention their legendary in-store performances that consistently attract top acts both local and from out of town.
You can check all this out anytime from 10 am – 9 pm, seven days a week.
Space Center Houston
Opening in 1993, the visitor's center of the Johnson Space Center, known as Space Center Houston, has become one of the biggest and most appealing draws in the city. With more than 400 activities to take part in, visitors get a chance to see moon rocks up close, gaze in awe of spacecraft, and even look behind the scenes of America's space program. It's operated by the Manned Spaceflight Educational Foundation Incorporated, along with some creative input from Walt Disney Imagineering.
Admission is anywhere between $25 to $30 based on age (worth it!), but with a little extra investment you can become a sustaining member, or book one of their Level 9 tours, which gives a full VIP experience of the inner-workings of NASA. The Center's hours also vary a bit based on the season, but generally keep close to the standard 9 am – 5 pm timeframe.

San Jacinto Monument
It's about 20 minutes outside the city, but this almost 568-foot-tall tower is every bit worth the effort to make it to. Topped with a 220-ton star, the San Jacinto Monument was constructed as a memorial for the Battle of San Jacinto, which turned the tide of the Texas Revolution. It's the tallest masonry column in the world, even beating the Washington Monument by a dozen feet or so. Inside the base you'll find the San Jacinto Museum, dedicated to not just the Texas Revolution, but the history of of Texas on a whole.
It's open 7 days a week, and charges a tiered admission based on what you'd like to see, be it the exhibitions, the observation floor, or the Texas Forever interactive experience. Don't worry, combo packs are available for those eager to experience it all.
The Buffalo Bayou Park Cistern
First built in 1926, this massive underground cistern was the source for Houston's fresh water supply all the way through the early 2000s. The space was reopened last year after minimal renovation to host public art installations, all thanks to the Buffalo Bayou Partnership. It's about the size of one-and-a-half football fields inside, with over 200 25-foot columns. It can also produce a perfect 17-second echo from any spot.
Located just west of downtown, the cistern is open Thursday and Friday from 3-7 pm, and weekends from 10 am-5 pm. Admission is just $2 a head, (except on Thursdays when it's free), and includes a 30-minute guided tour of the space.

Glenwood Cemetery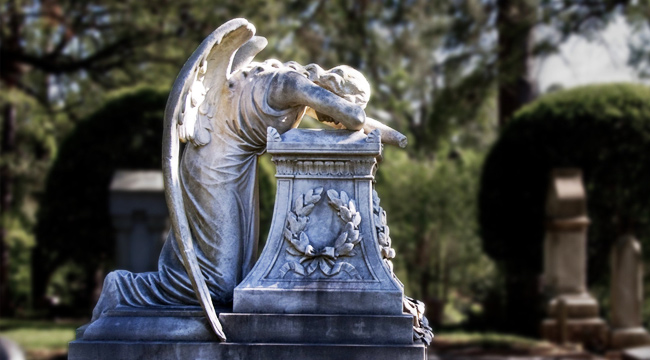 A bit further west of Buffalo Bayou Park is Glenwood Cemetery, which was first opened back in 1871. With 60 acres patterned after the lush garden cemeteries of the era, Glenwood was always regarded as a beautiful, naturally landscaped park. Some of the most notable figures in Texas history are buried here — including famed industrialist Howard Hughes. It's also said that the ghost of the cemetery's one-time owner has haunted the grounds since his (still unsolved) murder.
The cemetery opens its gates from 7 am – 5 pm on Monday through Friday, and private tours are also available by reservation.
Houston Zoo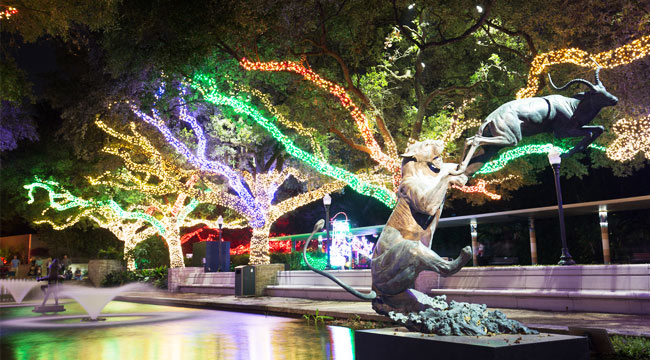 Boasting more than 2 million guests annually, The Houston Zoo is home to over 6,000 animals from more than 900 different cities. Originally run by the city of Houston, since 2002, the Zoo has been operated by the non-profit Houston Zoo, Inc. Boasting animal welfare, sustainability, and connecting communities to their environment.
It's open seven days a week from 9 am – 6 pm, just make sure you show up before 5 pm or you won't be let in.
Beer Can House
If you only manage to squeeze in one extra stop during your Super Bowl weekend, you could do a lot worse than Houston's notorious Beer Can House. What started back in 1968 when railroad worker John Milskovich was looking for an affordable way to add aluminum siding to his house eventually became a home adorned by more than 50,000 beer cans — as estimated by Ripley's Believe It Or Not. But Milskovich considered his work to be more of a hobby than any kind of fine art, even though he did get a kick out of the reactions from passers-by.
It's open on weekends from noon – 5 pm with a $5 admission, making it the perfect pitstop while you're in Bayou City.