Pumpkin spice lattes are being guzzled, Goodwill stores are ripe with the funk of a thousand resold costumes, and leaves are making their final color changes — from yellow to deep red. That's right; it's autumn. Late autumn, at that. Your last chance of 2018 to enjoy the fall foliage.
But you can't just run around willy-nilly taking pics of leaves and expect people to receive them favorably. First of all, everyone is inundated with those images this time of year, and secondly, a lot of them are poorly shot. For the good of The 'Gram, you really need a camera and some know-how.
That's where Deborah Sandidge comes in.
"Everyone sees the same subjects," the professional photographer notes. "I'm trying to see them a little bit differently."
And that's what you want: to see the changing leaves of fall in a fresh way. The online photography teacher, workshop leader, seminar instructor, and Nikon Ambassador took time out of her hectic schedule to give us some suggestions about how that might be accomplished. Check out her tips and put your seasonal pics over the top.
Try A Wide-Angle Lens
I like to start out by using a wide-angle lens, so often I'll reach for my Nikon 15-35mm lens. If the sky is kind of gray, I'll compose so that just the trees and the landscape are in the shot. And often, if it's nice, I'll use a tripod to stabilize the shot, with a cable release. I work with that idea, making sure everything is sharp. But if it's really breezy, leaves may move in the wind and I'll let that soft blur happen for a creative effect. That's kind of cool. I would also invite a friend to do this shot. If you somebody with you, have them wear red just too add a punch of color into the wide-angle shot. That's a very interesting way to work with the idea.

Try A Telephoto Lens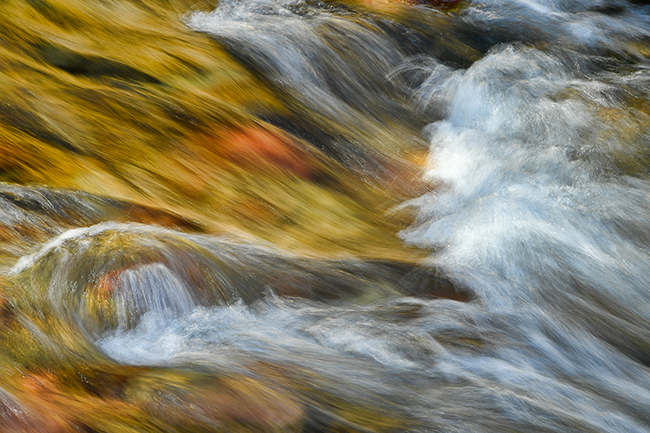 Another idea to use is a telephoto lens. I like to isolate fall color. With a telephoto lens, you can experiment with different depths of fields. You can have everything sharp or maybe just a subject sharp. So you can try isolating a particular section of leaves or a particular background like a rock that's maybe in a reflection of water or textured bark and a single leaf against the bark. The key is to find something that you can isolate the subject with. Often, I'll reach for my 70-200mm lens, so it works out really great for a lot of composition.
Once I've established the shot and I've moved in for some of the details, I like to reach for a 105 macro lens. A macro lens is gonna allow you to isolate a single leaf and show the depth and detail like the veins in the leaf and the color. You can fill this frame with just a single leaf. That's gonna look amazing. If you have the opportunity to shoot the leaf backlit, so you have that gorgeous translucence, that's a really nice idea to work with.
Try A Polarizer
Another idea is to use a polarizer. With fall photography, you can use a color-tinting polarizer or anything that's going to accentuate the color. You'll find that the effect and intensity of a rotating polarizer works really well for the composition. This is one you can try with a telephoto zoom and just see the effect. Often that'll cut down the glare and the reflections in your photograph.
Experiment With A Fish Eye Lens
I would use a circular fish-eye lens. I have this favorite lens. It's a Nikon 8-15mm lens, and it's very cool. At 8mm, it provides a perfect circle shot. I like to get in the midst of the trees and take the camera at 8mms and shoot straight up. What happens is all the trees are completely rounded and are encompassed in this vivid color. That's a really fun idea. I love to work with that idea, and if you move the lens from eight to 15mms, then the view is rectangular, and that just fills the frame with color. A fish-eye lens is really like having two lenses in one, so you've got this variety that's gonna have a great impact with color.
Work With The Light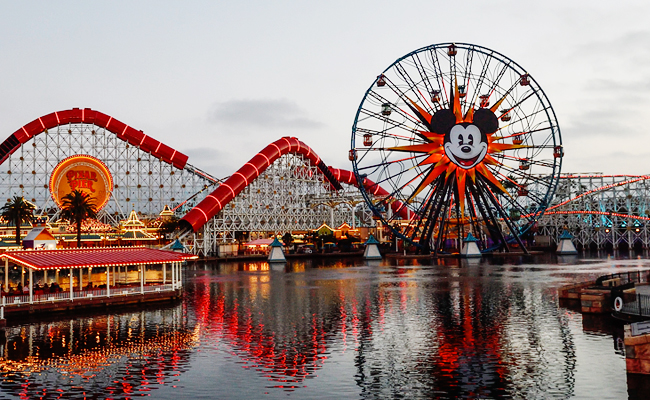 Another idea is to use the direction of light to your advantage. The light and colors of early morning and late in the day can add a lot of vibrancy to the shot. Side-lighting can be very dramatic. You can see all these beautiful shimmering leaves that are illuminated from the sun. It can capture a nice glow of color.

Try Video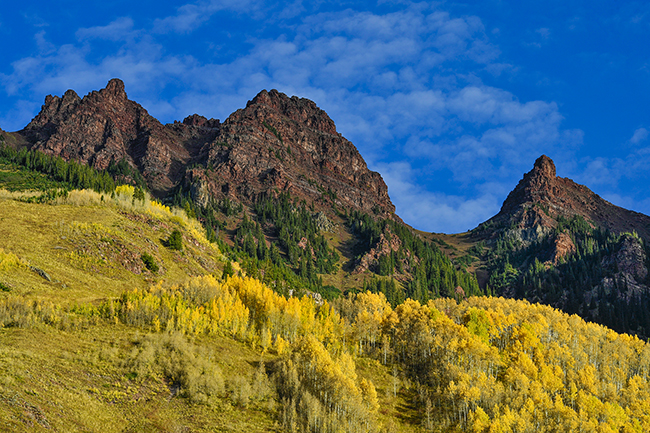 I would absolutely think about capturing short videos, which is super easy to do. I've been doing this with my Z7. It's a new camera, you can actually hand-hold and do short little video clips and put that together with your stills. It ends up having an enhanced narrative, it's another way to tell your story.
Find Reflections
Look for dramatic reflections. If you're out and you see there's a body of water or a stream, you're bound to find the vibrant color reflecting in there. This is where I reach again for that telephoto lens and isolate a certain section of the water to capture those beautiful reflections. If I'm shooting the water, I try to look for something like a rock or a boulder that I can put in the picture to ground the composition. In this case though, if you're shooting that kind of thing, you might want to use a neutral density filter or even a polarizer to help slow down the exposure to get this beautiful, colorful, look with reflections.
Try Multiple Exposures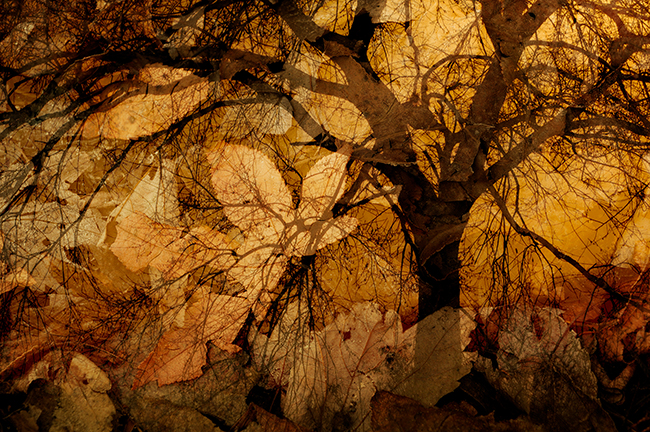 Image overlay, or multiple exposures, is really cool. Instead of just getting a static shot, you can create a sense of motion by using multiple exposures. You can shoot those two to 10 multiple exposures in a single shot. Just move the camera slightly and in small increments. What I like to do is shoot two images. For example, find a silhouette of trees and a second one that is just the leaves, and put these two images together for double exposure. It's really creative, and a beautiful way to work with fall foliage. My camera has this double exposure feature, so I think it's a really great way to tell another variety of your fall story.
Look For Sunbursts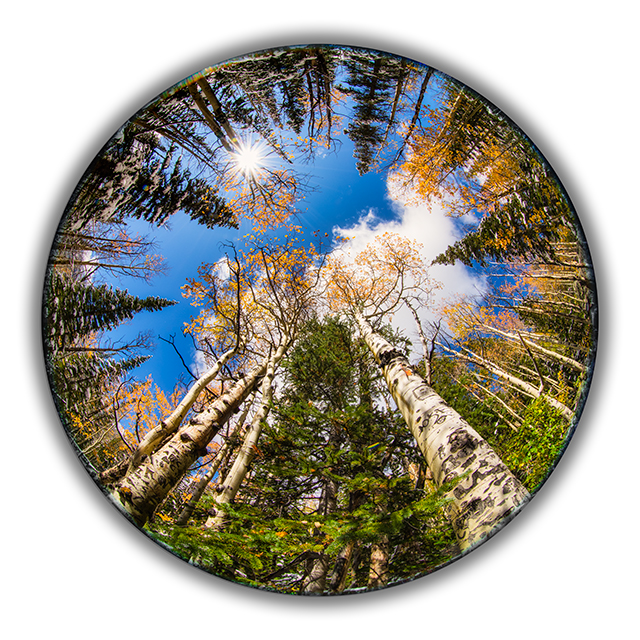 If I get the opportunity where I have a nice bright day and there's a sunburst, I can create a sunburst and add that to my photograph. The technique and the key to doing this are to narrow the aperture to about F11 or F16. I'm going to compose so that the sun is peeking behind the tree, so it's sort of behind some element of the composition. It just adds a sparkle and a little bit of glow. I love to work with that idea. In some of my shots with the fish-eye lens, I try to incorporate a sunburst into the photograph. It adds a lot of drama and intrigue.

Keep Experimenting
I would work with different apertures, with very different fields, so you can work with a wide aperture or you can stop down and get everything sharp in photographs. There's a lot of different ideas to work with. If you have a beautiful leaf, and maybe you have some water in the background, or just some washed up color because you trade the view for a wide aperture, you'll keep your subject sharp and allow the background to fall into soft focus. That can be absolutely beautiful. I would say use open landscapes, trails, mountains, old barns, anything in your shot. Include a person. Have them wear something bright. Again, you have a lot of different versions of your composition, so you have different visual narratives of fall.
If you like how your pics turn out, you should totally share them with the Nikon hashtag for your state (e.g. #NikonFallNY, #NikonFallMI, NikonFallCO, etc.). Nikon will be tallying up the photos for each state until October 31st and will announce the winning state in November.