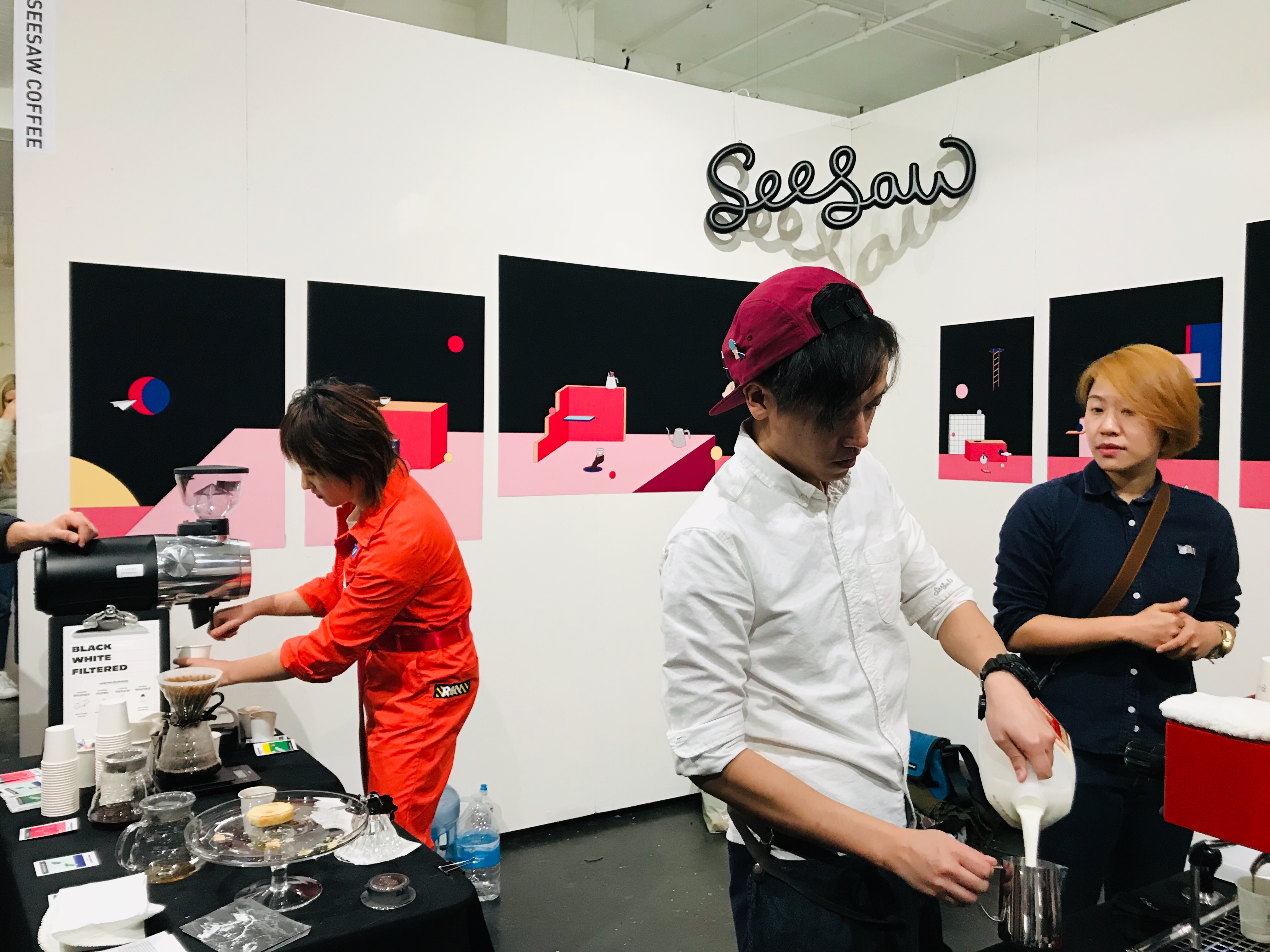 We've all tried to make that early morning coffee run before work. You know, the one we never make on time (despite leaving our houses fifteen minutes earlier than normal). It's an awkward moment when you tell your boss you're going to be a bit late, only to roll up half an hour later with a steaming cup and a muffin in tow. But we go through great lengths to be with the one we love and a cup of coffee is worthy of mass adoration.
Coffee has been there for us through late-night cram sessions, the daily grind, and hangovers aplenty. But in recent years, coffee has been seen as more than just a kickass legal drug that doesn't suffer from antiquated social stigmas, it's also been fully hipsterfied. The craft movement has hit coffee in a big way and we all reap the spoils.
No place exemplifies this better than last week's Los Angeles Coffee Festival. Created by festival-head Jeffrey Young, the Coffee Festival made its west coast debut in Los Angeles at Downtown's Magic Box convention hall this week. Naturally, I showed up — ready to peep the trends and get caffeinated as hell.
A major gripe I have with the Magic Box is its low ceilings, but the Los Angeles Coffee Festival expertly remedied this situation with beautiful booth designs and an abundance of house plants. The three-day event played host to both local and international roasters, coffee clubs (a real thing), and featured interactive exhibits and samples upon samples of creative coffee, or tea-based drinks.
The festival started promptly at 9:30 a.m. and while that sounds tragically early, it makes perfect sense considering the subject matter. I naively went in thinking this was going to be different than any festival I'd been to before. Without beer gardens, the urge to expand one's mind with psychedelic drugs, and tragically late headliners, just what kind of festival could it be?
But make no mistake — the Coffee Festival will f*ck you up.
https://www.instagram.com/p/BqBO2-cAn21/
While many at a festival will flock to the nearest beer garden or drink vendor, at the Los Angeles Coffee Festival every vendor is a drink vendor. One minute you're walking around sampling coffee, talking about coffee, learning about coffee, and suddenly your brain is pinballing wildly as you accidentally speed-walk in an endless circle around the convention hall.
Your heart pounds, you become slightly confused, your body begs for hydration (luckily there are hydration stations) and you start being overly friendly with everyone.
"OHHAIGREATTOMEEETYOUIMDANEFROMUPOXXX!"
I've never complimented a stranger at a festival, but suddenly I was asking people where they got their pants, telling them about how much I loved their make up, and asking if they'd tried the Blue Moon Matcha milk tea at the Rishi Booth yet.
"ILLSHOWYOUANDIMIGHTASWELLGETANOTHERTOO!"
What can I say? Caffeine is a hell of a drug.


The bigger point is, you make friends at the Los Angeles Coffee Festival because everyone is so damn friendly and wired-as-shit. Also because of the booze.
Mr. Black is a cold press coffee liqueur, and bottles-upon-bottles of the stuff were on hand, being mixed with Grey Goose and served in plastic martini glasses. If you think before 10 am is too early for a coffee-based cocktail well, you just aren't living right. Do you need a coffee and vodka cocktail to have a good time at the Los Angeles Coffee Festival? No. Will it make you even more dehydrated? Yes. Naturally, I decided to have two.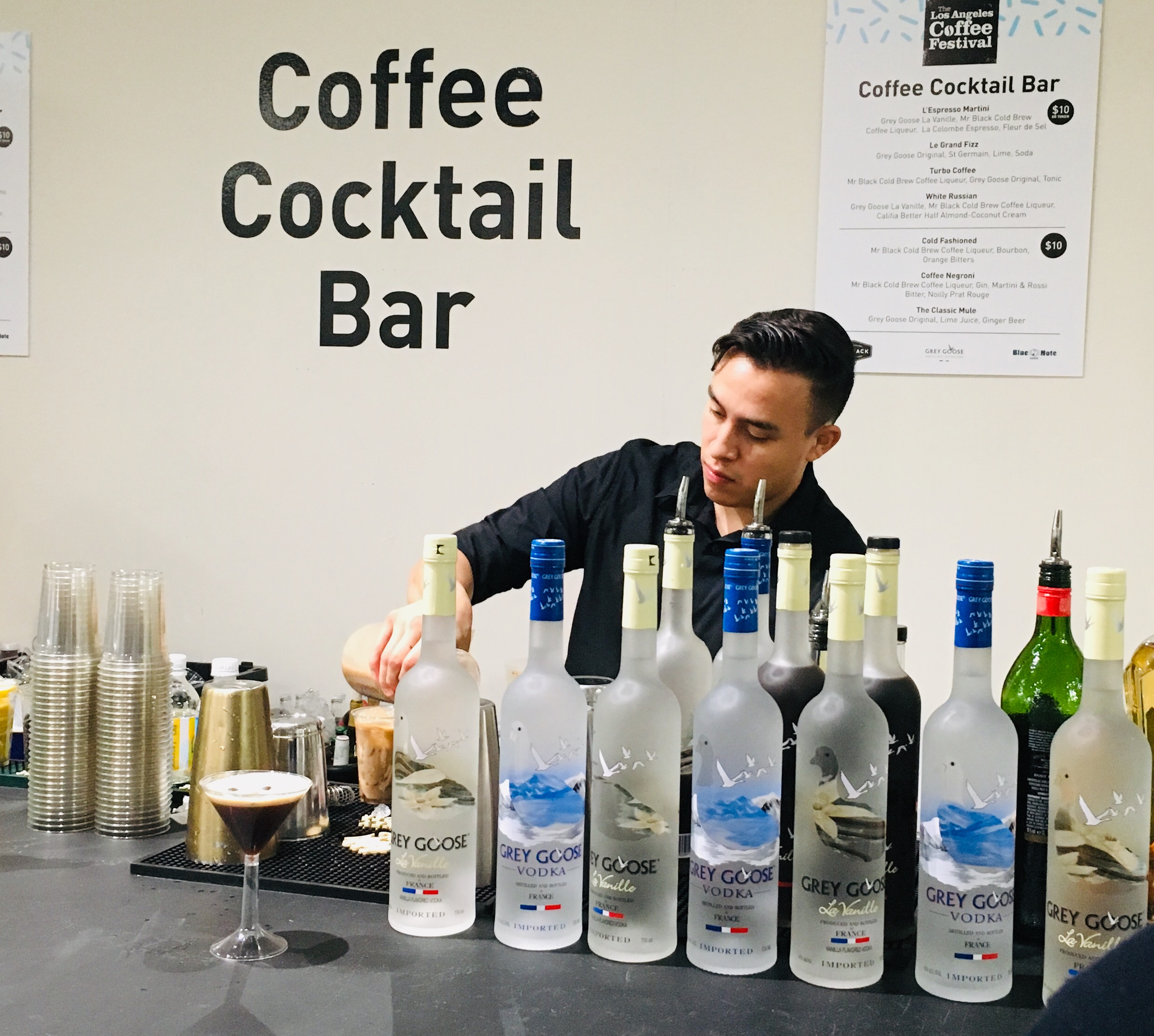 After I got a good buzz going, I explored the three main sections of the festival. The Lab features interactive demonstrations, educational workshops, talks, and tastings. It's a great way to learn more about coffee and tea and makes you feel a lot more connected to the craft behind cultivating and roasting coffee beans. More importantly, there are some truly vital discussions that happen in the Lab with topics like colonialism in coffee, environmental sustainability, and a panel with the women roasters of Stumptown. No festival has ever made me feel more like an intellectual — though the sipping of coffee helps.
The Kitchen is where LA chefs get to flex and present some innovative coffee-themed dishes right before your eyes, and the Tasting Room provides a deep dive into specific subjects like the art of tea, the coffee of Yunnan, and most notably the world of espresso cocktails. Aside from the three main sections the Los Angeles Coffee Festival also featured live latte art, a movie room, musical performances, and coffee-inspired artwork, it's astounding how much they packed into the three-day event.
In terms of trends, it seems that cold brew coffee isn't going anywhere from what I saw on the showroom floor and it's safe to say that the lines for coffee cocktails prove that an entire bar dedicated to coffee-infused booze would be a hit in Los Angeles or further afield. The abundance of matcha tea leads me to believe that an interest in clean sources of caffeine is growing, too. I left with so many different samples of matcha green tea powder that I've been using it as my primary source of morning caffeine every day for the past week. Spoiler: It works.
But if the Los Angeles Coffee Festival proves anything, it's that soon the best coffee isn't prepared in your local coffee shops — it'll be at home. The showroom had an abundance of espresso machines, bean grinders, and milk steamers that put all the best coffee craft tools in your hands. Attendees were pretty serious about the gear on display and vendors were equally knowledgeable about their coffee tech as they were about bean harvesting and latte-craft.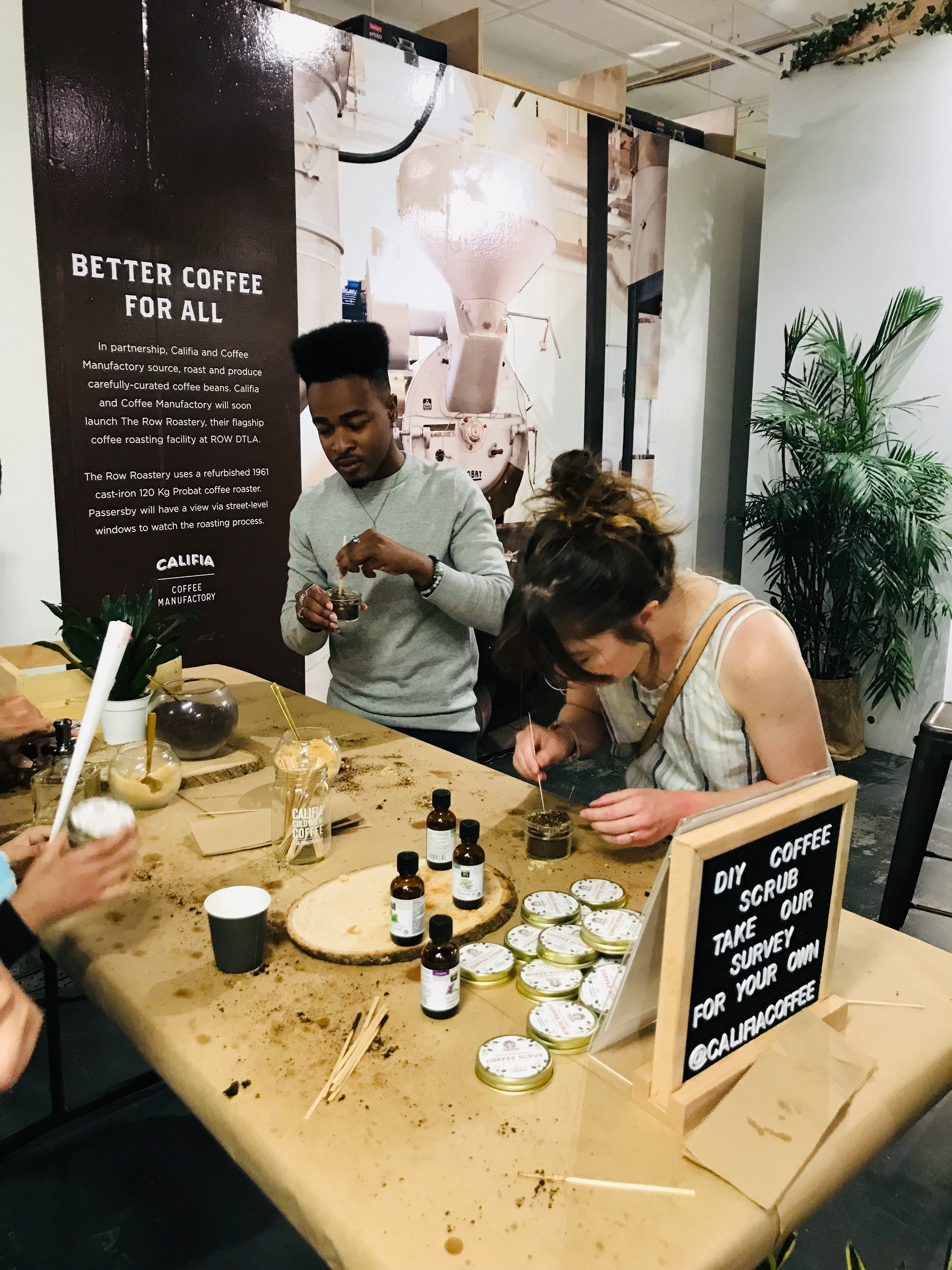 As I bounced off the walls and right out of the Los Angeles Coffee Festival, I realized that it was — as predicted — different than any other festival I've ever been to. To my surprise, it was better than most.