There's something about a Moscow mule that is timeless. Yes, it's super thirst-quenching, making it a great summer cocktail; but the layered ginger in the drink also gives it a wintry-fresh vibe, which feels very January. It's also extremely light, much needed after a heavy (on multiple levels) month of December.
The best part, though, is that a Moscow mule is easy to make. In essence, you can grab some vodka (chilled of course), pour that over ice in a mug or rocks glass, squeeze a lime over the vodka, and top that with some solid ginger beer. Done. And if that's your plan for making a Moscow mule, we're not going to stop you.
Still, top-shelf cocktails are about balance and depth. A good Moscow mule is fine. A great Moscow mule is something you'll want more than one of. We're here to help you go from "solid" to "superb."
To get the right balance for this drink, you have to add a few little flourishes to amp up the depth of the drink and help balance it out. The best thing you can do for your Moscow mule to help it pop is not skimp on the ginger beer (no ginger ale, folks), filter the pulp from your lime juice, and infuse your vodka with fresh ginger.
When I was coming up at Victoria Bar in Berlin way back in the day, one of my prep jobs was to fill a case of Smirnoff bottles with freshly grated ginger once or twice a week. Then, the next day, I'd filter out the ginger and stock the bottles in the freezer. Having that infused vodka at the base of your mule takes the drink from "hey, that's nice" to "Wow, that's f*cking great!"
Let's get mixing!
The Moscow Mule
Ingredients:
3-oz. ginger-infused vodka***
Fresh lime juice
5-oz. ginger beer
Ice
Lime
***Fresh ginger
I'm using Moskovskaya vodka. It's super cheap, easy to track down, and great for infusing. You can use Smirnoff, Stoli, whatever. Just make sure it's drinkable and not the bottom shelf/hand sanitizer stuff.
As for the ginger beer, I'm using Thomas Henry. I'm also a fan of Bundaberg and Reed's. The point is to use ginger beer and not ginger ale.
Lastly, make sure your limes are fresh and juicy. Don't be afraid to give them a squeeze to find the juiciest ones.
You'll Need:
Copper mug or rocks glass
Barspoon
Juicer
Knife
Box grater
Extra bottle
Funnel
Sieve
Jigger
This is a build-in-the-glass cocktail. Still, we're infusing vodka. So, there are few more tools necessary, but nothing out of the ordinary.
Method:
First, we have to make our ginger-infused vodka. You'll need a minimum of 24-hours to do this, as it has to sit overnight, get sieved, and then chilled. The point is to make a whole bottle of ginger-infused vodka to keep in your freezer for easy Moscow mule making.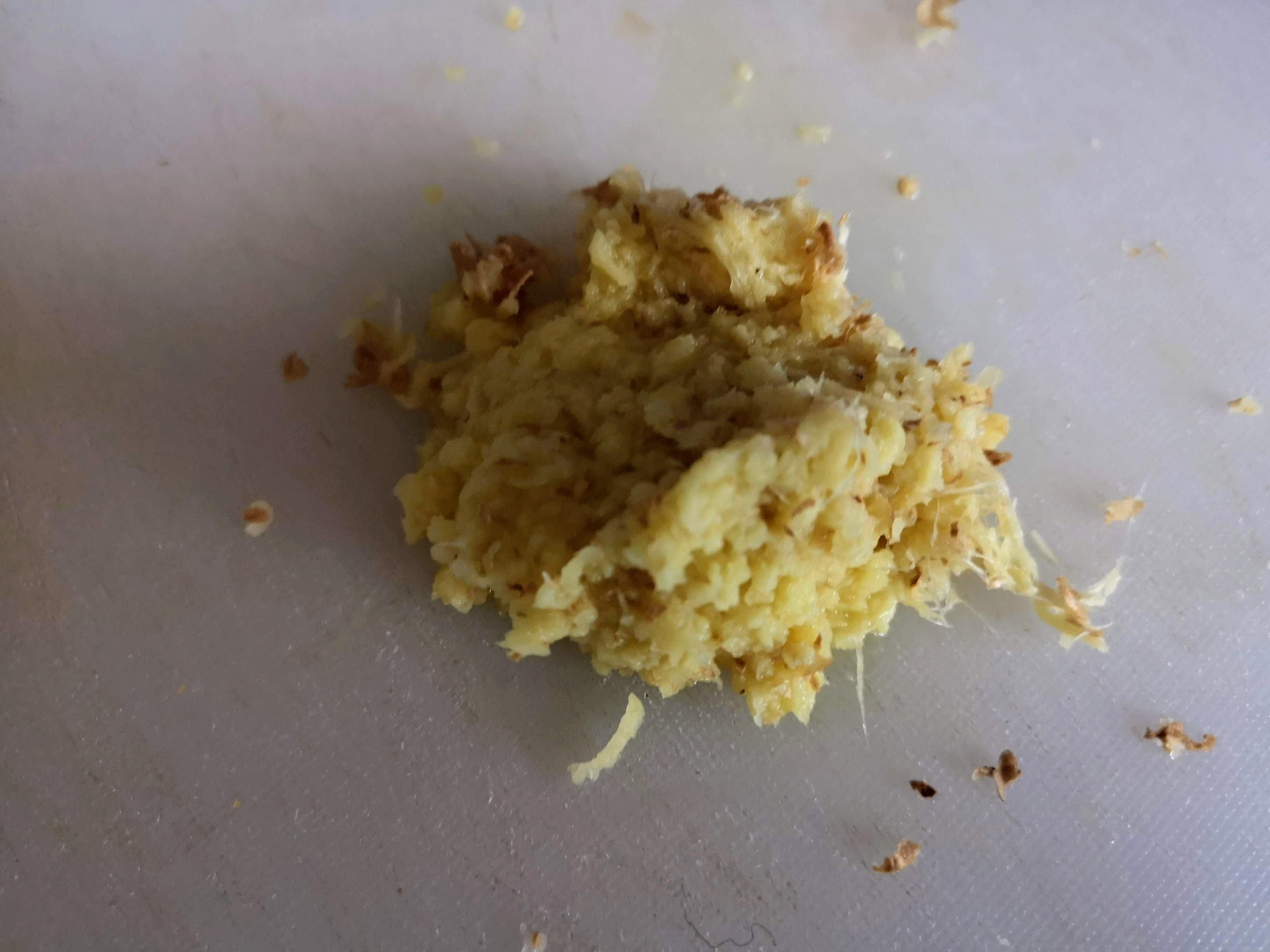 I use a standard box grater on the small teeth side to grate a thumb-size piece of fresh ginger. I then add that ginger into the bottle of vodka. I place that on the shelf and let it do its thing overnight.
The next day, I get an extra bottle ready with a sieve and funnel and pour the ginger-filled vodka through. Once poured through, I press down on the ginger to pull all the super gingery juice into the bottle. I then throw away the ginger flesh.
I place the bottle in my freezer to chill for at least four hours, preferably overnight again. Now, you have amazing ginger-infused vodka that's going to make your Moscow mules pop like they do at cocktail bars.
Okay, let's build the cocktail.
I'm not making lime juice on the side. I'm simply squeezing one lime of juice straight into the mug with a hand juicer and sieve. This saves time. If you want to juice and filter a bag of limes to have a bottle of lime juice in the fridge, go for it. I'm not in the mood for that today, so I'm squeezing limes straight into the cocktail.
Build like so…
Fill a copper mug or rocks glass with ice.
Add the ginger-infused vodka and lime juice then top up ginger beer.
Stir with a spoon and top with fresh ice.
Garnish with a lime wheel.
Serve.
The Bottom Line:
The first sip takes me right back to the bar. The ginger beer has a nice sharp yet sweet edge with that signature fizz. The real highlight is the tongue-tingling sense of fresh ginger in the vodka, which really helps this pop. It's an eye-opener!
The drink is fresh, spicy, sweet but not overly so, icy cold, and very quaffable. I may have to make a bottle of lime juice after all, because I want five more of these ASAP.