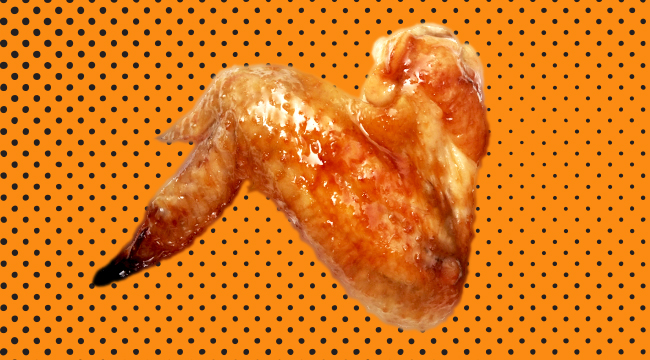 Get ready for the hottest of all hot takes. This take is way spicier than Tabasco and leaps ahead of Frank's Red Hot. Here it comes…
Handheld food is the best kind of food.
BAM! You read that right. We're talking about hot dogs, corn dogs, ice cream cones, burritos, empanadas, and gyros. They're the best because not only are they delicious, but they are completely portable. We all have places to go and people to see. Who has time to sit down at a table and eat with a fork and a knife? Not me, that's for sure. I'm insanely busy and wildly important. Get out of my way with a plate!
Of all of the wonderful, portable foods, the best of the best is the sauce-doused chicken wing. Invented at the famous Anchor Bar in Buffalo, New York, the Buffalo chicken wing in all its spicy goodness deserves to be celebrated 365 days a year (366 during a leap year). But, this delicacy is only technically celebrated one day per year and that day just happens to be today. In honor of this, restaurants all over the country are offering deals (and some are even giving away free wings). Check them all out below.
To celebrate National Chicken Wing Day, Anthony's Coal Fired Pizza is giving away free wings for a year. Enter the contest by signing up for the restaurant's loyalty program.

Participating locations are giving customers 5 free wings when you order 10 today.
Stop by participating Buffalo Wild Wings locations to get a free snack-sized order of boneless or traditional wings when you purchase a small, medium, or large order of wings.
In honor of the holiday East Coast Wing + Grill is offering 50-cent wings today.
Visit participating locations to get a free single meal (on your next visit) when you order a single meal and a drink.
To celebrate National Chicken Wing Day, Hooters is giving customers 10 free boneless wings when you purchase 10 boneless wings.

Five lucky customers will win free wings for a year for checking in at one of Hurricane Grill's locations using its mobile app.
Stop into participating Popeyes locations today to get six all-white meal boneless wings, a side, a biscuit, and dipping sauce for only $5.
To celebrate the holiday, participating Wingstop locations are offering 5 free wings with any in-restaurant purchase today. To take advantage of this offer, you need to use online code 5FREEWINGS.