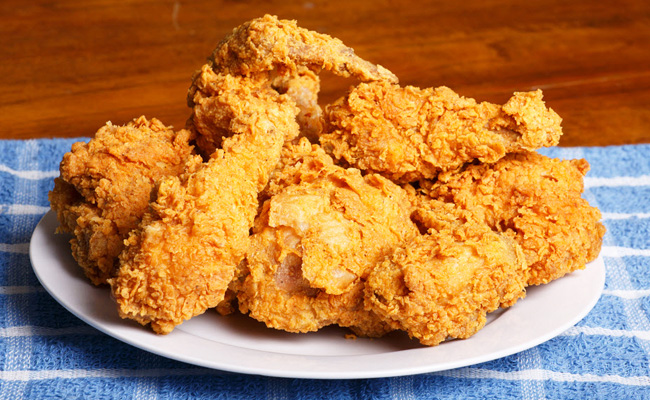 When summer rolls around, you can bet foods like ribs, corn on the cob, burgers, hot dogs, and (most importantly) fried chicken aren't far behind. There's just something blissfully nostalgic about summer foods. It's almost as if biting into a crispy, steaming piece of fried chicken brings us back to our childhoods, sitting outside in the sun, our fingers (and chins) covered in greasy goodness without a care in the world.
Here to take advantage of that childhood summer bliss is National Fried Chicken Day. The day when you can throw your diet out the window and bask in the glow of extra crispy days gone by. Plus, you can do it without paying a fortune because there are deals and specials to be had all over the country.
(Or you can literally drop a cool $100 on a plate, like our correspondents did. Totally your call)
NOTE: We know that some of these are just "deals" and some aren't tied to the day itself. We're just trying to help you eat for cheap!
https://twitter.com/jasontanamor/status/882974606440751104
Get your hands on the chain's fried chicken tenders and get a side of salad or soup PLUS dessert for an additional $2 today.
Grab this online coupon and head to your local Boston Market today to get an Oven Crisp Chicken Strips Sandwich or wrap for only $5.
Stop into BK today to get a ten-piece chicken nuggets for $1.49. You don't even need a coupon for this deal.
Use the code 1730 and get a 10-piece leg and thighs combo. But wait, there's more. The deal also comes with four biscuits and two large sides for $12.99.
Use the online code 5851 to get one large 2-topping pizza and 14 chicken wings for $19.99.
To celebrate National Fried Chicken Day, the grocery store chain is offering customers 4 pieces of fried chicken for only $1.99.
It couldn't possibly be National Fried Chicken Day without the Colonel. Visit any KFC location to get a Chicken Share meal that includes chicken tenders, chicken pieces, popcorn chicken, and hot wings for only $10.
To celebrate the day, Marco 's is offering a $13.99 specialty pizza deal but, you have to have this coupon. To get it.
Use the code 25OFF to get 25 percent off your order today.
Visit any location and get a free chicken entree with the purchase of an entree and drink. But you have to use the coupon code 414-752-574.
Use the code 2221 to get a box of 8 boneless wings for only $6.
You'll "love that chicken at Popeyes" because the chain is offering 10 pieces of Bonafide Chicken, 2 large sides, and 5 biscuits for only $10 today (check in your area to see if they have this deal).