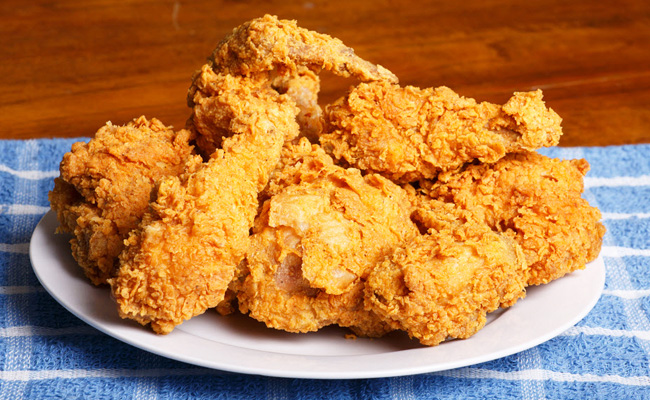 There are certain foods that feel synonymous with summer. Cheese-smothered hamburgers and mustard-slathered hotdogs are obvious choices (you can also opt for ketchup, if you so desire). Buttery, salty, corn on the cob (even if you eat it with a drill) finds it way onto many a summer table. Ice cream is no stranger to a sticky heatwave. But above them all, fried chicken is one of the most perfect of all summer foods. We're talking about crispy, greasy, shockingly-comforting fried chicken. The kind of fried chicken you can bring cold to the lake, eat steaming hot on the porch, or bring in a tupperware to literally any summer picnic.
Hungry people all over the country will be enjoying this mouth-watering treat today, July 6, as we celebrate National Fried Chicken Day. Restaurants from coast to coast will rally around this important summer holiday with deals galore. Check out some of the best below.
If you're lucky enough to be Chicago today, Boxcar Betty's is giving away free chicken sandwiches with a monetary contribution to the Greater Chicago Food Depository.
If you happen to be the Austin, Texas-area, stop by any location to get $5 off a family value meal.
To celebrate the holiday and to support 4-year-old "President" Austin Perine and his mission to #Showlove, Church's Chicken will donate $1 for everyone who posts an image of their fried chicken on social media and tags @Churchs and uses any of these hashtags: #ShowLove #Churchschicken #NationalFriedChickenDay.

Stop by any KFC location to get a free upgrade to a lemonade when you purchase any chicken sandwich combo.
To celebrate the holiday, California's Knott's Berry Farm is offering its famous fried chicken dinner for a 10 percent discount from 11am-2pm and 8pm-10pm.
If you're lucky enough to be in New York City or Los Angeles today, you can stop by participating Popeyes locations to get drumsticks for only $0.24 each. Also, locations will be open for 24 hours.
Visit participating locations of this grocery chain to get free samples of friend chicken tenders from 4-7pm.

Stop by any Wendy's location to grab a Buffalo Ranch Crispy Chicken sandwich today for only $1.