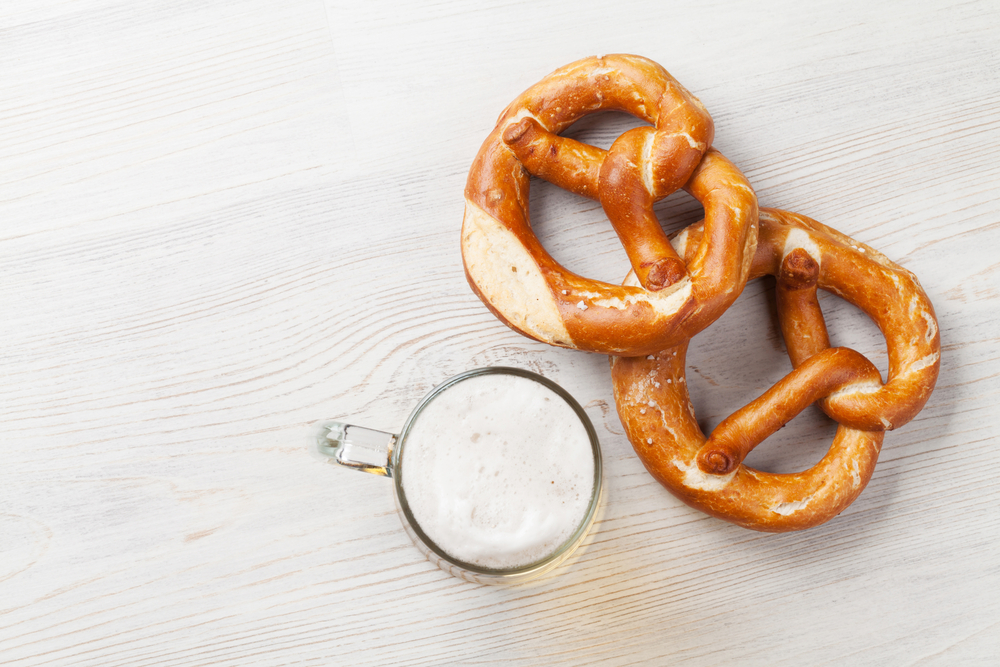 It feels like there's a strange, seemingly unnecessary holiday every day of the week. Just this week, we celebrated National Pigs in a Blanket Day (Monday) and National Hug a Plumber Day (Tuesday). Is it really necessary to celebrate these holidays? Probably not. But, some holidays are so important that just one day doesn't even seem like enough time. These special holidays deserve multiple days or even week long celebrations. This is the case with National Pretzel Day. On second thought, this magical, doughy, sometimes crispy, salt-covered treat actually deserves a whole month.
Alas, we'll have to settle for a day for the time being and today is it! No matter how you enjoy your pretzel — dipped in cheese, mustard, or even covered in cinnamon — this is your time to shine. To celebrate this holiday, many famous chains are offering deals and some are even giving away free pretzels.
Arooga's Grille House & Sports Bar
The sports bar chain is offering discounts of Buffalo and Crab pretzels all day long at all of its Pennsylvania and Patchogue, New York locations. You can get either style for only $6 dollars.
Probably the most well-known pretzel chain, you can find an Auntie Anne's franchise at pretty much every mall (and some airports) in America. Today, you can get a free original or cinnamon sugar pretzel, but you can't just walk up to the counter and ask for one. You need to download the Auntie Anne's app and get a digital coupon for your free pretzel. Also, this deal doesn't just end today. It lasts until April 30th.
Ben's Soft Pretzels

Stop by any Ben's Soft Pretzel's location today (from 1-7 p.m.) and get a free Jumbo Soft Pretzel in celebration of National Pretzel Day. The only catch is that in order to receive your free pretzel, you need to make a $1 donation to the Intrepid Fallen Heroes Fund. So, it's pretty much like spending a dollar to get a giant pretzel. Plus, you can enter to win free pretzels for a year.
Philly Pretzel Factory

Head over to any of the 150 Philly Pretzel Factory locations to get a free soft pretzel all day today. You don't even need to buy anything to get one. Just pop in and ask for a pretzel, take it home, and chow down.
Pretzel Maker

To celebrate National Pretzel Day, Pretzel Maker is turning back the clock to give its customers an old timey price. The chain is offering salted or unsalted soft pretzels for only $0.26 (for April 26th). The one caveat is that you have to say "Happy Birthday" when you're ordering your pretzel. If for some reason you can't say that, you won't get a free pretzel.
Wetzel's Pretzels

You have two chances to score a free pretzel from Wetzel's Pretzels. If you stop by any of its locations today, you can get a free pretzel. If for some reason you can't make it today, you can still get a free pretzel until Sunday by downloading the "Wetzel's Pretzels" app.
World of Beer

World of Beer is celebrating National Pretzel Day by offering its Giant German Pretzel for half price at participating restaurants. Does anything go better with a pretzel than an ice cold beer?