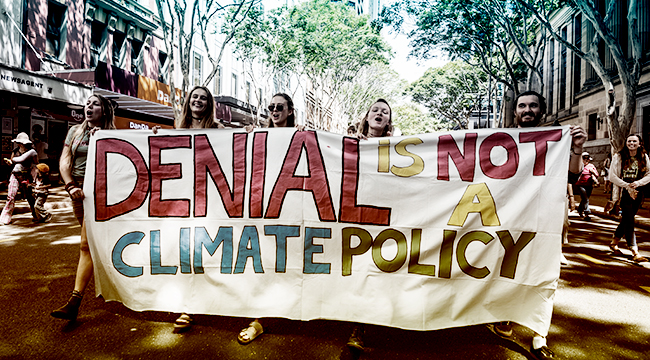 Tomorrow, November 6th, millions of Americans will vote in hundreds of hotly contested races at the state and federal levels of government. This is being called "the most important election of our lifetime" by the likes of the Washington Post, The Week, and more. While this designation is due, in large part, to issues like the economy, health care, and "the treatment of racial and ethnic minorities," the fact of the matter is that climate change is possibly the most important issue being voted on in tomorrow's midterms.
Not only are we on the edge of a knife, according to climate scientists, with only a decade to get climate change under control, but we currently have a presidential administration that regularly receives Fs on their environmental report cards.
The good news? Young voters aren't down with this anti-environmental noise. According to a study unveiled at the 2016 United Nations Climate Change Conference, for 40 percent of young voters, climate change is the most important issue. Furthermore, fully 83 percent of Gen Z-ers surveyed believe that their governments need to listen to young people about climate change, and 80 percent believe that politicians have not done enough to address the matter.
Tomorrow's election will be incredibly telling. "The most important climate actions" happen on the state level according to Vox. Additionally, per Axios, many climate fights are happening through state-level ballot initiatives and congressional climate policy. Meaning that the midterm elections may hold the key to turning around our approach to the environment.
Believing that the most effective way you can make a difference is by voting, we've put together a guide to all the politicians up for election tomorrow who don't believe in climate change or otherwise have environmentally damaging political views. It's no secret that young voter turnout can make a huge difference in the outcome of tomorrow's races. To that we say: Get. Out. There.
Senate Races
Ted Cruz, Texas
Cruz was first elected to Senate in 2012; he's running against House Rep. Beto O'Rourke.
Cruz is a household name, thanks in large part to his failed 2015-2016 campaign for the GOP presidential ticket. But he should also be well-known for his anti-environmental policies. He has netted a 3 percent rating (out of 100) from the League of Conservation Voters, and during his primary campaign in 2015, he famously said, "The scientific evidence doesn't support global warming."
He later clarified that he believes attempts to regulate climate change via carbon taxes and other means is effectively a liberal conspiracy to hold "government power over the economy, the energy sector and every aspect of our lives."
Rick Scott, Florida
Scott is the current governor of Florida; he's running for Senate against incumbent Senator Bill Nelson.
The current governor of the sunshine state reportedly banned officials in the Florida Department of Environmental Protection from using the terms "global warming," "climate change" and "sustainability." Further, he was a staunch supporter of Trump's decision to withdraw from the Paris Climate Accord in 2017 and has consistently supported legislation that will reportedly leave Florida—already one of the most vulnerable states as climate change worsens—open to even more disastrous outcomes.
Dean Heller, Nevada
Heller was appointed to Senate in 2011 and then elected to a full-term in 2012; he's running against House Rep. Jacky Rosen.
Not very long ago, Heller said, "There always has been [climate change], there always will be," but the impact from humans, he said, is "up for debate."
While his butt-clenchingly tight race with Democrat Rosen has seen Heller ever so slightly change his tune on man-made climate change, his voting record says everything you need to know. He has voted against protections for delicate ecosystems, water protections, recycling programs, and more, and consistently votes against greenhouse gas regulation bills.
Cindy Hyde-Smith, Mississippi
Hyde-Smith was initially a Democrat but switched parties in 2010. She was appointed to the Senate in 2018; she's running against Chris McDaniel, another Republican, and Mike Espy, a Democrat, in this special election.
Hyde-Smith has only been in the Senate for about six months, but she's been in politics for nearly two decades. Further, she's a cattle rancher and the former state Commissioner of Agriculture and Commerce, so we know a fair amount about her beliefs. For example, she has supported the Trump administration's rollbacks of Obama-era climate change policies, including a 2015 policy that required energy companies to reduce carbon emissions.
Martha McSally, Arizona
McSally is currently a House Rep. for Arizona's 2nd district; she's running against Democratic House Rep. Krysten Synema.
McSally is one of a growing number of Republicans who say they believe in man-made climate change but who vote in a manner that will exacerbate environmental problems. In a candidate interview with AZ Central, McSally said, "Our environment and the Earth's climate are changing and there is likely a human element to it." But she quickly followed up by blaming "crushing regulations" for myriad problems in Arizona and the US at large. She has voted against methane pollution safeguards, clean air protections, EPA funding, and voted to get rid of nation-wide limits on carbon emissions.

House of Representatives Races
Due to how many House races are being held this year, we're highlighting the "priority" races. If your district isn't on this list, visit Vote Climate U.S. PAC's Voter's Guide, and plug in either the name of your rep or your zip code.
Diane Harkey, CA-49
Harkey is running for Rep. Darrell Issa's vacated seat; she's running against Mike Levin.
Harkey is currently a member of the California State Assembly. The conservative politician is leading the charge to repeal a state gas tax, stating, "It's forcing you to take bikes, get on trains, hose off at the depot and try to get to work." Gas taxes, though controversial, are necessary for both road maintenance and lowering carbon emissions. Harkey exists in an interesting liminal space where she doesn't deny the existence of man-made climate change, but she's not willing to do anything.
She told the San Diego Union-Tribune, "[Y]es, I'm sure it's [climate change] happening. How far we regulate it and how much control we really have over it is where I question." Her voting record shows: she'll put temporary economic booms ahead of long-term climate policies.
Mark Harris, NC-09
Harris is a former Baptist pastor who has run for both the House and the Senate in several failed campaigns; he's running against Dan McCready, a military vet and fellow political newcomer who owns a solar energy fund.
Harris has tried and tried again to get into politics, which is how we know so much about this neophyte. In 2014, when asked if he believed in climate change, he said no. He doesn't believe the federal government—which he would like to become a part of—should do anything climate change-related. Further, he'd like to severely cut or completely abolish the Department of Energy.
Jason Lewis, MN-02
Lewis was elected to represent Minnesota's 2nd district in 2016; he's running against newcomer Angie Craig.
Straight from the horse's mouth: Lewis does not believe in climate change. He believed this long before he was elected to the House of Representatives and talked about it often as a professional political commentator. His environmental scorecard, at an astounding zero percent, reflects that: he votes against every measure that would fight climate change and other environmental blights.

Gubernatorial Races
Steve Pearce, New Mexico
Pearce is currently the House Rep. for New Mexico's 2nd district; he's running against House Rep. Michelle Lynn Lujan Grisham.
As an elected representative in New Mexico, there's no skirting around supporting certain environmental initiatives, which is why Pearce has discussed at length clean water and clean energy. He's been a supporter of clean water initiatives since at least 1997. That said, a lot of the polluted water to which Pearce is referring was dirtied by mining operations, and Pearce has very close ties to oil and gas companies—many of which did the polluting. Despite stating that he believes in balance when it comes to environmental regulations and supporting oil and gas (which is a large industry in the state), his voting record shows that he rarely, if ever, votes for environmental regulations that would help clean up his state.
Pearce consistently states that the American people shouldn't be "saddled" with the burden of taking on climate change (via regulations) and in fact released a statement commending Trump for withdrawing from the Paris agreement.
Shawn Moody, Maine
Moody is an entrepreneur who ran for governor as an independent in 2010; he's running against current Maine Attorney General Janet Mills.
A self-proclaimed "lifelong common-sense conservative," there's nothing common-sense about Moody's climate change denial. When asked whether or not humans are contributing to climate change, he answered, "no." More recently, he reaffirmed his belief, stating that the climate has been changing since time immemorial, without the help of humans. Further, he does not believe in government regulation or intervention of any kind. This should particularly worry Mainers, whose fishing industry is currently worth $740 million and is being vastly (and negatively) affected by climate change.
Adam Laxalt, Nevada
Laxalt is Nevada's Attorney General; he's running against Clark County Commission Chair Steve Sisolak.
Laxalt is a dyed in the wool Reagan Republican; his environmental views reflect that. In 2016, he filed a brief against the Clean Power Plan, which would reduce energy companies' carbon emissions by 32 percent by 2030. He has further stated that he does not believe in "federal overreach" or regulations that harm the economy.
The cherry on top of the sundae? Laxalt heartily endorsed former EPA Head Scott Pruitt, who, in his 4 1/2 month stint at the EPA, supported Trump's withdrawal from the Paris Climate Accord, rolled back numerous environmental regulations, argued for a smaller EPA budget, and even delayed a regulation meant to prevent methane leaks.
Ron DeSantis, Florida
DeSantis served in the House of Representatives until September 2018; he's running against Tallahassee Mayor Andrew Gillum.
DeSantis says he doesn't want to be known as an "alarmist" when it comes to human-caused climate change. Further, he says that climate change is "more of a national and international issue" despite the fact that warming waters due to climate change have created hurricanes that have severely damaged large swaths of Florida in the recent past. His environmental scorecard bears out his fear of being "alarmist": his lifetime environmental score is a whopping 2 percent. Recent votes: yes to slashing EPA funding, no to wildlife protections, yes to massive cuts to clean energy spending. He rolled out an environmental platform that would seek $200 million in funding for an Everglades restoration project, and he's against fracking in his state, but he votes with Trump's environmental deregulations, which are ultimately much more harmful—both to Florida and to the US.
Brian Kemp, Georgia
Kemp is Georgia's Secretary of State; he's running against former Georgia House Rep. Stacey Abrams.
Kemp says he supports "fact-based efforts" to combat climate change—an essential policy position for the state, which has over 100 miles of coastline. But that's about where his environmentally friendly policies stop. Kemp says he's skeptical of statewide attempts to regulate climate change, stating that he doesn't believe "statewide red tape is the answer." He's opposed to any new state regulations, such as updating building codes to reflect climate change-caused problems.