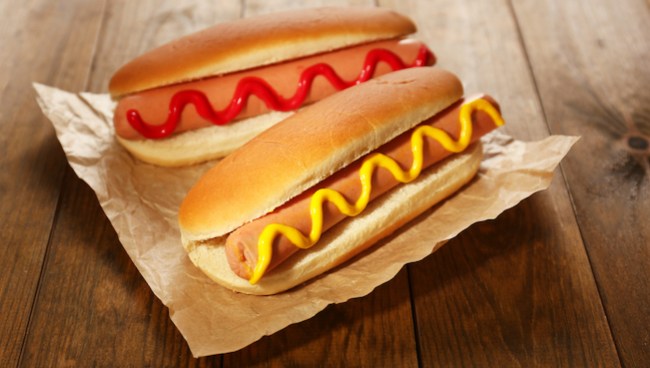 Despite having history in Germany, the hot dog really seems, now, to be a quintessential American food — available everywhere from the food carts of New York City to the corner markets of America's heartland.
How do you like yours? With mustard? Plain? Chili? Onions? A lot of your preference has to do with where you come from. Throughout the United States, the hot dog has turned into a blank culinary canvas on which you can add amazing regional flair to suit your preferences and tastes. So we asked Uproxx writers from all over the country to try a regional hot dog and report on why their dog is so unique.
Tennessee Slaw Dog
Jennifer C. Martin: Being from southeastern Tennessee (and now living in Richmond, Virginia), I volunteered to represent the southern region of hot dogs, which really only means one thing: the slaw dog. Coleslaw is a quintessential southern food lurking at every southern barbecue. It's not an official cookout without someone bringing a big bowl of the cabbage-y stuff to a summer party. Coleslaw can be either vinegar-based or mayonnaise-based: it's entirely up to preference. My Appalachian grandmother preferred oodles of mayonnaise in her coleslaw, along with the flavors of horseradish and mustard, so that's what I'm more accustomed to.
Even though I've never lived outside the south, I'd never put coleslaw on a hot dog before. For me it seemed… weird. I preferred hot dogs with mustard only, or just chili and cheese — which motivated me to discover what I was missing out on.
I headed to a local Richmond restaurant called City Dogs and picked up the "Tennessee Slaw Dog" piled high with mustard, onions, beanless chili, and coleslaw.

It was a regular ol' beef hot dog in a plain white bun. And while the bread felt heavy and soft, and even a little soggy, from the weight of both the chili and the coleslaw, I was surprised how good it was. The raw crunch of the coleslaw was an incredible textural shift in comparison to the meaty hot dog and the chili. The onions and mustard added a bit more flavor to make the taste a little zingier without overpowering the taste of the slaw and the chili. It was good — really good.
I had to wonder, why had I denied myself this southern-style hot dog for so long? In some aspects, the simplicity of the southern foods you grow up with become a part of the background at parties and get-togethers, and they just seem bland and boring in comparison to newer, big-city flavors. But if there's anything that the south is good at, it's at having surprisingly tasty food in a way that is both old-fashioned and modern at once. Sort of like the region itself.
Rhode Island Hot Wiener
Dan Seitz: Unlike Chicago or the south, New Englanders don't generally have a particularly strong attachment to the hot dog. In these parts, we're more likely to pull something out of the sea and fry it or cover it in mayo than boil or grill a few hot dogs.
That said, New Englanders did perfect the hot dog roll. New England rolls are split across the top, not the side, so you can stuff in your wiener, your condiments, and your toppings in while your bun rests on a table. It's a wonderful feat of food engineering, because you're not stuck juggling wieners and containers of condiments. Just lay it flat on your plate, and ladle on what you want.