What would we do without Doja Cat? Not only did she deliver one of last year's best and most infectious albums (we still can't get enough of Planet Her), she also played a part in bringing back Taco Bell's beloved Mexican Pizza. And here at Uproxx Food, that gives her MVP status alongside Chance the Rapper, who brought back Wendy's spicy nuggets, so… your move Jack Harlow. Can you please help us bring back The Meximelt? Maybe we get Harry Styles to bring back KFC's potato wedges too?
Point being, we kind of expect all pop stars to be our fast food saviors now. Apparently, only they have the power to bring back all of our retired favorites. Paying customers aren't enough of an incentive for these big fast food brands.
Anyway, the Mexican Pizza is back, baby! Taco Bell killed the fan-favorite during a covid-inspired streamlining attempt and everyone has been pretty salty about it since. But starting today, Taco Bell will be selling the Mexican Pizza at restaurants nationwide "while supplies last." Which… do you mean supplies of packaging? Because Taco Bell has pretty much all of the ingredients needed to make this thing, so unless they're talking about the boxes they serve the pizzas in, we're dealing with artificial scarcity here. I guess Taco Bell is on some Nike shit, which means if you're actually excited to try this thing before it sells out, we suggest you get on that ASAP before you end up having to buy it on the aftermarket for an inflated price like a rare pair of sneakers.
So — with all that context — does the Mexican Pizza actually warrant the hype? Did we really need Doja Cat to bring it back, or was this just smart marketing on Taco Bell's part? We tasted the relaunched Mexican Pizza to see whether it lived up to our fond memories of what it used to taste like.
Taco Bell Mexican Pizza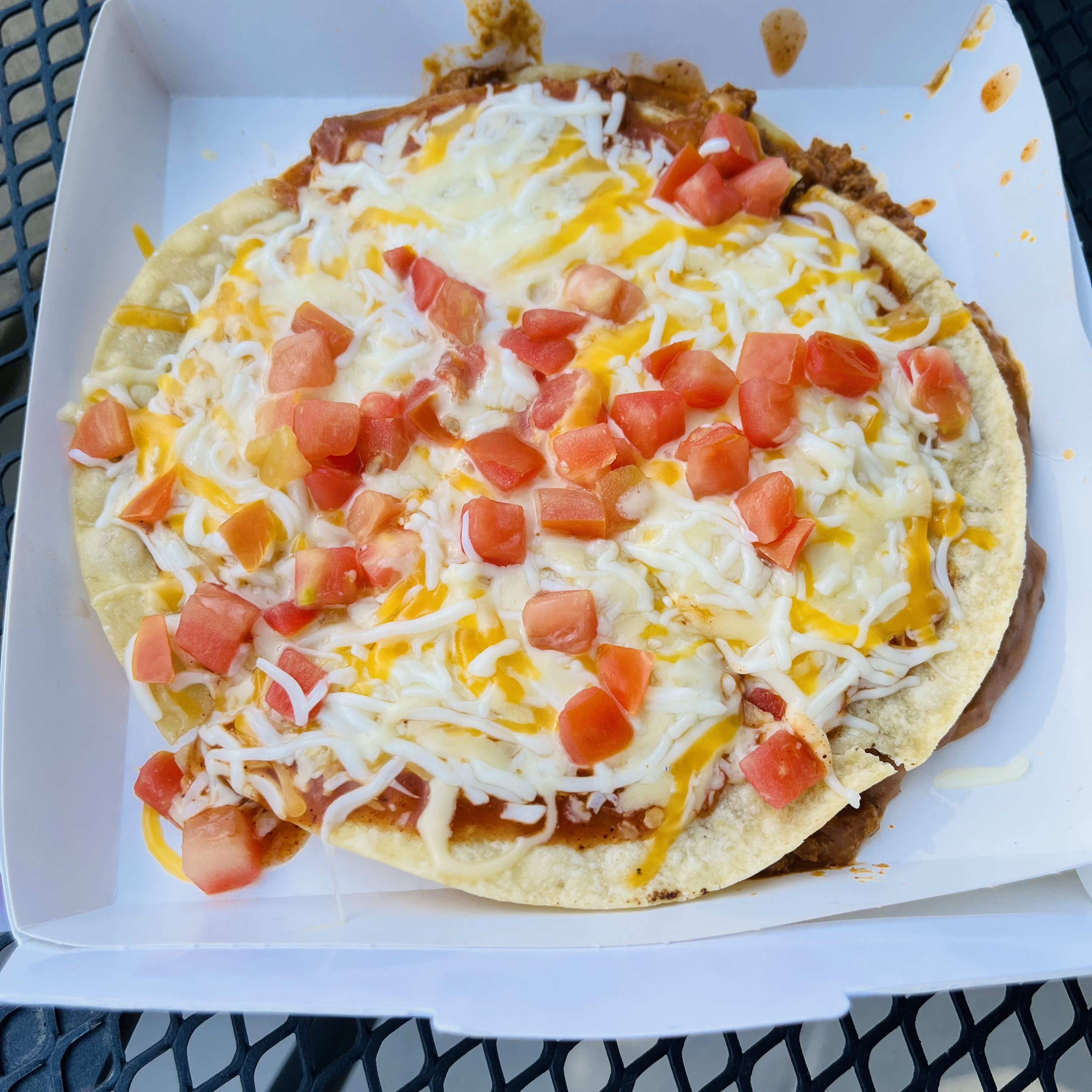 Let's get this out of the way, the Mexican Pizza isn't just delicious, it's Taco Bell's best menu item. Hands down. It's also the only fast food item I've ever ordered that actually looks more appetizing in person than the over photoshopped promotional material. It's so good that we are legitimately puzzled as to why Taco Bell ever thought this was a good idea to get rid of (they claimed at the time it had to do with unsustainable packaging, but… f*ck the Earth I guess right?).
The Mexican Pizza is less of a pizza than it is a giant nacho. It offers more flavor per bite than anything item on Taco Bell's menu, which ironically, actually includes a nachos dish. Unlike Taco Bell's Nacho's BellGrande, the Mexican Pizza has a better build and opts for piles of the three-cheese blend over Taco Bell's salty nacho cheese sauce, putting it more in line with traditional nachos than anything else on Taco Bell's menu.
The build consists of a single fried tortilla covered in beans and piled with meat, sandwiched between another fried tortilla topped with what Taco Bell calls "Mexican pizza sauce," (it's just a sweeter and cheaper tasting red enchilada sauce) melted three-cheese blend, and diced tomatoes. Each bite offers a shifting medley of salty, savory, earthy, spicy, and fresh flavors in the perfect ratio.
Unlike almost everything else on Taco Bell's menu, the Mexican Pizza doesn't want for anything. That's its greatest strength.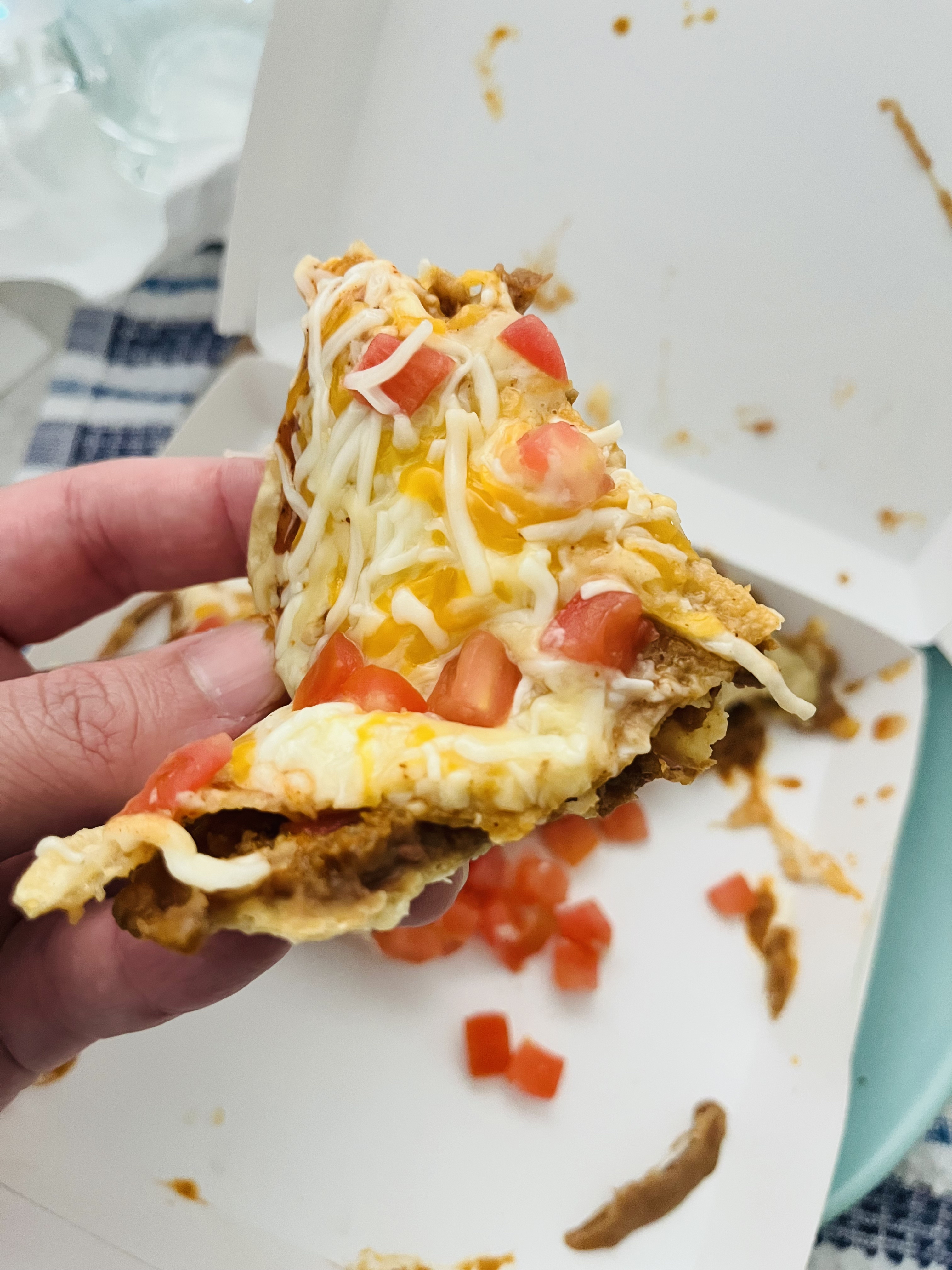 You don't need packets of hot sauce to make this thing taste good. You don't need guacamole or jalapenos, or red or green sauce or a fancy menu hack to make it palatable — it's delicious as is. It's crunchy-yet-foldable, and the fried tortilla is strong enough to handle the weight of its ingredients while still being satisfyingly messy. I also love the form factor, it's big enough to split with someone but small enough to enjoy as a full meal if you've got the craving.
Rarely does a returning fast food item wow me like the Mexican Pizza has. When Wendy's brought the spicy nuggets back I was psyched, and I'll always order at least one Shamrock McFlurry per year, but none of those items feels essential to me. And they certainly aren't their respective chain's best menu items. But the Mexican Pizza is different because rarely is a Taco Bell item ever this good when the diner is completely sober.
If I had one complaint about the Mexican Pizza it's that the tortilla seems a bit different than I remember it. It's thinner here, and a bit greasier, making it a little easier to break than the OG, but it's a small change and not one that radically alters the experience or end result.
The Bottom Line:
Taco Bell's most flavorful ingredients all smashed into a single dish. Think of the Mexican pizza like a giant nacho that delivers the perfect ratio of beans, meat, cheese, and sauce with every bite. It's the comeback story of 2022. Now, about that Meximelt — which pop star is stepping up?