With 4th of July's sales behind us, you're going to have to dig in to find the best travel deals and cheap flights. Sales are on but they tend to be short. Like, "blink and you'll miss them" short.
That doesn't mean you can't find great deals right now. In fact, hotels are cutting rates by up to 60 percent and flights are on sale across the board. You just have to be spontaneous — making quick, decisive calls to scratch that summer travel itch.
We've compiled some of the best deals right now below. These are the cheapest flights, sweetest hotel rates, and steepest travel package discounts online this week.
TOP DEAL OF THE WEEK:
20% OFF FLIGHTS TO SPAIN WITH NORWEGIAN'S FLASH SALE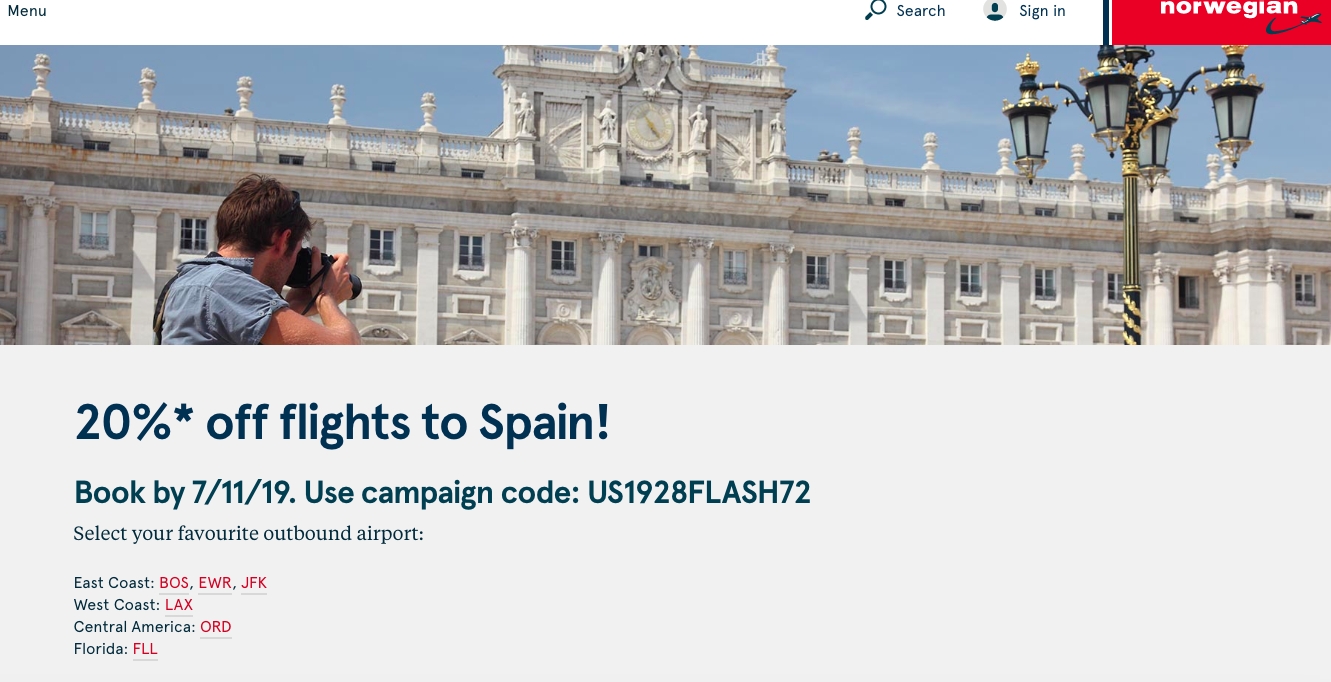 Norwegian Air is one of the world's highest-rated budget carriers. They offer in-seat entertainment, two carry-on bags, and an overall chill experience across the ocean blue all for a low price.
You have two days to cash in on an extra 20 percent off their already killer fares to Spain. That means flights from the East Coast to Spain are running around $110 each way and $150 from the West Coast. As long as you don't have to check a bag and you're willing to carry-on your meal, you can be in Europe for about a hundred bucks this summer.
Use code US1928FLASH72 before July 11th to take advantage of this one.
BEST FLIGHTS OF THE WEEK:
FLY TO IRELAND FOR $400 ROUNDTRIP WITH AER LINGUS
Aer Lingus is offering roundtrip flights from cities all over the U.S. to Ireland (and further afield in Europe) starting at $400. That's $200 each-way on an airline where the Guinness flows freely and you get to carry-on two bags.
That's not a bad deal to see the Emerald Isle this summer!
OHIO TO FLORIDA FOR LESS THAN $100 ROUNDTRIP
Flights around the U.S. are ebbing and flowing right now. Some routes are high, others low. Case in point, flights from the Midwest to Florida are bottoming out. You can currently get from Ohio to Florida for less than $100 roundtrip. That flight works the reverse direction as well (in case the sweltering Florida heat is getting to be too much).
WEST COAST TO SPAIN FOR LESS THAN $400 ROUNDTRIP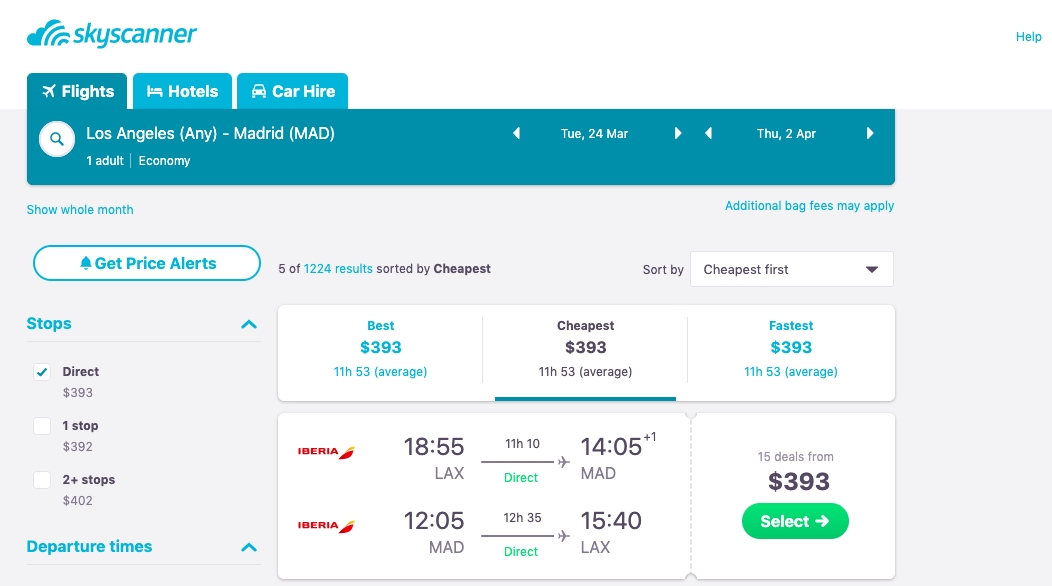 Spain is a big destination this summer. Iberia has a sale on their non-stop LAX to Madrid flight for less than $400 roundtrip. That comes with a meal, booze, carry-ons, and a checked bag. You can't beat this price for a non-budget airline.
BEST TRAVEL PACKAGES OF THE WEEK:
SAVE UP TO $5,000 WITH WINDSTAR CRUISES' ONE-WEEK SALE
Windstar Cruises is one of the most interesting cruise lines working today. First, most of their fleet can switch from fuel to sails when at sea. Next, the cruise line has partnered with The James Beard Foundation to create one of the most interesting menus onboard any vessel at sea.
Right now, they're running a flash sale — which ends tomorrow — that can save you up to $5,000 off a berth on their ships. That basically takes a vacation that could cost you $7,500 and whittles it down to under $2,500 per person. That's not bad for a week on a luxury floating hotel that takes you to a new city every morning.
UP TO 20% OFF EUROPEAN GETAWAYS WITH TOPDECK TRAVEL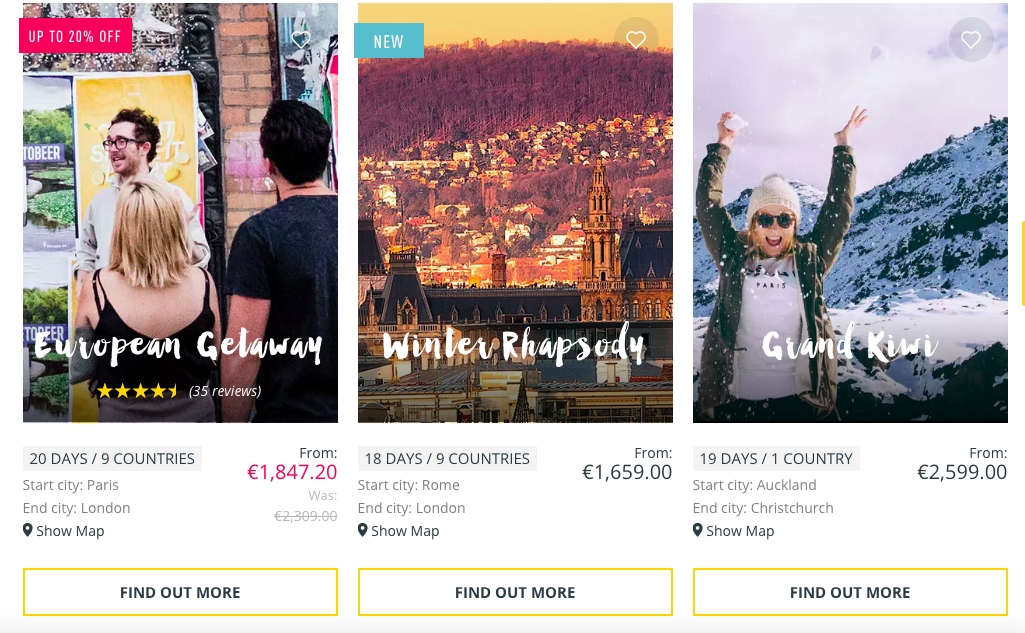 Topdeck Travel has a clear focus on great adventures for 18-30-somethings who are seeking to see a new corner of the world. They're currently running a sale which will net you a 20 percent discount off their European tour's price tag. That's money in your pocket to spend in-country or even on a budget flight so you can take the trip in the first place.
BOOK A SUMMER WELLNESS TOUR WITH G ADVENTURES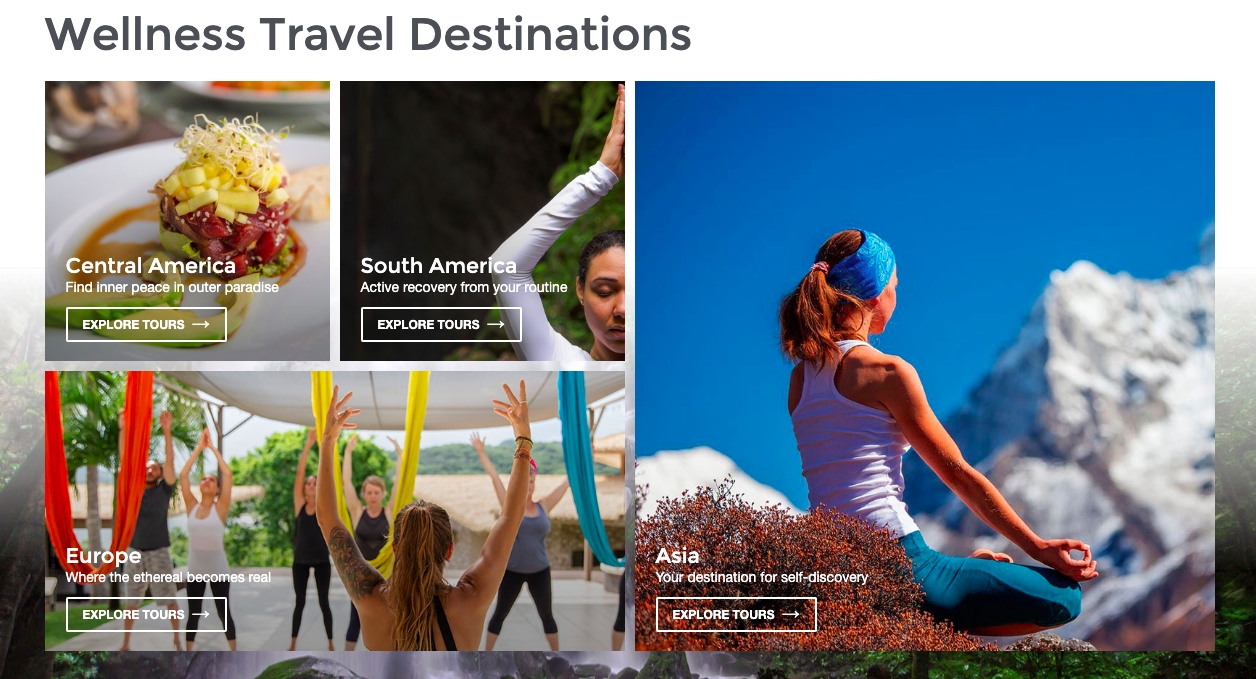 G Adventures offers some of the most interestingly tailored experiences on the planet with a keen interest in supporting local communities above all else. Their new Wellness Tours take you around the world and offer you a chance for a little self-care for your body and mind.
Right now, you can score discounts on trips during the late summer and early spring by simply shopping the trips online. It's worth it to save a few hundred bucks on an experience that'll help you reset for the back half of the year.
Prices start at $1,1,64 per person.
BEST HOTEL DEALS OF THE WEEK:
SAVE 40 TO 60% WITH HOTELS.COM THIS SUMMER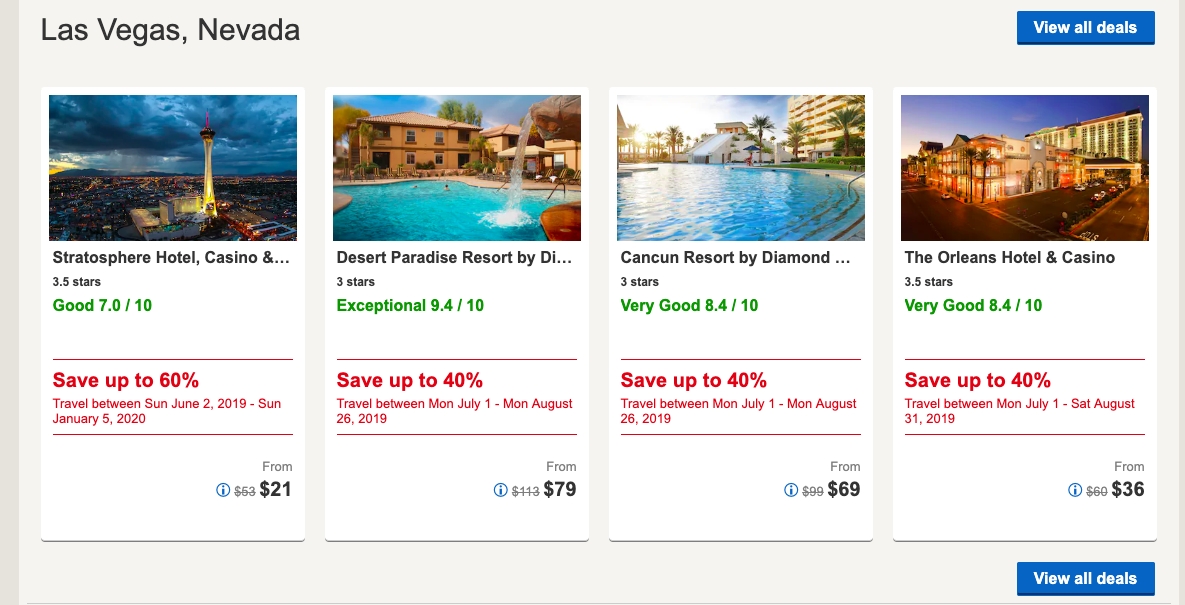 Hotels.com is running a "red tag" sale wherein you can save 40 percent on any hotels in a destination with red tags. If you're lucky, your desired destination might even have a 60 percent discount.
Currently, that 60 percent off is for the Stratosphere in Las Vegas with a long list of hotels all over the country clocking in at 40 percent off. Now is the time to book a hotel if you want to basically get buy one night get one night free.
SAVE 40% OFF HOTEL EDISON IN NEW YORK CITY ALL SUMMER
Hotel Edison is the luxe art deco hotel in the heart of Manhattan that puts you striking distance to everything you'll want to see. The hotel is currently offering a summer discount of 40 percent off their room rates until Labor Day. That's a hell of a deal for one of the plushest hotels in the center of the action in New York.
SAVE 30% OFF HOTEL MAX IN SEATTLE THIS SUMMER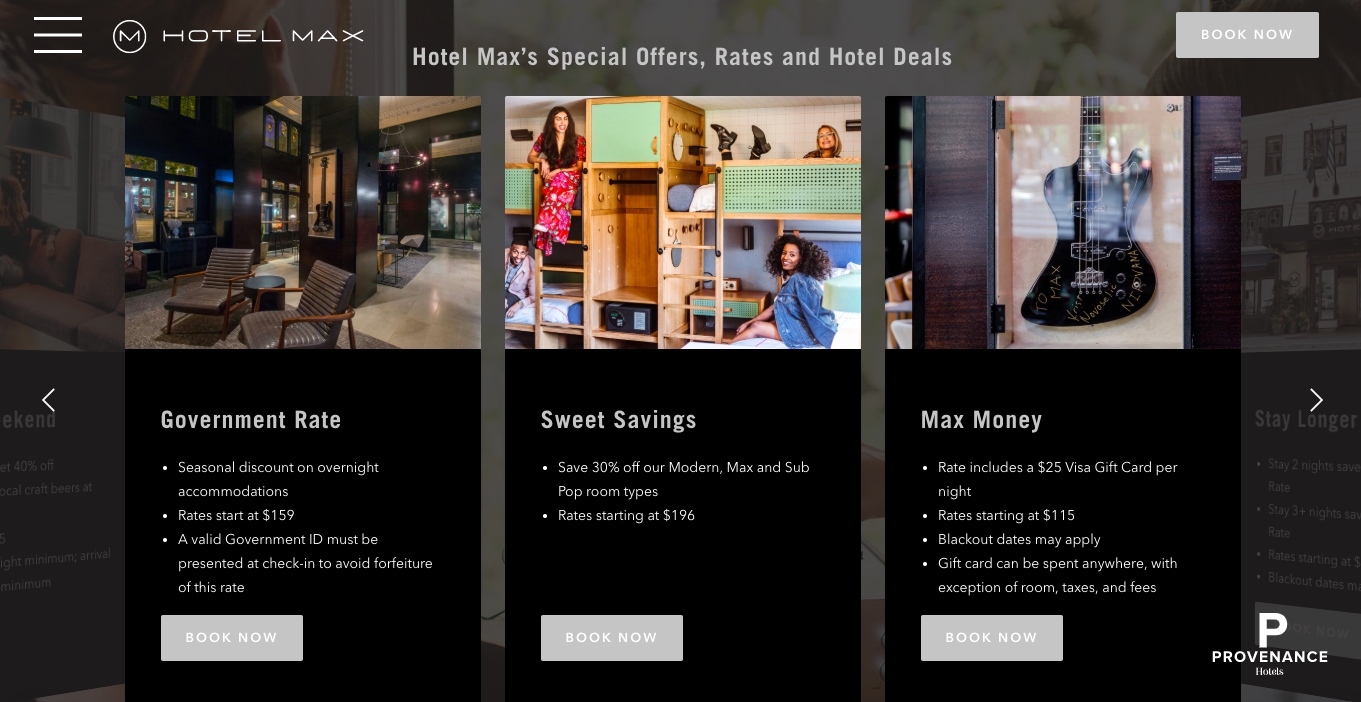 Up in the Great Pacific Northwest, Seattle's grunge-themed Hotel Max is offering steep 30 percent discounts on rooms through the end of the summer. The discount applies to modern rooms, Sub Pop themed rooms, and standard rooms.
Protip: the Sub Pop rooms come with their own turntables and a collection of Sub Pop classics.
BEST WILD SPLURGE OF THE WEEK:
TAKE A LION KING THEMED SAFARI WITH ORIGINAL TRAVEL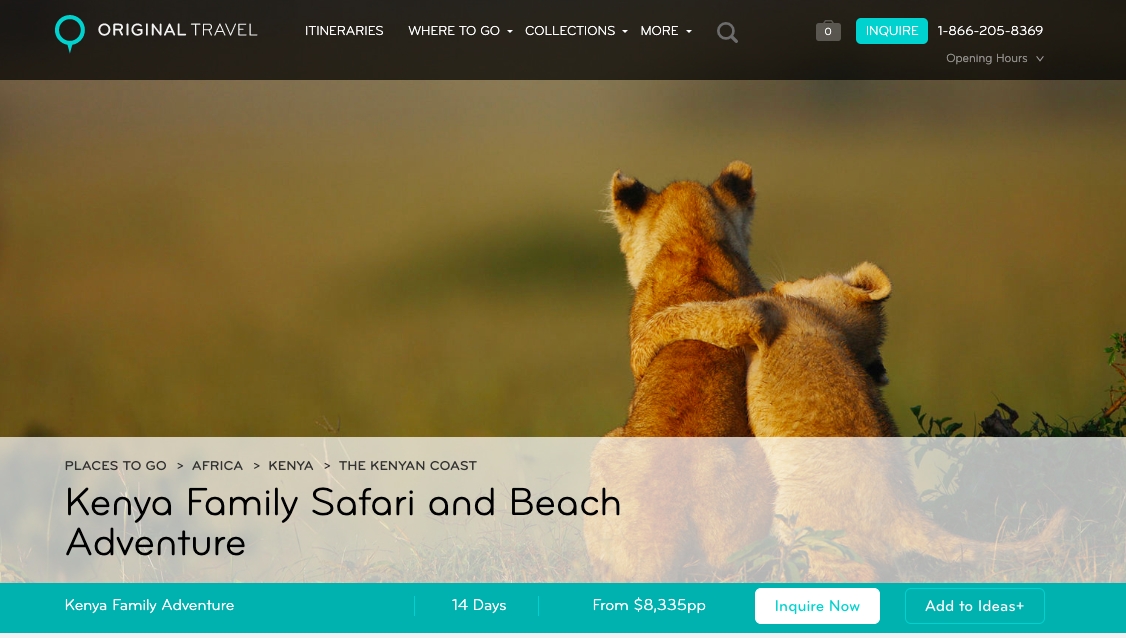 Glamping and grand safaris can go hand-in-hand. Original Travels offers some of the most luxe travel experiences in some of the most remote corners of the planet. That doesn't come cheap but it does equate to a once-in-a-lifetime experience in nature.
Original Travels is running a safari experience this summer that'll highlight the amazing wonder of wildlife, nature, and culture Kenya has to offer with a full-on Lion King vibe. Expect to pay $8,335 per person for the plush experience.
Is it worth it? If you love animals it is. Now, whether you can afford it … well, that's a whole other conversation.